Pirin National Park
Pirin
is in
Pirin Macedonia
, in
Bulgaria
. The range is a national park and since 1983 part of the
UNESCO World nature heritage
.
Get in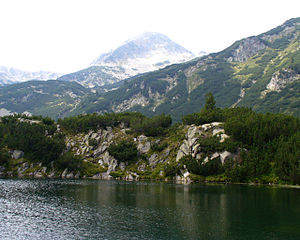 Bansko
, the popular ski resort, is an important entry gate for the Pirin range.
Another popular entry point is via
Sandanski
, about which this article is lacking. Please update if you know information about this!
For information on how to get to Bansko, see
Bansko#Get in
Once in Bansko, in order to reach the Banderitsa or Vihren huts/chalets (base camp to hike in the area) from
Bansko
, at least in the non-ski season, you will either have to hire a taxi (~$15), go with a tour, or hitchhike. In summer (until 18 Sep) 2011 there is a minibus from Bansko to Vihren hut at 0830, 1420 and 1500 up; 0930, 1500 and 1800 down. Cost 6lv. Starts from the bridge near the bus and train stations, calls at Strazhite Hotel, but should stop anywhere on request.
The best option to reach Pirin from
Bansko
for independent traveler(s) on a budget is to hitchhike, which is particularly easy during the summer with a good amount of domestic tourists heading up to either of the camps. To do so, walk south (gently uphill) from the train or bus stations though town until you reach the entrance to the Pirin National Park, indicated by a small house for information about the park. From there, the only cars going will be into the park.
Get around
Once inside you will have to hike, the different huts and summits are connected by hiking trails. There are many different options for hikes, with indications on how many hours each hike will take at a moderate, comfortable pace. If you plan to spend a while hiking, check with the tourist office (during normal business hours) to get a map of the area and plan out your hike. A high-quality PDF version of this official map, with all of the marked trails in Pirin NP, is located
here
.
See
There is a broad network of flagged trails through the mountains. The Pirin tourist map (1:50,000, available at local shops) offers a good overview of the trails and huts/chalets to sleep in.
Notable geological features of the park include:
Mt. Vihren, the second highest peak in Bulgaria and third on the Balkan Peninsula.
The Koncheto, a name given to an approximately 200m long ridge between the 2nd and 3rd highest mountains in the range with steep cliffs on either side, leading to an amazing panorama.
Do
Popular with domestic tourists, you can hike Mount Vihren, the second highest peak in Bulgaria (2914m). Round trip from the Vihren hut takes 6 hours; it is a beautiful mountain which offers beautiful views.
There are also plenty more trails to be discovered. The area around Vihren peak is quite barren, so you may want to hike in lower elevations if you want to explore more of the incredible pine forests in the area.

Eat
Vihren hut offers basic meals, provided you can communicate with the caretaker. Prices are low (under 5 leva for a huge breakfast), and food in generally tasty. Outside the range, in the area around Banderitsa (about 30 min walk below Vihren hut) there is also a fair-priced and tasty roadside restaurant. For example, a good breakfast will cost around 4 lv, and a dinner with beer will be around 10-12 lv. A hearty salad will be 4-5 lv.

Sleep
There is a network of mountain huts/chalets, which offer rooms and bungalows (bungalow for about 20 lv for two persons). Bring your sleeping bag just in case, but you can expect that a dorm room in the hut will provide clean linens and a blanket.
To sleep in the dorm in Vihren hut, 20-30 minutes up from Banderitsa by foot and 3 hours from the peak of Vihren, it will cost 12 lv pp.
Alternatively, there are marked camping areas around the huts. There is a popular, inexpensive tent camping area around Banderitsa close to the restaurant and water source, about 20-30 minutes walking slightly downhill from Vihren hut/chalet.
If you arrive too late to make it up to Banderitsa or Vihren huts from
Bansko
, there are places in Bansko to stay that offer fairly cheap rooms during the non-ski season. A place only about a minute walk north (toward town) from the park entrance called
Apartment House Comfort
offers single rooms with nice amenities (internet, no breakfast) for 20 lv, or 15 lv pp for a double. Surely, similar deals could be found in other hotels.
It would be great to have more information about coming from
Sandanski
, though. Update this if you learn anything!
Go next
Plovdiv
or
Sofia
, you will first have to transfer at Septemvri, so check the schedule to there.