Pithoragarh
Pithoragarh
is a city in
Uttarakhand
. It is close to the
China
,
Nepal
and
Tibet
border.
Get in
Pithoragarh can be accessed by bus and taxi. The buses are available from New Delhi at ISBT Anand Vihar which are of category general to luxury:
# New Delhi to Haldwani to Pithoragarh
# New Delhi to Tanakpur to Pithoragarh
# New Delhi-Bazpur-Kaladungi-Nainital-Almora-Pithoragarh.
If you come by the first option then you have to get down at
Haldwani
and from there you will get a shared taxi to Pithoragarh, in this option the buses available from
Delhi
are of both categories (i.e., A/C, non A/C), but if you come by the second option then you will get a direct bus from there, but the condition of the roads is not good, so it is advised to come by the first option.
The third option is the best if you have your own vehicle. The travel time is 10½ hrs from Delhi, if you are experienced in hill driving; if not, then 12 hours. This time includes numerous stoppages for photography. The road is very good and the distance by road is 490 km.
There is a new airstrip and ATC set up near
NainiSaini
, and this likely to open once some political and technical hurdles are overcome.
There is a new riverside road project in line, that will reduce the journey time by a huge factor.
See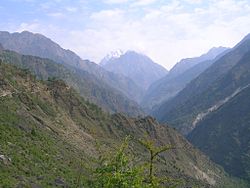 AskotIt is the place which was build by Chand Rajas, here you can find good forts.

walthi, munsyariIts in the mountains and a really nice place to see the sunset and sunrise. You can jog to this place in the morning or can take a walk. The view is panaromic from this place.

ChandhagThis is 7 km from the town and you can see the panoramic view of the city from this hilltop. A temple dedicated to 'Manu' is located here.

Dekatya temple

DharchulaIts another town in Pithoragarh district which is very close to Nepal, you just need to cross a river and you will be in another nation.

DhwajIt is some 30-40 km from the city, shared taxis and call taxis are available at the stations. It is the pilgrimage for all in the city, once you reach Dhwaj by car you need to travel almost 10 km in a hill, and it will be nice trekking.

DidihatIt is the place where you can see the Himalayas very close to you.

The Hilltop Buddhha MonasteryIt is also in the city premises near the city stadium.

JhulaghatThe town is 35 km on the banks of river Kali. This river which separates India and Nepal. A suspension bridge connects both the countries and you can got to see the stuff on the other side of the bridge, i.e., Nepal.

Local TemplesThere are a number of local temples in the city which can be accessed easily, and most of them are in hill tops so it will be a good trekking.

MunsyariIt is the place famous for rajma (an Indian vegetarian dish), and close to the Himalayas. Its the base point for Milam Glacier trek.

Thalkedar TempleIts a small trek to a hill top. The route and the view from the top is beyond compare.
Buy
The rajma of munshyari (vegetarian dish - red beans in a spice laden gravy)
The fruits like kinnnu (kinnow-mandarins), kivi
Handcrafted items.
The local sweets called baal mithai and khainchwa
Thulma/Chutka (a type of woolen blanket/quilt) from Munsyari.
Woolen Carpets (locally called dun) from Dharchula District.
Eat
There are a lot of eateries available from low budget to high budget some of the famous ones are:
Gupta Samosa

address: Takana Road

Jyonaar

address: Gandhi Chowk

Kumars

Meghna Sweets and Restaurant

Pavan Sweets

The Pine Resort

address: Aincholi

Satkaar Sweets and Restaurant

The Treat

address: M G Road

Zara Residency
Drink
There are many good bars and cafes around the town.
CAFE ON THE ROCKS

address: Chandak, Pithoragarh

New Bar

address: Khari bazar near KMOU bus stand

Royal bar

address: Siltham
Sleep
Decent hotels are available which are not very costly but these are the recommended ones.
Hotel Shivam

Hotel Uttaranchal Deep

Hotel Meghna

address: Simalgair Bazaar

The Pine Resort

address: Aincholi

Punetha Inn

address: M G Road

Raja Hotel

Samrat Hotel

Tourist Guest HouseKMVN (Kumaon Mandal Vikas Nigam).

Ulka Priyadarshani

Zara Residency
Go next
Askot - rivers, lakes and the famous Askot Sanctuary (protected area for snow leopards, Himalayan black bears, musk deers and many other animals.
Darchula - Kali River. Stop over to Mansarovar Yatra.
Gangolihat - famous for the Hatkalika Fair at the Kalika temple.
Patal Bhuvaneshwar - Subterranean shrine of Lord Shiva. The cave temple is 91 km from Pithoragarh.