Pittsburgh/North Side
North Side
is an area of
Pittsburgh
, just across the Allegheny River from
Downtown
. In years past it was the independent city of Allegheny, but has long been incorporated into the City of Pittsburgh itself. Today it is home to many of the city's museums, the stadiums of the Pittsburgh Pirates and the Steelers, historic neighborhoods and much recent development, including a splendid riverfront promenade.
Get in

By car
From Downtown there are several bridges you can use to cross the Allegheny River. The most direct is
I-279
(the Fort Duquesne Bridge), a freeway bridge that will connect directly to the stadium area and with other freeways heading north. Another fast option is the
I-579
bridge, another freeway which takes you directly from the Downtown area into North Side. From Downtown directly there are three bridges which carry street traffic - the
6th St. Bridge
(also known as the Roberto Clemente Bridge),
7th St. Bridge
(or the Andy Warhol Bridge), and
9th St. Bridge
(or the Rachel Carson Bridge). All three are nearly identical historic steel suspension bridges of an interesting design. Bear in mind that the 6th St. Bridge is closed to vehicular traffic during Pirates and Steelers games.
To the west of Downtown is the
West End Bridge
, which crosses the Ohio River and connects to the
South Side
area. To the east of Downtown are two bridges which link the North Side to the
Strip District
- the 16th St. Bridge and the 31st St. Bridge.
By public transit
From Downtown, the 8, 11 and 16 Port Authority bus routes are good, frequent routes which will bring you directly to the North Side. The 8 is also the best option for visiting Riverview Park. The 54 will get you directly from the
Strip
.
The Port Authority has just finished work on extending the "T" light rail line underneath the Allegheny River, with two stops. The North Side Station puts you within easy walking distance of PNC Park and the Andy Warhol Museum, while the Allegheny Station serves Heinz Field, the Carnegie Science Center and Rivers Casino.
On foot
Due to the proximity of most North Side attractions to Downtown, it is quite easy to get from there into North Side by walking. Four bridges - the I-279, 6th St., 7th St., and 9th St. Bridges - have pedestrian walkways. During Pirates and Steelers games, the 6th St. Bridge is closed to vehicular traffic, making it a pedestrian bridge.
See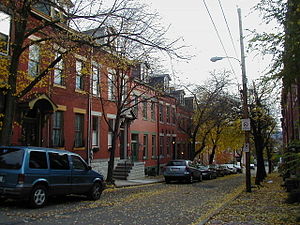 phone: +1 412 330-2569

address: south of North Ave between Brighton Rd and Cedar Ave

Pittsburgh's oldest park, the commons is a historic and very lovely park with lush green lawns, sculptures, and a small lake among its many shady trees.
phone: +1 412 323-7235

address: Allegheny Commons West

The only "national" aviary in the entire country, this small but splendid place has lots of exotic birds to enjoy - eagles, penguins, lorikeets, parrots, flamingos, etc. A couple of exhibits allow you to stroll through with birds flying around you, and the aviary offers a constant program of feeding times and bird shows to enjoy throughout the day, bringing you even closer to their lovely birds.
phone: +1 412 237-8300

address: 117 Sandusky St

This seven-floor museum is like no other art museum, to say the least. The collection covers Warhol's entire life, and as you walk through the galleries you'll hear the sounds of Velvet Underground, the Rolling Stones, opera singers, classic Hollywood movies and many other influences on Warhol's career as you view celebrity portraits, films, room installations, album covers, and many other works from one of America's greatest pop artists.
phone: +1 412 237-3400

address: 1 Allegheny Ave

A great place to learn about science, this huge (five floors) museum has exhibits aimed toward both children and adults dealing with many aspects of science and technology. Some of the highlight exhibits include a model railroad village, an aquarium, a robot exhibit, and numerous theaters and stages for science demonstrations, as well as a large-screen theater. Another attraction is a World War II submarine, the USS Requin, moored in the Ohio River just aside of the Science Center itself.
Children's Museum of Pittsburgh

phone: +1 412 322-5058

address: 10 Childrens Way

A children's museum with a pretty wide variety of great, interactive exhibits, including a recreation of Mister Rogers' Neighborhood, a hall full of optical illusions, a waterplay area, a stage, a workshop full of pulleys and gears, as well as plenty of art and outdoor exhibits.
phone: +1 412 231-3169

address: 500 Sampsonia Way

The Mattress Factory is a museum of contemporary art that exhibits room-sized works called installations.
Mexican War StreetsThese streets are so called because they were named for the battles and generals of that war by the original developer in 1848. Today they are notable for fine examples of the restoration of old urban homes. The neighborhood has a dedicated website Mexicanwarstreets.org and holds annual house tours which bring in tourists from surrounding states. Neighbors celebrate the unique architectural heritage here in a neighborhood some could compare to Boston's Beacon Hill or Greenwich Village, without the million dollar price tag.
North Shore Riverfront ParkSituated along the Ohio and Allegheny Rivers, this park offers a chance to get close to the rivers and enjoy excellent, unobstructed views of downtown. A trail runs the length of the park, which stretches from the Carnegie Science Center to beyond downtown, and there are numerous lawns and public artworks, as well as boat tie-ups and facilities for canoes and kayakers. The , just west of PNC Park, is a large interactive fountain which children often play in during the summer.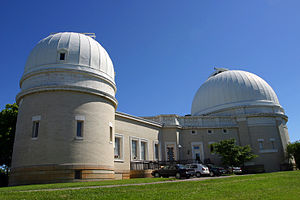 address: on Riverview Ave just off Perrysville Ave

A large wooded and hilly park with an extensive network of trails, a swimming pool, a playground, and great views of Pittsburgh.
phone: +1 412 321-2400

address: 159 Riverview Ave

Listed on the National Register of Historic Places, the University of Pittsburgh's Neoclassical observatory, completed in 1912, was home to several historically significant astronomers such as Samuel Langley and John Brashear. The observatory is still actively engaged in conducting astronomical research.
phone: +1 412 231-2994

address: 1704 Harpster St

Located on Troy Hill, this chapel, dedicated to "The Wonder Worker" Saint Anthony of Padua, houses the largest collection of relics outside the Vatican.
Washington's Landing

address: just off Ohio St under the 31st St Bridge

A small island located in the Allegheny River just off the North Shore, Washington's Landing is a small, mixed-use community with lovely views of the river and Downtown. A trail runs along the island, and the island is also home to a large marina as well a rowing club. You can get there by driving up Ohio Street to 31st Street and getting off just before the bridge, but another option is to walk or bike up the North Shore Riverfront Trail past Downtown, which allows you to experience a very scenic stretch of river, then enter the island via a pedestrian-only bridge at the southern end of the island.
Do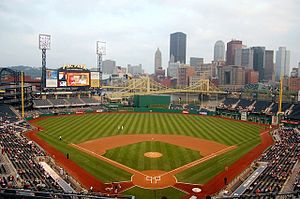 phone: +1 412 323-1200

address: N Shore Dr

G. Heinz Field, the home of one of the winningest NFL franchises of all time and the heart of the fiercely loyal Steeler Nation, is where the Pittsburgh Steelers football team play their home games. The stadium is also the home of the University of Pittsburgh Panthers football team. The stadium is massive and a "Great Hall" on the east side of the stadium holds a collection of Steelers and Pittsburgh Panthers memorabilia. Be aware that all Steelers home games sell out, so if you want to go, try to get your tickets early or on a resale website, or scalp.

phone: +1 412 323-5000

address: 115 Federal St

The Pittsburgh Pirates baseball team, known locally as the "Buccos" or "Bucs", play their home games here. The Pirates have had a hard time in the last twenty years, but they've recently found new competitive energy, with a loyal fan base at their backs. Their ballpark is widely considered one of the most beautiful in the major league, with a stunning view of downtown past the outfield. If you don't make it for a game, you can still take a tour of the stadium on non-game days during the season; check the website for a schedule.

phone: +1 412 231-7777

address: 777 Casino Dr

A newly opened casino with a lot of slot machines and a few restaurants and bars overlooking the river.

phone: +1 412 779-2929

address: on the Allegheny River next to PNC Park

Kayak on the Pittsburgh rivers.

phone: +1 412 322-0800

address: 1815 Metropolitan St

Great live jazz from some of today's living legends and an eclectic gallery featuring renowned contemporary artists and student showcases.
Buy
The Galleria of Mt. Lebanon
Eat
phone: +1 412 231-1899

address: 537 Suismon St

A restaurant serving German food with a long history.
Drink
phone: +1 412 237-9400

address: 800 Vinial Street

Craft brewery serving various ales and lagers brewed at this location. Offering traditional food favorites from Germany and Eastern Europe and hosts an annual Oktoberfest.
Sleep
Connect
phone: +1 412 237-1890

address: 1230 Federal Street

Offers free wireless.