Pittsburgh/Strip District-Lawrenceville
The
Strip District
and
Lawrenceville
are two prominent neighborhoods on the eastern side of
Pittsburgh
, in an area with many former industrial and warehouse districts where many immigrant workers lived. Today evidence of their cultures are prevalent throughout the area, and with the departure of much of Pittsburgh's industry many of the former factories and warehouses have been converted into restaurants, shops, offices, and residential units. The region also includes the restaurants and shops of rapidly gentrifying East Liberty, Bloomfield, and Garfield.
Understand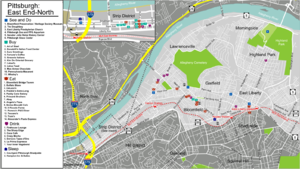 The
Strip District
is a bustling warehouse district just northeast of
Downtown
Pittsburgh, situated along the Allegheny River from 11th to around 31st Streets. The neighborhood has traditionally been a wholesale and retail place for fresh vegetables, fish, and meat. Today it also has many restaurants and nightclubs. If you like to cook this is definitely the place to go: Everything from freshly made sausage to bamboo shoots to expensive cooking gadgets to cut flowers can be found here. Gourmet coffee places mix with Martini bars and pottery stores and ethnic groceries jumble up together. It's also an excellent place to street watch, what with the mix of businesses, people, and a lot of creative marketeers including streetside accordionists. Some of the streets are paved with Belgian block - stone used as ballast for empty boats coming from
Europe
up the Mississippi and the Ohio via
New Orleans
.
Lawrenceville
, on the Allegheny River just north of the Strip District, is one of the oldest and largest neighborhoods in the city of Pittsburgh with approximately 11,000 residents and three business districts. Butler Street from 34th Street to 62nd Street contains most of the shops, boutiques, art galleries, restaurants, and neighborhood-serving businesses. Penn Avenue from 34th to Friendship Avenue contains some art studios, coffee shops, funky bars, and ethnic restaurants. Liberty Avenue from 33rd Street to the Bloomfield Street Bridge features some artisan studios and restaurants. Lawrenceville is the most notable example of gentrification in Pittsburgh, as the neighborhood has become known as one of the hottest neighborhoods in the city, with many young entrepreneurs having moved in. There is a large, vibrant art community in the neighborhood, and galleries and studios attract people to art openings and events.
Bloomfield
is often referred to as Pittsburgh's "Little Italy." The area was occupied by German immigrants in the late 1700s. Irish immigrants later followed after the civil war. In the late 1800s, millworkers in nearby Lawrenceville constructed small row houses designed for single families and businesses in the style of their homeland. Prior to World War I, Liberty Avenue consisted mostly of German businesses. After the war, however, the neighborhood began to take on its Italian identity. Today, well-maintained rowhouses sit along quaint, narrow streets. Here homes are often passed down through families, and grandchildren usually live just a few blocks from grandparents, aunts, uncles, and cousins. Recently, the neighborhood has faced gentrification, as the Liberty Avenue business district now houses trendy bars, shops, and restaurants alongside a few Italian holdovers.
Other neighborhoods in the region include
East Liberty
, a neighborhood with a prominent business district which gentrified rapidly in the 2000s. This district, contiguous with the affluent
Shadyside
neighborhood, has become a haven for restaurants and stores (including the only Target and Trader Joe's locations in the city proper). Gentrification has spread west on Penn Ave. to
Garfield
, whose main business district (contiguous with Bloomfield and Friendship) features a row of art galleries, coffeehouses, and restaurants. Sandwiched between East Liberty, Garfield, Bloomfield, and Shadyside is the tiny, mostly residential neighborhood of
Friendship
.
Also in the area are
Polish Hill
, and the affluent
Highland Park
neighborhood, which surrounds the park of the same name.
Get in
By car
From downtown, simply take Liberty Avenue or Penn Avenue (they're parallel streets) east. You'll pass right through the Strip District. Stay on Liberty Avenue to get to Bloomfield. To get to Lawrenceville, get on Penn Avenue and continue east. Make a left on to Butler Street to get to Upper Lawrenceville, and continue on Butler to get to Highland Park and the Zoo. Staying on Penn Avenue will take you to Garfield and East Liberty.

By public transit
The 86, 87, 88 and 91 Port Authority bus routes serve the Strip and Lawrenceville quite well. Further east, the East Busway routes (including the P1 or P2 to Downtown and the P3 to Oakland) serve East Liberty. The 71B serves East Liberty and the Highland Park area. The 54 connects the Strip to the North Side, Oakland and the South Side.

See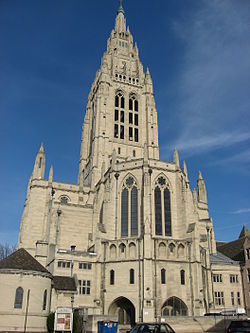 The DoughboyBuilt by the Arsenal Board of Trade and dedicated May 31, 1921, stands at the intersection of Butler St and Penn Ave at 34th St. It serves as a memorial for the fallen U.S. soldiers of World War I.

East Liberty Presbyterian ChurchJust north of Shadyside in East Liberty, featuring ornate stonework, beautiful stained glass and woodwork. The church features a labyrinth, open Mondays 9AM-1:30PM and Saturdays 9AM-9PM. When walking the labyrinth, you are supposed to pray or meditate. In the past, they served as a substitute for the pilgrimage to Jerusalem. For Christians who have never walked a labyrinth, it's quite an interesting way to worship.

Highland ParkOne of the city's largest parks, Highland is home to 2 lakes, Lake Carnegie and Reservoir No. 1, both built for municipal water use and used for recreation. Also features gardens, overlooks, and a network of trails.
Pittsburgh Zoo and PPG Aquarium

phone: +1 412 665-3640

address: 7340 Butler St, Highland Park

A large zoo complex containing a wide variety of animals in big exhibits. There are lots of enclosures simulating natural spaces in Asia, Africa, rainforests, along with the PPG Aquarium. In the "Kid's Kingdom" area you can get up-close with animals like goats, deer, sea lions, bats, and meerkats. Busier on weekends; the zoo is laid out is a very linear fashion, with almost everything aligned along one loop, so expect crowds and viewing waits.
Senator John Heinz History Center

phone: +1 412 454-6000

address: 1212 Smallman St

An affiliate of the Smithsonian Institution and the largest history museum in Pennsylvania. Featuring 6 floors of permanent and changing exhibitions, this museum gives a very detailed look at the past 250 years in Western Pennsylvania, with displays on Pittsburgh-area innovations, people, and industries. Notable exhibits include artifacts from the French & Indian War, a hall dedicated to the Heinz company, a room full of old vehicles, and the Western Pennsylvania Sports Museum - a two-story exhibit dedicated to a wide variety of Pittsburgh-area sport legends.
Do
phone: +1 412 365-2145

address: 5472 Penn Ave, East Liberty

A nonprofit, public access glass studio and gallery dedicated to teaching, creating and promoting glass art. The more-than 16,000-square-foot building is one of the top glass art facilities in the country and houses state-of-the-art studios in hot glass, flameworking, coldworking, casting and kilnworking.

phone: +1 412 362-1713

address: 218 North Highland Avenue

A local experimental theater company that puts on regular performances around Pittsburgh, particularly in the East Liberty area.

phone: +1 412 281-3305

address: 2425 Liberty Avenue

A modern dance company that frequently incorporates original music and multimedia in their performances. They do performances across Pittsburgh, but most are held in their home in the Strip District.
Events
Buy
Some of the city's most active business districts are in this area, attracting shoppers from nearby and all over the Pittsburgh region. The Strip in particular contains a huge number of shops, especially ethnic groceries (Italian, Slavic, and Asian). Street vendors also line the sidewalks, especially on Saturdays, and sell almost everything from cookies to clothes to crafts. Bloomfield, along Liberty Ave., also has plenty of small shops and grocery stores.
address: Various locations from 16th Street to 62nd Street

Stretching from the Strip District up to Lawrenceville, this arts and interior design district is the home of many antiques shops, art galleries, and specialty boutiques housed in restored turn-of-the-century storefronts or repurposed industrial buildings. Many businesses also include working studios, offering visitors the chance to see artists in action.
Art of Steel

address: 2125 Penn Ave

Features unusual handcrafted metal and glass works.
Specialty foods and groceries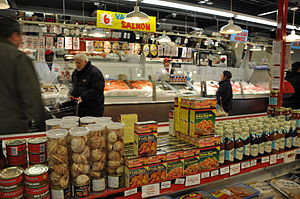 Allegheny Coffee & Tea Exchange

phone: +1-866-569-5865

address: 2005 Penn Ave

Coffees and teas, along with brewing supplies and accessories.

Donatelli's Italian Food Center

phone: +1 412 682-1406

address: 4711 Liberty Ave

Bloomfield Italian store.

Euro Greetings

phone: +1 412 281-1808

address: 2004 Smallman St

Eastern European foods.

phone: +1 412 681-1227

address: 237 Cedarville St

Bloomfield Italian store.

Kim Do Oriental Grocery

phone: +1 412 338-6588

address: 1808 Penn Ave

Sells Vietnamese and other Asian goods.

Labad's

phone: +1 412 261-0419

address: 1727 Penn Ave

Middle Eastern grocery with a small cafe.

Lotus Food

phone: +1 412 281-3050

address: 1649 Penn Ave

Chinese market with a wide variety of foods and home goods.

phone: +1 412 395-0022

address: 2101 Penn Ave

Gourmet chocolate importer. Some chocolate bars cost $20-30. Will pack your bag with ice in the summer.

address: 2010 Penn Ave

One of the staples of the Strip, a large Italian grocery with cheese counter, wide selection of olive oils, fresh bread and pasta.

phone: +1 412-391-3737

address: 1711 Penn Ave

Huge seafood selection with cafe.
Eat
Here you will find a diverse array of cuisines, thanks to the diverse cultural history of the area. Bloomfield, as Pittsburgh's Little Italy, is best known for its Italian restaurants, however expect to find a wide variety of other restaurants to meet your needs.
Budget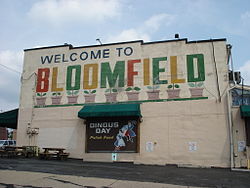 phone: +1 412 682-8611

address: 4412 Liberty Ave

"Welcome to Bloomfield" mural decorated with murals of famous Poles, as well as crests for major cities in Poland. On the inside expect to find Polish favorites such as halusky, pierogies, and duck soup. Live music throughout the week. Every Friday and Saturday is pierogie happy hour from 5-7PM. Pierogies are $.50 a piece.

DeLuca's

phone: +1 412 566-2195

address: 2015 Penn Ave

DeLuca's is another Pittsburgh favorite for down-home breakfasts. Come here for a good hearty breakfast of absurd proportions, but be prepared to wait.

Frankie's Extra Long

phone: +1 412 687-5220

address: 3535 Butler St

For classic Lawrenceville cuisine, this hot dog shop is one of your best bets.

phone: +1 412 621-4477

address: 4763 Liberty Ave

A neighborhood bakery with an excellent selection of cookies and cupcakes to go, or you can make larger orders as well.

phone: +1 412 263-2142

address: 46 18th St

Founded in 1934 to serve the truckers that brought vegetables to the Strip, Primanti is famous for their sandwiches. There are various locations around town, but the one in the Strip is the original, open 24 hours. If you are in Pittsburgh, you need to eat here at least once; they serve sandwiches with the french fries and coleslaw right in the sandwich with whatever else you order: deli meat, hot sausage, and... you get the idea. They have a bar too, of course.
Mid-range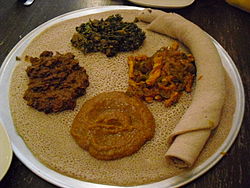 phone: +1 412 621-5330

address: 4766 Liberty Ave

Well-known pizzeria owned and operated by a first-generation Italian family. Caters to many hospitals and businesses in the area. Hefty portions, hoagies, hand-crafted pizzas with fresh toppings, and one of a kind homemade "mayonnaise".

phone: +1 412 281-2602

address: 2022 Penn Ave

This rustic cafe serves fresh pizzas made in their own wood-burning brick oven. Besides fresh pizza they serve beans and greens, home made soups, and big fat salads. Stop at the bakery for great biscotti, made by hand and served in an abundance of flavors. The bakery serves all sorts of Italian pastries so even if biscotti's not your cup of tea, you will be able to enjoy the place.

phone: +1 412 622-0111

address: 3801 Butler St

An Italian bistro with wood-fired pizzas, homemade pastas and desserts. BYOB.

phone: +1 412 281-6366

address: 60 21st St

Serving famous pancakes, Pamela's is a Pittsburgh breakfast favorite. There are a few other locations around town as well.

phone: +1 412 682-6809

address: 4601 Liberty Ave

Year in and out rated as the best place in town to get hamburgers.

Tram's Kitchen

phone: +1 412 682-2688

address: 4050 Penn Ave

Hole-in-the-wall Vietnamese, owned and operated almost single-handedly by Mr. Tram.
Splurge
phone: +1 412 687-8741

address: 5104 Liberty Ave

Frequently rated as having the best Italian in Pittsburgh. Featuring both dining tables and a bar, the menu allows you to choose from various options to create your perfect pasta.

Luke Wholey's Wild Alaskan Grill

phone: +1 412 721-9590

address: 2106 Penn Ave

Features fresh seafood. $2 oysters. 'Wild' themed art. Young chef with fishing guide experience prepares traditional items with adventurous twist, e.g. grilled swordfish on bed of cabbage, bacon, and roasted potatoes. Grills out front in 'fair' weather.
Drink
phone: +1 412 261-3401

address: 1904 Penn Ave

40 beers on tap, delicious seafood.

phone: +1 412 661-3537

address: 302 S Clair St

For a place that calls itself a "Beer Emporium", it certainly does not disappoint, with more than 20 Belgians on tap among its offerings. A cozy neighborhood establishment, with a pinball machine to boot.
Coffee
address: 3811 Butler St, Lawrenceville

Crazy MochaLocal coffee chain.
Crazy Mocha Bloomfield

phone: +1 412 681-5225

address: 4525 Liberty Ave

Crazy Mocha Lawrenceville

phone: +1 412 687-1445

address: 4032 Butler St
phone: +1 412 281-1922

address: 205 21st St, Strip District

Serves some of the best espresso in Pittsburgh. The place is often filled with Italians.
phone: +1 412 362-3676

address: 1125 N Highland Ave, Highland Park

Said to be some of the best coffee in Pittsburgh
Sleep
Connect
In addition to the many cafes in the area with wifi for their customers, the branches of the Carnegie Library of Pittsburgh also offer
free wireless
.