Plön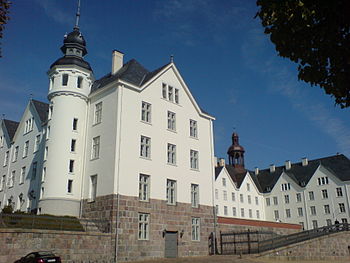 Plön
is a town in
Schleswig-Holstein
, the northernmost state of
Germany
.
Get in
As for most places of Germany, Plön is connected to an extensive network.

By rail
By car
If you are traveling by car, you should head towards Kiel or Neumünster (from the north / Denmark) and follow the federal road B76 (from Kiel to Lübeck) or B430 (from Neumünster to Plön). From the south, head for Hamburg and continue to Lübeck, than just follow the B76 towards Kiel.

By bus
There are several daily connection from Kiel, Lübeck and Neumünster as well as many regional villages and cities. The operator is Verkehrsbetriebe Kreis Plön (VKP) or Autokraft.

By bike
Additionally, it is possible to use the bike. However, it is advisable to stay of the federal roads (Bundesstraße), "B" and use smaller alternatives or bike tramps (Fahrradwege)

By plane
The closest airports is in Hamburg (HAM).

Get around

Plön is small enough to easily walk or bike around town.

See
Plön is famous for its lakes, which essentially surround the city.
Johanneskircheold and charming little church is worth a visit

Parnaßturmtower, which offers a scenic view of the city with its surrounding landscape and lakes.

Widow's Palace, Plön

Plön Castle

Princes' House

Nikolaikirche
Do
Hiking, Sailing, Canoeing ...
Prince's Islandis a scenic day walk; actually a peninsula

TrammerseeThrough the 2h walk, you will pass through small villages, forests and scenic landscapes.
Eat
Eisenpfanne is a nice, general menu, steak-n-potatoes/pizza restaurant in the middle of the old town.
Altes Fährhausis both a restaurant and a hotel on the shore of the largest lake.
Sleep
phone: +49 4522 2576

address: Ascheberger Str. 67
Go next