Placentia (Newfoundland)
Placentia
(French:
Plaisance
) is a town of 3,500 people (2016) on the west side of Newfoundland's
Avalon Peninsula
. It was the French capital of
Newfoundland
in the early 17th century.
Understand
Placentia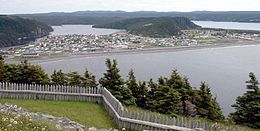 Placentia is the core of a group of small villages (Placentia, Jerseyside, Townside, Freshwater, Dunville and Argentia). The community is primarily a fishing village and has declined rapidly in population since the depletion of Atlantic cod stocks in the 1990s.
Fort Plaisance (1662), Fort Royal (1687) and Fort Saint-Louis (1690) were early
French
military fortifications in the area; the hilltop bastion Fort Royal served as home for the French governor. After the French abandoned Newfoundland in the 1713 Treaty of Utrecht, the British built the redoubt Fort Frederick. While much of the original fortification is in ruins, what remains is preserved as Castle Hill National Historic Site.
Argentia
Argentia was a small fishing village established by the French in the 1630s as Petit Plaisance (Little Placentia), meaning "Pleasant Little Place". The village was renamed in 1901 to reflect the presence of silver ore in the Broad Cove region; a silver mine operated until the 1920s. A railway branch line reached the community in 1888, allowing the adjoining Ship Harbour and Fox Harbour to serve as a seaport to supply other coastal villages (outports) in the region.
In August 1941, a four-day wartime meeting between Winston Churchill and Franklin Delanor Roosevelt took place on board the British battleship HMS Prince of Wales, moored at Placentia Bay, off Argentia. In 1942, the villages of Argentia and Marquise were expropriated and completely demolished to make way for a US military base which was to serve as one end of a key World War II trans-Atlantic supply line. The dispossessed villagers were largely resettled in Placentia. The US base closed in 1994 and its airport sits abandoned; attempts have been made to re-purpose the base as an industrial park. The Newfoundland Railway is gone. The docks remain in use seasonally for the ferry to
Cape Breton
.
Get in
The nearest major airport is in
St. John's
.
By car
Placentia is 131 km from St. John's, southwest on the Trans-Canada Highway (Route 1). then south on Route 100.
By bus
You can get as far as Whitbourne on a once-day
DLR bus
(1 hr 30 min, $20 as of June 2019) leaving from Memorial University Student Union Centre in St. John's, but Placentia is a further 48 km by taxi or hitchhiking from there.
By ferry
Marine Atlantic

phone: +1-800-341-7981

Takes passengers and cars from North Sydney, Nova Scotia to Port aux Basques throughout the year, and to Argentia during the summer. The duration of the ride depends on the weather and water conditions, so patience is of the essence. Reservations recommended except for commercial vehicles. (Commercial vehicles pay double for reservations.)
Get around
Placentia is on Newfoundland Highway 100, which leads to the
Trans-Canada Highway
.
Busy Bee Cabs

phone: +1 709 227-1600

address: 15 Prince William Dr

Local taxi service.
See
Cape St. Mary's Ecological Reserve

phone: +1 709 277-1666

phone: +1 709 227-2401

address: 1 Old Castle Hill Rd, Jerseyside

Remains of French and English fortifications from the 17th and 18th centuries, history of local fishery.

phone: +1 709 227-5568

address: 48 Orcan Drive

1902 Balistrade Queen Anne Victorian magistrate's house restored with period artifacts as local historical museum.
*
Angels Cove
The Cape Shore Drive

Placentia Bay Lookout
Do
Eat
Philip's Café

phone: +1 709 227-0127

address: 170 Jerseyside Hill, Jerseyside

Waterfront café, bakery, pastry shop. Serves breakfast, deli sandwiches, coffee, and tea for takeaway.

Hoi Pun Restaurant

phone: +1 709 227-2549

address: 14 Prince William Dr

Chinese & Canadian food.
Drink
phone: +1 709 227-0124

address: 2 Orcan Dr
Sleep
Hotels
phone: +1 709-227-1700

address: 15-19 Prince William Drive

Twelve rooms with private bath, fridge, microwave, wi-fi, breakfast.
Bed and breakfast
Castle Landing Guest Home

phone: +1 709 227-0997

address: 16 Larkin Drive, Route 100, Freshwater

Nine rooms in former convent, en-suite bath, wi-fi, continental breakfast.

phone: +1 709 227-3613

address: 40 Orcan Dr.

Waterfront 1893 Heritage B&B Inn, gourmet breakfasts, comfortable beds, private bathrooms, wi-fi, garden and reading room.

Cochrane's Corner Guest House

phone: +1 709 227-2835

address: Main Road, Placentia

Three-bedroom cottage, continental breakfast.
Go next