Pleasanton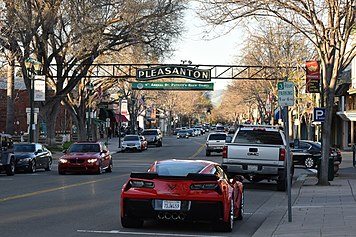 Pleasanton
is a city in
Alameda County
, in the
East Bay
of the
San Francisco Bay Area
. It is one of the wealthiest cities of its type, with many upscale restaurants and historic districts. Due to the area's Mediterranean climate, vineyards can be found in the countryside, along with oak tree-covered hills, hot summer weather, and fairly mild winter weather.
Understand
Pleasanton has changed greatly in the late 20th and early 21st centuries, but it has managed to maintain a cowboy-town appearance. Busy town streets, which are often tree-lined, are well-designed and, especially in the north of the town, take up a total of six lanes; yet there are other, nearby, yet smaller streets, which have remained surprisingly quiet despite expanding population and progress. However, the truly unusual, though rather quaint, aspect of Pleasanton is that, despite the buildings that look like they came straight out of a Western, Pleasanton's location near the Silicon Valley gives it a cosmopolitan feeling: restaurants with Mexican, Italian, Turkish, Asian, and American-cuisines are all within a mile of each other.
Name
Pleasanton was founded as "Alisal". The town was to be incorporated as Pleasonton, after the name of a military figure in the Union. However, as various towns made clear that they wanted to be called Pleasonton (such as
Pleasanton
in
Texas
), the U.S. government made a spelling error and named them all "Pleasanton", a name which remains today. Many locals assume it is a portmanteau of the words "pleasant" and "town".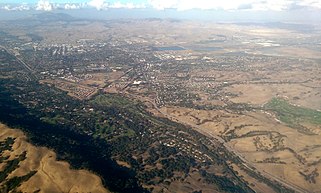 History
Pleasanton has changed dramatically over the years; it was historically a rough town that was frequented by bandits, yet now Pleasanton is one of the wealthiest cities in the country. The area began to be developed in the 1840s, and was established in 1850.
Some of the town streets, like Kottinger, are named after the early landowners in the town. Naming streets after landowners is surprisingly common in Pleasanton, and such naming procedures even take place in more recent housing developments.
The city became more important in California during the 1910s, when it emerged as one of California's prime centers for filming, somewhat like
Hollywood
today.
Rebecca of Sunnybrook Farm
, for example, was filmed in 1917 in Pleasanton. However, the Pleasanton's population began to take off in the 1960s, and the population more than tripled to 18,000 in 1970. The population has since grown to approximately 80,000.
Pleasanton has a large historic district with a downtown, along with some historic homes and a between First and Third Streets. Especially around First and Second Street, there are some well-maintained homes, a couple of which are from the 19th century, and some of which are in Victorian style.
Location
Pleasanton is west of Livermore and south of Dublin in the Bay Area in California. When road traffic is good, Pleasanton is about one hour away from
San Francisco
, 30-35 minutes from
Oakland
, and two hours from the state capital,
Sacramento
. It is surrounded by mountains, including
Mount Diablo
to the north. (Mount Diablo towers over the region and the other mountains.) Large portions of the
Diablo Range
, which goes through the Pleasanton area, are protected as
East Bay Regional Parklands
.
The town is fairly close to
Santa Clara County
, an area well-known for technology. Some Pleasantonians commute to areas in the South Bay and the
Peninsula
, while others live and work in the Tri-Valley.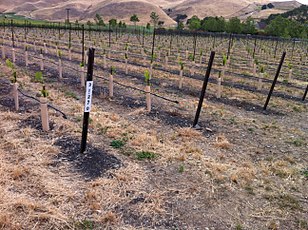 Pleasanton is also only a couple hours from the
Napa Valley Wine Country
. Therefore, parts of the town and nearby Livermore have several square miles of vineyards, especially in the southeast. Mansions and wineries are scattered across this region. Pleasanton is a good base for tourists, as it is between a couple important regions of California, and tourists will find it a decent jumping-off point for the coast,
San Francisco
area,
Silicon Valley
, the
Central Valley
, and the
Napa
/
Sonoma
region.
People
Pleasanton is a somewhat diverse city. Although two-thirds of the population is white, more than twenty percent of Pleasantonians are Asian. About ten percent of the population is Hispanic. Unlike many diverse cities, however, there are no specific cultural communities. Instead, most of the town's population blends in, and you will find people of numerous nationalities in close company.
According to Wikipedia, non-Hispanic Whites make up about three-fifths of the population, non-Hispanic Asians make up 23% of the population, and those who consider themselves to be Hispanic make up about one-tenths of the population. Unlike many other cities in the Bay Area, though, the African-American population is small, making up less than 2% of the population.
Apart from retirement communities like , Pleasanton has a young population. Due to the high cost of living and nearness to jobs in Silicon Valley, many who retire eventually move to cheaper locations in other parts of the U.S.
Climate
Pleasanton's climate is
Mediterranean
, but is not far from a desert climate, especially when a drought occurs. Precipitation can be more than per year in wet years, but only a few inches in dry years. Most of the rain occurs during the winter months. Therefore, Pleasanton must rely heavily on irrigation to keep its trees and gardens alive; efforts have been made in modern housing developments to encourage the use of "drought-resistant" (that is, they don't need irrigation) plants instead of lawns.
Pleasanton's climate varies greatly depending on the year, though. For example, in 2013-2015, it experienced California's extreme drought conditions, and local reservoirs almost completely dried up. However, in the winter of 2016-2017, the reservoirs filled, and in
Lake Oroville
about a hundred miles to the northeast, the reservoir overflowed onto the emergency spillway, which then broke. Fundamentally, however, a few aspects of Pleasanton's climate hold up well through any year: 1) the temperature almost always has significant variation between day and night, making weather moderately pleasant at least during some time of the day; and 2) there is a clear wet season (approximately November or December to any time between February and April) and a dry season (the rest of the year) but not a clearly defined spring or autumn.
Temperatures can pass in summer, but can drop below freezing in winter. The best months to visit are April, May, and October, when temperatures are reasonable and there is still almost no rain.
June can be a hotter month than usually expected. June is the second highest month for record temperatures in Pleasanton, behind September. July and August get moderately hot almost every day in Pleasanton, but do not often get to the same record high temperatures as are reached in June and September.
The highest temperature Pleasanton has ever reached officially is an oven-hot , although in the east of the town where temperatures are generally the most extreme, it can get even hotter.
Visitor information
For visitor information, go to the . Located near Old Bernal Avenue, the library has a main information desk where they answer questions. One can also visit the nearby for information about the town. However, these buildings are eventually going to be moved to a new civic center, which will be on Pleasanton Avenue. According to city plans, the civic center complex will be merged into one main building near Bernal Community Park (which will be closer to I-680).
Numerous bookstores and other stores around Pleasanton sell a Pleasanton history book, which goes through the history of the city in detail.
Get in
By plane
Although there's a regional airport in Livermore, the best airports within range of Pleasanton are in San Francisco, Oakland, and San Jose. These airports should be less than two hours' driving distance from Pleasanton when traffic is good.
San Francisco Airport
San Francisco International Airport
(SFO) is the largest of these airports. However, from San Francisco one must get to Pleasanton — doing this by car involves taking several busy freeways with numerous complex intersections, which can be challenging for those who have not been to the area before. Alternatively, SFO has a BART station.
Oakland Airport
Oakland Airport (
OAK
) is a smaller airport in Oakland, California, significantly closer to Pleasanton. The airport is connected to BART by a people mover, and it has an expressway that connects it to the rest of the area. The loop road at the airport also makes getting in and out by car relatively easy. Once you're on I-580 east, getting to Pleasanton is fairly simple, as long as you're familiar with freeways in the U.S.

San Jose Airport
San Jose Airport (SJC) has been upgraded to a major airport in recent years. However, if you're driving north from San Jose to the Tri-Valley, keep in mind that, during afternoons, the I-680 (the freeway that connects San Jose to Pleasanton and Concord) can take hours driving northbound. The worst part begins around Scott Creek Road in the Fremont area and ends with the CA-84 freeway offramp south of Pleasanton.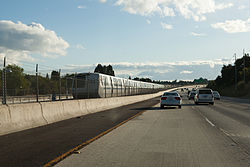 By car
Car is, for the most part, the best mode of travel for getting into Pleasanton.

Freeways
There are two freeways in Pleasanton: I-580 (northern side), and I-680 (western side) and one expressway, CA-84 (south-eastern and eastern side). I-580 and I-680 can get terribly busy, however. For example, driving on I-680 from San Jose to Pleasanton, which should only take about forty minutes, can take well over an hour. Both freeways, and CA-84, have steep ascents; I-680 and I-580 are somewhat twisty in the hills, not helping the traffic problems.
CA-84 is a California highway that is just emerging from years of road work. Most of the stretch of CA-84 from its intersection with I-680 south of Pleasanton to its intersection with I-580 in Livermore has been upgraded from a two-lane road to a four-lane expressway. CA-84 follows Vallecitos "Road" from the I-680, near Sunol, through the hills northeast to the eastern boundary of Pleasanton and Livermore. CA-84 meets Pleasanton roads at the junctions with Vineyard Avenue, Stanley Boulevard, and Jack London Boulevard (the eastern part of Stoneridge Drive).

Other roads

Approaching from the east: several roads connect Tracy with Livermore; if you're going west from Tracy, you go past Livermore on your way to Pleasanton. These include I-580, Tesla Road (J2), Altamont Pass Road, and Patterson Pass Road. Tesla Road, Altamont Pass Road, and Patterson Pass Road, however, are narrow and twisty in places.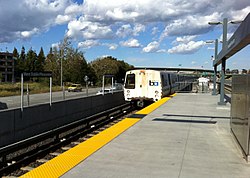 Aproaching from the southwest: southwest of Pleasanton, a beautiful road called Niles Canyon Road (a western part of CA-84) connects the Fremont area with Sunol, a town to the south-southwest of Pleasanton. From Sunol, you can take Foothill Road, Pleasanton-Sunol Road, I-680, or CA-84 to get to Pleasanton.
Approaching from the north: several roads in Dublin, a city north of Pleasanton, continue into Pleasanton under other names: Dougherty Road becomes Hopyard Road, Tassajara Road becomes Santa Rita Road, San Ramon Road becomes Foothill Road, Fallon Road becomes El Charro Road, and Hacienda Road crosses the I-580. I-680 goes from Dublin, San Ramon, and various towns north of Pleasanton to Pleasanton (and of course then continues south to the Silicon Valley).

By bicycle
Due to the hilly terrain, most roads into Pleasanton are either too narrow for bike lanes or are freeways, so there are not many good opportunities for biking into Pleasanton. The best roads with bicycle lanes are Pleasanton-Sunol Road in the south and Vineyard Avenue in the east. Cycling in Pleasanton is more appropriate as a recreational activity.

By BART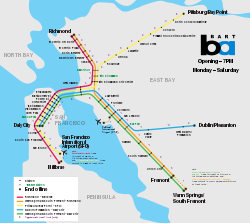 The and BART stations offer routes to Oakland and onward to San Francisco and San Francisco International Airport. The Dublin/Pleasanton station has connecting bus service to downtown Pleasanton (see #By bus).
BART trains are quite fast (about 50 mph), similar to the speed of cars when traffic is good. As you can see on the map, most of the BART trains go to San Francisco and Oakland. The Dublin/Pleasanton line eventually connects with the Fremont lines, goes through Oakland, under the San Francisco Bay, through San Francisco, and ends in Millbrae. There are numerous stations, however, where the train will stop for a few minutes each time. It then goes on for a few minutes, and stops again.
There have been BART-related crimes, so always be careful while on BART trains that you know where your belongings are, and be sure that no-one can pickpocket them.

By train
The Altamont Corridor Express (ACE) is a train service that goes from Pleasanton to places nearby including Stockton and San Jose. It only runs 4 times a day each direction — southbound in the morning and northbound in the afternoon — and stops at downtown.

By bus
There are connecting local buses. For example, Bus 10R runs from the Dublin/Pleasanton BART station to downtown Pleasanton (continuing to Livermore) with a 15-minute frequency during the day.

Get around
The city is fairly easy to navigate; roads are laid out in logical patterns with very straightforward intersections, unlike Livermore.
By foot
Downtown
Pleasanton has a walkable historic downtown district. The center of downtown is Main Street, from Bernal Ave on the south (anchored by City Hall on Old Bernal) to Arroyo del Valle on the north. (The downtown plan is laid out on the
Pleasanton Downtown Plan website
.) The Pleasanton Downtown Association provides
directions
on how to get to downtown from various points. The historic residential district also has very walkable streets, although there steep hills in this section of town.
Northern Pleasanton
Northern Pleasanton was once a swamp, so when the area was developed, canals were dug. Along the canals are for cyclists and walkers. However, many of the canal banks collapsed during the 2016-2017 rainy season, and maintenance and closures continue through 2017. It is rumored that some of the land in this region is sinking; development has continued, however.
When traveling on foot, trails to avoid are those near I-680, for they are certainly not peaceful.
Other navigation
Except for the and other trails mentioned above, navigating by foot outside of downtown is difficult. Pleasanton is miles wide and miles from north to south, so it can take hours to get from Hacienda Business Park to downtown alone. Although sidewalks are found along roads around Pleasanton, few people walk on them except schoolkids.
By car
Driving is relatively easy in Pleasanton, and generally there is enough parking for everyone (though sometimes, in downtown, that's not the case. For example, during the Alameda County Fair). I-680 skirts the western side of the urban area with three exits (Sunol Boulevard, Bernal Avenue, and Stoneridge Drive) and I-580 defines the northern boundary of the City of Pleasanton with four exits (Hopyard Road, Hacienda Drive, Santa Rita Road, and El Charro Road). If you travel south on Santa Rita Road, away from I-580 towards the center of Pleasanton, the road it turns into Main Street, which marks the entrance to downtown. Going south on Hopyard Road, eventually narrows and turns into Division Street, which becomes Saint Mary Street, which terminates at Main Street in downtown.
Pleasanton, especially since the creation of Hacienda Business Park, has numerous wide roads (in the north) that are very easy to drive along.
Parking
Parking lots are spacious, especially in shopping malls, due to flatter ground and plenty of extra space. However, parking in downtown is tricky, especially along Main Street. During Alameda County Fair in the summer, parking in downtown can be nearly impossible.
Don't try to park directly on Main Street or First Street during daytime hours, since these roads are narrow and busy, making parking challenging along them. Surface streets with easy parking are often only a short distance from busy, congested roads. Main Street and downtown in general can be disastrous for parking during events, and during the Alameda County Fair, people park in downtown to avoid parking fees in the fairgrounds. Parking can also be a problem, especially in minor streets, during the fall, when fallen leaves cover parking spaces and trees. with their leaves, cover lighting and signage.
Generally, parking in the Hacienda Business Park region is located within the shopping malls or near business units. Parking lots are large in this area, with more room than there are cars.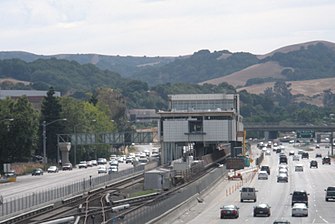 Driving
Major roads in Pleasanton include (these roads are two lanes on each side at least at their widest point):
Santa Rita Road: goes from I-580 south to downtown Pleasanton, becoming Main Street at the southern end.
Hopyard Road: runs somewhat parallel with Santa Rita Road, and (going south) eventually becomes Division Street and leads into downtown Pleasanton.
Stanley Boulevard, First Street, and Sunol Boulevard: three names for different parts of the same road. Sunol Boulevard goes from I-680 northeast to downtown, First Street crosses downtown, and Stanley Boulevard goes east, past Shadow Cliffs and the quarries to Livermore.
Other roads to know:
Main Street: slow road, better for pedestrians than cars; in 2018, this road was repaved and some maintenance work was done to it
First Street: see Stanley Boulevard
Pleasanton-Sunol Road: connects Pleasanton near Sunol Boulevard to downtown Sunol
By bus
Several transit companies serve the Pleasanton area. The main bus operator is
WHEELS
, which goes to
Dublin
and
Livermore
, as well as the BART stations. The County Connection has a few buses in Pleasanton. There is also reverse peak service from Pleasanton to
Modesto
, traveling to Modesto in the morning and returning to Dublin/Pleasanton Bart station in the afternoon; the fare is $11 one-way or $13 round-trip (must be in the same day).
By bicycle
The city has a good cycling network. Several trails, for walkers and cyclists, are found along canals in the northwest of the city. Work has been done on creating a bicycle network in downtown, but so far it has been unsuccessful since the roads are mostly too busy for cyclists. There are bicycle racks by the Firehouse Theater.
Plans are also being made to connect the Pleasanton and Livermore bicycle networks, since Livermore also has a good cycling network. As of 2018, a paved trail is being constructed along East Vineyard Avenue in Livermore, from which a dirt trail runs parallel with western Vineyard Avenue into Pleasanton.
See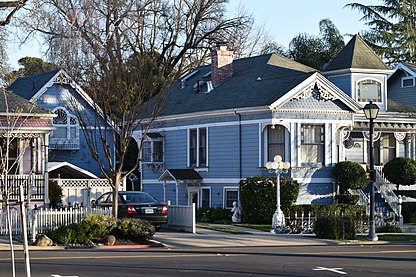 Overview
Downtown Pleasanton
Pleasanton has numerous historic sights in the downtown area. These are generally in two sections: the commercial section along Main Street and the residential section along First and Second Streets.
The
commercial district
on Main Street is about a half-mile long. This district of downtown is centered at the intersection of Angela and Main Streets, near the Farmer's Market. However, it extends to the north from this intersection as well, including a major junction where Ray Street, Saint John Street, and Main Street meet (Oasis Restaurant and the Rose Hotel are at this intersection). Pedestrians are often seen strolling through this district of downtown, often before or after having a meal at a restaurant.
The
residential district
, southeast of Main Street, is not as long as Main Street but has some historic houses. If you go southeast from Main Street, First Street marks the transition from commercial to residential, which continues to be historic into Second Street and on to Third Street. After this point, the houses are more recent constructions, although some of them are quite attractive, even in this part of town.
Other attractions are notable, such as Kottinger's Barn and Museum on Main. These are historic buildings which have since been converted into something they originally weren't. The Firehouse Arts Center, for example, was a fire department building before it was transformed into a theater and art gallery in recent years.
Country areas
Until the civic center project is completed, there will be few (nice) parks and gardens around downtown Pleasanton. Therefore, you'll want to get out into the country to see flora and fauna.
Groups such as the East Bay Parks District have purchased
significant portions of land in the East Bay
, which are now open to the public. These parks give outsiders and city inhabitants an idea of what the Pleasanton area used to look like before more recent developments. The parks are characterized by ranch country; you won't find many farms adjacent to Pleasanton today. Mostly, the country areas are either oak forests in canyons and cooler, wetter places, and open grassland in more isolated, drier locations. Pleasanton Ridge is a good example of this combination — often, one side of a ridge will be completely covered in oak trees, and the other side is almost barren, with moderately tall yet dry yellow grass (green during the wet season) shoots being the primary form of vegetation. Shadow cliffs is a notable exception, since it is situated along the Arroyo Del Valle and several lakes. This means that trees can grow in the area, while they could not survive in other areas because it is too dry.
Due to Pleasanton's location (nestled between
Livermore
,
Dublin
, and
Sunol
), there are few possible places for parks in comparison to its neighbors. When you go searching for true wilderness, the best option is south of Livermore, where besides
Lake Del Valle
there are 4,000-foot mountains like
Mount Hamilton
, and hundreds of square miles of parkland in places like
Henry Coe State Park
.
Museums & historic sights
Abandoned RailroadBefore being rerouted to the northwest of downtown Pleasanton, the railroad used to run right through the downtown area. You can still see the railroad crossing signs on West Angela Street, for example, in the Farmer's Market. Some of the railroad tracks are still visible near the Firehouse Theater, and a longer section of abandoned railroad can be seen along Sunol Boulevard to the south of downtown Pleasanton.

Kottinger's Barn

address: 200 Ray Street, Pleasanton, CA

Kottinger's Barn, built in 1852, was once a jail that bandits frequently "visited". The building's thick walls and barred windows are an interesting contrast to the small shop and potted plants which now exist at the location.

phone: +1 925 462-2766

address: 603 Main St

This museum features Pleasanton's history with numerous historic items, maps, and more, some of which date to Native American times. There are also exhibits for things around the area, such as Pleasanton's filming history. These change every few months.

Pleasanton Commercial District

address: Main Street

The commercial district of downtown Pleasanton is based around Main Street, a slow two-lane road with shops and restaurants. The road (or in the case of pedestrians, the sidewalk of the road — do not walk on the road itself unless you're at a crossing) is better for pedestrians than drivers, since the road gets very busy. Some of the buildings are older than others - new buildings are still being added along Main Street, while others have long histories as various companies. The best and most expensive of restaurants are generally in downtown Pleasanton, although there are some other good restaurants in other parts of the City.

Pleasanton Historic Residential District

address: Second Street

Along with the historic buildings in commercial district of downtown Pleasanton, there are several blocks of well-maintained older homes which are accessible along Neal Street to the south of downtown. Particularly around Lighthouse Baptist Church, there are several homes dating back to the 1800s. Many of these buildings have nice gardens, along avenues of tall trees. The area has a lot of steep hills, similar to that of San Francisco, so walking around the area could be strenuous to some.

Pleasanton Sign Arch

address: Main Street just north of Division Street

The inscription reads: "Originally installed by the Women's Improvement Club in 1932, the Pleasanton Sign have become a familiar landmark and prominent symbol of the community. In 2005, the sign underwent a complete restoration, and was rededicated by the City Council on April 8th."

Main Street Green

address: 895 Main Street

There is a statue in this small park at the northern end of downtown. A path goes to the Arroyo del Valle creek that runs alongside the park.
Art
phone: +1 925 931-4850 (Information), +1 925 931-4848 (Box Office)

address: 4444 Railroad Ave

Opened in 2010, the Firehouse Arts Center is the City of Pleasanton's historic 1929 Fire House One renovated and expanded into an arts center featuring the 230-seat Firehouse Theater, Harrington Gallery of fine arts, two large arts classrooms, and a grand lobby for receptions and events. The transformed facility also offers a pedestrian connection from Main Street to the expanded Lions Wayside Park.
Numerous murals. There are several beautiful murals and wall drawings scattered around downtown Pleasanton. Near Strizzi's Restaurant is a

mural of the Tri-Valley

Another mural, portraying a street scene, is at

Valley Plumbing(It faces Peters Avenue.)

These murals often make what would normally be boring walls some of the most interesting in the town.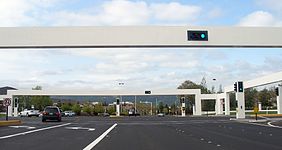 Business parks
Hacienda Business Park

address: Owens Drive

This isn't the best place for travelers to visit if they don't have much time on their hands, but it's an interesting place to visit if you do not know what else to do with yourself. Two factors are what make Hacienda Business Park visually interesting: the architecture of the street signs and the business park's history. First, the unusual traffic lights and street signs are gigantic square structures that are built across the roads, and they are accentuated by what immediately surrounds them. Second, the history of the park: Hacienda Business Park was built around the 1980s when Pleasanton began to look like it does today, and Hacienda Business Park replaced ranching and farming country. Within a few years, what is now northern Pleasanton went from being countryside to an important part of the City of Pleasanton. However, the plans of the developers to turn Hacienda Business Park into one of the world's great business parks did not succeed — the wide boulevards in the business park are surprisingly empty, giving the business park a near-abandoned feeling sometimes.
Do
Overview
Local events
Every summer Pleasanton hosts the Alameda County Fair, the main repeated event in Pleasanton. However, Pleasanton has numerous other events, musically and otherwise. Pleasanton, like neighbor Livermore, has a surprisingly strong jazz scene. Major jazz events include the monthly Inklings concerts, which are free and open to the public.
Pleasanton hosts many activities along Main Street. Such activities include the Third Thursdays Art Walk: these are important, even for those who are not attending the events, because they often result in Main Street or Angela Street road closures.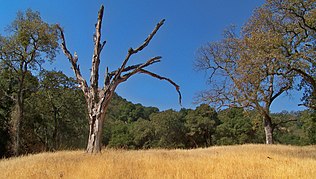 Parklands
Although some of the local parks are owned by the city government, most of the larger parks are owned by the EBRPD, which stands for the "East Bay Regional Parks District". The EBRPD owns a couple parks in Pleasanton, including Pleasanton Ridge and Shadow Cliffs, but also owns several other parks in the greater Tri-Valley, including
Del Valle
, Brushy Peak Regional Preserve, and Morgan Territory.
Parks & major trails
phone: +1 925 931-3479

address: 3465 Old Foothill Rd.

Opened in 2008, this restored community park gives visitors a glimpse of the history of the Amador Valley, including interpretive displays of early Ohlone culture before the Spanish arrival, the years of Ranchos managing herds of cattle on the Rancho Santa Rita Mexican Land Grant, and a replica of an American Meadowlark Dairy in the early to mid-20th century. The star focus of this interpretative park is a rare original American adobe house, constructed in 1854 by Francisco Alviso, that was continuously in use until 1969. The Alviso Adobe is restored and on display furnished as it would have been in the 1920s. Visitor center/dairy has activities for kids; grounds have tables for picnics. Parking at south end.

address: 8200 Golden Eagle Way

This is a Pleasanton city park next to #Pleasanton Ridge Regional Park. It is similar in almost every aspect to its neighbor, except that it's smaller.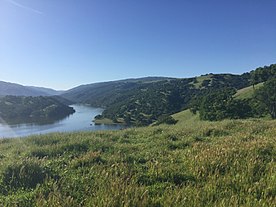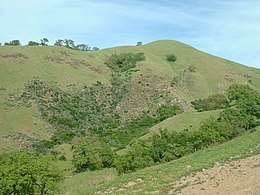 Morgan Territory Regional Preserve

address: Morgan Territory Road

This is a fairly large park with many miles of hiking trails that is north of Livermore. Morgan Territory, as it is usually called, consists of some oak woodlands, streams, canyons, and grass-covered plateaus.

Pleasanton Ridge Regional Park

address: Foothill Road

This regional park features the mountainous ranching country of the Diablo Range in California. The park has miles of rugged country, including oak forests and grasslands. The highest ridges are about 2,100 feet; most of the ridges are at least 1,000 feet.

address: 2500 Stanley Boulevard

The park was once part of the quarry, but the excavated land is now Shadow Cliffs Lake. It includes a couple miles of trails around the lake. However, be prepared for the strong barbecue odors encountered around the grills near the lake.

address: Geary Road or Welsh Road

This large wilderness area is a popular, fairly easy-to-reach park south of Pleasanton. Several trails lead from the park's trailheads into the mountain ranges around the park. There is a Sunol Regional Wilderness visitor center near Geary Road. Sunol Wilderness is connected to Del Valle Regional Park and Mission Peak via the Ohlone Regional Wilderness Trail.
Arts & entertainment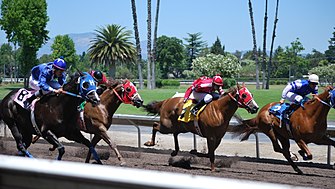 phone: +1-925-400-8190

address: Downtown Pleasanton

The 3rd Thursdays MerchantArts Walk is a collaborative event bringing together local downtown merchants, arts groups and area artists in an effort to continue adding interesting and lively events to Downtown Pleasanton. It's a nice walk, on a nice evening, and an opportunity to join the community, support local artists and help this community thrive.

address: 4501 Pleasanton Avenue

The fair has been at Alameda County Fairgrounds every summer since 1912. You can also plan a morning & go behind the scenes to experience the exciting world of thoroughbred racing at the Eddie Rich Racing Stable. There are car shows and horse races at the fairgrounds annually.

Jazz at Inklings

address: 530 Main Street

In the Events Room (Common Room) behind Inklings Coffee & Tea, jazz concerts are held, generally once a month. Various musicians, from around the Bay Area and occasionally from other parts of the country, perform.

address: 4501 First St

The concerts are held weekly on Friday nights in the summer. They feature a wide range of musical genres and are open to the public at Delucchi Park. People often come several hours early to get a spot in the park.
City parks
Although these are not quite the equivalent of
Yosemite
and
Yellowstone
, they are places to go if you want to play sports or take children to the playground.
Ken Mercer Sports Park

address: 5800 Parkside Drive

This is a more than half-mile-long city park dedicated completely to sports activities. A few summer camps operate here.
Golf & country clubs
phone: +1 925 426-6666

address: 8500 Clubhouse Dr.

A golf course, restaurant, and hiking destination in the south of Pleasanton. In the Happy Valley region, the countryside is beautiful. You can also hike in the region.

phone: +1 925 846-2871

address: 707 Country Club Cir

A first-class country club located in the Foothills community in western Pleasanton. For those who have money to spend and to want to have the finest experience possible in Pleasanton, this is the place to go. It is situated on the side of Pleasanton Ridge, not very far from the regional park, although it is not along the road to the park.

address: 3400 W Ruby Hill Dr

Another first-class country club, this time in the wine country in eastern Pleasanton. It is in a gated community.
Relaxing
Although Pleasanton isn't a beach town, there are still places to take time relaxing. Pleasanton's historic residential district is nearly always peaceful — especially along Second Street and onwards, you could almost think that no-one was living there.
Pleasanton Ridge Regional Park and Shadow Cliffs Regional Park are not the best places to relax. For relaxation in parklands, the best place to go is Livermore. In Livermore, has beautiful trails featuring woodlands, historic buildings, and hills in the south. There are numerous benches around the park, so feel free to bring a snack and enjoy the peacefulness of the sycamore and olive groves.
Pleasanton and Livermore are working on a trail network for cyclists and pedestrians. Portions of Livermore's trail network are already complete; the trails mostly contain gentle slopes in nice countryside, ranchlands, and vineyards - a good area to escape the busyness of ordinary life. The trail network is accessible from the Sycamore Grove Staging Area. When the Pleasanton section is complete along , the trail network in the region will grow even more.
Buy
Once the headquarters of Safeway Stores (before they were purchased a few years ago), Pleasanton abounds in grocery stores. There are two Safeway Stores in Pleasanton, along with a Trader Joe's and a Ranch 99. Stoneridge Mall is a large mall in the north of town. It is near Hacienda Business Park, like Rosewood Plaza. Downtown Pleasanton is, of course, to the south.
Gold N Time

address: 3500 Bernal Ave # 135

Small shop that sells watches and repairs them.

Gregory Frame Shoppe

phone: +1 925 846-1824

address: 800 Main Street

This shop is recognized by the beautiful flowers on the front side of the building that faces Main Street. The shop itself is also an interesting building, being covered by white paint and being somewhat built upon a slope.

Pleasanton Farmers' Market

address: West Angela Street, Pleasanton, California

Farmer's Market operates every Saturday morning on the section of West Angela Street between Main Street and First Street. They close this section of Angela Street so you can walk along it and buy food items, donate to causes, or learn about elections or events in the booths that go along this closed section of the street.

address: 719 Main St

It is the kind of store where you can find all kinds of things, odd little bits and pieces, for reduced prices.

Rosewood Plaza

address: Rosewood Drive, Pleasanton, California

Rosewood Plaza is a neighborhood center with several stores.

address: 1 Stoneridge Mall Rd

Main shopping mall in Pleasanton. It's an enclosed regional mall with Macy's, Nordstrom, Sears, J.C. Penney, and Apple stores.

address: 400 Main St

Art gallery store which features paintings of local country scenes, such as views of Mount Diablo, and some city scenes like San Francisco.

address: 555 Main St

It's the main downtown bookstore. The store is divided into two sections, with adult books in the front, and children's books and games in the back.
The city also has a Wal-Mart, Kohl's, and Home Depot in the north of the town. There are also two Safeway stores, both towards the southern side of town.
Eat
Pleasanton has a wide range of restaurants, particularly along Main Street. What is mid-range for Pleasanton would probably be considered expensive in many places, due to Pleasanton's high cost of living.
Pleasanton's restaurant styles include some cuisines that are rare in much of the country, such as Mediterranean and Arabian food. There are also some Indian restaurants in Pleasanton.
Budget
address: 435 Main St

This is your usual Mexican-American restaurant, whether you like it or not. They serve tortilla chips upon your arrival at the restaurant and practically anyone who saw the menu could tell that the food was Mexican. Due to the cantina's low prices compared to other Pleasanton restaurants, Alberto's Cantina is a popular Mexican restaurant in downtown Pleasanton.

phone: +1 925-462-1678

address: 6003 W. Las Positas Blvd

Enjoy a delicious Italian Beef or any of the creative sandwiches this Chicago style eatery has to Offer. Famous not only for its food, but also as the place leading thoroughbred jockey, Martin Garcia, once carved sandwiches.

phone: +1 925 485-3010

address: 55 West Angela Street

address: 411 Main Steet

Frontier Spice serves Punjab Indian cuisine and they take reservations. When you first arrive at the restaurant, you are served Indian bread that is hard and is somewhat similar to crackers. Their main courses are divided into vegetarian and non-vegetarian curries, with the rice and bread separate orders.

address: 2707 Hopyard Rd

Mexican restaurant.

Sultans Kebab

address: 6654 Koll Center Pkwy #205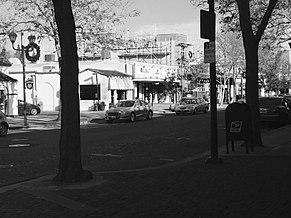 Mid-range
phone: +1 925 750-8888

address: 348 St. Mary Street

The name quite accurately defines the restaurant: it's Chinese-American, with Chinese food but a Western atmosphere.

address: 5681 Gibraltar Drive

Indian cuisine.

phone: +1 925 484-3877

address: 436 Main Street

address: 220 Division Street

Burmese restaurant that is just off Main Street.

address: 210 Rose Ave

This is a rather interesting restaurant because it probably is the most aroma-producing eatery in Pleasanton.

Jim's Country-Style Restaurant

address: 5400 Sunol Boulevard

This American restaurant is in the same shopping mall as the Raley's grocery store, which is a fairly short distance south of downtown Pleasanton on Sunol Boulevard.

address: 780 Main St

Serves Mediterranean food and drink in downtown Pleasanton. Oasis has been in Pleasanton for many years and has a good location in downtown, although very limited parking in its main parking lot. There is a lot of seating for the indoor section of the restaurant and also some seating in a garden setting outside the restaurant. However, the downside with sitting outside is you get the sound of all the traffic that goes along Ray Street into downtown Pleasanton, then turns left onto Main Street for a short section (right in front of the Oasis Restaurant), and then turns right onto St. John Street toward Peters Avenue.

address: 405 Main St

Italian restaurant in downtown Pleasanton.

phone: +1 925 523-396

address: 349 Main St

This is a Hawaiian fish restaurant.

Rising Loafer Cafe

address: 428 Main Street

This is a traditional American cafe/restaurant. Their emphasis is largely on breakfast, and they serve breakfast dishes like bacon, eggs, and sausages. Their lunch meals still have the traditional American influence, although they do include plenty of sandwiches on their lunch menu.

phone: +1 925 600-8040

address: 30 Neal Street #110

phone: +1 925 847-2911

address: 5685 Gibraltar Drive

phone: +1 925 249-9448

address: 824 Main Street

address: 3500 Bernal Ave #130

A Japanese restaurant that's towards the outskirts of Pleasanton, rather than in the center of town.
Splurge
address: 500 Main Street

This restaurant is on a street corner in Pleasanton downtown's Main Street; it is one of several Pleasanton restaurants that has outdoor seating along the sidewalk. There are also a few interesting structures outside their restaurant that have fires burning inside them to keep outdoor restaurant customers warm during the late evening.

address: 475 St. John St.

It's an upscale, expensive Italian restaurant in downtown Pleasanton with event space. On some Friday nights, there is live music at Barone's.

address: 625 Main St.

They serve upscale Mexican food in downtown Pleasanton in the building next to Museum on Main. Blue Agave is easily recognized by its large seating area in front of the restaurant and the restaurant building's bright colors.

Hap's Original

address: 122 West Neal St

Hap's has an old-school cocktail sign visible from Main Street. From there you might think it's an old watering hole until you walk up to the restaurant, and the upscale nature of the establishment becomes evident. This is an American Steak House, with fantastic steaks and somewhat pricey side dishes. Meals are ala carte. Stop in the bar for a Manhattan before dinner.

phone: +1 925 223-8074

address: 443 Main St

Lokanta is a fairly high-end restaurant in downtown Pleasanton. Lokanta serves Mediterranean food, primary Greek and Turkish, and is open at both breakfast and dinner. Their restaurant includes four areas where you can sit down and eat: in front of the restaurant, the main part of the restaurant (location of the kitchen), a room behind the front room with a bar and large windows, and an alley next to the restaurant with several tables.

address: 425 Main Street

European food with French, English, and Italian elements.

address: 377 Mary Street

This restaurant isn't right on Main Street, but it has quickly become of the most popular restaurants in downtown Pleasanton. Much of the restaurant's seating is outdoors in front of the main restaurant building. Salt Craft's menu consists of Italian-American cooking and more modern cuisine.

address: 649 Main Street

Serves traditional Italian food. There are other locations in Livermore and Fremont.

address: 519 Main Street

American food, mostly non-vegetarian dishes.
Drink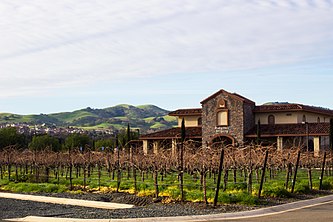 Pleasanton is at the edge of Livermore wine country. Eastern Pleasanton, in particular, is somewhat similar to
Napa Valley
Wine Country.
Coffee shops
address: 530 Main Street

Inklings Coffee & Tea serves coffee, tea, soft drinks, and some snacks. It's a large coffee shop with many separate sections that are called rooms, including rooms with names like "The Wardrobe" and "The Common Room", where the Jazz at Inklings concerts are hosted, along with other events.
Pubs and wine bars
Wineries
address: 1188 Vineyard Ave

In size and grandeur, it has some similarities with Ruby Hill Winery. Rubino Winery has a long entrance driveway that leads away from Vineyard Avenue to the winery.

address: 400 Vineyard Avenue

Beautiful, upscale winery in the east of Pleasanton. The area immediately surrounding the winery is much like that of Napa and Livermore Wine Country, and is backed by vineyards and mansions. Near the winery is the (also upscale) Ruby Hill gated community.
Sleep
Pleasanton's hotels are mostly in the north of the town, although the Rose Hotel is in the downtown.
Budget
phone: +1 925 463-2626

address: 5102 Hopyard Rd
Mid-range
Splurge
address: 807 Main Street, Pleasanton, California

The Rose Hotel is one of Pleasanton's most beautiful buildings because of its height and large size, making it the closest thing in Pleasanton to the type of expensive hotels you would find in the downtowns of many popular tourist destinations. There is an entrance to the building along Main Street and there is parking for the hotel on the first floor of the building itself.
Stay safe
Roads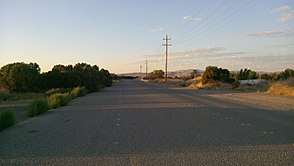 Cars
On the whole, Pleasanton is a safe city. The most dangerous locations in Pleasanton are toward the edges of the city — Vineyard Avenue, on the east of the city, has a high speed limit and turns without good curbs, and accidents have occurred around certain corners.
When driving in country areas, deer will often jump over a high fence onto the road, and that can be problematic when someone is driving along that piece of road. The same is true with raccoons and other smaller animals, but of course this does not pose so much danger to drivers.
Bicycles
Remember, if you're a cyclist who uses a bicycle for transportation, you're on the
wrong side of the pond
.
Cyclists should be careful about going on the wide, country roads, for sure; commuters from the
Central Valley
drive far above speed limits and often crash into fences or anything along the sides of the road. Avoid cycling in downtown; the roads are busy, cycling lanes (if they exist!) are narrow, and pedestrians often walk along the sidewalks. Cycling is best done on the numerous bike trails around town.
Crime
Pleasanton seems, unless you know the Pleasonton story, to have reason behind its name — it is one of America's safest towns. Even at night, you could walk in almost any part of the town with no worry whatsoever about crime. The little crime in the area generally comes from inhabitants of larger cities in
Alameda County
.
One problem in Pleasanton and Livermore is drunk driving. With numerous wineries in the area, people will often drive from one to another and drink at each one, and their condition rapidly deteriorates, sometimes leading to serious accidents when they drive home.
Generally, although the city is very safe, the safest parts of town are in the downtown area. Unless you're Bill Gates or Steve Jobs, you should not have to worry about leaving your car unlocked while you eat at a restaurant (not that you should). Signs and posters along the Main Street won't get vandalized, unless they're political. People are often afraid to make their political views public, for example, especially if they're part of the right-wing minority.
Wildlife
Outside of Pleasanton is probably more dangerous than inside the city. The East Bay has small colonies of mountain lions, although these generally stay away from populated places and parklands, at least during the day.
When you see a mountain lion and it is acting threateningly towards you (which isn't very common, by the way), act the
opposite
way you would act to a bear. With bears, advice is often to make yourself as small as possible. However, with mountain lions, your best chance is to scare them off. By making yourself look large and by throwing stones, the mountain lions are most likely to work out that you're more powerful than they are, and they will go away.
Rattlesnakes can also be a problem outside of the city itself. Generally, you can avoid rattlesnakes by walking in the center of trails (so you can see them). If it's not in a good position for attack, you'll have time to get away from the rattlesnakes. If the snake is coiled, then it's angry and ready for attack, so get away as fast as possible. Do
not
attempt to take pictures of the snake within several feet of it. Rattlesnakes can spring surprisingly far and use their venom before you can get away, so make sure you are extremely careful in any parks and country areas.
Connect
Wi-Fi
Pleasanton downtown has its own Wi-Fi, while most restaurants, coffee shops, and hotels will also have their own. The area is also covered by XFINITY internet connectivity for those who have an XFINITY account.

News
There are several local newspapers, such as the newspaper based in Livermore, and the newspaper based in Pleasanton. A magazine commonly seen at storefronts and coffee shops is the , linked here to the Peet's Coffee location with Alive magazines in Pleasanton.
The Independent and the Pleasanton Weekly also have websites where news articles can be read without charge.

Mail
The main is on Black Avenue quite close to downtown Pleasanton; however, there is another post office in the northern part of town.

Cope
Generally, coping in Pleasanton shouldn't be much harder than it would be anywhere else, although the wide boulevards (of which there are many in the north near Hacienda Business Park) could be overwhelming for visitors.
Cost of living may surprise visitors
; if you're
traveling on a budget
, there's a
Trader Joe's
grocery store in the north of town, with cheaper groceries; and various low-price goods can be purchased at
Rick's Picks
, for example.
Medical care
There is a major hospital and along northern Santa Rita Road. It is the main hospital in town.
In Dublin just across the I-580 (on Tassajara Road) is a center. This is useful for those who have sudden ailments, although there are often long waits for care and the urgent care center does not do major operations - just relatively simple care.
Go next
Livermore is in some ways similar to Pleasanton, but is still different. While Pleasanton has many historic sights, Livermore has an abundance of wineries, vineyards, and large areas of mountains and parks. The city has about 8,000 more people in Pleasanton, and is an interesting contrast.
Just south of Livermore is Del Valle Regional Park, which is a large regional park with several campsites and a large reservoir, Lake Del Valle. From the top of some of the ridges are beautiful views of the lake and in other locations high cliffs. Del Valle is also a gateway into some even wilder country at Ohlone Regional Wilderness.
Mount Hamilton, also known as Lick Observatory, is south of Ohlone, and can be accessed via either Livermore, Patterson, or San Jose. Particularly from the eastern side, the drive is a lonely one. However, once you reach the top Mount Hamilton and look around you, the long, tiring drive was worth it. The 4,000-foot-high scientific community and observatory has views of San Jose and possibly the Sierra Nevada in good weather conditions. There is a museum and a gift shop at the settlement.
Farther south of Mount Hamilton, Del Valle, and Ohlone is some of the loneliest country in California at Henry Coe State Park. Miles and miles of trails lead deep into the Diablo Range wilderness and mountains covered in pine trees.
San Francisco, in many ways, need not be explained. It is the home of several piers, cable cars, and the Golden Gate Bridge, and is less than two hours from Pleasanton - that is, in good traffic. (The freeways into San Francisco are traffic jams much of the time.)
San Jose is one of California's largest and fastest-expanding cities, with a population of more than a million. It is home to several museums, along with Alviso, a coastal town which was once a thriving port but is now the home of a nature reserve.
Concord is, along with Walnut Creek, an area with many shops and more nightlife than Pleasanton and the Tri-Valley region.
Sunol is a small village south of Pleasanton with some unique attractions. One of these is the locally-famous Sunol Water Tower, which is for a few hours on some days, and the passenger train which runs from Sunol to Niles on weekends.
Mount Diablo is a dramatically-situated mountain to the north of Pleasanton. Although it is less than 4,000 feet, its prominence enables it to be seen from as much as a hundred miles away.