Plovdiv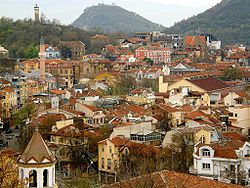 Plovdiv
(Bulgarian: Пловдив) is the second-largest city in
Bulgaria
, and second oldest (if not the oldest) city in
Europe
. It is located in the large plain between the Rhodope Mountains on the south and the Balkan Range (Stara Planina - "Old Mountain") that runs through the center of Bulgaria to the north. Both ranges are visible on clear days. The Maritsa River flows through the city on its way southeast before forming the
Greek
/
Turkey
border to the Aegean Sea.
Understand
Plovdiv is debatably the oldest continually inhabited city in Europe, with a history traced back to 6000 BC. Originally it had seven tall hills, some of which were used for quarries. It was originally a Thracian settlement by the name of Eumolpias. The city has changed its name many times with new settlers and rulers: from Philippoupolis and Pulpudeva ("the city of Philip", the father of Alexander the Great), through Trimontium ("the three hills"), to Pəldin, Pləpdiv (Плъпдив) and Plovdiv. They also left their marks behind: there are several Roman ruins that can be seen in or near the city center area. During the long occupation by the Ottoman Empire, a large mosque, still present, was built in the center of the city. During Communist times, a statue of the unnamed Russian soldier was erected on one of the three main hills which overlook the city.
Today, Plovdiv is a famous tourist destination itself and also serves as a gateway to many other points of interest. Plovdiv is well known for hosting the Plovdiv International Fair twice a year and for its ancient, medieval and enlightenment sites.
When you are in Plovdiv, you can get help and more information about the city from one of the two tourist information centers in the city. The first one is located in the middle of the city, right next to the post office; when arriving in the city via train or bus through the "Yug" or "Rhodope" stations, this is one of the first buildings you'll come across in the city center. The second one is located in the Old City, on its main street (Saborna St), close to the Ethnographic museum and the beautiful church of Saint Konstantin and Elena.
Tourist information centers can help you with all kinds of information including city maps, information about concerts, bus and train schedules, and finding a place to sleep.
Plovdiv is a "
European Capital of Culture
" for 2019, an honour it shares with
Matera
.
Get in
By plane
There is a bus, that goes from the airport to the central bus station "Yug". There are buses after every flight. On the way back to the airport you can choose from one-way or return tickets.
You can also go there by taxi and it will cost you about 15 leva (about €7.50) from the city center.
By train
The is just north of the city center, a 10-15 min walk.
There are around 15 daily
trains
to and from
Sofia
, taking 2 to 4 hours - the slower trains may require a change.
There is a sleeper train every night between Sofia, Plovdiv and
Istanbul
which takes about 7 hr.
In June 2019, another train ran daytime between Plovdiv and Edirne in western Turkey. It was meant to be a permanent service, but lasted for just one weekend then they cancelled! It's not known if it will ever resume - it created a useful extra route between Bulgaria and Turkey, avoiding arrival / departure in the small hours.
By car
The A1 expressway/motorway connects Plovdiv westward to Sofia, and eastward all the way to Burgas on the Black Sea. Other destinations require two-lane roads, such as the most direct route to
Pleven
, which is the somewhat adventurous Troyan pass road.
By bus
Plovdiv has 3 bus stations: , , and . There are many buses for cities all around Bulgaria and to some that are outside the country. Buses to destinations near Plovdiv run from Rhodope station. Both the Yug and Rhodope stations are within five minutes walking distance from the main train station.
Yug station has an ATM located just outside so you can easily get local currency there if you're arriving by bus from abroad. Buses for Sofia leave from this station.
Buses run hourly from Sofia and are slightly faster than the trains (approx. 14 leva).
Metro Turizm is a Turkish bus company that runs daily bus services to and from Istanbul in Turkey. Buses going from Plovdiv to Istanbul depart from Yug Station daily at 11:00, 14:00, 19:00, 22:30, and 01:00. The trip costs 105 TL (as of the summer of 2018) and takes roughly 7 hr, depending upon the vagaries of traffic and the border crossing. Metro buses also depart daily for Bursa, Turkey at 19:00. A second bus line (Alpar) also has a daily bus from Yug Station to Istanbul that departs at 22:30.
Eurolines runs a bus to
Thessaloniki
via Sofia that leaves at 08:00 from the Yug station, tickets can be bought on board. Metro Turizm runs a similar service at 08:30, tickets can be bought from the office at the station.
Get around

Taxis and buses are prevalent. Downtown has a large pedestrian zone. Taxis are (Summer 2010) as cheap if not cheaper than bus rides when split between 3-4 people in general. A 5-7 km of traveled distance was charged at around 5 leva (charge for km is 0.75 leva daily and 0.95 leva nightly); an average ride within the city costs around 3 leva. The taxi arrives in about 3-5 min. Remember to order the Taxi from the companies that offer the best deals and wait for it. Generally taking the taxi that is already waiting will cost you more (sometimes up to 5 times more) avoid them or ask for a flat price that fits you! Learn who offers best prices from the locals who often use taxis. Most of the taxi cars have 4-digit numbers on them, remember some and use it if you need a car, for example: 6155, 6142, 9199 and so on.
As of summer 2011, if your taxi ride costs more than 5 leva, you are entitled to a 20% discount off the fare.
Public bus tickets cost 1 lev.

See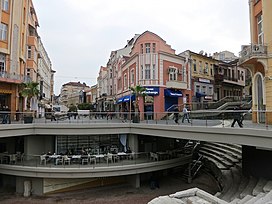 Old Plovdiv is compact and walkable, with the main downtown road blocked to car traffic. There is a good collection of Bulgarian revival buildings in use as museums, hotels, and restaurants etc. and is worth a visit if you have a chance.
Roman AmphitheatreThe Roman Amphitheatre, discovered in the 1970s during a construction project, is part of the pedestrian zone, and typically has merchants selling art and other items nearby.

St. Marina churchwith a unique wooden tower
Wander the cobblestone streets near the downtown to find, a
mosque from the Ottoman Empire
, and on the nearby hill the
old town center
. The old town center was walled, and has a famous
gateway entrance
. Nearby
Puldin Restaurant
has subterranean rooms where the old wall and historic artifacts can be seen. Continuing up the hill several older houses are now museums and the Roman amphitheater with an overlook of the town below is partially restored and still used for concerts and other occasions.
In the new center of the city, right before you go up into the old city, you will see the , which dates back to the late 1st/early 2nd century. It had a capacity of 30,000 people, and as the Roman laws dictated that the city stadium should have seating for at least half the population, it summarily shows the town had 60,000 inhabitants during Roman times. In addition, the ancient theatre is capable of seating 6,000 people at once, and yes, as you already guessed, Roman laws were dictating that the theatres should accommodate one-tenth of the population at a time.
When you go to the other end of the pedestrian street, next to the Tourist Information Centre and the post office, you will see the Roman Odeon and Forum. The forum was to Romans what the city centers are to modern human. This one had three sides of 13 shops on each side, and a fourth one for the bank, library, and other institutions of this sort. There's also a nice park with kid playgrounds and colour+music fountains.
Do
Plovdiv offers many things to do, and most are easily walkable.
The Hills - For starters enjoying the sunset from all the different hills is a must. Walk all the way to the top in the late afternoon, pick something to drink and stay there for the sunset. Go down to enjoy the nightlife once it's dark.
Kids train, On one of the hills there is a kids train (don't worry it's not for kids) that goes up into the hill and gets back down. It costs 1 lev and it's located on the Mladeshki hill. On the top of the Bunardjik Hill, you can see the monument to the Soviet Army, known by locals simply as Alyosha.
Old Town - Another must is the old town of Plovdiv which is full of art, free of cars and very enjoyable. Go take a walk. Try it at day, try it at night - it's amazing. Try some of the bars - there are life performances sometimes there. You might be even lucky enough to catch an opera performance in the old Roman theater.
Center - Take a stroll up and down the main walking street of Plovdiv, known as "Glavnata" (The Main). It is full of shops, galleries, and cafes. Enjoy the central park during the day or at night, especially if it's a very hot day. Once the weather settles hit the main street and the bars/discos. On summer evenings, many locals gather to enjoy the recently renovated marvelous singing fountains, located in a large pond on the western edge of the park (show starts at 22:00 every Thursday, Friday, and Saturday).
Attend a Folk/Jazz music festival. The International Festival Plovdiv Jazz Nights is a low key but high-quality 3-day event featuring some of the nation's best musicians along with some regional talents. Be there to witness a riot of colorful improvisations from great musicians. A variety of genres, styles, instruments are used although the music revolves around the central theme of Jazz and Blues.
Visit and Asenovgrad Krepost, a perfect day trip. There are many bus connections Asenovgrad by bus from the Rhodope bus station. Bachkovo Monastery is a small monastery up the valley from the nearby town of Bachkovo. Buses leave from platform 1 at the Rhodope bus station (across the tracks from the train station). The monastery is small but has a lovely chapel and some paths for easy walks in the surrounding area. Also many chances to buy jams and honey, though not all sellers are the actual producers.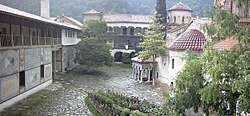 Buy
You can buy many different souvenirs from Bulgaria that represent the country.
Bulgarian rose products tend to be one of the most popular souvenirs from the country, you can buy all kinds of rose stuff — mostly cosmetics from soaps to shampoos, gels, oils, and perfumes.
Cutlery made of wood or clay might also be worthwhile to look for.
Or perhaps you might be looking for a painting or even a musical instrument?
Many great antique shops that have things from the Russo-Turkish War up to World War 2.

Eat
Generally speaking, eating in Plovdiv should be cheap for the westerner's pocket. Fast food is available and of high quality (in general).
There are McDonald's, KFC, Kastello, Verde and other popular restaurants.
Budget
The cheapest fast food could cost as little 0.50-1.00 leva to 2-3 leva and can be found along the main street. There are plenty of such places offering pizza, traditional food, and kebabs.
The small bakeries sell pastries for about one lev, which make great breakfasts if you're on the move.
Mid-range
There are some low-end restaurants that will be fairly affordable pay attention to the menu and think about 10-15 leva for a full meal (salad, main course, dessert, drink(s)).
Splurge
Paying more will probably get you a slightly better food than the options above but most of the cost will definitely go towards the overall experience. The priciest places are located in the old town, on top of the hill. Expect to pay a bit more say 20-30 leva and above. There are also a few restaurants outside the center.
phone: +359 999 000 996
address: Otets Paisiy 12
Previously called "Chuchura". Features a mixture between traditional Bulgarian cuisine and international delicacies. The interior is spacious with industrial and vintage decoration.
Drink
Zanzibar

phone: +359 88 424 2200

address: ul. Peshtersko shose 88

Club Zanzibar is the ideal place to drink in Plovdiv. It contains a stylish African interior Cocktail Bar which offers the best drinks in the city and at night time offers the largest nightclub in all of Plovdiv.

Kapana DistrictIf you want to immerse yourself in the liveliest area in Plovdiv, head to the Kapana creative district. Until recently a neglected area in the center of Plovdiv, where the buildings were crumbling and the sidewalks were full of parked cars, today Kapana is the cultural heart of the city.
Sleep
Budget
address: Kiril i Metodiy 2

2 min walk from the city center with a fantastic view of the Old Town from the rooftop and every bedroom. Friendly staff is always available. Clean, modern, cheerful place with free Wi-Fi everywhere, a nice common room, and a great top floor and tiled roof to chill on. Open kitchen for use, free lockers, and free washing service available.

Hiker's hostelVery helpful and friendly staff. Centrally located and if there is no room they will provide tents in the garden. Will also organize trips to a number of local attractions if you can find a few people to go with you.

phone: +359 32 622 432

address: 20 Saborna St

( . Twelve rooms in the Old Town. Not just a hotel but also a place for cultural activities and meetings, a tourist information center, exhibition hall with a stand for selling pieces of art and souvenirs, art cafe with a gallery. The art cafe (24 seats) is also used for breakfast and at the same time, it's a perfect place for exhibitions, seminars, literature readings and other cultural events. The rooms are very clean and shiny. Each has got own its color and spirit.
Mid-range
Splurge
Stay safe
Generally speaking, Plovdiv is a very safe place. Avoid the ghetto area and you will be very safe. Old town and the main street are generally very busy and safe. Parks during the day are safe to avoid them at night unless you are with a larger company.
Avoid picking a verbal fight with locals!
Avoid wearing football shirts or scarves of the Plovdiv or Sofia-based football teams, especially on match days.
Beggars have many forms, including people holding documents and having badges from "charity foundations". If such people try to stop you, just say firmly "No" and don't stop.
Overall the city has improved in terms of safety over the past years.
If you are using public transport always keep an eye on your personal belongings. Many pickpockets take advantage of overcrowded buses (like bus line 1 for example).

Cope
Consulates
phone: +359 32 625 366, +359 895 533 990 (Emergencies)

address: Preslav Str. 10
Go next
Take the narrow-gauge train to Bansko, a gorgeous ride to a great doorway to the Pirin, which offer some of Bulgaria's best hiking and skiing.
High speed trains will take you to Burgas or Sofia, making them quickly accessible options. Travel by bus to Burgas takes about 5 hr, by not-so-high-speed train about 5½ hr (may delay i.e. up to 6½ hr; about 15 leva for a person).
Farther into the Rhodope Mountains you'll find ski resorts and other natural attractions, such as the impressively narrow gorge and caves leading to Trigrad, not far from the mountainous Greek border.