Podkarpackie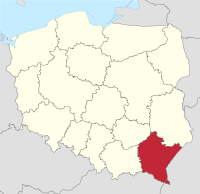 Podkarpackie
is a mountainous province in the southeastern corner of
Poland
. Its name, which can be rendered in English as
Subcarpathian
, refers to its location at the foot of the Carpathian Mountains.
Cities
— the biggest city in and capital of the voivodeship at the Wisłok River with a beautiful market square, underground routes beneath it and Baroque castles
— town in Podkarpacie with Renaissance Cathedral and market square
— medium-sized town and the capital of Krosno County, well known for large, medieval market square and quality glassware produced in the town.
— town close to Rzeszów which is renowned for its beautiful palace
— a small town in the Bieszczady mountains with its own fair share of monuments
— famed for its Bernadine basilica, monastery and brewery
— town in Podkarpacie with medieval market square, Baroque churches and Renaissance castle above the San River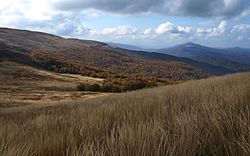 Other destinations
Understand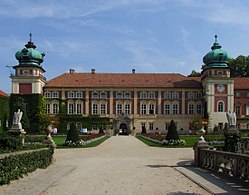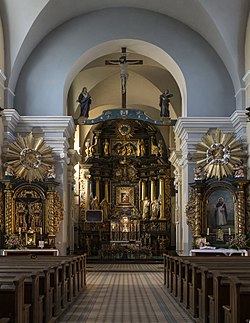 Already in ancient times Podkarpacie was situated on major trade routs north of the Carpathians between the Black Sea and Central Europe. In the early Middle Ages Podkarpacie was disputed between the Kingdom of Poland and Ruthenia, and became part of
Lesser Poland
which was the major part of Poland since the Polish capital was moved from
Gniezno
to
Kraków
in 1040. Especially the cities along the San River became very rich in the late Middle Ages and the Renaissance. Beautiful palaces were built in Lublin Renaissance, Mannerist and Baroque style by the nobility of the Polish-Lithuanian Commonwealth. After the First Partition of Poland in 1772 most of its territory was annexed by Austria and formed a part of the so called Galicja-Lodomeria. Galicja-Lodomeria gained an autonomy within the Austria-Hungary empire in 1867. After World War I Podkarpacie became part of the Second Polish Republic, but was divided along the San River after the invasion of Poland and occupied by Nazi-Germany and the Soviet Union between 1939 and 1944, when its Western part in 1939 and its Eastern part in 1941 were incorporated into the German General government. After World War II it again became part of Poland. Nowadays it is situated in the South-East of the country, although it used to be in the middle of the Commonwealth between two major trade and economic centers in Kraków and
Lwów
.
Get in
Get around
Rzeszów is the main hub for transport within the Podkarpackie region. There are frequent train connections between Rzeszów, Jarosław and Przemyśl. If you want to go to other places in the region buses are most likely a better option.

Do
Hike in the beautiful mountain ranges in the south of the region.
Drink
Podkarpacie is not particularly known as a party hotspot, but the region has a number of larger cities and a big student population. Local weddings are known as lavish and accompanying parties can last several days, so be prepared if invited to one.

Go next
Podkarpackie
borders three other Polish voivodeships:
as well as
Slovakia
and
Ukraine
.