Podunavlje
Pomoravlje
is a region in Central
Serbia
.
See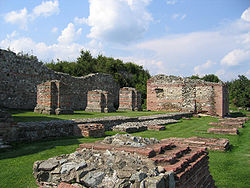 Gamzigrad — a Roman archaeologic site inscribed on the UNESCO World Heritage List

ViminaciumKnown archaeological site, it used to be a major Roman provincial capital and military camp of the Roman province of Moesia. It contains archaeological remains of temples, streets, squares, amphitheatres, palaces, hippodromes and Roman baths.

phone: +381 30 501-389, +381 30 501-398

address: Boljetin, Donji Milanovac

An important archaeological site (first house approx. 6250 BC). It consists of one large settlement with around ten satellite villages. Numerous piscine sculptures and peculiar architecture.
Do
==Eat==
pljeskavica (serbian hamburger)