Point Pelee National Park
Point Pelee National Park
is a park at Canada's southernmost mainland point, in
Essex County
,
Ontario
.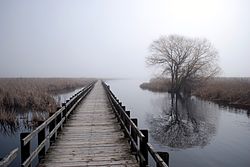 Understand
Point Pelee National Park covers an area of 15 km² (5.8 sq mi). It is Canada's smallest national park. It was established in 1918.
The word pelée is French for 'bald'. Point Pelee consists of a peninsula of land, mainly of marsh and woodland habitats, that tapers to a sharp point as it extends into Lake Erie. Middle Island, also part of Point Pelee National Park, was acquired in 2000 and is just north of the Canada–United States border in Lake Erie. Point Pelee is the southernmost point of mainland Canada, and is on a foundation of glacial sand, silt and gravel that bites into Lake Erie. This spit of land is slightly more than 7 km long by 4.5 km (2.8 mi) wide at its northern base.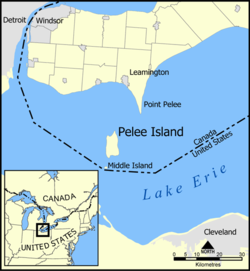 Bird migration was the reason Point Pelee became a national park in 1918. It has since garnered international recognition as an "Important Bird Area" and a UNESCO designated "Wetland of International Significance". While significant breeding birds call the park home, Point Pelee's greatest importance is to migratory species moving through in spring and fall.
Park office: 1118 Point Pelee Drive, Leamington, +1 519-322-2365, toll-free +1-888-773-8888, or email: pelee.info@pc.gc.ca
History
Aboriginal people lived on Point Pelee at least 6,000 years before European colonization. The largest archaeological site found at Point Pelee is thought to have been occupied between AD 700 and 900.
In the late 1700s, British naval reserves logged the area's white pine for shipbuilding. In 1790, Deputy Indian Agent Alexander McKee negotiated a treaty with Aboriginal communities that ceded a large tract of land, which included Point Pelee, to the Crown. The Caldwell First Nation Chippewa people, who inhabited Point Pelee, were not signatories of that treaty. However, the Crown did not realize this, and their land was ceded nonetheless. They were forced off their land, and Point Pelee remains unceded aboriginal land. This has been publicly acknowledged by the Department of Indian and Northern Affairs Canada.
Point Pelee was made a national park in 1918 at the urging of birdwatchers and hunters. Commercial fishing continued in the park until 1969. Point Pelee was the only Canadian national park to allow hunting until duck hunting was ended in 1989. This site was named "Pointe-Pelée" (meaning "bald point" by French explorers because the eastern side was rocky and had no trees).
Landscape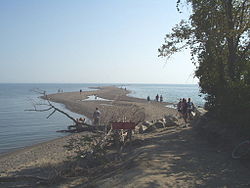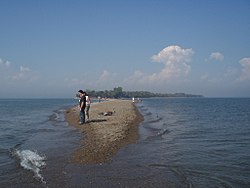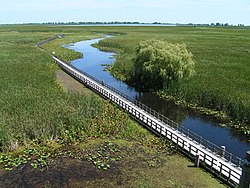 Located in the western parts of the St. Lawrence Lowlands, the park is a sandspit formation that extends 15 km (9.3 mi) into Lake Erie and is up to 70 m (230 ft) thick. Most of the park (about 1,113 hectares (2,750 acres) or 70% of the park consists of marsh, dominated by cattails and ponds although forested areas make up a significant portion of the park, covering about 21% of the park.
This sandspit is dominated by till plains which was formed during the last ice age during the advance and retreat of the Wisconsonian ice on a submerged limestone ridge. As the glacier melted and retreated northward, the Lake Erie basin began to fill with water. The movement of sediments altered the coastline, resulting in the present day shape of Point Pelee. Over the centuries, a thin but rich soil has formed. Mineral soils in the park were mapped as well to rapidly drained Eastport sand, which has insignificant profile development. The marshes began to form about 3,200 years ago, based on carbon dating. This was also the same time when the sands began to deposit, forming the present day barriers. The marsh has a closed drainage system owing to the separation of it by two barriers along the east and west side, which usually prevents the free exchange of water. However, when lake levels are higher, the marsh water levels fluctuate with the lake's water levels. The distinctive triangular shape at the southern tip of Point Pelee is caused by the convergence of these two barriers.
Middle Island, which is south of the Point Pelee peninsula has an area of approximately 18.5 hectares (46 acres) and is the southernmost point in Canada. Virtually all of Middle Island is forested.
Flora and fauna
Point Pelee National Park is known for its many species of butterflies, some of which are found nowhere else in Canada. It is also well known as a birdwatching location.
Owing to its southernly location and the moderating effects of Lake Erie, the climate in the park is slightly warmer than the rest of Canada and many Carolinian faunal species, which are rare in Canada are located here. Examples include the fox snake and the five-lined skink. Because of its location at the crossroads of 2 major migration flyways, 347 to 360 different species of migratory birds have been recorded in the park and more than 100 species stay there for breeding. This total includes 102 waterfowl and shorebird species. Coyotes and martens are also present within this park.
Many Carolinian floral species that are rare in Canada occur within the park boundaries. The park contains more than 750 native plant species, of these 8 species are considered to be rare, endangered or threatened in Canada. Nearby Middle Island is designated provincially as an Area of Natural and Scientific Interest (ANSI) due to its unique and rare assemblages of plants and animals. Middle island is home to plants and animals that are characteristic of the Carolinian ecozone of which nine species are at risk. The diversity of vegetation in the marsh is the highest along the edge of the marsh ponds and in the transitional zones between the terrestrial environments and the marsh. Four different vegetation communities dominate in the marsh.
Climate
Point Pelee lies within a climatic zone classified as humid continental. Rapid and non-periodic weather changes are characteristic of the zone that is strongly influenced by seasonal conflict between polar and tropical air masses. The climate of Southwestern Ontario is one of the most variable in Canada. Surrounding Lake Erie greatly modifies the climate of the Park and exerts a stabilizing effect. In autumn, lake waters cool more slowly than the land and in spring, the land warms faster than the water. The influence of the lake is most evident during winter when low temperatures are raised above the average lows further inland. The mean January temperature of Leamington and Pelee Island is -3°C, (27°F) the warmest in Ontario. The July mean temperature of 23°C (73°F) is the highest in Ontario. Lake Erie increases humidity in the region and humidity in the Park is probably greater than that experienced by the rest of Ontario.
Get in

The park is nearby to the town of Leamington. The park is accessible only by car. There is no public transit acess to Point Pelee National Park. The nearest train and bus stations are Windsor and Chatham stations. The nearest airports are Windsor International Airport, Detroit Metropolitan Wayne County Airport, and Toronto Pearson International Airport.
Point Pelee is 65 km from Windsor, 180 km from London and 355 km from Toronto.

By car

From the east (via Highway 401): Follow Highway 401 to exit 48, and turn left (south) on Highway 77. Turn left (east) on County Rd 33. Turn right on County Rd 20. Atter 200 m, turn left on Bevel Line. This road will become Point Pelee Drive, which takes you to the park entrance.
From the west (via Highway 3): From the Bridge or tunnel, follow the signs to Highway 3 east. From Highway 3, turn left (east) on County Rd 33. Turn right on County Rd 20. Atter 200 m, turn left on Bevel Line. This road will become Point Pelee Drive, which takes you to the park entrance.

Fees and permits
Daily fees April to October/November to March (2018):
Adult $ 7.80/$ 6.05
Senior $ 6.80/$ 5.40
Youth and children under 18 free
Family/group $ 15.70/$ 11.75
Annual passes (early bird price in Feb and Mar) (2018):
Adult $ 39.20 ($ 29.40)
Senior $ 34.30 ($ 25.75)
Youth and children under 18 free
Family/group $ 78.50 ($ 66.75)
Fishing permits (2018):
Daily $ 9.80
Annual $ 34.30
Get around

The park is accessible only by car, though once inside the park, there are bicycle paths as well. There is also a free shuttle from the Visitor Information Center to the tip of the peninsula, which runs every 20 minutes during the day from April to November.

See

Most casual visitors are interested in the novelty of being at the furthest southern point in Canada. Other visitors are dedicated birdwatchers, who are there more commonly in the migration season, which does not overlap with the summertime tourism season.

Do

The park has 8 designated walking trails and one designated canoe circuit. The park also contains a long stretch of beach, most of which where swimming is allowed.
The park is one of the Top 15 Birding spots in North America, awarded by Birder's World Magazine, October 2002. It is also a UNESCO designated Wetland of International Significance.

Buy

The Visitors Center contains a gift shop.

Eat

As with most national parks, you are unlikely to find any restaurants of any note directly inside the park. Leamington is known for the quality of its tomatoes.

Drink

There is nowhere to purchase alcohol inside the park. Leamington is the nearest town.

Sleep
Lodging
Point Pelee is popular as a day trip from various Southern Ontario cities, but if staying overnight there are all manner of lodgings to be found nearby in Leamington.
Camping
Point Pelee is a rarity among Canadian National Parks, in that there are no traditional campgrounds within the park's boundaries. This is due in part to the small size of the park and the fact that a majority of the park is wetland. There are some facilities outside of the park.
Parks Canada offers 24 "oTENTiks", tents on raised platforms for $120/night (2018) for up to six people (2 queen-sized and 1 double-sized bed with high density foam mattresses). Reserve by calling 1-877-RESERVE (737-3783) or
online
. oTENTik are available year-round.
Backcountry
There are no backcountry sites.
Stay safe
The water around the very tip of the parks can experience some strange currents. Bear in mind the safety signs there, they are in place for a reason. Also be aware of the E.Coli count in the park's waters. A minor annoyance is the presence of
ticks
and
poison ivy
, though this can be avoided by generally staying on marked paths (which you should do anyway). Besides this park is a safe place, there are not even concerns over dangerous animals as you would expect in many other national parks.
Swimming at the tip is illegal due to high currents in Lake Erie; on several occasions, visitors have died by swimming too far.
Go next

As a common day trip location, Point Pelee is a place to escape to, not escape from. Many large cities are nearby (Detroit, Toronto, Hamilton).