Point Pleasant Beach
Point Pleasant Beach
is a small borough in the
New Jersey
Shore
region. This seaside community is often called Point Pleasant by tourists. In fact Point Pleasant Beach, a coastal town that sees a large influx of summer visitors, is a separate political entity from its western neighbor -
Point Pleasant
.
Get in
===By car===
From Northern New Jersey/New York
Travel South along the Garden State Parkway until Exit 98. Follow Rt. 34 South until it becomes Rt. 35 South and follow it over the bridge. Make a left at Arnold Avenue (3rd light) and follow signs to your destination.
From Southern New Jersey/Atlantic City
Take Garden State Parkway Exit 88. Proceed to Rt 70 (About 3 miles) Make Left on Rt 70 and proceed to Rt 35 South (About. 7 miles).
From Philadelphia/West Area
Take NJ Turnpike to exit 7a for Rt 195 East. Proceed to East to Exit 35A (Brielle). for Rt. 34 South. Follow directions above from 34.
By air
Newark Liberty International Airport, Newark (New Jersey) +1 973 961-6000, fax +1 973 961-6259. Major airport with restaurants, shops on-site.
Atlantic City International Airport, Atlantic City +1 609 645-7895. Small airport usually used by those within the Atlantic County area. Spirit Airlines and Delta Connection COMAIR flights daily.
Get around
On foot
Point Pleasant Beaches' attractions are all confined to one area and are all within walking distance to each other. Walking is a good option especially in the months of May-September when tourist season is at its peak and finding parking can be difficult. The boardwalk includes a residential stretch perfect for a quiet and scenic evening stroll.
By bike
It is common to see residents and tourists riding their bikes along the boardwalk during the summer months. Bikes are also ridden within the town to and from various destinations. Bikes and surray bikes are available for rent on the boardwalk for those who do not bring their own. It is a great option if you are looking to get exercise and transportation at the same time.
By car
Rent a Car if you are planning on traveling outside of Point Pleasant Beach or seeing other destinations than the beach or boardwalk. If you are planning on driving to the beach be prepared to pay for parking or walk if you prefer the free parking on the streets.
By taxi
Taxi service is available from
Point Pleasant (New Jersey)
. These are used at night by those who take advantage of the bar scene, or used by those who are in a real rush and do not have a car nearby.
A Affordable Taxi - Point Pleasant, NJ +1 732 892-8294
All City Taxi-Point Pleasant, NJ, +1 732 892-5600.
Briggs Transportation Service- 508 Washington Ave, Point Pleasant, NJ +1 732 892-0465.
Point Pleasant Cab-Point Pleasant, NJ, +1 733 892-1313.
See
Jenkinson's Aquarium

address: at end of boardwalk

Air-conditioned aquarium with extensive variety of sea creatures, hands-on workshops for kids.
Do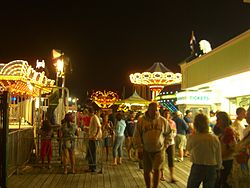 Castaway Cove Miniature Golf

address: Jenkinson's Boardwalk, Central Avenue

Two mini-golf courses; one goes down to the caves of the cove and through waterfalls, the other goes outside and on top of the course giving a perfect aerial view of the boardwalk and beach.
Fishingː "The Wall" at the Manasquan Inlet is the point where the Atlantic meets the Manasquan River, and an excellent place to fish year round.

address: 300 Ocean Avenue

Along the side of the beach; arcades, snack shacks, games, mini-golf. Jenkinson's Pavilion Arcade & Fun House offers a variety of games and prizes as well as a crazy fun house full of trick mirrors and mazes. Jenkinson's Amusement Rides offers rides for all ages: a carousel, convoy race, crazy bus, dizzy dragons, and a train that goes around the whole perimeter of the park for younger kids; swings, bumper cars, starship, tilt-a-whirl, Moby Dick, twister, tornado, super Himalaya and a rock wall for older kids and adults. The park opens noon daily, end of May to early September. Ticket prices vary; on wristband days, unlimited access to the rides is $15 dollars a person.

Parasailing

phone: +1 732 714-2FLY

address: 35 Broadway

Be adventurous and see the sights from up in the air.

Point Pleasant BeachPublic beaches with scenic view of the Jersey Shore. From Memorial Day through Labor Day, season badges or daytime passes can be purchased for a fee and lifeguards are on duty 9-5 daily.

Sailboats:
The Dauntless

phone: +1 732 892-4298

address: 47 Broadway

A sailboat which sails year-round, offering fishing trips. Galley serves hamburgers, soda, coffee and tea. Music and television on board. Free parking at dock.

MIMI VI

phone: +1 732 370-8019

address: 415 Broadway

Sailboat that can be rented for anything from birthday cruises, fireworks cruises, marriage ceremonies, class reunions and holiday parties to fishing expeditions.
Weekly events
Big Joe's Jersey Talent Show

address: Pavilion Beach Stage

Point Pleasant Beach visitors and residents showcase all the talent they have.

FireworksA magnificent fireworks display right on the boardwalk after sunset.

Jenkinson's Music Fest

address: Inlet Beach Stage

Watch different performances from live bands every week.
Annual events
Festival of the SeaAnnual end of summer bash with shopping and seafood from local restaurants. Crab cakes, shrimp skewers and lobster; hundreds of craft vendors.
Buy
Alex's Bait and Tackle

phone: +1 732 295-9268

address: 9 Inlet Drive

All the equipment for a day of fishing by the sea.

address: 69 Channel Drive

Fishermen's store, supplies and equipment, bait, fuel, ice and tackle.

Jenkinson's Sweet Shop

address: on Jenkinson Boardwalk

Salt water taffy, caramel and candy apples, homemade fudge.

Peck's Primitives

address: Bay & Trenton Ave

One of fifteen shops and antique stores in Point Pleasant's Antique Emporium. Treasures of the past, local memorabilia to world-renown items and artifacts.

Sea View Sweets

address: 312 Boardwalk

Old time candy shoppe right on the boardwalk featuring delicious hand-made chocolates, fudge, and salt water taffy

Splinter's Country Woodworking

address: 624 Bay Avenue

Shop/workshop specializing in hand crafted, wood carved items that are unique and rustic.
Eat
Inlet

address: Jenkinson's Boardwalk

Small beach bar on the boardwalk. Cheesesteaks, hot dogs, French fries. Frozen drinks or cocktails at any time of day.

address: 83 Channel Drive

Ocean view, fresh seafood restaurant.

Jenkinson's Pavilion

phone: +1 732 899-0569

address: 300 Boardwalk

Pizza, burgers and chicken fingers. Sushi and raw bar. Deli counter. Can get very crowded during the summer months.

Joey Tomatoes

phone: +1 732 295-2624

address: 311 Central Ave

Fresh thin crust pizza on the Jenkinson's Boardwalk, by the slice or pie.

phone: +1 732-892-0131

address: 308 Boardwalk

Salads, burgers, wraps, steak and seafood. Restaurant indoors, Tiki Bar outside, wide range of American food and specials. Popular but can be on the pricey side.

Ocean Bay Diner

phone: +1 732 295-1070

address: 1517 Ocean Ave

Everything from gravy fries and Taylor ham to burgers and Italian specialties. Breakfast.

Offshore Restaurant & Pub Bar

address: 225 Ocean Avenue

Casual. Seafood, sandwiches, burgers, open year round.

Red's Lobster Pot Restaurant

address: 57 inlet drive

Fresh seafood delivered daily from local ships. Pricey, but worth the money.

address: 719 Arnold Avenue

Italian. Steak, pasta, pizza. Dining in the steak & chop house and a more casual eatery with Joe Spano's Tomato Pies. Hall rental for parties and special occasions.

address: 1300 Richmond Ave

Coastal cuisine in a surf shack-like setting, salsa bar, Tsunami food challenge.
Drink
The Ark Pub & Eatery

address: 401 Sea Avenue

Over 40 beer selections. Appetizer menu includes nachos, wings and mozzarella sticks. Party room for up to 70 people.

Boardwalk Bar & Grill

address: 106 Randall Avenue

Seafood, burgers, salads, full bar, live performances, happy hours, a meal at any time for over-21 crowd.

address: 414 Richmond Avenue

address: 300 Ocean Avenue

Club/bar open year round, live bands and DJs.

Off Shore Restaurant & Cocktail Lounge:

address: 255 Ocean Avenue
Sleep
Hotels
Motels
B&B and guest houses