Pointe-Noire
Pointe Noire
is a city in
Republic of the Congo
.
Understand
Pointe Noire is the second largest city of the Republic of the Congo. It is also a major sea port and a tourist destination. The town has a very French feel to it, because of the colonial past and the still large number of French expatriates and tourists.

Get in
By plane
Pointe Noire is served by local carriers and international airlines such as Air France. The airport is not far from the town or beach hotels. A taxi will cost about
FCFA
2000 to the town.
By train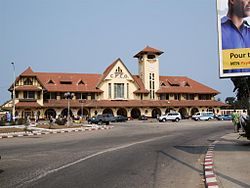 Rail services have been much improved with the introduction of
La Gazelle
train in 2012, linking Pointe-Noire with
Dolisie
and the capital
Brazzaville
every other day. With proper restaurant car and air condition, it offers one of the more comfortable railway experiences in sub-Saharan Africa. However, despite the train's name a journey from Brazzaville still takes around 15 hours. There are no sleepers available, just regular seats. Other services, using older rolling stock, are also available. While cheaper, they are be a rather grueling experience.
The old colonial, and "Bavarian-inspired" railway terminus, , is located at the southern end of
Avenue Carles de Gaulle
.
By car
Roads inside the town are in good condition. However, outside of the town they may be impassible to anything less than a 4 wheel drive vehicle.
It is very safe to travel around with a taxi. Taxis in PNR are shared so if you are in a hurry tell him to take you straight where you want to go, and pay FCFA 700-1000. If you take other people from the road you pay FCFA 150-350, depending on the length. If you use a taxi more than 1 hour you will have to pay FCFA 3000 for that hour.
Do not go outside of PNR without a known driver and a 4WD.
They are building the road from Brazaville to Point Noire. It is supposed to be finished in 2012, but with the local infrastructure, who knows. Driving from one to the other takes about 1-2 days, but it is unsafe in the Pool region. The new road is worth driving on just to get a feel for the forest/grassland region of Congo.
By bus
By boat
Get around
Taxis are easy to find and are relatively inexpensive. Most journeys around town will cost no more than FCFA 1000. It is OK to walk around the main parts of town.

See
Do
Diosso GorgeJust outside Pointe Noire, there's the spectacular Diosso gorges. One can negotiate a taxi for the day to go there and forth. Local village boys have barred the route to the lookout point and ask about FCFA 2000 pp for entrance.

Mazra Club

address: Songolo

Seaside in the district of Songolo there is the Mazra Club, a beach club near a stretch of mangrove. The mangrove ecosystem, the seaside location and the different private "paillottes" make this a comfortable place to hang out. Local beer or "jus" costs you FCFA 1000. Be sure to ask the cab driver if he knows the place, because it's rather hard to find.

Conkouati-Douli National ParkA five-hour drive (in the dry season) North of Pointe Noire, near the Gabonese border is the vast and relatively scarcely visited national park of Conkouati-Douli. Elephants, gorillas and chimpanzees can be seen here. Be sure to strenuously ask your guide to do a tour of the Ngongo river as late as possible and to go down the river with the engine turned off to see elephants and gorillas.
Work
There are a few junior mining companies setting up close to pointe noire with touching base with including Cominco Resources and Equatorial Resources. If you have the appropriate working visa these companies are worth touching base with.

Buy
Some hotels will accept payment in euros or US dollars. There are also a few money exchange offices. Changing euros or dollars is easy. Very poor rates are given for British pounds.
The artisan village is on the Port Side Beach (next to Le Derrik). Prices will differ for every customer. It is ok to take pictures and send local trustworthy people to buy in your place as they will get at least half of the price. Be careful when buying wood statues as they need to be fumigated for bugs.

Eat
Citronnelle

address: Opposite Atlantic Palace Hotel

Typical French patisserie, which has some excellent patisseries, cakes and fresh orange juice

La Cite

address: Taxi will take you there

Typical bakery that also serves swarm, sandwiches and kebab, good prices, Swarm is around FCFA 2000, try the Chocolate Bread (Pain de Chocloat) ~ FCFA 500.

Kactus

phone: +242 22 294 5025, +242 05 564 5025

address: Charles de Gaulle crossing

Home delivery and also sit-in restaurant. Very good pizza and Hamburger. The fish burger (as of 2012) is particularly good with a thick chunk of fresh grilled fish topped with cheese, tomato slice and lettuce. Ordering at home will cost you extra FCFA 2000 for shipment, they work very fast in about 20 minutes you have it at your door

Le Derrick

address: Port Side Beach

Best place in town for eating, prices are very good about FCFA 5500 will give you the daily menu, It is mostly for oil industry people, but anyone can eat there. However, it does get crowded during meal times hence come early. Certainly a recommended place as of 2012.

GasparVery good fish and chicken on a stick, French type on the sidewalk restaurant, very fresh and tasty food. Do not go to bathroom since it is dirty, chicken is clean.

phone: +242 05 557 9998

Restaurant co-located with the Pointe Noire Yacht Club. Covered terrace overlooking the water. Most of the patrons are expatriates. Large selection of pizzas, also meat and fish dishes. Nice atmosphere.
Budget
Mid-range
Splurge
Sleep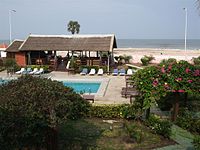 Hotels in Pointe Noire are very expensive given the standard of accommodation. Also, not many accept credit cards.
Budget
Mid-range
Splurge
phone: +242 05 713 3333

address: On the beach

Reasonably good hotel with pool. Right next to the beach. Rooms in the old block start at FCFA 80,000. nearly double that in the new block. WiFi is available in some areas - FCFA 2000 per hour.

phone: +242 6584747, +242 6574848

address: Ave Dr Jacques Bouity

Beachfront hotel with popular bar-restaurant on ground-level with direct access to the beach. More formal restaurant on upper level. Large choice of pizza and pasta dishes as well as various fish and meat dishes. Extra charge for side dishes,such as vegetables (string beans), fried plantains or rice. Hotel rooms are comfortable, roughly equivalent to a two or three-star hotel in Europe. Free Wi-Fi internet access for hotel guests. Listening to the waves crashing on the beach is a real pleasure. It is also fun to watch the surfers from the beachfront terrace.
Stay safe
Unlike many African cities, it is quite safe to walk in the main parts of the city and the beach area. There are relatively few beggars.

Cope
Credit cards are not accepted in many places - only the very best hotels. Internationally linked ATMs are also not too common. Credit du Congo have a few branches with machines that will accept foreign cards.
There are several FM radio stations (all French language), including RFI on 93.2MHz.
Not many people in the town speak English.