Poitiers
Poitiers
is a city in the
Nouvelle-Aquitaine
region of western
France
.
Understand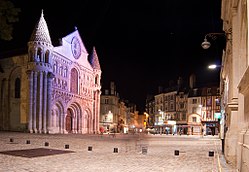 Poitiers is a pleasant, relatively small city of around 85,000 inhabitants that has strong medieval roots. It is on the Clain river.
Charles Martel changed the course of French and European history near Poitiers in 732 by halting the advancing Moors in the Battle of Tours, which was the first decisive Christian victory over the Moorish invaders. The battle took place just a few kilometres north of the city.
There isn't a lot to see in Poitiers. To be honest and to make a long story short, it's a boring place.
Get in
Poitiers is roughly due south of
Paris
, East of the Atlantic Coast.
By car
Halfway between Paris and
Toulouse
on the motorway A10, Poitiers can be a nice place to stay for a couple of days on a trip to other destinations in the South West region of France.
By train
The journey from Paris (Montparnasse station) to Poitiers takes 90 min on the TGV high speed train. Upon arrival, the city centre is straight ahead out of the station, on the top of the hill.
By plane
Get around
Given the small size of the city centre, walking is the best way to get around. All the main attractions, apart from Futuroscope, are within reasonable walking distance of each other.
Poitiers' train and bus stations are next to each other. Nearby towns, cities, and local attractions can be reached by bus, operated by
Vitalis
.
See
As stated above, there isn't a lot to see in Poitiers, but it is a pleasant small city, and visitors will find it has a relaxed atmosphere, especially compared to Paris. Poitiers is also a good base to visit nearby towns like La Rochelle or Tours.
City CentreHas a small square called "La Place d'Armes" in front of the Town Hall, which is surrounded by cafes, where you can sit down with a glass of wine or coffee or get something to eat. It is being refurbished; the whole area is now a pedestrian only zone. It gets packed on weekends, especially during summer. Other parts of the town may give you an impression of a ghost town, especially during lunchtime, when the shops are closed.

Baptistry of St. JohnOne of the oldest Christian buildings in Europe, dating back to 4th century. Inside, you can see the baptismal pool on the floor.

St. Pierre CathedralHas organ performances.

Church of Notre DameVirgin Mary is the Patron Saint of France, so every town will have a church named Notre Dame (Our Lady). Poitiers' Notre Dame dates from the medieval times and is of Romanesque architecture. On some evenings after dark, light shows are projected on its façade to illustrate how colourful it used to be.
Do
FuturoscopeMultimedia theme park 15 km north of the town.
Learn
The local university, the
Université de Poitiers
, has over 24,000 students. Poitiers is the French town with the largest proportion of students in the population, around 25%.
Buy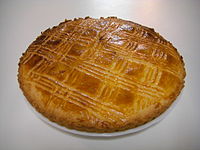 "Macaroons from Montmorillon", a local speciality delicious with a coffee or tea, and great as a gift. These can be found at Rannou Metivier, which has two shops in Poitiers' town centre (30, rue des cordeliers and 13bis, rue des cordeliers).
"Le Broyé du Poitou", the Crushed of the Poitou, a biscuit the size of a cookie that is called this way because it was traditionally shared by hitting it of a punch in its centre, hence breaking it. As it is a hard biscuit, it would then yield nibbling size pieces. The Broyé du Poitou can be found in any supermarket in town. The main producer is Goulibeur.
Sleep
There are many hotels in Poitiers, with prices ranging from €30 for a double room in a one star hotel to more than €200 in a relais et chateaux.
You can also sleep in a hotel in Paris and take the train or car early in the morning