Polk County (Florida)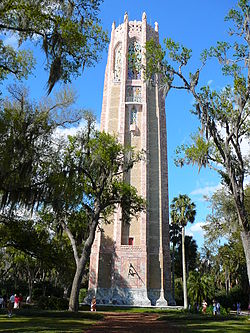 Polk County
, , is in the
West Central
region of
Florida
, occupying the space between
Tampa
and
Orlando
.
Other destinations
— is a Florida State Park about 10 miles east of Dundee, off US 27. The park offers 6 miles of hiking trails along with 8 miles of equestrian trails; meandering through scrub, sandhill and flatwoods habitats. The preserve's scrub, sandhill, and flatwoods communities are home to numerous rare plants such as scrub morning glory, scrub plum, pygmy fringe tree, and cutthroat grass. They are also home to several protected animal species including Florida scrub-jays, bald eagles, gopher tortoises, and Florida scrub lizards. Visitors can enjoy hiking, wildlife viewing, and horseback riding.
Understand
Polk County is one of the largest counties in the state by area and has a population of nearly 600,000. The county is a mix of suburban Lakeland, Winter Haven/Auburndale, and Haines City/Davenport areas, several small towns, and large swaths of rural areas. The county was once the leading citrus producer in the state. The county saw a lot of development during the boom in the 2000s decade that included a lot of citrus groves gobbled up. The area around Mulberry has been mined for phosphate since the late 19th century and there are many large phosphate mines visible off State Roads 60 & 37.
History
Climate
Like most of Florida, summers are hot and humid with scattered thunderstorms each afternoon and winters are mild, punctuated by the occasional cold front bringing rain and colder, drier air. Between early May and late September, daytime highs run over 90°F (32°C) but rarely above 96-97°F (36°C). Nighttime lows during this period are in the mid-70s (°F; around 24°C). The rainy season runs from early-mid June through mid-late September. The humid air heats up, rises and condenses into thunderstorms, which are experienced just about every afternoon during the rainy season. These thunderstorms can sometimes be severe, producing high wind gusts, hail, and occasionally a weak tornado (most are E.F.0 or E.F.1). Lightning is the biggest hazard from these storms and is a major concern when planning outdoor activities.
Winters are mild, with highs averaging around 70°F (21°C) and lows in the low 50s (°F; 10-12°C). Temperatures above 80°F (26°C) are possible. Cold fronts every 10-14 days will typically bring some rain to mark their passing followed by cooler weather for a few days. Temperatures following a cold front can drop into the 50s & 60s (°F; 10-20°C) and lows into the 30s & 40s (°F; 0-10°C). Only a couple nights each year will reach freezing or below (Hurricanes and tropical storms occasionally affect Polk County during Hurricane Season (Jun 1-Nov 30). Each storm is different, so watch the news. Tropical storms will affect the county every couple of years and usually just bring some extra rain and perhaps a few severe thunderstorms. Hurricanes only affect Polk County once or twice a decade and the effects vary from storm to storm. The 2004 hurricane season was unprecedented for Polk County, when the centers of
three
hurricanes passed through the county: Hurricanes Charley, Frances, and Jeanne. Hurricane Charley was the most powerful, but had a very small wind field for a hurricane, sparing the Lakeland area significant damage, but pummeling Fort Meade, Bartow, Lake Wales, Winter Haven, Haines City, & Davenport with 90-115 mph (150-185 km/h) winds! However, for perspective, these were the first hurricanes since 1960 to pass through the county.
In drier years, spring (until the rainy season begins) is wildfire season. Fog can be an occasional issue in winter months, especially in the Green Swamp area of north-central Polk County, which includes Interstate 4 between Polk City & Davenport.
Visitor Information
Central Florida Visitor's & Convention Bureau

phone: +1 863 551-4750

address: 2701 Lake Myrtle Park Rd, Auburndale

Polk Outpost 27 Visitor Information Center

phone: +1 863 420-2586

address: 101 Adventure Ct, Davenport

The county's visitor information center offers more than just brochures & a gift shop. The staff are able to assist with directions; recommendations for local restaurants & attractions; booking accommodation and tee times at local golf courses; and sell discounted tickets to attractions both in Polk County and some in the Orlando area (Disney, Universal Studios, Gatorland, & more). There is also a theater to watch films showcasing the area, a nature discovery center, and even a putting green. The center makes for a great stop when driving in from the Orlando area.
Get in
By plane
Northeastern Polk County is closest to
Orlando International Airport
(
MCO
), which is one of the nation's busiest airports and the top tourism destination in the U.S. As a result, there are hundreds of flights each day connecting Orlando with destinations big and small nationwide as well as Canada, Europe, Latin America, and the Caribbean. The airport also has one of the largest rental car fleets in the country, with several companies and a wide range of vehicles to chose from. To get to Polk County, exit the South exit from the airport to the Central Florida GreeneWay (S.R. 417), head south ($2.50 in tolls) to get on Interstate 4 heading west (towards "Tampa"). Davenport is about 25 mi, Winter Haven about 40 mi (via U.S. 27), and Lakeland about 55 mi. Polk County Taxi and Airport Shuttle serves Auburndale, Winter Haven, Lake Wales, Haines City, Davenport, Bartow, and parts of Lakeland Florida (+1 863-521-2924). Riding public transportation to Polk County is feasible, but not very practical. The Lynx bus system, which operates throughout Orange & Osceola counties, reaches as far south as Poinciana, with Eastern Polk's W.H.A.T. bus system reaching Poinciana from Haines City. From the airport, take Link 42 (schedule) or Link 111 (schedule) to the Florida Mall and transfer to FastLink 441 (schedule; express route, but operates limited hours M-F only) or Link 4 (schedule) which both travel south to the Osceola Square Mall in Kissimmee. Link 26 (schedule) runs from here to Poinciana, where a transfer to W.H.A.T Route 416 (schedule ) is available, running to Haines City, which has onward connections to the entire W.H.A.T/Citrus Connection bus system in Polk County. Driving or hiring a shuttle are much easier options to reach Polk County from O.I.A.
Lakeland and northwestern Polk County are closer to Tampa International Airport (TPA) which is served by all major airlines and has flights nationwide and to Canada, the Caribbean, and London. To get to Polk County, follow signs to get onto Interstate 275 East (via a short drive on SR 60/Veteran's Expressway), go past downtown and get on Interstate 4 East. While State Road 60 is a major route across Polk County, it runs through urban areas for about 20-25 mi, including downtown Tampa, between T.I.A. and Polk County. Lakeland is about 35 mi and Winter Haven (via Polk Parkway/S.R. 570 & Winter Lake Rd/S.R. 540) is about 55 mi. There is no public transportation to Polk County. There are no airport shuttles/taxis with service to Polk County (as of Dec 2012).
The largest airport in the county, Lakeland Linder Regional Airport (LAL) is capable of handling scheduled flights, but is not served by any airline. The air taxi operator Atlantic Airlines (; +1-800-879-0000) offers air taxi service to 87 airports (list) throughout Florida, including both large airports and smaller municipal airports. Their aircraft accommodate 2 passengers plus their luggage. Flights operate based on demand, not a regular schedule, and can be booked as soon as 4 hours before departure, if aircraft are available, and don't require reaching the airport 2 hours in advance for screening & check-in. The convenience comes at a price, an example one-way fare from Lakeland-Key West is $957 for 1 passenger or $478/person for 2 passengers.
The difference between travel times to reach either airport is about 30 min when traveling from just about every corner of the county (except Davenport and the "Four Corners" area near Disney World, which are much closer to O.I.A.). T.I.A. lies on the west side of downtown Tampa which may be an issue if you're traveling around rush hour, but Tampa traffic often runs smoothly even at 6PM.

General aviation
Polk County is home to 6 airports for general aviation:
In addition, there is an aviation-focused gated community near Frostproof which operates the Ridge Landing Airpark (). It is not for general public use, however. Chalet Suzanne Restaurant & Country Inn in Lake Wales has a turf airstrip (; ) for guests to fly-in.

By car
Interstate 4 ("I-4" in local parlance) is the largest highway through the county, passing mostly through rural areas, including the Green Swamp. The freeway passes along the north side of Lakeland and through Polk City and Davenport. The Polk Parkway (Toll S.R. 570) forms a half-circle down through South Lakeland and provides easy access to Bartow (via U.S. 98) and Winter Haven (via S.R. 540/Winter Lake Road) when heading to/from the west. I-4 is well-traveled, but has been widened and improved much in the last decade, so traffic slow downs are not common and a journey from Tampa or Orlando should be quick, easy, and stress-free. On a handful of winter mornings each year, fog is a problem when driving through the Green Swamp between Polk City & Davenport.
U.S. 27 is a busy north south highway, and offers an alternative to the Florida's Turnpike when traveling down the spine of the state. It passes through Frostproof, Lake Wales, Dundee, Haines City, Davenport, and close to Winter Haven suburbs and Legoland. U.S. 27 begins in South Florida, passing through rural citrus and sugar cane fields around Lake Okeechobee & through Sebring. Heading north from Polk County, the highway runs through hilly terrain that was once islands and the first part of Florida to be exposed from the seabed. U.S. 27 crosses Interstate 4 north of Davenport. It parallels the Florida Turnpike north of Clermont in Lake County (halfway between Orlando and Interstate 75/Ocala), then continues through Ocala, Gainesville, & Tallahassee until finally entering Georgia.
State Road 60 runs east-west through the southern half of the county. S.R. 60 leads from the Tampa and Brandon areas in the west through Mulberry, Bartow, and Lake Wales after which it runs for 80 mi through rural areas before reaching Vero Beach on the East coast, also intersecting with the Florida's Turnpike halfway. About 20 mi east of Lake Wales, it is reduced to two lanes with occasional passing lanes and can be a little hectic between tailgaters and slow drivers (speed limit is 60 mph, but the average is a bit higher).

By train
Lakeland and Winter Haven are both stops along the daily AMTRAK Silver Star () line running from New York City and Miami. The Silver Star line runs through the Northeast Corridor between New York City-Philadelphia-Washington, D.C. then passes through Richmond, Virginia; Raleigh, North Carolina; Columbia, South Carolina; Savannah, Georgia; and Jacksonville, Orlando, Tampa, & Miami.
Winter Haven is a stop along the daily AMTRAK Silver Meteor line which follows much the same line as the Silver Star, but doesn't serve Tampa & Lakeland in Florida and follows a further east route through the Carolinas, stopping in Fayetteville, North Carolina & North Charleston, South Carolina rather than Raleigh and Columbia.

address: 600 Lake Mirror Drive

Lakeland's Amtrak station is located on the northeast corner of downtown along Lake Mirror Drive, one block east of Massachusetts Ave. The station is unusual, in that it has two codes depending on the direction of the other destination in a trip segment. Between Lakeland and points north, the station code is LAK. Between Lakeland and points south, the station code is LKL. So, for example, the segments of a round-trip between Lakeland and Miami would be LKL-MIA & MIA-LKL. The segments of a trip between Miami and Jacksonville, with a stay in Lakeland, would be MIA-LKL & LAL-JAX. The station was opened in 1998 and has an enclosed waiting area, but no other features, like a lounge, Quick-Trak kiosk, long-term parking, baggage carts, lockers, ATM, or wi-fi. The Silver Starr route passes through the station twice in each direction—before and after Tampa. Heading south (New York-Miami), passengers may debark only (boarding is not allowed) before the train reaches Tampa; when the train stops in Lakeland after Tampa, only new passengers may board (no debarking). This order is reversed when heading northbound (Miami-New York). Amtrak Thruway Motorcoach service is available between Lakeland and Orlando, Tampa, Pinellas Park-St. Petersburg, Bradenton, Sarasota, Port Charlotte and Fort Myers. Thruway Motorcoach service is booked together with train travel with Amtrak. Public transportation is available with Citrus Connection bus service. The Lakeland Downtown terminal is located just a few blocks away on the west side of N. Florida Ave., north of the tracks, but crosses a few busy roads and is very close to some shady neighborhoods...so best not to walk between the terminal and the station after dark. Citrus Connection routes to the station are: Route 12 (map/schedule ) running between the Winter Haven & Downtown Lakeland terminals; Route 22XL (map/schedule ) between Bartow & the Downtown Lakeland terminal. Route 3 (map/schedule ) passes near the station.

phone: +1 863 683-6368

address: 1800 7th Street SW

Station code is WTH. If you plan to arrive by train, you should have friends/family at the station to pick you up or have the phone number for a taxi to call when you arrive. The station is a poorly-maintained covered platform with a small office and is in a fairly unpleasant area beside a warehouse. Fortunately the trains arrive during daylight, but it's not a very great place to wait for hours or especially after dark.

In the northeastern part of the county, such as for Davenport, the Kissimmee Amtrak Station (Code: KIS; ) in Kissimmee may be a better option to use. In the southeastern corner of the county, such as for Frostproof, the Sebring Amtrak Station (Code:SBG; ) in Sebring may be a better option to use.

By bus
The only commercial bus line serving Polk County is Greyhound (), which has one station in Lakeland.

phone: +1 863 682-3107

address: 303 N Massachusetts Ave

Lynx—the public bus system for Orange & Osceola counties (system map )—reaches as far south as Poinciana, with Eastern Polk's W.H.A.T. bus system reaching Poinciana from Haines City. Link 26 (schedule) runs between Poinciana and Kissimmee. W.H.A.T Route 416 (schedule ) connects Poinciana to Haines City, which has onward connections to the entire W.H.A.T/Citrus Connection bus system in Polk County.

See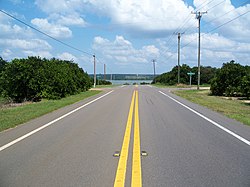 Bok Tower Gardens - Lake Wales
Frank Lloyd Wright architecture on the Florida Southern College campus in Lakeland
Phosphate Museum - Mulberry

Ridge Scenic HighwayScenic SR 17 extends 38.7 miles along the Lake Wales Ridge, from its intersection with US 27 south of Frostproof to its intersection with US 17/92 in Haines City.

Spook Hill - Lake Wales
Tigers Spring Training - Lakeland
Nature parks
Lake Kissimmee State Park
Circle B Bar Reserve
Do
Watersports
Fishing
Golfing
Trails
Eat
address: 38217 US 27, Davenport

Citrus candy, ice cream and goat's milk fudge.
Buy
Antiques
Flea markets
Local citrus
Stay safe
Alligators
Go next
Polk County is located between Tampa and Orlando and both metropolitan areas are within an hour's drive.
Kissimmee
and
Walt Disney World
are both located a short distance out of the county. Many visitors to Disney World stay in the Davenport area.
Polk County is bordered by
Lake
and
Sumter
Counties to the north;
Pasco
and
Hillsborough
Counties to the west;
Highlands
and
Hardee
counties to the south; as well as
Osceola
and
Orange
Counties to the east.