Pollachi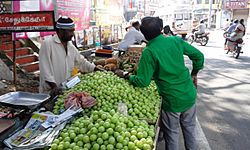 Pollachi
(Tamil: பொள்ளாச்சி) is a town and a municipality close to the foothills of
Western Ghats
in
Tamil Nadu
, 40 km south of
Coimbatore
. It is picture perfect for the nomenclature — Mini Kodambakkam. Though prominently known for cash crops, coconuts and second biggest 'sandhai' (market) in the country, the town has now become famous for cinema shootings and consequently a huge tourist attraction. Next to Coimbatore, Pollachi is the leading town in the district and an important commercial centre.
Understand
Tamil is the most prevalent language but basic English is spoken in most tourist places. As it is located pretty close to kerala border, most business name boards and buses displays Tamil, Malayalam and English languages.
Climate
Due to its proximity to the Western Ghats, Pollachi has a pleasant climate throughout the year. It is one of the very few places in India to enjoy both North-East and South-West Monsoon seasons significantly. Temperature may never exceed 35 degree Celsius even during summer.
Get in
By air
Coimbatore airport is the nearest international airport to Pollachi - approximately 60 km. International flights to Singapore, Sharjah are available by Silk Air (A subsidiary of Singapore Airlines), Air Arabia and Srilankan Airlines. Domestic airlines fly to Chennai, Bangalore, New Delhi, Mumbai, Ahmedabad and other Indian cities.

By bus
Pollachi is well connected to coimbatore by government and private buses. The bus frequency is about 3-5 minutes. NH 209 (Dindigul - Palani - Udumalaippettai - Pollachi - Coimbatore - Annur - Satyamangalam - Hasanur up to Karnataka Border) passes through pollachi town and the journey duration is about 45 minutes. Bus fare: ₹17 in ordinary and, ₹23 in express (limited stop) buses.

By train
Pollachi has a cute multi-level railway station. Trains are available to Pollachi from Coimbatore, Udumalaipettai and Palakkad.

Get around
By car
Taxis will be the viable option, especially if you are planning to get off now and then, take pictures and enjoy the scenery. Though there are lot of tourist taxis and buses, it may not be easy to find one when movie shootings happen in the town or during peak seasons. It is advisable to book your cab in advance and ask your tour guide or cab driver to pick you from Coimbatore Railway station, Airport, Bus terminal

See
Aliyar AshramIt is the home of the Vethathiri Maharishi Kundalini Yoga and Kayakalpa Research Foundation, founded by Shri Vethathiri Maharishi in 1985. In a beautiful natural setting at the foothills of the Western Ghats and in view of the Aliyar reservoir, the Temple of Consciousness is the focus for a silent revolution, transforming the lives of thousands of people, irrespective of creed, color, race, religion or nationality. Vethathiri Maharishi Institute for Spiritual and Intuitional Education is a unique Institution which provides residential spiritual education. The Temple is an architectural beauty, built in the shape of vernacular OM and so it is known as Omkara Mandapam.

Aaliyar DamAliyar (ஆழியார் azhiyar) Dam is a reservoir located 27 KM away from pollachi on the foothills of Valparai, in the Anamalai range of the Western Ghats. The dam offers some ideal getaways including a park, an aquarium and a mini Theme-Park maintained by Tamilnadu Fisheries Corporation. It is an ideal picnic spot. If you are taking public transport, take Town bus (route number 37A and 37B) or take a bus to Navamalai or Valparai and get down at Aaliyar Dam. Drinks and snacks are slightly expensive than the MRP here.

Amaravathy DamThis place is 20 km from Thirumoorthy dam. One must take the left road near Chinnar check-post (Tamilnadu side) along Udumalpet - Munnar road, to reach this place. The Amaravathy Sagar Crocodile Farm, established in 1975, was once the largest Crocodile nursery in India is nearby. However, due to poor maintenance and lack of facilities, only few Crocodiles are now alive.

Masani Amman TempleMasani Amman Temple is situated at a distance of 15 km from Pollachi. This sanctified shrine attracts large number of devotees. Here, one can see Goddess Masani Amman in the lying posture. The idol has four hands, two hands placed on the ground, two hands raised above. While the top left hands hold a skull and snake and other two hands holding drum and a trident.

Monkey FallsMonkey Falls is located at the 29th KM junction on the Pollachi-Valparai road. An entry fee of ₹15 per head must be paid at the check post located along Aaliyar - Monkey Falls route.

Parambikulam Tiger ReserveLying adjacent to the Indira Gandhi Wild Life Sanctuary, the 285 sq km stretch of forest known as Parambikulam Tiger Reserve (formerly Parambikulam Wildlife Sanctuary) is one of Kerala's premier wildlife reserves. Though this place is a part of Kerala, this place is accessible only from Pollachi. Touring the sanctuary is possible by boat or jeep; both can be hired from the park authorities. Alternatively, you can climb one of Parambikulam's two watch towers for a bit of wildlife-watching. One tower is at Anappadi (8 km from Thunakadavu) and the other's at Sungam (5 km from Thunakadavu). This park is open through out the year but it is better if you avoid visiting the park during monsoon season (June - August). Thunakadavu is the headquarters of the sanctuary and is 48 km from Pollachi. Forest Resthouses room rent is about ₹200 per night at Thunakadavu, Thellikal and Elathode. Tree houses cost about ₹300-₹600 per night. Alternatively, one could stay at Top Slip area too as it is only 30 minutes drive from Thunakadavu and offers a number of accommodation options. Accommodation can be reserved through the Range Officer, Thunakadavu. Rooms at the Thunakadavu PWD Resthouse and the Tamilnadu Government Inspection Bungalow can be booked through the Junior Engineer, Tamilnadu PWD, Parambikulam.

The Pollachi MarketPollachi is famed for its market (சந்தை), especially for Jaggery and cattle (மாட்டுச்சந்தை). The Jaggery Market in Pollachi is the Asia's biggest Jaggery Market. All buses that goes towards Anaimalai, Sethumadai, Kaliapuram, Meenakshipuram, Govindhapuram goes through this place. Alight at "Sandhai Pettai" bus stop or railway station bus stop.

Thirumoorthy HillsThirumoorthy Hills is located at about 50 km from Pollachi and 20 km from Udumalpet. A perennial stream flows by the side of Sri Amaralingeswarar temple and nearby there is Thirumoorthy falls. Thirumoorthy Dam is just adjacent to this place.

TopslipTopslip is a part of Anamalai Tiger Reserve (formerly called Anamalai Wildlife Sanctuary, Indira Gandhi Wildlife Sanctuary). It is located at about 37 km from Pollachi town. It is separated from the Nilgiri Hills by the Palghat Gap on the north, Parambikulam Wildlife Sanctuary (Kerala) to its west and to the Eravikulam National Park (Kerala) and Chinnar Wildlife Sanctuary to its south. There are many places of natural and scenic beauty in the Anamalai Tiger Reserve. Some of them are Karianshola, Anaikunthi Shola, groves, waterfalls, teak forests, reservoirs and dams. There are arrangements for exploring the sanctuary on elephant back or by van. If you plan to walk in the park, you must have a Park Guide with you and you are allowed to walk in the park for a maximum of four hours for ₹70 per person. If you are visiting the park for the day, you can go directly to Top Slip (Entry ₹50). The Sethumadai checkpost is the entry point to Top Slip. But if you plan to stay at Top Slip, please book accommodation in advance by confirming and sending a DD to The Wildlife Warden Office, 178 Meenkarai Rd, Pollachi. Phone: 04259 222535 (Open Monday to Friday between 9 am to 5 pm). Last minute accommodation is only available for VIPs, government officials and other foreigners, in most cases.

ValparaiPopularly known as Cherrapunji of South India, Valparai remains somewhat untouched. It has an average elevation of 1193 metres (3914 feet) and is located 65 km away from Pollachi. It is concentrated with Tea and Coffee estates owned mostly by private tea companies, a large part of the area is out of bounds for tourists. Interestingly, the Govt. of Tamil Nadu with the assistance of the Govt. of India has taken initiatives to promote tourism and develop infrastructure such as hotels, amusement parks etc to attract visitors. Other important places to visit around Valparai are Balaji temple, Chitti Vinayagar Temple, Sholayar Dam, Nallamudi Poonjolai View, Number Paarai and various tea estates.
Do
Boating at Aliyar, Amaravathi and Thirumoorthy Dams
Elephant Safari/Van Safari in Topslip and Parambikulam
Trekking at Topslip, Parambikulam, Valparai
Wildlife & Nature Photography
Buy
Eat
A R Bakes & Restaurant

address: Coimbatore Road

Abhirami Hotel

phone: +91 04259 226685

address: Palakkad Road

Anajali Hotel

phone: +91 04259 224311

address: Palakkad Road

Anandabhavan Hotel

phone: +91 04259 224483

address: Venkatramanan Street

Arun Hotel

address: New Scheme Road

Ashok Hotel

phone: +91 04259 224483

address: Coimbatore Road.

Gowri Krishna Hotel & Restaurant

address: New Scheme Road.

Hotel Amuthasurabi

address: Coimbatore Road

S.P. Hotel

phone: +91 04259 231064

address: Coimbatore Road

Samson Hotel

phone: +91 04259 226453

address: Palakkad Road

Shakthi Hotel

address: Coimbatore Road

Surya Hotel

phone: +91 04259 235293

address: Palakkad Road
Drink
Bar available at Sakthi hotel, Vinayaka Hotel and Ramanuja Hotel.
All the three bars are near to the bus station.

Sleep
A.T.S.C Lodge

address: Raja Mill Road

Athavan Hotel

address: Ther Nilayam

C.T Lodge

address: Raja Mill Road

Hotel Nivethas Inn

address: New Scheme Road

Indirapuri Hotel & Lodge

address: 91 Station Road

K.D.K Hotel & Lodge

address: Market Road

Mani's Hotel

address: Raja Mill Road

Seetharam Lodge

address: Balagopalapuram Road.

Shakthi Hotel

address: Coimbatore road

Siva Shakthi Lodge

address: Raja Mill Road

Sundaram Tourist Home

address: 54 Palaniappa Gounder Street

Vijai Hotel & Lodge

address: Imankhan street
Connect
Police: 223344
Ambulance/Fire: 101
*
Cyber Cafe
Stay safe
Don't leave valuable belongings in hotel rooms
Don't tease wild animals when you enter national parks, especially lone elephants as they may harm you
Go next
Avaleppampatti (Tamil: ஆவலப்பம்பட்டி) is a village located 14 km north-east of Pollachi. Its 2500 inhabitants depend on agricultural works in coconut farms, copra making and coconut products producing industries (coir making). There are 3 temples to see: Avallappampatti Maariyaman temple, Karapadi Kaaliyaman temple and a Sivan temple with three lingams on the same base.