Polokwane
Polokwane
(
Place of Safety
) is a city in
South Africa
. It is the capital of the
Limpopo Province
and was formerly known as Pietersburg.
Get in
By plane
The Polokwane International Airport is located in the city and have multiple flights daily to and from
Johannesburg
. The main airline servicing the airport is South African Airways.
The airport is located north of the city centre as is accessible via Landdros Mare Street (R101). There are multiple car rental agencies within the airport and this is generally the best way to get around town. There are metered cabs as well.
Just south of the city is the
Gateway Airport
, primarily a business and general aviation airport. It is also known as the Polokwane Civil Airport.
By car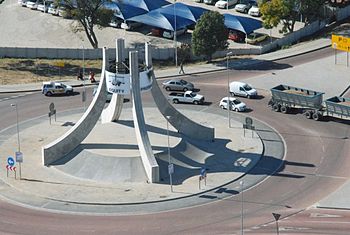 Take the N1 highway north from
Johannesburg
through
Pretoria
and on. Have cash at hand for the toll gates. You also might need to stop at a Fuel Station to refill fuel on the way.
By train
The Shosholoza Meyl
, South Africa's intercity rail service, operates a daily service (except Saturday) between
Johannesburg
,
Pretoria
and Polokwane. The Train Station is located near the city centre and is located on the corner of Hospitaal and Silicon Streets.
By bus
Translux, Greyhound, SA Roadlink, City to City have buses to Johannesburg and the Zimbabwe border.
the bus fare from Polokwane to Johannesburg with city to City is around R180. Tickets can be booked via
Computicket
There is also Minibus taxis to Pretoria, Johannesburg, Mbombela, Musina. These are generally not considered to be safe.
Get around
Polokwane was a city built for the car and so public transport, like most South African cities, is extremely limited. Construction has started on the Polokwane Integrated Rapid Public Transport System (IRPTS) but won't be complete or available to the public for quite some years still.

See
Polokwane Art Museum

phone: +27 15 290 217

address: Danie Hough Cultural Centre, Library Gardens Complex, 70 Schoemann Street

A compelling selection of paintings, ceramics, mixed media and sculptures by artists from Limpopo. Over 1000 works are housed in an indoor collection at the Danie Hough Cultural Centre located in the Library Gardens complex. The Museum features local art icons, such as the celebrated Jackson Hlungwani, Samson Mudzunga, Johannes Segogela, John Baloyi, Avhashoni Mainganye and Lucas Thobejane. The art museum holds regular exhibitions.

The Industrial Art Park

phone: +27 15 290 2177

The Polokwane Art museum curates 15 works of art produced from industrial material in an open air park. Sculptures are on permanent display. The museum was established in 1970 and is the only one of its kind in Africa.

Hugh Exton Photographic Museum

phone: +27 15 290 2186

address: Polokwane Civic Centre, entrance off Landdros Mare Street parking lot

The Hugh Exton Photographic Museum exhibits 23 000 glass negatives portraying the first 5 years of the town's history on celluloid. These were taken by photographer, Hugh Exton, between 1892 and 1945. The museum is housed in a Dutch Reformed church built in the 1890s. Bookings are essential.

Bakone Malapa Open Air Museum

phone: +27 15 295 2432

The Bakone Malapa Northern Sotho Open-Air Museum provides insight into the traditional and modern-day culture and lifestyle of the Bakone people. It has thatched houses, grinding stones and calabashes that were used in the olden days. A tour guide is available and a special arrangement can be made to visit the museum on Sundays. The museum is excellent for family picnics and braais. Bookings are essential.

Eloff Gallery

phone: +27 15 297 0911

address: 74 Dorp Street

An unusual and eclectic mix of local rural crafts, bespoke furniture and the works of many South African artists are on display at Eloff Gallery. Unlike many modern art studios which are somewhat stark, this warm and inviting gallery, opened in 1989 by Barenda Eloff, offers unusual, original and works of real value.

The Irish House

phone: +27 15 290 2182

address: Cnr. Thabo Mbeki & Market Street

A Victorian building was prefabricated and moved to the city by German immigrant in 1906. The building was restored to its former glory in 1986 and converted into the Polokwane Museum to display the diverse cultural heritage of the city and the Limpopo province.

Civic Centre

address: Cnr. Landdros Mare & Bodenstein Street

The elegant gazebo in the Civic Square was built in 1924. The building was once the home of coach magnate, Doel Zeederberg, who established the first passenger stage-coach service between Pietersburg (now Polokwane) and Bulawayo (in Zimbabwe, then Rhodesia) in 1894. It is a reminder of an era of huge progress and the route was significant in attracting people to the region.

Roman Catholic Church

address: 54 Biccard Street

The Roman Catholic Church in the heart of the city was built in 1934. Although it is a relatively contemporary building, it is considered one of the city's finest pieces of architecture. Still the home of the large Catholic congregation in Polokwane, this is a grandiose monument.
Monuments
Gun Memorial

address: Library Gardens, Cnr. Grobler & Schoeman Street

Guns confiscated at the end of the Magoeba War in 1892 were melted into one mass and put on display.

Eersteling MonumentThe monument marks the country's first gold crushing site and gold power plant in the country.

Concentration Camp Cemetery

address: Kobalt Street, Nirvana

The cemetery houses the graves of the victims of a nearby Anglo-Boer War concentration camp.
Do
Polokwane Game Reserve

phone: +27 15 290 2331

address: Silicon Road

Polokwane Game Reserve offers excellent game viewing of as many as 21 species including white rhino, sable antelope and giraffe. There are a number of walks, including a one-day 20km hiking trail with overnight accommodation. The Polokwane Nature Reserve also conserves the Pietersburg Plateau false grassland that is home to important indigenous birds such as the short-clawed lark, the ashy tit and the Kalahari scrub-robin. Comfortable accommodation is available in self-catering chalets. A well-managed and well-equipped caravan site is adjacent to the reserve.

Polokwane Bird and Reptile Park

phone: +27 15 292 1719

address: Lordton Road 118, Ivydale

The Polokwane Bird and Reptile Park has over 280 indigenous and exotic bird species and a variety of snakes, lizards and crocodiles. There are also numerous picnic spots as well as an 18-hole golf course.

Cape Vultures at Moletjie Bird Sanctuary

phone: +27 15 290 2331

address: Polokwane Game Reserve, Silicon Road

Cape Vultures are one of the largest raptors in Africa and are endemic to South Africa. The population of Cape Vultures has been dwindling and the species is considered vulnerable. The Moletjie Bird Sanctuary in Polokwane is internationally-acclaimed for its work in the protection of the Cape Vulture.

phone: +27 15 295 4118

address: Off Dorp Street South

The Polokwane Golf Club is older than the city; founded in 1863. It is rated one of the best in South Africa. Over the years, the golf course and its clubhouse have evolved it into an iconic sporting attraction. With 700 members, it is a hive of activity. US Open Champion, Retief Goosen learned to play here and Springbok golfers Ray Earle and Callie Swart both hail from the club.

Let's Go Bowling Polokwane

phone: + 27 15 296 1353

address: Farmyard Trading Post, Cnr Munnik and School roads

The competitive game of ten-pin bowling is as mentally and physically challenging as it is just plain fun. Founded in 2012 by John Knott & Paul Altenroxel the company specialises bowling.

Meropa Sun Casino and Entertainment World

phone: +27 15 290 5400

address: Plot 59, Sterkloop, Roodepoort Road

A fun and exciting attraction featuring world-class gaming facilities as well as entertainment for kids. Highlights include a butterfly and bird park, a fun park and several entertainment areas.
Buy
Mall of the North

phone: +27 15 265 1026

address: Cnr R81 and N1 interchange, Bendor, Polokwane

A super regional shopping mall featuring a 6 cinema movie complex and over 180 stores.

Savannah Mall

phone: +27 15 296 2977

address: Corner of Grimm and Thabo Mbeki Streets

67 stores including banks, eateries and clothing outlets.

Checkers Centre

phone: +27 15 621 2015

address: Corner of Grobler and Hans van Rensburg Streets

In the CBD and has over 30 stores including supermarkets and clothing outlets.

Standard Bank Square

phone: +27 15 295 9038

address: Corner of Thabo Mbeki and Hans van Rensburg Streets

23 stores including eating spots, clothing and other retail businesses.

Lifestyle Centre

phone: +27 83 276 7797

address: Corner of Landros Mare' and Market Streets

22 stores including an electronic goods store and printers.

The Mall

phone: +27 15 291 4260

address: 25b Thabo Mbeki Street

5 stores and a good location.

The Crossing

phone: +27 15 291 4700

address: Corner of Grimm and Grobler Streets

4 stores.

Game Centre

phone: +27 15 291 4700

address: Corner of Mark and Hospital Streets

20 stores including fast food outlets, airtime vendors and small independent boutiques.

Thornhill Shopping Centre

phone: +27 83 289 6423

address: Modjadjiskloof Road

32 stores ranging from clothing outlets to restaurants and small independent outlets.

Shoprite Centre Metropolitan

phone: +27 15 297 1383

address: Corner of Church and Rissik Streets

10 stores at Market Street. There are another 18 shops at the Taxi Centre in the CBD that selling household wares, food and other items.

Platinum Park

phone: +27 15 297 5890

address: General Maritz and Outspan Streets

18 stores and a Cuban restaurant, bakery and businesses including KPMG.

Cycad Centre

phone: +27 15 291 2929

address: 80 General Maritz Street

19 stores including eateries, a supermarket and clothing shops.
Sleep