Polonnaruwa
Polonnaruwa
is a city in the
North Central Province
of
Sri Lanka
.
Understand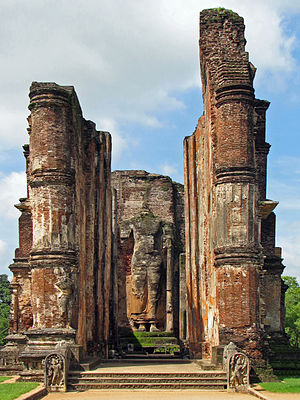 The second most ancient of Sri Lanka's kingdoms, Polonnaruwa was first declared the capital city by King Vijayabahu I in the 11th century AD and maintained its status until the 13th century. In 1982 the ancient city of Polonnaruwa was inscribed on the
UNESCO World Heritage List
. What's nice about Polonnaruwa is that the ruins are in one compact area so you can visit them quite easily. Just one three wheeler ride from where you're staying to the entrance and you can walk about them all day long. If you don't have a lot of time and have to make a choice, the ruins at Polonnaruwa are much better presented and more interesting than the often repetitious ruins of
Anuradhapura
. There are only so many Stupa's you can see before you have "seen them all".
Get in
Polonnaruwa is 216 km or 134 miles from
Colombo
and 66 km east of
Dambulla
. To travel there, you've got several options. They are, in order of preference, car, train and bus.
By plane
Hingurakgoda AirportThe nearest airport. The only flights available is by FitsAir from Colombo-Ratmalana,
Sigiriya AirportMore choices:
By car
Car is the easiest. Any taxi service (+94 11 2556 556 or +94 11 2818 818 are two numbers of cab companies you can call) will charge you around LKR 30 per km (approx LKR 13,000 roundtrip) (as of mid 2007). Make sure you ask for a Nissan Sunny or Toyota Corolla or you might be sent a crappy car. The advantage is that you will sit in air conditioned luxury all the way to Polonnaruwa and the road is quite nice with plenty of greenery along the way. The old, massive trees tend to shade into the road once you leave the urban areas, creating a canopy effect. Trip is five to six hours inclusive of breaks for food, fruit and shopping (although shopping along the way is just overpriced and not recommended).
By train
Train is next, though frankly, bus is kind of tied with it. It's quite cheap: you'll that find the three wheeler ride to the train station costs about as much. You get on the train to Trincomalee at Colombo Fort station, connect in Gal Oya and you're in Polonnaruwa. The trip'll take you a good part of a day and the train leaves the station at 6.15am so plan accordingly. It is not however an air conditioned experience but it is a train with all the scenery and Theroux-like hijinks that implies.
No train run to/from Anuradhapura.
By bus
From
Colombo
- Buses also leave from Colombo Fort but from a slightly different location. Take the intercity to Polonnaruwa. With luck and blessings from whatever deity you subscribe to, you should arrive in Polonnaruwa in six to eight hours.
From
Anuradhapura
- Direct bus from the Anuradhapura bus station in New Town runs throughout the day and the distance from Anuradhapura to Polonnaruwa is some 100 km and the bus trip will take three hours.
From
Kandy
- The 150 km bus trip takes 4,5 hours. Makes a stop in
Dambulla
(a bit less than 2 hours from Dambulla to Polonnaruwa).
The Polonnaruwa Bus Station is situated 4 km to the east of the main attractions, so if your hotel is around there ask to be dropped somewhere closer (Clock Tower for example).
Polonnaruwa Bus Stand
Get around

Bicycles are the best way to get around. Most guest houses will rent out bikes, but be sure of the condition when you pick it up. Check if the tyres are properly inflated etc. All the sights in the old town are located next to each other so you can cover all of them easily using a bicycle in one day. Most accommodations can also provide you with a bicycle, which is a convenient way to get around the Ancient City.

See
Just north of present-day Polonnaruwa town, 140km (90 miles) north of
Kandy
, are the ruins of ancient Polonnaruwa, which date from the late 10th century, when the Chola kings of southern India invaded Sri Lanka and conquered
Anuradhapura
.
King Parakramabahu I StatueA massive rock-cut statue of a Buddhist king, Parakrama Bahu.

Potgul VeheraRuins of a monastery built by King Parakramabahu the great (1153-1186 A.D.). It's original name is unknown. According to a stone inscription found at the site, it has been renovated by a consort of King Parakramabahu. The peculiar feature of the monastery is the circular brick structure located in the lower terrace.

The Royal Palace

Royal Court

Kumara Pokuna

King Nissanka Malla's Palace

Thuparamaya

Shiva Dewalaya Temple

Vatadage

Atadage

Gal Pota

Nissanka Latha Mandapaya

Rankoth Vehera

Lankatilaka Gedige

Kiri Vihara

Gal Vihara or Gal Viharaya (Temple)

address: Nissankamallapura

Demala Mahaseya (Stupa)

Lotus Pound

Thivanka Image House

Alahana Pirivena Complex - Buddhist temples
Topa Wewa Lake and the Parakrama Samudra (the Sea of Parakrama)
The 1-day entrance fee is 25 USD (March 2018). Unfortunately, the round trip tickets for the cultural triangle (50 USD) are no longer available. South Asian nationals receive substantial discounts of USD 15 on entrance fees, Therefore, if you have a South Asian passport, make sure to carry it with you on your visits.
Do
Eat
Avoid eating from places where they sell the food in open markets. Do not go to places that need to have touts on the streets out and where you cannot see inside the restaurant from the street.
GamaLocal joint offering a tasty veg curry buffet for 350 rupees.
Sleep
There are plenty of budget hotels and guest houses to stay at in the new town. Prices start at Rs 1,500 to 2,000 per person for a night.
Mid-range
The Village Polonnaruwa

phone: +94 27 459 9299

address: Parakrama Lake Road, Potugal Mawatha

Lagassa Lodge

phone: +94 773 579248 (mobile), +94 764 155855 (mobile), +94 770 117432 (mobile)

address: #95 Circular Rd.

Good deal for your money, as the rooms are newly built as of 2017 and are very clean, bathroom is huge, owner is nice and the food is excellent as well.

Hotel Seruwa

phone: +94 27 2222 2411

Also run by CHC but cheaper and the location is pretty nice as well. Rooms are relatively new but check the room before you check into it.

Polonnaruwa Resthouse

phone: +94 27 222 2299

- Run by the Ceylon Hotels Corporation. It's a really nice location on the Parakrama Samudra. Queen Elizabeth II stayed here. Rooms are relatively new but check the room before you check into it .

phone: +94 272246316

address: Giritale

Modern living conditions in a tropical setting and nestled alongside the Giritale Tank.

Thidas Arana LakeAt the end of a peninsula about 4 km from the ruins (an easy cycle), this new Thidas Arana branch has sweeping views over the lake, where elephants often roam. Also good staff and restaurant.
Stay safe
Don't even think of sleeping on the grass land in this area. There is a high risk that you will get a bite from a venomous snake or insect.

Go next