Polynesia
Polynesia
is the most far-flung, easterly region of
Oceania
.
Countries and territories
Polynesia is comprised of the following island nations:
Polynesia includes smaller overseas territories of larger nations, including:
And it includes the following tiny U.S. territories with no local populations, mainly used for scientific and military purposes:
New Zealand
is also often considered part of Polynesia both culturally and historically.
Cities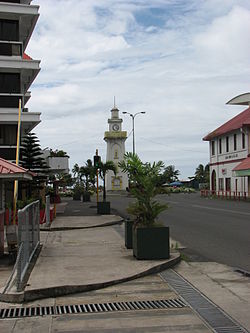 Other destinations
— the classic picture postcard of a palm tree fringed tropical island with turquoise waters, in the Cook Islands.
— a small island in the Cooks with caves, birds and bush beer
— the most beautiful lagoon of French Polynesia, but incredibly pricey.
— a small island in Tonga, home to some of the best rainforests in Polynesia
— home to 3 active volcanoes
— the largest coral atoll in the world and an off the beaten track destination
— budget alternative to Bora Bora with beautiful scenery.
— group of more than 50 islands in Tonga, a common destination for yachters.
ㅡ the largest island in Polynesia outside of Hawaiʻi and New Zealand. Covered in dense tropical rainforest.
Understand
Polynesia comes from the Greek words "Poly" and "Nēsos" meaning "many islands".
Historically, Polynesia was famous for its seafaring traditions where people used canoes to navigate the seas by using stars and other signs that came from the ocean and sky.

Talk
There are many indigenous Polynesian languages spoken, sometime known as the Oceanic languages, a sub-branch of the Austronesian language family. Additionally English is widely spoken in Polynesia,
French
in much of the rest, and
Spanish
on Easter Island.
Get in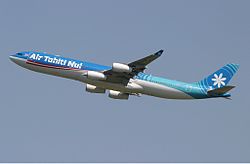 Compared to the rest of Polynesia,
Hawaii
has excellent connections from mainland
North America
plus many flights from
East Asia
. The southern parts usually have flights from
New Zealand
,
Fiji
and/or
Australia
.
Easter Island
is connected to mainland
Chile
and
French Polynesia
to
Paris
via
Los Angeles
.
Get around
See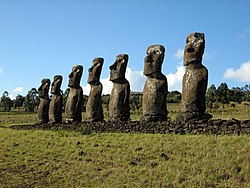 There are a couple of
world heritage sites
in Polynesia:
Stay healthy
Take precautions against mosquito bites, as there have been outbreaks of dengue, chikungunya and Zika virus in the 2010s in the tropical countries.

Go next