Pomáz
Pomáz
(German:
Paumasch
) is a city in
Pest County
. It is on the HÉV (commuter train) line
Budapest
–
Szentendre
northwest from Budapest. Its neighbor towns are
Budakalász
(south),
Csobánka
(west) and Szentendre (north). A popular place to start trips in the Pilis mountains.
Understand
Pomáz is the entrance of the Pilis. The village in the valley of Dera-stream with more than 16 000 inhabitants. The nearby volcanic mountains, the Nagy-Csikóvár and the Kőhegy Mountain, and the Holdvilág-árok (ditch) attract day-trippers.

Get in
By train
From
Budapest
you can take the HÉV (commuter train) H5 line. The ride takes 32 min from
Batthyány Square
, 24 min from Szentlélek Square (Árpád Bridge). For the part within Budapest (last stop is Békásmegyer), you need a single ticket or a valid pass for Budapest public transport; for the rest you have to buy a suburban ticket. You should buy the Budapest ticket/pass before boarding the train in all cases; the suburban ticket should be bought advance if there is a working ticket vending machine, an open ticket office or reseller available (as of February 2019, there are TVMs at all suburban stops/stations except for Budakalász, and also almost all urban ones, see
map
). TVMs accept forint coins and notes, as well as conventional and contactless bank cards. You will pay €1.5-2 in forints.
HÉV timetable
By bus
You can take a
bus
from the Pest end of Árpád híd, but these buses are not coming to Pomáz, they are going on route 11, so you must walk or arrange transport for the rest 2-3 km. The easier way is the HÉV.
By car
By car it is easy to access from the route 11.
Get around
The bus going to
Dobogókő
stops several times between the HÉV station and the northern end of Pomáz. Also there are private companies running transportation services within Pomáz with vans, but they are more expensive.
See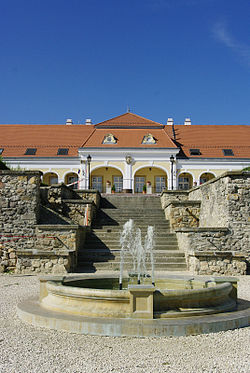 Most sights are in the main square, the biggest attraction is the Wattay-Teleki-castle. It has been renovated as a home for a music school. It is open for visitors.
You can take a walk in the forest in Csikóváralja: it's a very popular weekend destination for people of Budapest. A very good restaurant waits for you after the trip.
Calvinist Church

phone: +36 26 325297

address: Hősök tere 1.

Built between 1814 and 1828 in classicism style. Most of the inside furniture are as old as the church.

Orthodox church

phone: +36 26 325133

address: Szerb utca

This church was built in the 14th century in Gothic style, and between 1719-1722 rebuilt in baroque style. The iconostasis and the bishop's throne is very important Baroque works.

Teleki-Wattay Castle Hotel

address: Templom tér 3

An eclectic-style, monument hotel. The building has 16 rooms. The other 8 rooms are for exhibitions

phone: +36 26 325 006

address: Templom tér 8

The church was built in 1768 in Baroque style.

Local History Collection

State foundation monument

Hungarian Ethnographic Collection

Serbian Minority Collection

address: Kossuth utca 48

Serbian memorial cross

address: Ravatalozó utca

Gothic

Monastery ruins

Fáy Mansion

address: Fáy András u.

A monument built in eclectic style.

Luppa mausoleum, Radnai villaMonuents
Do
The bus to the
Pilis Mountains
leave from the HÉV station of Pomáz very often. You can go to
Dobogókő
or other nice places for a day trip or longer (it's not difficult to find a tourist house or any other place to spend the night). For the bus timetable, visit
Volánbusz
(write Pomáz and Dobogókő).
Events
phone: +36 26 505656

address: Majdán 1

Dance, crafts, runic writing, horse riding and archery.
Drink
There are a few pubs in Pomáz, but for real evening entertainment you must go to Budapest.
phone: +36 26 326476

address: Hősök tere 7.

A funky and modern style of bar with fast food.
Eat
Bull Pub

phone: +36 26 326467

address: Hév station

Beers and fast food.

Rákospince wine cellar Restaurant

phone: +36 26 325355

address: Beniczky utca 63.

Restaurant.

phone: +36 26 323974

address: Mártírok útja 1-3.
Also here are a couple of traditional Hungarian restaurants like Kincsem restaurant.
Sleep
There are a couple accommodation possibilities in Pomáz, for more options try
Budapest
or
Szentendre
.
There are a few
couchsurfers
in Pomáz.
phone: +36 26 525610

address: Templom tér 3.

Csikóváraljai Touristhouse

phone: +36 26 325180

address: Dobogókői út

phone: +36 26 325888

address: Budakalászi utca 14

phone: +36 26 325355

address: Beniczky utca 63.
Go next
Budapest — the national capital is a short train ride away
Szentendre — a historic town on the Danube with a beach resort feel
Dobogókő — the highest summit of the Pilis Mountains is a popular hiking destination