Pomeroy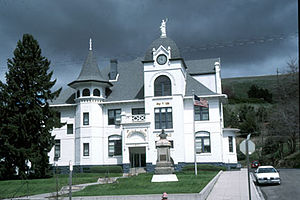 Pomeroy
is in
Palouse (Washington)
in Washington State.
Understand
The Nez Perce trail existed in the area before history was recorded, and the first written record of caucasians passing through the area were Lewis and Clark in 1805. Captain Benjamin Bonneville also passed through the future site of the town while he was surveying for the US government in 1834. In 1860, an Irish settler named Parson Quinn settled just east of present-day Pomeroy, and lived there for the next 40 years. Rancher Joseph M. Pomeroy purchased the land in 1864, and platted the town's site in May 1878.
Pomeroy was officially incorporated on February 3, 1886. The town has been the seat of Garfield County ever since 1882, despite fierce competition in the 1880s with neighboring towns Pataha and Asotin. The struggle to name a county seat would continue through both houses of the Washington Territorial Legislature in 1883, to Governor William A. Newell of the Washington Territory, and eventually reached the Congress in 1884.
On July 18, 1900 (despite a city ordinance which mandated fire-proof materials for downtown buildings - there had been fires in 1890 and 1898 as well) fire destroyed half of the small town's business district. The recovery took two years as the destroyed buildings were rebuilt using brick - a building boom for the small community. In 1912, the City voted to outlaw the manufacture or sale of alcohol. This prohibition quickly led to rampant bootlegging and corruption which lasted until the 21st Amendment passed in 1933.
On August 21, 2003, following efforts by the Pomeroy Historic Committee, a 10-block section of Pomeroy's downtown was placed on the National Historic Register.