Pomorskie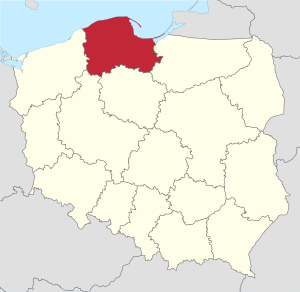 Pomeranian Voivodeship
(
Polish
:
Województwo pomorskie
) is a province situated at the Baltic Sea coast in the north of
Poland
.
Cities
— biggest city and capital of Pomeranian Voivodeship, rebuilt after World War II as one of the most beautiful European cities; gateway to many sea resorts along the Polish northern coast; the biggest city of Tricity agglomeration
— a big seaport city at Gdańsk Bay with sandy beaches, a huge harbour and one of the biggest aquarium compounds in Europe; part of Tricity agglomeration
— spa town at the Baltic Coast; part of Tricity agglomeration
— historic town in Vistula delta region with huge Gothic Malbork Castle of the Teutonic Knights, the largest one in Europe
Seaside towns
Hel Peninsula
Other destinations
– small village and the site of the Nazi Stutthof concentration camp
— national park at the sea with the biggest dunes in Europe
Talk
The people of Pomeranian Voivodeship speak standard Polish. Kashubes speak Kashubian too. Due to its history, many inhabitants have at least cursory knowledge of German. As in the entirety of Poland, English knowledge is on the rise, particularly among the younger generations. The region sees a fair amount of tourism and thus many service-sector employees have a reasonable fluency in English. Other languages that can be spoken by locals include Finnish, Norwegian, Russian, and Ukrainian.

Get in
By plane
The region's airport is the
Gdańsk Lech Wałęsa Airport
(
GDN
) in Gdańsk. One of the busiest airports in Poland, it is served by many flights to other countries in Europe, also connecting to intercontinental flights.

See

Sopot: A beautiful town. One of the "tri-cities" (Gdańsk, Sopot, Gdynia). Great place to come in the summertime but there are a lot of tourists. Attracts people from all over Poland as well as neighboring countries.
Jastrzębia Góra: A tourist hotspot, most to the north advanced promontory of Poland (N54°50', E18°20'). The town stands on a spectacular cliff, which in some places stands over 55 meters above sea level. An attractive tourist destination with clean and wide sandy beaches.

Go next
Pomeranian Voivodeship
borders four other
Polish
provinces:
as well as the Baltic Sea.