Ponce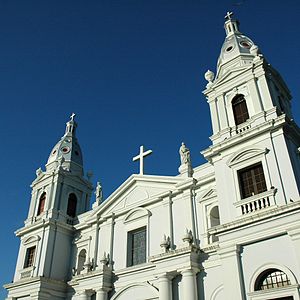 Ponce
is a city in the
Porta Caribe
region of
Puerto Rico
.
Understand
Ponce is the second largest city in Puerto Rico. The city was founded by Ponce de Leon's grandson Juan Ponce de León y Loayza in 1692, but not much seems to have happened since then, and it's far less touristy in character than San Juan. Ponce's draw is its rich history and unique architecture. The atmosphere is charmingly laid-back, a stark contrast to the bustling economic and nightlife districts of San Juan. Even as the island's second largest city, tourists may be shocked or refreshed to find that Ponce's downtown is a single quaint city square with no steady nightlife.

Get in
By plane
Mercedita International AirportOffers daily flights to the mainland US. JetBlue has direct flights to New York JFK and Orlando airports.
By car
Ponce is reachable via the main island expressway. It's located about 64 miles from San Juan. The drive takes about 1 hour and 15 minutes. The road (highway #52) is modern and convenient and restaurants and shops are readily available throughout the trip.
By público
Ponce has a large público terminal (787-842-1222) at the intersection of Calle Union and Calle Vives, a few blocks north of Plaza las Delicias. Públicos to
San Juan
(2 hrs, $20) depart from pier 5A, mostly early in the morning. Call Chóferes Unidos de Ponce at 787-764-0540 to make a reservation; they can also pick you up for a small extra fee.
Get around
The downtown area is compact and very attractive to explore on foot. Cabs are cheap and plentiful, should you need one, although many museums and restaurants are within a very short distance of the central plaza. The historic center has quality sidewalks. Public transportation in Ponce is pretty much non-existent, although there's a touristy "train" that does a loop of the downtown. Parking can be quite a challenge at times.

See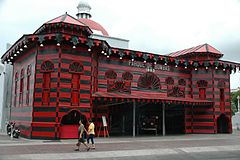 Most of Ponce's sights are tightly packed around the main square of
Plaza las Delicias
.
Parque de Bombas, east side. The former fire station, painted with highly distinctive red and black stripes, and the symbol of the city. The building now houses the tourist office and a free exhibition of the history of fire fighters in Ponce, and is the departure point for the sightseeing train around the city.
Casa Alcaldía (City Hall), south side.
Catedral de la Guadalupe, west side. Directly behind Parque de Bombas,
La Guancha Paseo Tablado. A boardwalk south of downtown, near the harbor.
Castillo Serralles
Casa de la Masacre de Ponce

The Museum of Puerto Rican Music

phone: +1 787-844-9722

address: 70 Christina St

Open W-Su 9AM - noon, 1-5:30PM. Free
Ponce Museum of Art (787) 840-1510. Is quite impressive. A modern building, that is arguably one of the top and finest museums in Latin America. Covers European art most notably "Flaming June", the pride of the museum -- as well as some Puerto Rican art. The museum hosts many visiting exhibits, as well. Daily 10AM - 6PM Close on Tuesdays. Adults $6, children $3, students $3.
La cruceta El Vigia. (Open Th-Su)
Centro Ceremonial Indígena de Tibes - Indigenan Park about the Tainos (Puerto Rican Native Americans) Open Daily, close on Mondays. Adults $3
Do
Caja de Muertos (Coffin Island) is an uninhabited island just off the coast where you can visit an abandoned lighthouse, empty stretches of beach and a marked underwater snorkel trail. Ferries leave from the pier, weekends. $4. 787-842-8546

phone: +1 787 244-6283

address: La Guancha

1/2 day guided snorkeling excursions to Caja De Muertos. All snorkel equipment is provided. For the novice and non swimmer, we offer instruction and an actual 'hand holding' experience, if necessary, as safety and education are our top priorities which in turn makes an enjoyable day for everyone.
Hacienda Buena Vista Plantation, is a historic coffee plantation turned into a museum about growing and processing coffee. It is located north of the city of Ponce, along Carretera 123 in the Corral Viejo neighborhood.

Hacienda Pomarrosa PlantationTours on request, $15/person. Hacienda Pomarrossa is a privately run active specialty coffee plantation in the mountains north of Ponce at the intersection of highway 143 and 511 (note that highway 511 from Ponce is blocked off by a gate roughly 2/3 of the way to Pomarrosa; take highway 143). Owners conduct the tours themselves and speak English, Spanish and German.

phone: +1 939-265-5691

address: Utopía Café, Calle Isabel # 6953 at Plaza Muñoz Rivera

Daily cultural experience tours with walking tours of downtown Ponce and themed tours ("experiences") in Ponce and neighboring municipalities, including coffee, sugar cane, salsa music, and arts and fire experiences. Tours outside the Historic Zone include transportation. Owners conduct the tours themselves and speak English and Spanish. Registered with the Puerto Rico Tourism Department and certified by the Ponce Municipal Government Office of Tourism.
El Tuque Beach

Caribbean Water Sports

phone: +1 787 244-6283

address: La Guancha, Ponce

We guide you on an exciting jet ski ride to near by deserted cays and islands. You can snorkel on the beautiful reefs of these cays or tour around them at your own pace. Fast or slow!
Buy
Centro Comercial Plaza del Caribe
Centro del Sur Shopping Center
Eat
King's Cream

phone: +1 787-843-8520

Calle Marina 9322 (opp Parque de Bombas). A Ponce institution dishing out hand-made ice cream in a dozen flavors for two generations. Generously sized portions start from $1.10.
Classic Delights Calle Marina, Ssq Comercio Ste 3. If you've had your fill of heavy meat & fish dishes, head over to Classic Delights for some fresh baked breads, veggie wraps, pizzas and lasagna. They offer a full breakfast menu, fresh juices, and salads, soups and sandwiches too.
Drink
Central Ponce has a number of bars around the main square. Note that many are closed Monday nights and Holidays.

Sleep
Most hotels are clustered around Plaza Degetau, easy walking distance to the downtown sites and museums but far from the water and beach. Most have private parking.
Budget
Belgica

phone: +1 787 844-3255

address: 122 Villa Street

Small budget inn on Plaza Degetau. Rooms with AC and small balconies start at $60.
Hotel Las Colinas Carr. 505 Km. 2.2 La Yuca, Ponce, PR (787) 843-5668. Rooms with AC, TV, garage. $33 / 12 hours or $65 per night.
Mid-range
phone: +1 787-842-0260

Plaza Degetau y Calle Cristina. Located right off the central plaza, this family-run hotel has both colonial charm and modern facilities. Great little pool, free wi-fi in room, free PCs in business center. Rooms from $90.
Holiday Inn Ponce and Tropical Casino
Howard Johnson Ponce

Hotel Ramada Ponce

phone: +1 787-813-5050

Corner of Union and Reina Streets. Located on main square across from Cathedral. Pool and restaurant.
Splurge
Hilton Ponce Golf & Casino Resort

phone: +1-787-259-7676

address: 1150 Caribe Avenue

This one's on the beachfront, but a 5-minute drive from town. The Hotel has a 27-hole Golf Course, vegas-style Casino, 2 swimming pools, tennis courts, ample garden areas and recreational facilities for family vacations, and a complete Conference/Convention Center for events and banquets.
Guests at the Hilton Ponce usually enjoy day trips to Caja de Muertos (Coffin) Island for a snorkel or Scuba Diving adventure, visit "La Guancha" nearby boardwalk for a friendly interaction with Ponce's people, and explore the museums and spanish revival architectural jewels in downtown.
Go next
Arecibo - about 2 hours of winding mountain roads.
Guánica - has several popular beaches on the south coast
San Germán - Inland colonial town.