Ponte de Lima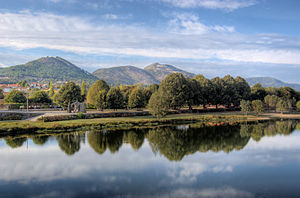 Ponte de Lima
is a town in
Minho
, in Viana do Castelo district.
Get in
There are two separate bus routes from Viana do Castelo and there is a case for taking a different one to come back.

See
The long bridge over the Lima. It is said that the Romans thought this was the mythical river Lethe because of its beauty and were afraid of losing their memories if they were to cross it! Their undaunted general swam across alone and called to each of his men by name to prove he had retained his memory and then they all crossed. Be that as it may, it's a fine bridge.

Go next
Beyond this village are the other attractive villages of Ponte da Barca and Arcos de Valdevez. On the way to Arcos is a lovely old Romanesque church at Bravães. Plus: the city of Viana do Castelo, the towns of Caminha, Âncora, Valença, and Monção