Pontefract
Pontefract
is a market town in
West Yorkshire
, England. It's one of the townships of the City of
Wakefield
and a commuter town for
Leeds
.
During the 17th C English Civil Wars, Pontefract like much of Yorkshire supported the Royalists. They remained resolute even after the execution of Charles I, hence the town motto
Post Mortem Patris Pro Filio
, Latin for "After the death of the father, support the son".
Pontefract was notable for growing
liquorice
, inspiring a famous poem by John Betjeman. Liquorice was initially used as a medicine, but 18th C apothecary George Dunhill noticed that the more sugar he added, the more he sold, so his throat lozenges morphed into Pontefract Cakes. What was now a confectionery business thrived, becoming part of Haribo in the 20th C, and a sweet smell often pervades the town. But local liquorice couldn't compete with imports from Turkey so the fields were grubbed out in the 1960s; recently there have been attempts to re-establish them.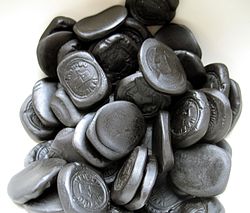 Get in
By plane
See
Wakefield
and
Leeds
for flight options.
By train
It's a small town yet it has three railway stations, all just platform halts. The best connected is to the north near the castle. This has trains every 30 mins to
Leeds
, either via Glasshoughton (for Xscape) and Castleford, or via Pontefract Tanshelf, Featherstone, Wakefield Kirkgate and
Wakefield
Westgate. Eastbound these trains run to Knottingley, but twice M-Sat they extend to Goole. Monkhill has three direct trains per day (M-Sat) from
London Kings Cross
run by Grand Central Railway, continuing via Halifax to Bradford. These are not infrequently cancelled, and Grand Central tickets aren't flexible for other train companies, so it's usually safer to travel from London on LNER trains changing at Wakefield Westgate.
The second station, is south side of town near the racecourse. This only gets the hourly service to Leeds via Wakefield.
The third station, , is on the line between
York
and
Sheffield
, with only two trains each way M-Sat. It's east of town centre.
By bus
Arriva buses 148 & 149 run every 10 mins west to Wakefield (40 mins) and east to Knottingley. Bus 410 / 411 runs every 30 mins to Leeds (one hour). Bus 409 runs every two hours to Doncaster (70 mins). Coach X62 between Leeds and Hull stops at Xscape (three per day). Pontefract doesn't have long-distance coach connections, travel via Leeds or Wakefield. Pontefract bus station is in town centre.
Get around

The town is compact and walkable. Take bus 410 / 411 for Xscape.

See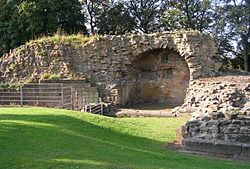 address: Castle Garth Pontefract WF8 1QH

Norman castle where Richard II met a nasty end. In the Civil Wars it withstood Cromwell's assaults but after surrendering was demolished to prevent future trouble.

address: 5 Salter Row WF8 1BA

Local history, from castle to cake. The shoe that Charlie Chaplin ate in The Gold Rush was made of Pontefract liquorice.

Pontefract Hermitage

address: Southgate WF8 1AQ

There were hermits here from the 13th C, but in the 14th C they began tunnelling into the soft underlying sandstone, creating two chambers (the larger being called the "Oratory"). One hermit was convinced that God was underground, so down and down he carved, until he met water. Still, at least he'd made a useful well. The hermitage was forgotten until the 19th C, when the town expanded and a workman tumbled in upon the place. It became overlain by the Victorian redbrick Gothic dispensary of Pontefract General Infirmary, with occasional access by guided tour. In the 21st C PGI moved into modern premises nearby and the dispensary fell into disrepair and became unsafe. This means the Hermitage is closed.
See also All Saints Church next to the castle, the 18th-century Buttercross in the market place, and the 14th-century merchant's house in an alley off Cornmarket (known locally as the pub "Counting House", but long closed and in urgent need of repair).
Do
Go to the races at

phone: +44 1977 781307

address: Park Rd, Pontefract WF8 4QD

This has regular flat-racing events April to October. The course encloses an agreeable park with a large duck pond. Just inside the course railings, there's a paved track for racecourse vehicles, so even in wet weather this is a good walking & running circuit of 2 miles 1 furlong. The bottom end of the park is marshy with a bird hide, and a tunnel cuts under the M62 to give access to J32/Xscape.

address: Colorado Way, Castleford WF10 4TA

A big entertainment complex at Junction 32 of M62, midway between Pontefract and Castleford. Attractions include the Cineworld multi-cinema, indoor wall-climbing, bowling, trampolining, indoor golf and, yes, skiing on real snow. Plus a dozen bars and food outlets, J32 retail park adjacent, and a Premier Inn. Bus 410 & 411 runs at least hourly between Leeds and Pontefract Chequerfield, the bus-stop outside the retail park is for both directions as buses circle clockwise. From Wakefield, Bus X32 runs hourly (30 mins) otherwise change buses in Pontefract. Coach X62 between Leeds and Hull also stops here. Trains run at least hourly between Leeds, Pontefract & Knottingley, get off at Glasshoughton not Castleford.

phone: +44 1977 790448

address: Market Place, Pontefract, WF8 1AT
Buy
Magistrates Market is in the old Sessions House, the magistrates' court 1813-2013. Inside, the ground floor has little stores selling antiques, curios and collectables. The upper floor in early 2019 is still being refurbished. The Market is open M-Sat 09:00-17:00 and Sun 09:00-16:00. The interior conversion is blandly functional so, if your aim is to admire the building itself, you do that best from outside in the street.

Eat
Mamma Mia is a reliable Italian at 61 Northgate, opposite the bus station. It's open Tu-Sat 17:00-21:00.
Plenty of cheap eats in town centre, but for high-end dining you'll do better in Leeds.
Drink
The Broken Bridge is a JD Wetherspoon at 5 Horse Fair, next to the bus station. It's open daily 08:00-00:00.
Sleep
phone: +44 1977 600550

address: Wakefield Rd Pontefract WF8 4HA

Popular for funeral teas, the crem's next door.

phone: +44 871 527 8886

address: A1 Business Park, 84 Knottingley Rd, Knottingley WF11 0BU

Reliable mid-range chain.
There's another Premier Inn at Xscape, Castleford WF10 4TA.
Connect
Good 4G mobile signal throughout the area. Buses and many other points have free WiFi. Pontefract public library (M-W, F Sa) has internet stations, printing and copying.

Go next