Poprad
Poprad
is a major tourist and economic centre in the
Prešov
region of
Eastern Slovakia
.
Districts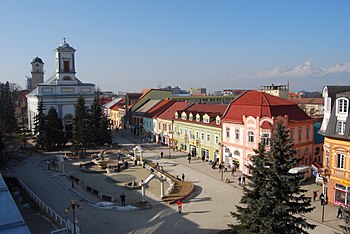 Staré Mesto
Matejovce
Spišská Sobota
Veľká
Stráže pod Tatrami
Kvetnica
Understand
Poprad is in the middle of Podtatranská kotlina ("Basin under Tatras"). Its area is 63 km². It is the 10th biggest town in Slovakia and the largest town of the
Spiš
region. Poprad is an important economic, tourist and cultural center of the Spiš region. The river Poprad flows through the town with its small tributary Velický Potok. Poprad is called "gateway to High Tatras".
The town has about 53,000 inhabitants. The majority of inhabitants are Slovak but the dominant positions among the ethnic minorities are held by Romas and Czechs.
Climate
Poprad has a mild climate and its weather is influenced by the
High
and
Low Tatras
. Winter is usually long and cold with snow. Summer is short and warm.
History
The territory belonged to the Kingdom of Hungary since the 10th century and was probably inhabited by Slavic settlers. It was colonized in the 13th century by German settlers and became the largely German town Deutschendorf meaning 'Germans' village'. From 1412 to 1770, as one of the Szepes towns, Poprad was pawned by the Kingdom of Hungary to the Kingdom of Poland, resulting in a strong Polish influence on the city's further development.
The first written reference to Poprad dates from 1256. It was for 690 years (until 1946) just one of several neighbouring settlements, which make up the modern city. The other parts of the municipality are Matejovce (first reference 1251),
Spišská Sobota
(1256), Veľká (1268), and Stráže pod Tatrami (1276). The most significant of these original towns was Georgenberg (or Szepesszombat, now: Spišská Sobota), which preserved its dominant position in the area until the late 19th century.
Get in
By plane
Airport Poprad-TatryThe highest-placed airport in Europe, 718 m above sea-level. With the exception of Wizz Air from Luton, mostly seasonal service. The nearest international airport is in Košice, approximately 100 min by road.
By train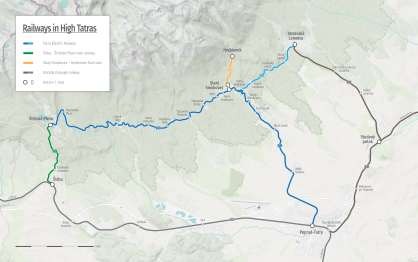 Direct trains serve Poprad from
Prague
,
Žilina
,
Košice
and
Bratislava
. Trains can be caught from Bratislava main train station (
Bratislava Hlavna Stanica
) approximately every 1 to 1½ hr. The approximate fare for this 5-hour trip is €12. Local electric trains (tram like) reach to the nearby mountain resorts of
Vysoké Tatry
- Smokovec, Tatranska Lomnica and Stbrske Pleso.
See
cp.sk
(available in English) for train and bus connections.
A really cheap way of getting to Poprad from Prague is with RegioJet trains. You can choose either the night connection, which arrives in Poprad early morning, or the train during the day. Tickets for normal seats are €10 and in sleeping car €13.5. Onboard it is possible to buy very cheap food and beverages, including beer (under €1) which will be brought to you. RegioJet also has good connections to Bratislava.
The station has luggage lockers, so it is possible to do day trips elsewhere before catching a night train.
By bus
From some towns in
Czech Republic
,
Poland
or Slovakia it can be easier to catch a bus than a train.
Get around
On foot
Walking from the city center to any other district will not take more than 20 minutes.

By taxi
Taxis are an inexpensive and easy way to get around town. Shops and hotels will call a taxi for you, and there are taxi stands in central locations and near shopping malls, etc. A trip anywhere in town will cost €5-7.

See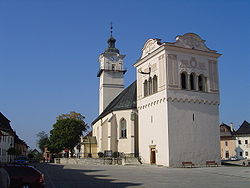 Historical buildings – Classic and Baroque houses, Renaissance houses, Burgher's habitation and church of St. John the Baptist (
Ján Krstiteľ
) in Stráže, church of St. Ján Evanjelista in Veľká, Renaissance bell tower from 17th century and church of St. Štefan in Matejovce, ruin of Poprad castle from 15th century in Zámčisko nad Kvetnicou.
Church of St. Egidius

address: St. Egidius square

Early-Gothic from the late 13th century. Interesting wall paintings (like the oldest High Tatras panorama).

Evangelical church

address: St. Egidius square

Classicist style from the mid-19th century.

Church of St. George (Juraj)

address: Spišská Sobota

There is an interesting Gothic altar by Master Paul of Levoča.

address: Vajanského 72/4

you could find expositions Gánovce – The Environment of the Neanderthal Man, Prehistoric Age and Early Middle Age below the High Tatras, Poprad through Centuries, Nature both known and unknown, Manufacture of blue-printing from Elemír Montštek's workshop in Hranovnica and Folk plastics.

address: Hviezdoslavova 341/12

It is housed in the former steam power plant, its scientific and exhibition activities present especially the work of visual artists from the Spis region and the wider Eastern Slovakia. But there are also many works of other notable Slovak artists.
Do
Poprad offers a lot of pleasure activities for its tourists and citizens.
address: Športová 1397/1

It has several indoors and outdoors swimming pools, sauna, water toboggans, fitness centre, children's playground, hotels, bars, cafés and restaurants.
Poprad has good conditions for sports such as swimming, football, basketball, tennis, and skating, bowling or extreme sports. If you like cycling, Poprad and
Svit
are connected with bike paths. It is also very popular with roller skaters.
In the winter there is skiing or snowboarding to
High Tatras
,
Svit
–
Lopušná Dolina
,
Kubašok
–
Spiššké Bystré
or Poprad –
Kvetnica
.
Eat
In Poprad you can find restaurants which cook traditional Slovak Slovenská Reštaurácia, Italian Cafe Razy Reštaurácia, or Country food Country Reštaurácia. If you like a pizza you can visit Pizzeria Utopia, Pizzeria U Jozefa, Pizzeria Palermo or Pizzeria Albano. On the square of St. Egídius, you can visit the sweetshops - Domenico, Izairi Bidaet, J a R, Jusipi Hajdar or Ramida.
Tipping customs
are similar to those in Europe and America though tips are slightly smaller; five percent is usually sufficient in restaurants.
Credit cards
are quite commonly used in restaurants in Poprad but always ask if it's important to know before hand.
Budget
Velická izba

address: Velické námestie 34

address: Na letisko 72/A
Mid-range
address: ulica Športová 226 (pri Aqua City)

Excellent traditional Slovak food in a very comfortable and friendly atmosphere.

address: ul. 1. mája 5

Nice restaurant in the city center with Slovak dishes and many types of beer.
Splurge
Ice cream
Drink
If you want a good drink and fun you should visit Gamma Ray Pub, Surprise Club, CafeRazy or Subway. Subway is perfect for cocktails and karaoke.

Cafés
Domenico is a café where you can find many cakes and coffee types. Also, they have good juices and teas.

Bars
Clubs
Sleep
You can lodge at a range of facilities, from cheap boarding houses to expensive hotels.
Boarding houses are Penzión Elizabet, Penzión Sabato, Penzión Tatry, Penzión Átrium or Penzión Fortuna.
For those on a tight budget, Penzión Fantazia, or Hostel Slavia (behind Penzión Fantazia) are a good bet. Both are about 15 min walk from the bus station.
Hotels are Hotel Európa, Hotel Garni, Hotel Gerlach, Hotel Satel or Hotel Poprad.
Budget
Penzión - Koliba u Štefana

address: Športová 4425/4
Mid-range
address: Štefánikova 893

address: Mnohelova 825
Splurge
address: Sportova 1397/2

address: Sportova 1397/1
Go next