Pori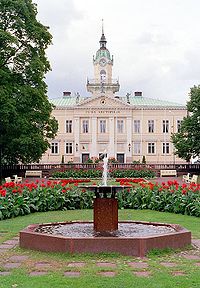 Pori
(Swedish
Björneborg
) is in
Western Finland
. It was founded in 1558, making it one of the oldest cities in Finland.
Understand
Pori is a traditional industrial city, with its former wealth and prominence showing in the neo-renaissance buildings in downtown and in several beautiful red-bricked industrial facilities alongside the Kokemäenjoki river.
However, the city has suffered heavily during the economic downturns, especially in the early 1990s, earning a reputation as a somewhat gritty place. Things are looking brighter again with lots of students coming to city and city centre being revamped.
Pori is most famous for the excellent Yyteri beach and the annual international jazz festival in July.

Get in
By plane
Matkahuolto
long-distance buses have a stop near airport named
Pori lentoasema th
and it is possible to travel by them to Pori bus station.
By bus
Bus connections from
Helsinki
(3-4 hr),
Turku
,
Tampere
(2 hr),
Oulu
,
Jyväskylä
and
Rauma
(1 hr). Tickets cost about €30-40 (Helsinki-Pori-Helsinki bus ticket for adults is now about €77), except on
Onnibus
(from/to
Helsinki
,
Tampere
,
Turku
,
Oulu
,
Rauma
and more), whose tickets cost €1–10 depending on supply and demand.
By train
All the passenger trains go through
Tampere
. One way adult ticket from Tampere costs around €15, from Helsinki around €40. Tampere-Pori takes 1,5h, Helsinki-Pori 3½ hr.
By car
Drive the main highway 2 from Helsinki (3½ - 4 hours), main highway 8 from Turku or from Vaasa (both about 2 hours), or road 11 from Tampere (about 1½ hours).
Get around
Central Pori is small enough to be relatively easily explored on foot or, in the summer, on a bicycle. Most if the attractions are within a short walking distance from each other. The few destinations further away, such as the Sigrid Jusélius Mausoleum (about 3 km from the city center) and the Yyteri sand beaches (about 15 km away) can be reached by bus. Information about local buses you can find
here
(web page in Finnish only). You can use Google Transit to seek local bus routes between given locations and addresses.
The Pori bus station is located at the central square in the centre of town. From the centre square there are good local connections to different parts of the town and to the surrounding neighbourhoods everywhere.
See
City HallThe riverfront in Pori has several prominent neo-renaissance stone building quarters, and the City Hall (with its park) by Carl-Ludvig Engel is especially worth a look.

,
Pori CathedralThe gothic-style Pori cathedral (that built instead of the castle that gave Pori its name) is also on alongside the river just a stone's throw away.

Porin TeatteriThe Theater building and its neighbouring house Hotel Otava, the world's first theater house built for performances in Finnish.

ReposaariThe fisher/seaside village outside the city filled with picturesque wooden buildings on the seaside. Especially recommended for summertime visits.

Sigrid Jusélius MausoleumThe Sigrid Jusélius Mausoleum contains paintings of the famous Finnish painter Axel Gallén-Kallela. It is on the main graveyard and the entrance is free.

ViikkariViikkari, or the 5th district, consists solely of old wooden buildings. There's nothing to see in particular, but the area has a unique "bohemian" character and is best enjoyed by just walking around. Located alongside the eastern border of the city center, it's a popular location to live for local artists and underground musicians as well.
Do
Festivals



Sports

Yyteri sand beachOne of the largest and certainly best beaches in Finland.

Ice hockeyIn the winter, see an ice hockey game of Porin Ässät ("The Aces"). Although the team isn't as successful as it used to be, the redcoats are still an essential part of the city culture – especially the Saturday games boast an excellent atmosphere and draw in large crowds. You see the traditional Ace of Spades logo a lot around the city during the Finnish Professional Hockey League season, which begins in September and ends around March/April. Tickets (€10-25) are available at the Sokos department store in downtown, or at the Lippu.fi website

Pori National Urban ParkSituated at the river banks. Kirjurinluoto on the north side. It contains a free smallish children's theme park, a theme based golf link and small streams of water. Full range disc golf course. It is lush green during summer. The most prominent monuments of the Pori National Urban Park are the industrial buildings on the north bank of the Kokemäenjoki, the neo-gothic Central church of Pori and one the best examples of neo-renaissance buildings in Finland, the Junnelius place which is now used as the City Hall. The National Urban Park also contains one of the most beautiful bridges in Finland architecturally, the Pori bridge; the Old Courthouse; the unique collection of stone buildings, "stone Pori"; the Juselius mausoleum, and Kirjurinluoto island, made famous by the Pori Jazz Festival.



Buy
address: Yrjönkatu 15

Isokarhu mall is a large shopping mall in the heart of the city, alongside the pedestrian zone. In it are located franchises of the most common Finnish and international chains ranging from H&M to Intersport. What you can't find inside, is very probably sold in a store located right next to it (it's a small town afterwall). There are some nice cafe's as well.

address: Yrjönkatu 12

The old market hall, or in Finnish "kauppahalli" is a nostalgic experience. The hall sells local products ranging from fish to vegetables. It opens early in the morning and stays open through the afternoon. Good place to take it easy for a while and have an old-fashioned cup of coffee with a sweet bread. But be warned: the retro has a downside in the average age of visitors being probably over 70 years. Old people have also a saying "when you come to Pori, we put you in a pärekori (chip basket) and get you around the tori (market square).

BePop

address: Yrjönkatu 22

A shopping mall located in the northern end of the pedestrian zone, also has several small stores. It's also a crazy example of the building boom of the "casino economy", with a huge structure (in pastel colors) but very little commercial space. There's a nice view if you bother to climb to the top bridge that crosses the "alley".
Outlet stores Tactic board games, Karjarannantie 2 km west of the city. Open M-F 08:00-16:00. Bakeries/cafes Mäkilän leipomo: Raja-Hiltantie 3 M-F 07:00-15:00; Jauhopojat Uusikoivistontie 73 open M-F -17:00, Sa 08:00-13:00.
Eat
The normal price for restaurant meal is €20-30. Fast food is obviously cheaper.
Kebab
and
pizza
are at almost every corner of the town. The price range is €5-10. These joints are often open until early in the morning.
Drink
The main city center area is full with bars and nightclubs. They are situated at/near the main street
Yrjönkatu
. The age limit is usually 18 years, but to some clubs it's 20. If you are 18 years old, you can negotiate, and you may sometimes enter the bar/nightclub. Bartenders often ask younger customers to present their identification card. If you are in Pori at the summer, go to
Eteläranta
, there are many nice bars and much to do.
Bars and pubs
address: Yrjönkatu 27

Most genuine Pori experience can be found here. Also Jazz jams on Thursday nights, with local students performing.

address: Itsenäisyydenkatu 44

The Tulli Pub on the other side of the square gets occasionally pretty "genuine", too.

address: Antinkatu 11

Nice selection of beers, has its own little brewery.

address: Liisankatu 7

In the Finnkino movie theatre building (Promenadikeskus), draws in local 'hipsters'.

One for the Road

address: Otavankatu 7

Known to locals as "Irkku". An Irish pub with delicious toasts, reasonable prices and an unique atmosphere.
Clubs
address: Itäpuisto 10

Live music on Thursdays. Most popular live venue in Pori. On weekends regular, quite popular club with mainstream dance music.

address: Yrjönkatu 9

A newer, popular club that is a part of a chain of discotheques bearing the same name around Finland. The queue can get very long, so after midnight you might have difficulties getting in.

address: Itäpuisto 13

A nightclub aimed at a somewhat older (but certainly not less drunk) clientele. There are several floors, with electronic dance music in the basement, karaoke in the middle floor, and Finnish 'schlager' (iskelmä) in the largest dance floor.

Amarillo, VaakunaAmarillo and Vaakuna are located in the Sokos Hotel Vaakuna next to the market square. Amarillo has a restaurant and a relatively popular bar, and as the place closes around 1 am, people tend to the Vaakuna club upstairs. It tries to distinguish itself as a somewhat more elegant club experience. On a Pori scale, anyway.
Sleep
Budget
Hostel Buisto

phone: +358 44 3330 646

address: Itäpuisto 13

17 rooms with 42 beds in the centre of Pori.

Matkakoti Musa

phone: +358 2 637 0100

address: Putimäentie 69

5 rooms with 12 beds.

address: Itäpuisto 1

Number of rooms: 57
Meri-Pori
phone: +358 2 634 5700

address: Yyterin santojentie

75 cottages near the Yyteri sand beach.

Matkakoti/Gasthaus Marita

phone: +358 2 638 4463, +358 50 592 6041

address: Satamapuisto 2

11 rooms with 25 beds.

Matkakoti Tiira

phone: +358 2 638 3792

address: Santojentie 9

17 beds near the Yyteri sand beach.

phone: +358 2 638 3922

address: Yyterin santojentie 10 A

20 beds (+20 in the summer) near the Yyteri sand beach.
Mid-range
phone: +358 2 624 900

address: Itsenäisyydenkatu 41

170 beds in 82 rooms.

phone: +358 2 550 900

address: Yrjönkatu 24

172 beds in 109 rooms. Internet access available in rooms.
Meri-Pori
phone: +358 2 628 5300

address: Sipintie 1

230 beds in 113 rooms. Price includes use of sauna and baths. Located on Yyteri sand beach.
Splurge
phone: +358 20 1234 626

address: Gallen-Kallelankatu 7

416 beds in 203 rooms.
Go next
Rauma - Finland's third oldest town with a beautiful wooden old town, less than a hour away by car or bus.