Port Chester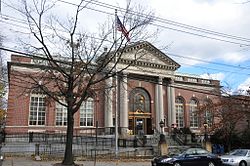 Port Chester
is a village in
Westchester County
,
New York
.
Get in
By plane
Westchester County Airport (HPN), 240 Airport Road, White Plains (New York), +1 914 995-4860 (airlines). The closest airport, about 30 minutes' drive. Rental cars are available.
Stewart International Airport, 1180 First St, New Windsor, +1 845 564-2100. Another alternative to the congestion of the 3 major New York-area airports, but at present offers few direct flights.
Newark Liberty International Airport, Newark, New Jersey, John F. Kennedy International Airport, and LaGuardia Airport: The three major international airports in the New York City area offer service to just about anywhere. Westchester-based taxi and delivery cars offer regular services to and from the three internationals from most areas of the county. New York City yellow cabs will take to you Westchester County Airport in a pinch, but the fares can be exorbitant. If staying in Westchester, ask if your hotel offers shuttle service.
By train
By bus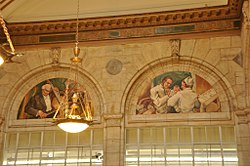 The Bee Line Bus system serves Westchester County and also operates into the Bronx. Bus routes numbers 12, 13, 14, and 76 come through Port Chester.
By car
I-95, Port Chester is easily accessible through exits 2 and 1 on I-95. Exit 2 takes you into Byram via Delavan Avenue, which then brings you straight to downtown Port Chester. Exit 1 brings you to Boston Post Road.
Get around
By taxi
RC Taxi, 40 Broad Street, +1 914 934-0000, Will pick up or drop off at the Port Chester Train Station along with any other local stop.
Village Taxi, 10 Broad Street, +1 914 937-4040, Takes about 5 to 10 minutes to get to anywhere in Port Chester. Reliable.
See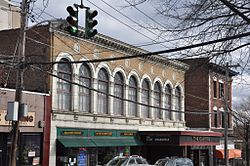 Lyon's ParkThis park is handicap accessible. The park is 20+ acres and contains volleyball courts, picnic areas, a gazebo, and two baseball fields used by Youth and Little League teams. The playground includes a jungle gym, see-saws, and two separate swing sets.
Do
address: 40 Westchester Ave

This movie theater has 12 individual theaters. The concession stand offers food varying from chicken fingers to candy to popcorn. Ticket Prices: $10.50/Adult, $9.50/Seniors, $8.50/Matinee, $7.50/Child.
Buy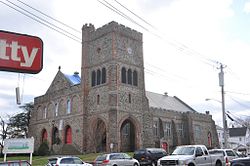 The Kohl's Shopping Center

address: Boston Post Road

A large shopping complex containing clothing stores such as Kohl's, Mandees, Dress Barn, Modell's, and Joyce Leslie. This shopping center is also home to The Bagel Emporium, Jembro's, Carvel's, Nine West Shoes, and The Vitamin Shoppe.

Rye Ridge Shopping Center

address: 140 South Ridge St

Located on the border of Rye Brook and Port Chester. Is home to Family Discount, Dusty Rose, Lickity Split, Cerbone's Bakery, Dagostino's Grocery, Chase Bank, Finch's Drug Store, and Walden's Books.

The Waterfront

address: 40 Westchester Ave

A new addition to downtown Port Chester. Includes many chain stores such as Costco, Bed Bath and Beyond, Michael's Crafts, DSW, and Famous Footwear.
Eat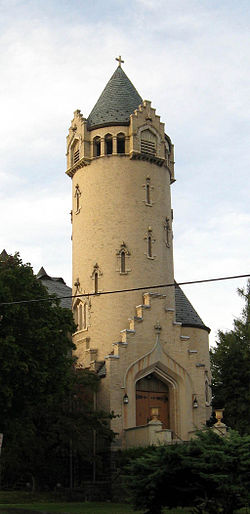 Buffalo Wild Wings Grill and Bar

phone: +1 914 690-9453

address: 44 Westchester Ave

Sports bar and restaurant with many big screen televisions. Often crowded on game days. Known for many flavored buffalo wings, also offers ribs. hamburgers, salads, and dessert. $10-20.

phone: +1 914 937-3333

address: 140 Midland Ave

Japanese food cooked right in front of you Hibachi style, waiters entertain with tricks during the food preparation, a small bar is located in the front of the restaurant. Usually crowded, reservations accepted and recommended. Hibachi dinners range from $16-28.

Frankie & Louie's Italian Restaurant

phone: +1 914 939-0202

address: 414 Willett Ave

Open daily 11AM-11PM.

Lenny's Bagels

phone: +1 914 939-1379

address: 200 South Ridge St

Popular bagel stop for all ages, offers a variety of bagels including the French toast bagel along with chicken cutlet sandwiches, pasta and potato salads, muffins, and soups. Offers different flavors of cream cheese, and a tifuti spread for vegetarians and vegans.

address: 167 Westchester Ave

Most delicious and authentic food.

Misti Restaurant

phone: +1 914 939-9437

address: 110 North Main St

Traditional Peruvian dishes, Well loved by all residents of Port Chester, offers the favorite arros con pollo, and many other ethnic meat dishes.

P&D Restaurant and Pizzeria

phone: +1 914 939-8845

address: 508 Westchester Ave

local pizzeria offers all sorts of pizza including Sicilian style, includes dinner sized portions of many Italian pasta dishes, subs, and salads. Desserts include tiramisu and cannolis. One slice of pizza $2. Dinner meals range from $8-15.

Q Authentic Barbecue Restaurant

phone: +1 914 939-7427

address: 112 North Main St

Has vegan/vegetarian choices along with gluten-free options. Specializes in bbq chicken, ribs, pulled pork, brisket, and southern fried chicken. Also offers salads and desserts. Plates $14-16, Combos (two meat dishes and corn bread) $17, Sandwiches $10.
Drink
Davy Byrnes Restaurant

phone: +1 914 937-2106

address: 538 Willet Ave

Fondly known as Davy's. Restaurant by day, bar by night. Popular hot spot for all locals and visitors. Clean, fast service, casual attire. Karaoke on Wednesdays, and jam packed on weekends! Accepts credit cards.

Polish Club

phone: +1 914 937-8989

address: 250 Locust Ave

Local bar, Party room is located upstairs and available for rent.
Go next