Port Hardy
Port Hardy
is a district municipality of about 4000 people (2016) in the
North Vancouver Island
region of
British Columbia
.
Understand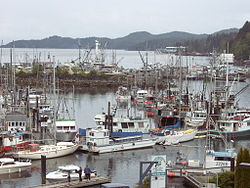 Beaver Cove, near the BC Ferries Terminal, is the oldest known site of human habitation on Vancouver Island (circa 5850 BCE). The first contact with Europeans occurred in 1836 when the steamship S.S.
Beaver
was sent on an exploratory trip by Hudson's Bay Company (HBC). To exploit coal deposits, the HBC to establish a fortified trading post at Beaver Harbour around 1848, and named it "Fort Rupert" after the company's governor, Prince Rupert, Duke of Bavaria. Though little of the fort remains today, the Kwakiutl First Nations (Aboriginal people) continue to reside adjacent to the former fort site.
Port Hardy's population grew to a little over 5,000 residents while the Island Copper Mine was operating from 1971-1995 about 16 km south of the town. The open-pit porphyry copper mine employed over 900 employees from Port Hardy and the surrounding communities. Today, the former mine is a wildlife habitat and pit lake biological treatment system.
Today, Port Hardy is a transportation hub for air, ferry and marine networks, and serves as the gateway to the Central Coast, the Cape Scott and North Coast Trails, and BC Ferry's northern terminus for the Discovery Coast run and Prince Rupert.
Visitor information
Chamber of Commerce Info Centre

phone: +1-250-949-7622

address: 7250 Market St

Great ideas and lots of maps and brochures. Accommodations, activity, and transportation bookings. Wheelchair accessible facilities. Public washrooms. Shaw GoWiFi Gift & souvenir shop.
Get in
By car
Take the Island Highway from ferries docking at
Victoria
(500 km, about 5½ hours driving) or
Nanaimo
(385 km, about 4 hours) from
Vancouver
, and follow it until the northern end.
By bus
phone: +1 250-725-2871

One bus daily from Victoria Mayfair Transit Stop 8AM with a one-hour transfer in Campbell River, arriving at 5:30PM, 9 hr 10 min total travelling time.
By boat
Or arrive by
BC Ferries
from
Prince Rupert
on the Inside Passage, far to the north. Sailings arrive every other day, and depart the following day, during the summer. Fewer sailings in other seasons. Journey takes 15 hours: day cruise of 7:30AM-10:30PM during spring and summer, overnight other times. Some sailings stop in
Bella Bella
. Prices vary between regular (May-Sep), shoulder season (Oct, Dec, Mar, Apr), off-peak (Nov, Jan, Feb): $121-269 per adult 12 and over, $60-103 per child 6-11, $264-469 per vehicle (up to long), and $132-235 per motorcycle (Sept 2017).
By plane
Port Hardy AirportPacific Coastal Airlines flies to Port Hardy from Vancouver (3 times a day, $195-245 one-way) and Bella Bella (twice a day $165-200).

.
Get around
Taxis and a
community bus
, +1 250-956-3151.
Water taxi at the dock for the North Coast Trail.
See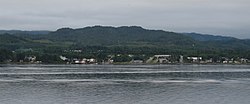 phone: +1 250 949-8143

address: 7110 Market St

Permanent exhibits of First Nations (including 8,000-year-old artifacts) settlers' effects, fossils, geology, natural history, and local industry. Rotating temporary exhibits, videos. Gift shop.

Fort RupertA former Hudson's Bay Company fort which was built in 1849. The present day village of Fort Rupert is a historic Kwakwaka'wakw village of the Kwakiutl and the Komoyue subgroup where the opportunity exists to see native carvers working on totem poles or other artwork and traditional crafts. The band government of the Kwagu'ł is the Kwakiutl First Nation. Fort Rupert (or Tsaxis as it is known by the Kwakiutl) is worth a visit to see its historic cemetery, the Big House, many totem poles, and colourfully decorated public buildings. Also hiding in the underbrush are the last crumbling remnants of the fort erected by the Hudson's Bay Company in 1849, notably a stone chimney. Sandstone petroglyphs dating back to the 1860s can also be found (after careful searching) on the upper reaches of the oceanfront tidal zone.

Quatse Salmon Stewardship Centre

phone: +1 250-902-0336

address: 8400 Byng Road

A family-friendly centre that teaches about Pacific salmon. An interpretive gallery, interactive exhibits and hands-on displays that show how salmon are intimately connected to the coastal ecosystem of Northern Vancouver Island, the local First Nations and the local community.

phone: +1 250 949-8491

address: 114 Copper Way

Gallery owned by and featuring the works of artist and totem pole carver Calvin Hunt.
Old Hudson Bay Store
The inter city trails
Carrot Park Mile 0 of the Island Highway
Walk the seawall
Eagle watching
View the totem poles and chain saw carvings
Tour the murals
Beach combing
Storey's Beach located outside of town
Tex Lyon's Trail-Commuter Trail
Do
Buy
phone: +1 250-949-8781

A local company that specializes in smoked salmon 65 different combinations of products and many varieties of flavours like: Maple, Garlic, Cajun, Spiced, and Original. Available in local grocery stores including Save-on Foods and Overwrites Foods.

West Coast Community Craft Shop

phone: +1 250-949-2650

address: 7135 Market St

125 local artists' work is on display. Works of art include carvings, sculptures, paintings, pottery, photography, turned bowls, handmade soaps, honey, quilts, baby blankets and sweaters, beach glass chimes, beach vacation rental homes, jewellery.
Cup of tea from Retroz or a cup of coffee from Café Guido or Koffees
Local gifts from the Port Hardy Museum
Fresh fish from the dock.
Eat
Captain Hardy's Fish and Chips

phone: +1 250-949-9008

address: 7145 Market St

In 2017, new owners transformed this restaurant, offering French and Japanese fusion cuisine, calamari, sushi, homemade soups and chowders, while still serving up light crispy-battered fresh halibut.
Glen Lyon Restaurant-good breakfasts

Market Street Café

phone: +1 250-949-8110

address: 7030 Market St

Fresh home baking

phone: +1 250-949-8303

address: 7070 Market St. # 8

Pizza, fried chicken, chicken wings, subs, gyros, donairs, wraps, sandwiches, soups, salads.

Seto's Wok and Grill

phone: +1 250-949-8381

address: 9040 Granville Street

Chinese and Canadian food.

Karai Sushi & Grill

phone: +1 250-949-7744

address: 4030 Byng Road

Japanese, Sushi, Asian

Toudai Sushi Restaurant

phone: +1 250-949-8755

address: 8405 Byng Road

Sushi, Asian food.
Drink
Some of the hotels and inns listed below have pubs.
phone: +1 250-949-7811

address: 8700 Hastings St

Great pub food. Burgers, sandwiches, wraps, pizza, pasta, salads, steak.
Sleep
Budget
address: 8400 Byng Rd,

Camping is available. Be bear aware: the local bear population uses this area to forge for berries and hunt salmon.

North Coast Trail Backpackers Hostel

phone: +1 250 949 9441

address: 8635 Granville St.

Housed in an old Mason's Lodge. Lounge and dining area. Free wireless internet and computer kiosk. Free parking. Games room, TV, book exchange. Kayak, bicycle, and motorbike storage. Laundry facilities available upon request. Storage lockers. 3 fully equipped kitchens. Bed linens and towels included. Drying room (for wet gear such as tents). Electric car charger.
B&Bs
All Ocean Storm B&B
Bonita B&B
Byng House B&B
First Choice B&B
Fran's View B&B
Hamilton B&B
Jessie's B&B
Kris'Cottage B&B
Oceanview B&B
Orange Tabby B&B
Scotia Bay B&B
Holiday rentals
Bear Cove Cottages
North Coast Cottages
Ecoscape Cabins- secluded and eco-friendly
Hotels
address: 8405 Byng Rd

Free Wi-Fi, restaurant on site, and a refrigerator is included in guest rooms. Port Hardy Airport is 8 km away. A cable TV and a seating area are provided in rooms at Pioneer Inn. A work desk, a microwave and a coffee maker are offered. BBQ facilities are offered to guests of Inn Pioneer. A guest launderette is available. B.C. Ferries Port Hardy terminal is 11 minutes' drive away. Marble River Provincial Park is 34 km from Pioneer Inn.

phone: +1 250 902-0455

address: 6555 Hardy Bay Rd

Full service hotel, with a marina, pub and restaurant. Close to downtown and tourism and business services in Port Hardy.
*
phone: +1 250 902-0455
address: 6435 Hardy Bay Road
All rooms and suites face Hardy Bay and not far from downtown. Glen Lyon Inn is found on the scenic alternate road, Hardy Bay Road, which rims the waterfront leading to Port Hardy. It is a few minutes to the ferry terminal and very close to downtown and the bus depot. Adjacent to the marina and the seaplane base.
phone: +1-250-949-8500

address: 7370 Market St

phone: +1 250 949-9434

address: 4030 Byng Rd

Licensed dining room, meeting rooms, cold beer and wine store and fax and copy service. Within walking distance of the airport (and they offer complimentary shuttle service), and minutes by car to the BC Ferries terminal and downtown Port Hardy.

phone: +1 250 949-8899

address: 7050 Rupert St

Central location.
Go next
Coal Harbour
Winter Harbour
San Josef Bay
North Coast Trail
Cape Scott Park