Port Isabel
The City of Port Isabel,
population 6,000, is the southernmost city and port on the
Texas
coast. It is a tourism, retirement, sports fishing and commercial fishing destination and the gateway to South Padre Island.
Understand
Setting
: Port Isabel is on the coast at the southern tip of Texas, from Mexico ( by car). The 2.6 mile-long (4 km) Queen Isabella Causeway across the Laguna Madre connects it to South Padre Island and the Gulf of Mexico. The gated community of Long Island Village is across a short swing-bridge to the south. A few miles westward along the shore of the Laguna Madre is the settlement of Laguna Heights and the Village of Laguna Vista. This group of communities are collectively known as the "Laguna Madre Community" or "Laguna Madre Area." The four counties at the southern tip of Texas are called "The
Rio Grande Valley
" (the "Valley").
Commercial-industrial
: The Port Isabel-Brownsville shrimping fleet is highest dollar-value commercial fishery on the east coast of the United States. The
Port Isabel - San Benito Navigation District
(end of Port Road) mainly supports the offshore oil and gas industry and the industrial area on its property. The Subsea-7 "Spoolbase" prepares pipe on 5,000 foot-long (1,500 m) and spools it onto special ships for pipeline installation throughout the Gulf and Caribbean Basin.
Sports fishing
: The Port Isabel - South Padre Island sports fishing industry directly serves anglers from other parts of the Rio Grande Valley and supports the tourism industry, retirement community, and winter residents. There are several marinas, tackle shops, bait stands, and fishing guides to serve anglers. Several fishing tournaments, including the large Texas International Fishing Tournament, bring anglers to the area for fun, comradery, and friendly competition.
Tourism seasons
: Traffic tends to stand still during "Texas Week" when Texas schools are on Spring Break in mid-March. Visitors from Mexico fill the area during about two weeks of Semana Santa, for about a week around Cinco de Maya, and sometimes during late summer to escape the stifling heat of northern Mexico. Sports fishing activities increase in spring, especially for anglers hoping for record weight speckled trout, and continues throughout the summer. Summer family visitation corresponds to the schools' summer vacation period. Often, visitors are seen wearing camouflage clothing during the first two week-ends of September because many who hunt the Special Whitening Dove Season in Cameron County stay in Port Isabel lodging, partially to accommodate non-hunting family members. "Winter Texan Season" corresponds to "winter," because many retirees spend that part of the year in the Laguna Madre Area and the other part of the year "back home." The fall and spring bird migrations attract many birders to the area.
Visitor information
The Port Isabel Visitor Center and the Port Isabel Chamber of Commerce office are located in the Lighthouse Keeper's Cottage museum (see below), located on the southeast corner of the Port Isabel Lighthouse Historical Site property. Hours: M-F 9AM-5PM; Saturday 10AM-4PM
History
Port Isabel highlights its proud history as an attraction for visitors. In addition to the Lighthouse State Historical Site, Port Isabel has three historical museums, nine state historical markers, and 21 sidewalk medallions highlighting notable generals who served here.
Native Americans
of the Port Isabel area were members of the Eastern (coastal) Carrizo-Comecrudo Tribe of the Coahuiltecan people. Lipan Apaches often passed through on hunting and trading migrations and some splinter groups settled in the area during the late eighteenth century. Both have organizations in south Texas to preserve their heritage and language. There are several sites with surface artifacts of early peoples near Port Isabel, including an unmarked National Historic Site just southwest of the city.
Spanish explorer Francisco Gara sailed into the bay in 1523 and named it Brazos Santiago Pass, which is one of the oldest named sites in the United States.
In 1554, a treasure fleet wrecked on Padre Island about north of Port Isabel. Only one survivor reached safety at Tampico, Mexico. Port Isabel's
Treasures of the Gulf Museum
is dedicated to that event and the salvage from the ships.
During the War of 1812, the pirate and privateer Jean Laffite used the harbor as a hideaway and is said to have drawn water from a well in nearby Laguna Vista to restock his ships.
The new U.S. President James K. Polk sent General Zachary Taylor and his Army of Occupation to Port Isabel to start the U.S.-Mexican War. Port Isabel-Brazos Island harbor was a strategic asset for Mexico because it was the only safe harborage along nearly of the then Mexican coast. General Taylor established
Fort Polk
at Port Isabel on March 24, 1846, and used it as a supply base for his operations in Texas until 1850. During that period, several important U.S. officers who would eventually face each other in the Civil War served at Port Isabel. The second floor of the
Port Isabel Historical Museum
is devoted to the war.
The Port Isabel
Lighthouse
was completed in 1852, and by 1847 a third-order fresnel lens had been installed.
The lighthouse was used as a lookout post during the First Cortina War from 1859 to 1860, but the Cortinistas did not approach Port Isabel.
Port Isabel was again a haven for pirates and blockade runners during the early part of the Civil War. Port Isabel was occupied at one time or another by both the USA and CSA, and the lighthouse was used by each as a lookout post. A Union attack destroyed all the ships in the harbor in 1863, and the last battle of the war (Palmetto Hill) was launched from an encampment at nearby Brazos Island by Union soldiers.
The first railway in south Texas was began operation in 1872 between Port Isabel and Brownsville. This opened up an export market for the Port Isabel fishery. The new demand was met with the development of the extremely effective Port Isabel Scow-Sloop fishing system, which was eventually outlawed in the 1930s.
In 1916, the most powerful wireless transmission station in the world was built at Port Isabel. Among the reasons the station was built here was to facilitate communication with the operators of the newly completed Panama Canal, because of the intensifying border skirmishes with Pancho Villa, and because of growing expectation of the U.S. entering the First World War.
Some U.S. troops were stationed at Port Isabel during Pancho Villa's bandit activities in 1916.
When the
Missouri-Pacific Railroad
reached Port Isabel in 1927, it opened up the town's tourism and sports fishing industries. It also formed a catalyst for the formation of the Port Isabel Tarpon Rodeo (now the
Texas International Fishing Tournament
). With help of the railroad's public relations department, the Tarpon Rodeo and the excellent fishing at Port Isabel became nationally known.
During the early part of the Second World War, German U-Boats were sinking ships in the Gulf of Mexico (eventually sinking 56), and there was an oil refinery at Port Isabel. Because of this, the U.S. Navy established lookouts along the coast, and a group of Port Isabel residents were enlisted into a militia and trained to respond against possible land intrusion by Germans.
Climate
Port Isabel has a semi-arid, Mediterranean climate with mild winters and warm to hot summers. In winter, average highs are in the mid-70s F and lows in the mid-50s F (24°C and 13°C, respectively). Summer average highs are high-80s (30°C) and lows in to mid-70s (22°C).  Port Isabel's coastal climate is typically two to five degrees warmer in the winters and cooler in the summers than even nearby communities. The summer temperature difference, supported by the cooling Gulf breeze, is noticeable a few miles out of town to visitors arriving by automobile. About 26" (66 cm) of rain is expect each year, with concentrations usually in September and secondarily in June. Throughout history, residents of surrounding areas have flocked to the coast in summers to escape the heat.
Because of the higher coastal humidity, people who find themselves blocked from the sea breeze during hot, late-summer days will very quickly feel their personal heat index rise. Port Isabel is breezy to windy most of the year. In fact, the Laguna Madre bay and nearby Brownsville Ship Channel are nationally famous among wind-surfers for strong sustained winds during the mid to late Spring.  For some other people, this period of never-ending, day and night, wind becomes tiring. During other months, the wind doesn't begin to rise until mid-morning; the pleasant early light breeze is heaven for drift fishing across the shallow, clear, seagrass meadows. Steady wind across the long Gulf fetch provides the waves enjoyed most of the year by surfers on South Padre Island.
Port Isabel had a white Christmas in 2004. That was the first recorded snow in 109 years. Hard freezes occur only about once every fifteen years. However, wet, windy "northers" (cold fronts) can be more uncomfortable than below-zero weather for some people.  Most days during the winter are pleasant and this is highly predictable. In fact, some visitors and owners of second homes will book flights according to the national weather map, leaving home before a cold front arrives there and returning before it reaches Port Isabel.
Major hurricanes (Beulah, 1967; Allen, 1980; Gilbert, 1988; Dolly, 2008) impact Port Isabel about once every fifteen years. Minor hurricanes and tropical storms are more frequent and, although they interrupt vacations and impact the tourism industry, are not especially of concern to locals and some years the rain is welcomed. September is the peak month for tropical weather, followed by August.
Get in
By plane
(BRO

), 700 Emilia Earhart Dr, +1 956 542-4373. Take Minnesota Avenue (FM 313) from FM-48 and follow it south for two miles. It is serviced by the following airlines:
(HRL

), 3002 Heritage Way, Harlingen TX, 78550, +1 956 430-8600. Take Ed Cary Drive exit from US-77/83/69E and follow it north. It is served by the following airlines:
Port Isabel–Cameron County Airport

phone: +1 956 233-4424

address: 27617 Buena Vista Blvd, Los Fresnos

No commercial airline service.
By bus
phone: +1 956 681-3550

Provides service to Brownsville - South Padre Island Airport and connects in downtown Brownsville to routes extending to Harlingen and McAllen.

South Padre ShuttleProvides door-to-door, non-stop service to/from Harlingen International Airport. Per person, $35 (one-way); $50 (round trip)
By car
Get around
By car
Ample parking is usually available at nearly all locations. Traffic is light to moderate most of the time, but Highway 100 through the city and across the causeway can be extremely slow during holidays and summer week-end afternoons. Rental car services are limited.
By bus
phone: +1 956 761-3864

Provides free rides on three different routes to multiple locations in Port Isabel and South Padre Island every half-hour from about 7AM to about 9PM, depending on location.
By foot or bicycle
The town is relatively small, so taking a bicycle would get you around most of the area within minutes. There is much to see and do in the few square blocks of the Lighthouse District. The Island Metro buses (free) make it convenient for visitors on foot to move between districts and to South Padre Island. Some Island Metro buses have bicycle racks. However, bicycle racks for parking bicycles are found at only few locations.
See
Museums
The
Port Isabel Historical Museum Board
administers three museum facilities: Lighthouse, Treasures of the Gulf Museum and Port Isabel Historical Museum. Combination tickets (all three sites) are $9 for adults, $7 for Seniors 55 yrs and older, and $4 for students with ID cards. There are discounted tickets for patrons interested in only one site. There is no admission charge for the Keeper's Cottage.
Port Isabel Historical Museum

phone: +1 956 943-7602

address: 317 E. Railroad Ave.

Housed in the historic Key to the Gulf Champion Building built in 1899 as a dry goods store. The facade features the famous 'fish mural' painted in 1906. The first floor interprets Port Isabel history with interactive exhibits and video presentations. The second floor is dedicated to the U.S.-Mexican War with many locally salvaged artifacts.

Treasures of the Gulf Museum

phone: +1 956 943-7602

Last ticket sold at 3:30PM. Interprets three Spanish treasure ships that wrecked north of Port Isabel in 1554. They are brought to life with murals, artifacts and hands-on activities. Also featured is a Children's Discovery Lab, Ship theater and Nautical Gift Shop.

Port Isabel Lighthouse State Historical siteThe Port Isabel Lighthouse was constructed in 1852. It was opened to the public in 1952 as a Texas Parks and Wildlife Department state historical site. Lighthouse summer hours are Sunday-Thursday, 9AM-6PM (Saturday until 7PM). On Friday Movie Night (see in "Events") it closes at 5PM. During the winter, the Lighthouse is open 10AM-5PM.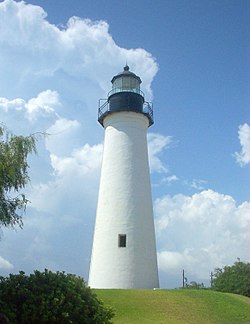 Lighthouse Keepers Cottage museumIn addition to interpretive exhibits, the Keeper's Cottage houses the Port Isabel Visitors Center and the Port Isabel Chamber of Commerce. Free admission.
Other Museums and exhibits
phone: +1 956 299-1957

address: 110 N Garcia St

Popular tourist attraction featuring aquaria and touch tanks of various sea animals like turtles and starfish.

phone: +1 956-943-1407

address: 403 East Maxan St.

Non-profit gallery and outlet for 21 local artists. Provides a venue for art education, workshops, demonstrations, and other fine art activities, including music, theatre, and dance.

Doubleday Bar's Sports Memorabilia Collection

phone: +1 956 493-4992

address: 402 TX-100

Extensive collection of sports memorabilia. Original portraits of sports legends by owner, Manuel Hinojosa. Most portraits signed by the athlete. See separate listing in "Drink" section
Do
Lighthouse square. It is worth a half-day to stroll around the one-to-two block area of the lighthouse District, visiting the many small shops, cafes, ice cream parlors, bars, fishing pier, the shore at Al's Restaurant, and the visitor center in the Lighthouse's Keeper's Cottage. Note the large metal medallions embedded in the sidewalks on corners that commemorate the US-Mexican War and Civil War generals who served at the fort that was once on this site. Add another couple of hours by visiting the Port Isabel Historical Museum and the Treasures of the Gulf Museum which are at the southwest corner of the Square.
Events
Piers
phone: +1 956 943-7437

address: 501 Maxan

Fishing pier, tackle shop and bait stand. Oct-Mar: Su-W 7AM-2AM, Th-Sa 24 hrs. Apr-Sep: 24 hrs.
Boat tours and charters -- non-fishing
Fishing trips
Types of fishing trips.
Head-boats are larger boats that charge by the person and take several to many fishermen and spectators. Inshore head boat mostly bottom fish for king-whiting and sand trout in and around the pass and the causeway area on half-day trips; these are the least inexpensive and most relaxing; some people take these just for the relaxing boat ride. Offshore head-boats are mostly all day, offshore trips bottom fishing over reefs for snapper.
For charters (fishing guides) the entire boat is chartered, Most of these have "six-pack" licenses restricted to a total of six passengers, including spectators and children; some serve fewer people per trip. Inshore charters are mostly half-day in the Laguna Madre targeting speckled trout, redfish, snook, and flounder; fishing is usually anchored or drifting with live bait under corks or by cast-and-retrieve artificial lures. Offshore charters are usually on somewhat larger boats with cabins. These troll (pull lures or baits) for surface fish such as mackerel, tuna, cobia, sailfish, and marlin. The listings below are for boats docked in Port Isabel. There are many others docked on
South Padre Island
.
phone: +1 956 943-3185

address: 510 E Queen Isabella Blvd

Bay fishing head-boat trips on the double-deck 70' "Fish Tales". Offshore and tarpon charter trips (half day to overnight) on "Reel Madness."

phone: +1 956-943-6283

Inshore head-boat. Daily bay fishing trips: 8AM-noon, 2PM-5PM & 7PM-11PM.

Family Fun Fishing Adventures

phone: +1 956 456-9414

Bay fishing charters. All tackle and gear provided. 21' shallow draft boat. Successful guide for tournament fishing. Summer fishing instructor at junior high.

Poppn' Rodd Charters

phone: +1 956 51-3483

Bay fishing charters. Life time, third generation local fishing guide. Successful tournament guide. Experienced fishermen and beginners. 58-hour trips. Maximum four people.

Austin Fishing ServiceBay fishing charters. Bait and tackle furnished. Shallow water and family specialty. See web page for reports of recent trips.

Captain Gencho Fishing Service

phone: +1 956 345-8299

address: P.O Box 13003

Bay fishing charters. 24' Carolina Skiff, roomy for up to 6 people. 5-8 hr trips. Bait and tackle provided. 26 years experience. Pronounced "Hencho."
Boat rentals
Go Fish Boat Rental

phone: +1 956 533-7543

address: 418 TX-100

Must be born before 1993. Ask for Chente.
Buy
Lighthouse Square
Thomas Gifts

Laguna Madre Art GalleryNon-profit gallery and outlet for 21 local artists. Original art work for sale. Post card prints of local art work. See main entry at "Museums".

phone: +1 956 943-7281

address: 407 E Maxan St

Pricey boutique selling paintings, jewelry, scented candles and other accessories. Each piece of jewelry is hand-crafted from Venice, Italy.

Mercado FaroIndoor flea market, gifts. About a half-dozen independent businesses. Jewelry, crafts, imports, geodes, rocks, and Misc.

Alchemaille ExploratoriumChain mail creations.

phone: +1 956 203-3040

address: 421 E Maxan

Thousands of stones to choose from: Larimar, Turquoise, Sonoran Sunrise, African Turquoise, Rhodochrosite, Lapiz Lazuli and Opals.

phone: +1 956 943-3200

address: 423 E Maxan St

Gift shop selling beautiful outdoor lanterns and ceramics made in the shape of shells.

phone: +1 956 943-4890

address: 114 N Garcia St

Shop selling a variety of decor for yachts. Photo post cards.

The Light House Lighting Center

phone: +1 956 943-9316

address: 414 Queen Isabella

Home lighting fixtures and decor

phone: +1 956 943-7070

address: 412 E Queen Isabella, Ste B

Local clothing store selling accessories, colorful shirts and prints. Paintings surround the interior of the store.

The Rusty Pelican Antiques Market

phone: +1 956 943-6889

address: 412 E Queen Isabella Blvd

The only antique store in town. Sells a variety of goods such as home decor, ceramics and furniture.

Coastal Winds

phone: +1 956 943-1989

address: 406 E Queen Isabella Blvd

Specializes in custom-framing and sells handcrafted jewelry from around the world and unique chainsaw-carved pelicans in various sizes.

Deja VuConsignment apparel
Other locations
Harris Sea Castle

phone: +1 956 943-3234

address: 1014 TX-100

Extravagant castle-shaped souvenir store selling wind chimes, bracelets and other decor. Most of their inventory is influenced by the ocean theme.
Bait, tackle, boating supplies
There are several bait stands selling live bait along channels and associated with most public marinas in addition to these listings
phone: +1 956 433-5425

address: 121 E Queen Isabella

Inshore and offshore boating and fishing supplies and tackle. Kayak supplies.

phone: +1 956 943-1159

address: 51 Queen Isabella Blvd.

Live, fresh dead and frozen bait. Fresh local seafood market. Fishing tackle. Fishing & boating apparel inc. Guy Harvey. Family owned and operated since 1983.

The Bait Gallery

phone: +1 956 943-9054

address: 423 TX-100

Live bait.
Eat
Lighthouse Square
Will and Jack's Burger Shack & Beer Garden

phone: +1 956 640-7440

address: 413 E Maxan St

Very popular, rustic burger place. Outdoor space reflects a vintage environment. Street-side and patio dining.

phone: +1 956 943-3663

address: 110 N Garcia St

Pirate-themed restaurant serving sandwiches, seafood and steaks. Sits next to the ocean where a deck and pier are attached to each other. Visible sign "Welcome to Port Isabel" can be seen from the Causeway. A staple for tourists and locals.

phone: +1 956 943-7437

address: 501 E Maxan

Fried Chicken w/biscuit and Combo -- 2 pc up to 25 pc. Family platters, Cajun tenders, Cajun fish

Davy Jones Ice Cream LockerIce Cream, sundays, splits, raspas (shaved ice). Ice cream cups and cones $3 scoop & $5 double. Order inside; tables in patio.

Dirty Al's at Pelican Station on the Bay

phone: +1 956 943-3344

address: 201 S Garcia St

Serves primarily seafood and has a gulf side deck. Bar. Perfect for a weekend night. Wifi.

phone: +1 956 433-5004

address: 418 E Queen Isabella

Street-side, inside & patio dining. Lunch specials. Sandwiches ($8), wraps($5-$12), salads ($7-$12). Vegan & gluten-free options. Fresh pastries and desserts. Expresso, mocha, latte, etc. Craft beer on draft. Wifi.

Yogo YogurtYogurt, shakes, smoothies, raspas (shaved ice). Order and eat outside.

phone: +1 956 772-8143

Real Pit BBQ. BBQ Brisket, links, pulled pork, chopped beef, chicken. Entrees w/2 sm. sides ($10-$13), sandwiches ($7-$8) & by the pound ($7-$9). Wifi.

Marcellos Italian Restaurant & Bar on the Piazza

phone: +1 956 943-7611

address: 110 N Tarnava St

Modest Italian eatery serving coastal entrees in a vintage layout. A local favorite. Attached, separate full bar. Wifi

The Chef House's Restaurant

phone: +1 956 943-7797

address: 313 E Queen Isabella Blvd

Dishes served with a creative touch. Primarily provides Mexican meals but has extended its cuisine to feature American and other types of meals.

Los Cabos

phone: +1 956 943-3777

address: 309 E Queen Isabella Blvd

Mexican restaurant serving seafood, sandwiches and burgers.

Manuel's

phone: +1 956 943-1655

address: 313 E Maxan St

Small and popular Mexican food eatery known for its huge flour tortillas. Local family owned and operated. Cash only (but has an ATM inside). WiFi

Joe's Oyster Bar

phone: +1 956 943-4501

address: 207 E Maxan St

Shares half its building with Gulf Seafood Market. Serves seafood and also operates as a mini-mart. Local family owned and operated.
Other locations
Los Tortugos Seafood Market

phone: +1 956 943-5602

address: 1683 TX-100

Popular seafood eatery in a cozy, home-style setting. Blends traditional Mexican-style meals with seafood options. Local family owned and operated, including family fishing boat.

El Papa's

phone: +1 956 943-7133

address: 814 S Garcia St

phone: +1 956 433-5266

address: 100-206 Basin St

The only Japanese eatery in town. Serves traditional meals such as sushi, noodles, rice and chicken teriyaki.

J & Bubba's Bar & Grill

phone: +1 956 943-7240

address: 201 N Musina St

Popular eatery serving Mexican meals, seafood and homemade-style foods. Has a pool and beer selection as well as live music on the weekends.
Drink
There are stand-alone bars at Al's Pelican Station Restaurant (1/2 block south of Lighthouse on Garcia) and Marcello's Italian Restaurant (west side of Lighthouse Square). Sip a tropical drink or craft beer on tap at street-side Causeway Cafe (southeast corner of Lighthouse Square). J & Bubba's Bar and Grill (201 N Musina) is as much a bar as it is a restaurant.
Canon Bar

Doubleday Bar of Champions

phone: +1 956 943-4992

address: 402 TX-100

Popular sports bar with a spacious parking lot. Has a kids arcade room. Serves wings, nachos and burgers. See entry at "museums" for sports memorabilia display. Wifi

Ernie's Roundup Bar and Grill

phone: +1 956 943-7673

address: 823 S Garcia St

Serves beer, provides a DJ during the weekends and has a home-feel atmosphere.Wifi

phone: +1 956 943-3666

address: 819 S. Garcia

Affordable beer, wine and setups. Public welcome. Pool tables. Especially popular during winter months, especially because it is right across the bridge from Long Island Village, which fills with winter visitors. During that period, bingo is held two nights a week, live music, Karaoke, covered dish suppers, etc. Wifi
Sleep
Connect
Port Isabel Event & Cultural Center

phone: +1 956 943-0719

address: 309 Railroad Ave.

The Port Isabel Event & Cultural Center has capacity for small groups and groups up to 1,200.
Cope
Port Isabel Animal Clinic

phone: +1 956 943-6022

address: 421 E Railroad Ave

Small animal clinic

phone: +1 956 943-1774

address: 202 2nd Street

Family practice medical clinic

Port Isabel Medical Clinic

phone: +1 956 943-6675

address: 1506 TX-100

Family practice medical clinic

Boys and Girls Pediatric Clinic

phone: +1 956 943-2600

address: 1710 TX-100

Pediatric medical clinic
Go next
Brownsville is a 20-minute drive West of Port Isabel and is home to many museums, art galleries, Gladys Porter Zoo, Mitte Cultural District, great local restaurants, bars, hotels, many oxbow lakes, bike trails, palm trees, several battlefield museums and will be the site for the new SpaceX facility.
South Padre Island is a bridge away and offers a much vibrant scene, concerts, condominiums/hotels, beachfront restaurants, bars, Schlitterbahn Resort Waterpark, Gravity Park, dolphin watch, charter tours and splendid ocean views.
Matamoros is located directly across Brownsville. Generally considered safe to walk across the bridge to Garcia's Restaurant, bar & store. It is strongly recommended to go no further.