Port Jefferson
Port Jefferson
, often called "Port Jeff" for short, is a village in
Suffolk County
,
Long Island
.
Understand
The Incorporated Village of Port Jefferson is a historical village located in the town of
Brookhaven
. This village was the largest shipbuilding center in Suffolk County in the 1800s. It was incorporated in 1963 and since then it has grown into a place where good food, friendly people, and pleasant waterfront views can be found.
Get in
By train
Port Jeff is the last stop on the Port Jefferson Line of the
Long Island Rail Road (LIRR)
. Trips to and from
Manhattan
's Penn Station take approximately 2 hours and cost $18.25 at peak times and $13.25 off peak.
By car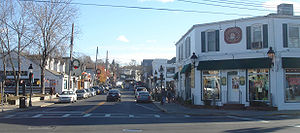 From the Long Island Expressway take Exit 64. Head North on Rte. 112
until the end (approx. 9 miles). Also be take note that Rte. 112 will become Rte. 25A at Nesconset Hwy. When you hit the intersection take a right at the blinking yellow light. Continue and until you hit Main St.
By ferry
You can enter the village by walking or driving off The Bridgeport & Port Jefferson Steamboat Company Ferry from
Bridgeport
, Connecticut.
The address for the ferry in Bridgeport is:
330 Water St # 2
Bridgeport, CT 06604-4923
+1 203 384-9777
The address for the ferry in Port Jeff is:
102 West Broadway
Port Jefferson, NY 11777
Get around
By foot
The Village is home to mostly foot traffic. To really see the unique shops and restaurants it's best to ditch the car for the day and get out and walk around. But be aware in the spring and summer the village is full of visitors due to the warm weather, so parking is very limited. It's best to arrive earlier in the day to beat the traffic.

See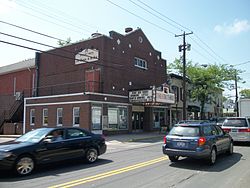 Theatre ThreeIs a not-for-profit professional regional theatre that was founded in 1969, located in Athena Hall, a 140-year-old historic building on Main Street. Every year the Theatre has a Main Stage season of seven big productions, Second Stage season of small plays, Cabernet & Comedy night, and is home to a Children's Theatre program. Acting classes are offered and tickets can be found online. What the theatre lacks in size it makes up for in talent.

Mather House MuseumIs the headquarters of The Historical Society of Great Port Jefferson for most of the year but during July and August the House is open to the public to view the small museum. Within the museum is the Mather House, craft house & museum shop, country store, marine barn & sail loft, tool shed, and the spinney clock museum. Each building holds a collection of antiques from the original village in the 1800s. It is an informational tour for the curious local or uneducated tourist.

Harborfront ParkIs a popular place to enjoy the view of the Long Island Sound. The park is made up of a grassy dune lined with benches, picnic tables, and a play area for the kids. At the heart of the park is the Landmark Sculpture of four seamen holding the bones of a ship above their heads.
Do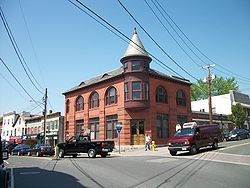 Rocket Ship ParkIs a safe fenced in playground area for the younger kids. The park offers two swing sets, a larger jungle gym for the energetic toddlers, and a smaller jungle gym for the babies, public basketball courts, and public tennis courts. The park closes at dusk, which is strongly enforced by the local police.

Skating on the Harbor

phone: +1 631 403-4357

address: 101-A East Broadway

Skating on the Harbor is offered seven days a week from mid November to mid March by the Port Jefferson Village center in Harborfront Park. The outside rink is open for lessons and the public. This is a hot spot for bored local teens at night, and family bonding during the day. Skates rentals are offered. .
Buy
phone: +1 631 331-0965

address: Ste B, 301 E Main St

Fetch is a gourmet doggie bakery and boutique. This creative shop offers an extensive amount of all natural doggie treats, and trendy dog and cat care products. Some of the proceeds go towards pet friendly organizations.

phone: +1 631 474-5116

address: 100 Arden Pl

Gap is a national chain of casual clothing that is no longer very economical. They sell women's, men's, and children's clothing.

phone: +1 631 474-5558

address: 109 Main St

Lainie's Way is an educational games, puzzles, and kite shop. Inside the shop many of the games are on display for kids to test out and enjoy.
Eat
Drink
phone: +1 631 473-8778

address: 109 Main St

Tommy's Place is a local bar and restaurant where college kids like to spend their Friday nights. Weekends the bar gets very crowded and very loud. Locals complain of over priced drinks and slow service.

Tara Inn

phone: +1 631 473-9602

address: 1519 Main St

Tara Inn is a bar and grill where you can find the locals on St Patrick's day or a Saturday night with friends. Good prices on food and drinks.
Sleep
address: 25 East Broadway

Larger inn featuring 85 guest rooms and suites some with harbor views. Along with a variety of rooms this Inn offers different dinning, entertainment, and conference facilities used for parties, gatherings, and weddings. This inn also offers marina access. This is a respectable inn with clean, comfortable rooms.
Go next
You can go to Bridgeport, Connecticut by ferry. From there, New Haven and several other places are easily reachable by train.
If you want to go toward New York City but prefer not to spend the time and money to go all the way there, consider Huntington, which is about half way to the city.
Farther east, there are areas of beautiful coastline that are comparatively sparsely inhabited.