Port Macquarie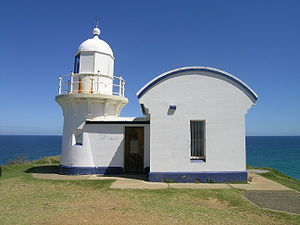 Port Macquarie
is a large coastal beachside town on the
New South Wales
Mid North Coast, approximately 400 km north of
Sydney
.
Get in
By plane
Port Macquarie AirportQantaslink and Virgin Australia together provide around eight flights a day to to and from Sydney Airport, and Virgin Australia provides a single daily flight to Brisbane. For flights to other destinations, connect via Sydney.
The airport is on the eastern edge of town. Taxis are available to meet each flight, and car hire is available inside the terminal - but it is best to book in advance. The 340/341 bus services the airport and town around every two hours - slightly more frequent in peak. So, if you're lucky you could meet one of the bus services.
By bus
Premier Motor Service and
Greyhound
each run a daily bus services to and from Port Macquarie as part of their daily service between
Sydney
and
Brisbane
.
Sydney buses arrive and depart Central Railway Station in Central Sydney and take approximately 8h to travel between Port Macquarie and Sydney. Brisbane buses depart and arrive at the Roma St Transit Centre in Central Brisbane and take approximately 10h to cover the distance.
In Port Macquarie, all buses drop off at the Port Macquarie Coach Station on the southern side of the Central Business District (CBD). The main shopping area is located within easy walking distance from this station, and some hostels, hotels and a caravan park are located within a distance that you could walk if you don't have too much luggage. Otherwise, the coach station has a public phone to call a taxi, or hotel for pick up, but most hotel owners and taxi drivers know when the buses arrive and will be waiting for you anyway.
By train
Port Macquarie does not have a railway station, but connections are available via Wachope station that is 20 mins drive west of Port Macquarie. One ticket from
NSW Trainlink
includes the train and the coach. The coach drops off and picks up at Port Macquarie Coach Station. There are several services that call at Wauchope station, but there is only a single daily service to Sydney that offers the coach connection. Public transport services Wauchope at other times are extremely limited, there is no car hire available, and a taxi to Port Macquarie will be prohibitively expensive. Make sure you select Port Macquarie as your destination ehwn booking the ticket.
By car
Port Macquarie is on the Oxley Highway to the east of the
Pacific Highway
, which is the major north-south highway in NSW connecting Sydney and Brisbane.
The turn to Port Macquarie is a large junction, and is very well signposted off a section of dual-carriageway road. When travelling from the south (Sydney) you will see an exit sign pointing to Wauchope/
Walcha
/Port Macquarie on the left hand side of the road. Take this exit, turn right at the large roundabout (called "The Doughnut" by locals), and follow this road (Oxley HWY) into all the way into central Port Macquarie where it terminates.
When travelling from the north you will enter an 80 km/h zone and cross the Hastings River over a bridge signposted as Dennis Bridge. After crossing the bridge, the exit is located immediately to the left. Follow this road (Hastings River Drive) all the way into town.
Note that an alternative route from the south is available which is quite scenic. When travelling from Sydney, turn right at the set of traffic lights in the small town on the highway called Kew. Follow this road for about 10 minutes until you see a sign pointing left saying "Port Macquarie". Follow this road into town.
This route takes about 45min to get to Port Macquarie, but it is worth it for the scenery including North Brother Mountain, Middle Rock Beach and The Christmas Bell Plains. A tourist information board is in Kew for you to check this route and confirm it before taking it. You should also avoid taking this road after dark, as it is notorious for wildlife on the road, and numerous accidents have been caused by drivers encountering kangaroos.
Get around
Port Macquarie has a limited bus service, but it has limited frequency that can make getting around by public transport difficult. While buses may run to most places, they often run at odd times, and terminate early in the day. The most useful bus route is the Shelly Beach - Town Centre route, which seems to run quite regularly, and is the best way of those without a car getting to the beaches and lighthouse. Other than this, don't bother with the public transport, it isn't worth the aggravation.
Fortunately, Port Macquarie has a great many places to walk to from the Town Centre. From here you can quite easily walk to many beaches and some attractions. Because it has such a compact CBD, you won't have to walk far to get to restaurants, shops and pubs if you stay in town, or nearby.
Port Macquarie has many quiet streets and a few cycleways suitable for getting around by bike. The council has a
cycleways map
. Check the contours before setting off, as there is often a short way or a flat way.
See
Port Macquarie has an interesting history. Being the first English convict settlement outside of Sydney and the Hunter it has a few historical sites and museums.
Mid North Coast Maritime Museumcorner of Hayward St & Ocean Drive, old Pilot's Building on just below Flagstaff Hill. It is run by a dedicated group of volunteers, and has a small collection of artefacts, documents and displays showcasing Port Macquarie's maritime history. The steps up to the top of Flagstaff hill are located in the park directly across the road, and this hill is a former naval lookout station. It affords great ocean views.

Port Macquarie Historic Grave YardThis grave site was the major burial ground for early settlers. It is quite shaded by Lilli Pilli trees and is a pleasant place to wander around for an hour or so. It backs onto Koolonbung Nature Reserve, a native mangrove swamp area, with several kilometres of elevated boardwalks (so you don't have to walk in the mud!) and notice boards informing you about the ecosystem, this is a great, central spot for birdwatching or exploring nature in a close up environment. Remember to stay on the boardwalks at all times. Note: While Port Macquarie is an extremely safe town, some robberies have happened in Koolonbung Creek Reserve, and while it is very unlikely to happen, do not enter alone or at night.

Sea Acres Rainforest Centrethis national park is home to a native flying fox colony, scrub turkeys, wallabies, kangaroos etc. The rainforest is criss-crossed with several kilometres of elevated boardwalks, and forest floor trails, and rangers often give guided tours. During school holidays, night tours are a must, for those interested in wildlife as it's your best time to see Australia's nocturnal animals in the wild. There is a charge to access the boardwalk. Cafe and other tracks are accessible without charge.

Town GreenCentral Port Macquarie's showpiece. A large park located right on the river in the CBD. It is surrounded by cafe's and hotels, and is a pleasant spot to have a cup of coffee, or picnic. A public wharf is located there, and the Alma Dopel - a former merchant sailing ship - is moored there most of the year. Tours are available. Markets are also held in summertime on the Town Green.

WhalesWhales migrate past Port Macquarie during early winter and summer, and there a lots of headlands which overlook the sea to spot them from. The Lighthouse, which is located at the end of Lighthouse Road in the south, is an excellent place to spot them (and generally a great place to see views down the southern coast to Laurieton). Also, located just west of the Town Green (see above) are the commercial charter boat docks. Whalewatching (or any other water activity) can be booked here.

phone: +61 2 6584 2180

address: Macquarie Nature Reserve, Lord Street, Port Macquarie NSW 2444

The heritage listed historic site built in 1891 by the Flynn family and constructed with local red mahogany exemplifies Victorian architecture. Situated in a serene setting, it has been well preserved and maintained and offers a glimpse into life in Australia over 120 years ago. A cafe has opened in part of the historic house. Wheelchair access is available.

phone: +61 416 641 482 (mobile)

address: Port Macquarie-Hastings region

Hello Koalas Sculpture Trail is a unique attraction in Greater Port Macquarie, with over 60 one metre high koala sculptures, beautifully designed and hand painted by selected artists, dotted across the landscape. Port Macquarie has the largest koala population on the east coast of Australia and the Hello Koalas Sculpture Trail reflects the community's commitment to caring for their koalas while providing an engaging way for visitors to explore villages and towns across the region and enhance their stay. Many of the Hello Koalas designs reflect the history and natural beauty of Port Macquarie-Hastings region, while other designs advocate for the importance of koala conservation.
Do
Unfortunately, most of the amusement parks in Port Macquarie have now closed down, and show no signs of re-opening. Port Macquarie is still blessed with numerous
great beaches
:
Flynns BeachLocated in the resort precinct of Flynns Beach, this is a great tourist beach. With good waves for surfing, commonly patrolled areas (all summer long), lots of shady spots under the Norfolk Pines and a cafe, Flynns is an excellent family beach. Parking can be a major hassle during summer, so either arrive early (very early) or be prepared for a walk.

Town BeachThe most central beach in Port Macquarie. The southern end is the family end, and patrolled by life savers. It also has a great beach front cafe. The northern end is the surf end, and is NOT recommended for poor swimmers or families as it commonly has strong currents, and submerged rocks. Parking is not as bad as the other beaches, but if you're staying in town, simply follow the footpath from Town Green along the breakwater. A small skate-park is located nearby.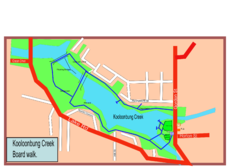 Kooloonbung Nature ParkThis is an interesting walk around a body of water rich in aquatic life. The walk takes you through mangroves, paperbark and eucalypt forest as well as sedge land and wet land. There is a wide variety of bird life and while you are looking up keep your eyes open for a koala. There are a lot of flying foxes roosting in the trees during the day so while looking up be careful you don't get something dropping in your eye. You'll know when you are in the flying fox area as you hear them squealing and squabbling all day long. Keep your eyes peeled for a water dragon, they are common near the water.
Buy
Ricardoes Tomatoes & Strawberries

phone: +61 2 65850663

address: 221 Blackmans Point Rd, Blackmans Point

A hydroponic farm growing strawberries and tomatoes. You can pick your own strawberries while the tomatoes can be bought inside the main shop. The shop also sells products made from these fruits including preserves, relish and sauces.
Eat
Budget
Hamburger Heaven Located just up the hill from the CBD, in the Port Pacific Resort Building (the big white building) Hamburger Heaven makes reasonably priced breakfasts, but the real reason to go there is for the hamburgers. Made with premium grade, home made patties, they are the best in town. ($5-15)
Macquarie Seafoods A popular fish & chip shop in central Port Macqaurie. Serving sizes are very generous for the price, and the lemon & pepper squid rings are great. ($2-25)
Pizza Capers Right in the main street at Horton St (at the corner shop along Coles). Pizza Caper makes reasonable cheap, juicy and big pizza. They open daily and on some days till late. It is noticed that their pizza are made with whole vegetable and meat. Delivery, take away and dine in are available. Online menu is available as well. ($5-21)
Mid-range
Central Port Macquarie has plenty of high quality mid range cafes and most days you can just turn up and get a table. Here are some of the best:
Beau Thai Restaurant (Thai) Ignoring the terrible pun name for a second, this place is good value, and makes delicious Thai food. Located at the traffic lights in the CBD, it doesn't have any outdoor seating, and is a good place to go if the weather is bad, or in the evening.
Chulas Thai Restaurant (Thai) Another restaurant providing delicious Thai food that has been operating in Port Macquarie for many years. Located next to Rivers and MacDonalds which is opposite Settlement City Shopping Centre. It is BYO and the owners provide good service. Afterwards you can stroll over to Port Macquarie Panthers RSL Club.
Finnians Irish Tavern Bistro, behind the bus station downtown. This bistro doesn't really serve anything all that Irish except for the fantastic Irish Guinness Pie. It does however serve good pasta, steaks and seafood, and often runs beer and meal deals during the middle of the week.
Port Macquarie City Bowling Club Restaurant, Owen St, Port Macquarie. Telephone: +61 2 6583-1133; Facsimile: +61 2 6583-1461. Good range of meals with some pleasant views.
Tacking Point Tavern Bistro, within the Tacking Point Tavern (see drinking). This place serves standard bistro fare, or pasta, burgers, steak, and seafood. The food is quite good, and it's a popular place with local families. $10 all you can eat pasta nights happen quite often during the week. Serves 2 For 1 Meals 7 Days A Week Lunch and Dinner.
Cafe 66 Italian food lovers - Owner Phil has carried on his Italian heritage and has been sharing it with the locals for many many years now. The famous Tuesday nights 2 for 1 pasta deal, has the 2 story establishment nearly fully booked every time (not available in Peak Holiday time) This well known establishment to the locals is open for Breakfast lunch 7 days and Dinner 6 days a week (closed Monday night) - Try the famous Marinara with your choice of pasta full of tender calamari, baby octopus, prawns and mussels on a tomato based sauce with slight hint of chilly. Pesto bread to die for. For those that love sweets, you cannot go past the Tiramasu cake (family recipe) coffee, masala, mascopone.....mmmmm I can still taste it. Licensed premises - 66 Clarence Street +61 2 6583-2484

Watermark CafeA little out of town on Hastings River Drive, this cafe has great coffee and fresh muffins with casual eating right on the water
Splurge
There are so many mid range places in Port Macquarie that serve food of a high range standard, that it's almost not worth the extra effort. If you must eat at a high range place, here are a couple:
Scampis Seafood, Port Macquarie Marina. This seafood restaurant has great views. It serves a selection of fresh seafood dishes, however, as of recent times, the quality of meals has dropped slightly.
Whale Bone Wharf,
By far the regions premier seafood restaurant, placed over the Hastings River. Has live crabs and lobsters along with fresh local produce. Fish feeding is possible from their balcony seats and private jetty.
The hidden restaurant, that food lovers should not miss. Owner and Chef Lindsay Schwab has one many awards and travelled to many countries and taken a small piece of everyone and combined them into his culinary skills. Using the freshest local produce when he can he creates flavours, textures and dining delights to die for. Licenced premises, consistent quality food and service.
Drink
Port Macquarie is a great place for beachside relaxation, or a family holiday, but a haven for nightlife, it is not. Compared to most other towns of similar size along the east coast of Australia, the pubs and clubs in Port Macquarie are quite substandard. Below are some of the better ones.
Craft beer has made it to Port Macquarie, with two breweries now calling the town home. Wineries are not as common, but Cassegrain Wines is the largest local. They make an interesting style Rose, and you can ask for it at the local restaurants and pubs.
Beach House Bar & Grill

Tacking Point TavernLocated on the southern outskirts of Port Macquarie, just off Pacific Drive, this tavern is a good family pub, with a children's play area, and a decent bistro. (See above). Standard tap beer is available, as well as spirits and wine. Live covers bands play often on weekends, and this is the best place in town for a spot of mid-week pub trivia. A free courtesy bus picks up and drops off in town, which is the best way to get there. It is too far to walk from the CBD.

The Duck on ClarenceA downtown bar related to the Black Duck Brewery. All the Black Duck range on tap, with some guest taps as well. Bistro food and casual vibe

Finnians Irish Pub: Located behind the bus terminal downtown, this place is the place to get pints of Guinness or Kilkenny, as well as other Australian brews. Home to an older crowd than the rest of the pubs downtown, it provides live covers bands on weekends. Has a great bistro as well. (See Eating)
Hotel Macquarie: The most popular pub with teenagers and young adults in Port Macquarie, and for no good reason. Every Friday and Saturday this place fills with just legal teenagers and young adults, and becomes very smoky and hot. It has 2 separate bars, one showing live sports, with a pool table and juke box. The other bar is a disco bar, playing terribly dated top 40 pop music. Fights commonly happen here on weekends, and although it's very unlikely you'll get caught up in one, be careful whose beer you spill. Located just up from the river away from The Beach House.
Altitude Nightclub: Located upstairs in the Galleria Arcade, and with a panoramic view of the street directly below it, this place used to be called Roxy's Nightspot in a former life. During that time it was a damp, smoky club, playing techno music from 5 years ago, through speakers that distorted due to the bass. It has since been renamed Altitude, and the door charge is $5 After 22:30. The place has been revamped with quality sound and entertainment with the best local and some big name national Dj's, and it is very popular with the Hotel Macquarie crowd. Altitude offers live music every Thursday night with free pizza and a pool comp.
Down Under Nightclub: Located towards Coles if walking past Altitude in the basement of the Galleria Building, this nightclub is a very run down venue (20 years at least) with the patrons being somewhat the same. On a Wednesday night it is the most popular for majority young people aged 18-25 with the odd here and there older patron, you can expect very expensive drinks, karaoke singers and very dated top 40s music, staff are very unfriendly and rude and expect a fight every hour. On the plus side there is no entry fee on Wednesday nights, regular police visits, and only a stone's throw from Coles.
Sleep
Port Macquarie as a major tourist centre has lots of accommodation choice. Peak season is the summer Christmas and New Year period, when all accommodation can book out, and minimum stay periods are commonly enforced. There are is some true resort style accommodation, together with a range of motels, hotels, guest houses, traditional B&Bs, backpacker hostels and apartments.
Rydges Port Macquarie

phone: 1300 857 922 (local rate call)

address: 1 Hay Street

Right on the river and town green. At the centre of everything in Port.

Aston Hill Motor Lodge in Port Macquarie

phone: +61 2 6583-3266

address: 15 Mort St

4 star rated accommodation with 16 spacious motel rooms and an adjoining apartment building including 3 dual key family suites & jet swimming pool. Centrally located and 100m off Hastings River Drive in a quiet residential setting.
Stay safe
Late on Friday and Saturday nights, avoid the main street as there are often brawls. Mostly this occurs as people are making their way from the Macquarie Hotel to Roxy's. You'll often see large groups of 18-25 year-olds being hostile towards random passers-by. Other places to avoid late at night are the Town Green and the area surrounding the McDonald's car park (near Settlement City.)

Go next
Hinterland 20 minutes west of Port Macquarie, Wauchope is the official start of Port Macquarie's hinterland. Home to a good number of farms, and small hamlets, the hinterland is well worth taking a drive through (tours are available, see the local tourist information centre) Cassegrain Vineyard is the largest winery in the area, and is located just off the Pacific Highway between both aforementioned exits (Look for signs). Other wineries include Bago Mountain Wines (located near Wauchope) and Long Point Vineyard (located south of Port Macquarie, ask for directions before leaving, as it's tricky to find). Also, head for Blue Poles cafe and art gallery in the idyllic little village of Byabarra, some 20 km southwest of Wauchope, along the Oxley Highway.