Port St. Lucie
Port St. Lucie
is a sprawling tropical city on the
Treasure Coast
of
Florida
. The population is 174,110 and 444,420 in its metropolitan area. It is known by its residents by its initials, PSL. The spring training home of the New York Mets, this city has many fun activities if you know where to look; the new downtown area is in its infancy, but once complete will bring more activities for residents and visitors.
Understand
Overview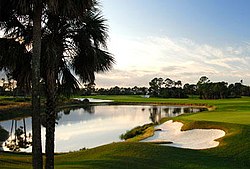 Port St. Lucie
is the largest city on a region known as the
Treasure Coast
, an area consisting of almost 600,000 people. Port St. Lucie is a coastal city on the Indian River Lagoon with many fun activities if you look around, like baseball, parks, bowling, and golf. With developments for a downtown area going into effect along US-1, PSL is modernizing one step at a time. It blossomed from a town of only 500 people in its first census in 1970 to a boom-town of 170,000 by 2010. Downtown is in its infancy of development, but plans have been revealed to build on the empty blocks surrounding the Civic Center.
A very special thing about Port St. Lucie is that it is the spring training home of the
New York
Mets; in First Data Field, the Mets play baseball against their Major League foes, like the Yankees and the Red Sox. The season normally lasts from January or February to late March to early April, when their minor league affiliates, the St. Lucie Mets, play in that very stadium.
The location of Port St. Lucie is roughly halfway between
Orlando
and
West Palm Beach
on the Turnpike, and halfway between WPB and
Melbourne
on the
Space Coast
on Interstate 95.
Climate and appropriate clothing
Like most of Florida, Port St. Lucie's climate is warm almost year round, except for the occasional cool winter day. The highest summer temperature recorded in the city was 101°F (38°C), and the lowest winter temperature recorded was 23°F (-5°C). Average temperatures in PSL through the year mostly range from the low 60s to the mid to high 80s. Those who plan to visit in the summer months should pack light, or lightly colored (white, light blue, etc.), T-shirts, shorts, and sneakers; sandals are also advised, weather permitting of course, but flip-flops aren't recommended.
Get in
By plane
Larger airports are further south or north, including:
Fort Lauderdale-Hollywood International Airport

phone: +1 954 359-1200

Closest large commercial hub to PSL.

phone: +1 305 876-7000

address: 2100 NW 42nd Ave,

Miami

, FL 33126

Busiest airport in Florida, serving the U.S. and the world.

phone: +1 407 825-2001

address: 1 Jeff Fuqua Blvd,

Orlando

, FL 32827

Busiest airport in Central Florida, just a while up the Turnpike.
By car
PSL is easily accessible from many major Florida cities by car on three major highways: the Florida Turnpike, Interstate 95, and
U.S. Highway 1
. You can reach
West Palm Beach
,
Fort Lauderdale
,
Miami
, and other points in South Florida via Interstate 95, the Turnpike, and US 1; but if you want to get to Disney World, you can visit
Orlando
by Florida's Turnpike.
By
I-95
, you can exit to Port St. Lucie by these exits:
| Exit Number | Road Name | Going E takes you to... | Going W takes you to... |
| --- | --- | --- | --- |
| 114 | Becker Road | Florida Turnpike | Village Pkwy |
| 118 | Gatlin Blvd | State Road 716 | Tradition |
| 120 | Crosstown Pkwy | California Blvd, Tradition Field | Turns into Village Pkwy |
| 121 | St. Lucie West Blvd | St. Lucie West | PGA Village, Glades Cut-Off Road |
| 126 | Midway Road | White City | State Road 70 |
By
Florida's Turnpike
, you can get into Port St. Lucie by these exits:
| Exit Number | Road Name | Going E takes you to... | Going W takes you to... |
| --- | --- | --- | --- |
| 138 | Becker Road | Southbend Blvd | Interstate 95 |
| 142 | Port St. Lucie Blvd | US-1 | Gatlin Blvd, Interstate 95 |
| 144 | Port St. Lucie/Fort Pierce Service Plaza | Service stop, no outlet | Service stop, no outlet |
By train
The closest train stations are in
Okeechobee
,
West Palm Beach
,
Sanford
, and
Orlando
; the station in Sanford is served by the Auto Train, a nonstop service from Lorton, Virginia (around Washington, DC) that carries the passengers' cars in specially designed autoracks.
Get around
By car
Car is the easiest, if not only, way to get around Port St. Lucie. PSL is a relatively large city by area, so driving is the best option to get around. PSL stretches to all the way past I-95 to an in-city town called Tradition. The highways listed are also used to get around Port St. Lucie with ease, mostly US-1 and I-95; the Turnpike is rarely used due to it being a toll road, but it is used to avoid traffic and as a way to reach central Florida. There are no one-way streets in PSL, except for divided highways.
There are two Enterprise rentals in the city.
phone: +1 772 344-3100

address: 1290 SW Bayshore Blvd; 10502 S Federal Hwy

The local Enterprise rental stations. They'll pick you up. The location on US-1 is closest to Martin County, if you want to spend a day in Stuart or Jensen Beach.
Uber now has service around the Central Atlantic Coast of Florida and the
Heartland
, serving from
Daytona Beach
to
Sebring
, PSL, and Moore Haven. Fares start at a base rate of $2, adding $1.80 for every mile and $0.20 for every minute.
By boat
Port St. Lucie has a small canal system that can be used to navigate parts of the city, with the river functioning as the central canal. Local marinas give you easy access to the river, which empties into the St. Lucie Inlet, which in turn takes you to the Atlantic.
Marinas in the area:
River Park Marina

phone: +1 772 462-1522

address: 500 E Prima Vista Blvd

This marina sits on the north fork of the St. Lucie River. The entire river takes you to Lake Okeechobee.

Veterans Memorial Park

phone: +1 772 335-1433

address: 2100 SE Veterans Memorial Pkwy

This park and preserve features a marina and a boardwalk to observe natural wildlife preserves.
By bus
Port Saint Lucie offers limited bus service including connections to
Fort Pierce
,
Jensen Beach
, and now
Vero Beach
through the
Treasure Coast Connector
. Service extends from 43rd Street in
Vero Beach
to Avenue D in
Fort Pierce
via the northern routes, and from St. Lucie West in Port St. Lucie to the Treasure Coast Square Mall in
Jensen Beach
.
Route 1 takes you from the Treasure Coast Square Mall in Jensen Beach at the South End up US-1 to the Fort Pierce Intermodal Facility at the North End.
Route 4 takes you around downtown Port St. Lucie in a "trolley-style" bus; the downtown area contains a hospital and the PSL Civic Center. The route extends from the PSL Civic Center to the Sam's Club on US-1.
Route 5 takes you along Port St. Lucie Blvd, switching off to Gatlin Blvd, with one stop being the Tradition strip-mall known as "The Landing". The route takes you from PSL City Hall at the east end to "The Landing" on the west end.
Route 6 takes you from the Prima Vista Crossings along Prima Vista Blvd/St. Lucie West Blvd, with the western terminus being the Hilton Garden Inn in St. Lucie West.
Transfer points:
Route 1 (US-1) to Route 4 ("Trolley"):
Walmart on US-1
Town Center Plaza
PSL Civic Center
Route 1 to Route 6 (Prima Vista Blvd./St. Lucie West):
Route 4 ("Trolley") to Route 5 (PSL/Gatlin Blvd.) or Route 6:
PSL Intermodal Facility (Community Center)
Basic fares for a single ride are $2 for adults and $1 for children. Other fares can be found at the
TCC Website
.
See
Port St. Lucie is a city really into nature, housing part of a large state park preserve. Here are the best spots to go and see native wildlife, according to the residents.
Downtown PSL is in its infancy, and right now there is only the Civic Center as well as a few outlet stores.
Do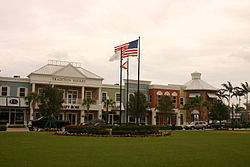 Port St. Lucie has many fun activities if you know where to go. Here are some places and activities recommended by the city.
Go to a beach and catch a tan, or a wave.
Go boating in the Indian River Lagoon and the St. Lucie River.
Go hunt for treasure on the coast of nearby Hutchinson Island.
Play golf at one of the beautiful PGA Golf Club courses.
Shop (and eat) in Tradition, an in-city suburb; this little town is part of PSL, and retains a small-town feel.
Parks
If you have children that really want to have fun, PSL has its own parks and recreation department and multiple playgrounds for them to play until nap time! Favorite parks among the residents include:
Jessica Clinton Park

phone: +1 772 344-4150

address: 3200 S.E. Southbend Blvd

Playgrounds for children of all ages, basketball and tennis courts, and turf field.

Lyngate Park

address: 1301 SE Lyngate Dr

Home of American Little League, this park has two baseball fields, racquetball, volleyball, and basketball courts.

Sportsman Park & Sportsman Park West

phone: +1 772 871-5096

address: 201 NW Prima Vista Blvd & 220 NW Irving Street

Sportsman Park has a playground, tennis and a baseball field for Little League teams. The West Park has a track and two football fields.

Veterans Park at Rivergate

phone: +1 772 335-1433

address: 2200 S.E. Veterans Memorial Pkwy

Veterans Park is close to the St. Lucie River; you can get a river cruise, go on the boardwalk by the river, and go boating.
Sports
Believe it or not, Port St. Lucie has a major league sponsored baseball team known as the St. Lucie Mets; they play at Tradition Field in St. Lucie West, a major shopping and business center in the city. St. Lucie West is also home to a local PGA village, and a bowling alley.

Events and festivals
Most events in the Port St. Lucie area are in Tradition or St. Lucie West. If you find yourself in town, make sure to browse these fun events in the PSL area.
Food Truck Invasion

address: SW Tradition Square

The only food truck invasion in St. Lucie County.

Tradition Green Market

address: The Landing at Tradition, Southwest Village Pkwy

Shop local vendors for fresh produce, arts & crafts, and more! Every Sunday.

Port St. Lucie Civic Center Green Market

address: 9221 SE Civic Center Place

St. Lucie County Fair

address: 15601 W Midway Rd

Check out the rides, animals, and great food at the St. Lucie County Fair.

Taste of Little Italy - Italian Festival

phone: +1 561 427-0500

address: SW Tradition Square

This yearly festival in Tradition will give you a massively fun opportunity to explore Little Italy through festival rides, wine tasting and music by various artists.

Casey 'n' Spaz Comedy

address: PSL Civic Center (9221 SE Civic Center Place)

Live stand up comedy at the Civic Center. Open to all, but minors must accompanied by a parent due to some coarse language.
Buy
There are many shopping options in PSL, mostly concentrated in shopping centers. Some major stores include Wal-Mart, Target, Lowes, Home Depot, and Pier 1 Imports. There are many strip malls in the city and a large indoor shopping mall in neighboring
Jensen Beach
. Some of the original stores are tourist stores, mostly selling sundries or collectibles that have been here as long as the area was first known as Port St. Lucie.
phone: +1 772 692-9401

address: 3174 NW Federal Highway, Jensen Beach, FL 34957

Even though the Treasure Coast Square Mall is in Jensen Beach, a small town in nearby Martin County, it is considered the hot-spot shopping-spot of the southern Treasure Coast. Department stores in the mall include Dillard's, Macy's, and JC Penney. A food court in the mall will keep you fueled up for more shopping at stores like Hollister, Aeropostale, as well as many electronics shops.

phone: +1 772 335-5616

address: 10100 S. Federal Highway (US 1)

Established in 1953 before PSL's incorporation, this is the oldest family-owned retail store in St. Lucie County.

phone: +1 772 878-9229

address: 8627 South US Highway 1

The Treasure Coast's favorite comic book shop.

address: 10824 SW Village Pkwy

Large shopping mall in Tradition, an in-city suburb. Though it is not in the traditional mall format, there are lots of stores to shop at spread around the lot.

Shoppes of St. Lucie West

address: St. Lucie West Blvd.

Shops in this plaza include Publix, Burlington and the new HomeGoods.
Bealls stores are common in Florida, starting in 1915 during the Florida boom. Locations in St. Lucie West and outside of the Civic Center.
Eat
Most restaurants in Port St. Lucie are popular chain restaurants that are scattered on the more traveled roads like Port St. Lucie Blvd, Gatlin Blvd, US-1, and St. Lucie West Blvd. There is an amazingly large selection of restaurants scattered around the city:
Steaks, pub grub and homestyle cooking
Sweet treats
phone: +1 772 336-3386

address: 1787 NW Saint Lucie West Blvd

Frozen yogurt.

phone: +1 772-344-6464

address: 10478 SW Village Center Dr.

Excellent ice cream and chocolates in the heart of Port St. Lucie/Tradition.

address: 134 SW Port St. Lucie Blvd

Baskin Robbins is a nationally-recognized ice cream chain, serving their iconic flavors at all locations in America, not just 31 anymore.

Twistee Treat

phone: +1 772 871-0194

address: 7820 S US 1

Open every weekend, Twistee Treat offers ice cream and Sabrett Hot-Dogs for you to enjoy while watching the cars drive along the highway. Locally-owned business at this one location.
Italian food and pizza
Anthony's Pizza

phone: +1 772 340-5088

address: 253 SW Port St Lucie Blvd

Pizza restaurant known among many of the residents. On the wall, you can see pictures of Scotty Pippen and Adam Sandler, who ate at that very restaurant; if it's good enough for them, why not?

Tutto Fresco Italian Restaurant Bar and Grill

phone: +1 772 464-8988

address: 9501 NW Reserve Blvd

Tutto Fresco is an Italian restaurant that in Italian means "Everything is fresh". Serving steaks, pasta, and all Italian favorites, giving a taste of all Italian regions, from Bologna to Rome and as far south as Naples.

Bobby's Pizza

phone: +1 772 871-9888

address: 6514 NW Selvitz Dr.

Serving breakfast and pizza, Bobby's gives you a "taste of New York" with Yankees and Mets memorabilia, as well as baseball and football games for you to witness the best sports teams NYC has to offer.
Mexican food
address: St. Lucie West: 270 NW Peacock Blvd; Bayshore/PSL Blvd: 291 SW Bayshore Blvd; Morningside/PSL Blvd: 1788 SW Port St. Lucie Blvd

Local Mexican food chain located around the southern Treasure Coast and Okeechobee. 3 locations in the PSL city limits.

phone: +1 772-204-2744

address: 7950 South US-1

Authentic Mexican food.
Drink
On the Treasure Coast, alcohol is served in many restaurants, mostly sports bars and pubs; it is common to find beer and wine, but some bars serve mixed cocktails. PSL is not a city big on night life.
Dos Amigos Mexicali Restaurant and Tequila Bar

phone: +1 772 345-9697

address: Southwest Village Center Dr

Mexican restaurant and bar

phone: +1 772 336-8201

address: 900 Southwest Gatlin Blvd

Sports grill and cocktail bar.

phone: +1 772 878-8844

address: 2096 NW Courtyard Circle

Night club in Port St. Lucie with cocktails, and soft drinks for the teens. Plays great music from the 1970s til now.

Body Talk

phone: +1 772 879-6585

address: 8259 U.S. 1

Sports bar and strip club.

phone: +1 772 924-3565

address: 1608 NW Courtyard Circle

Duffy's has locations all over the Treasure Coast, in Greater Orlando, and in the Palm Beaches. This local favorite is the only Duffy's location in Port St. Lucie. "2-for-1 Happy Hour" all day, every day. Annexed to the Superplay USA Fun Center.
Sleep
If Port St. Lucie's fun activities tire you out, there are places for you to wind down, most of which are located by Interstate 95, including:
Stay safe
Driving -- Florida has "no fault" auto accident laws, which means you are responsible for up to $10,000 in damage to your car, even if you are not responsible for the accident. Make sure your rental car comes with collision insurance, or obtain separate insurance. Florida also has a very high rate of auto fatalities, so take extra care on the roads. A lot of drivers in PSL can be very reckless at times and the amount of traffic is high for a city of its size.
Crime -- There is not much crime to worry about in Port St. Lucie depending on where you want to be. The safest areas tend to border I-95, the St. Lucie Inlet, and the St. Lucie River, as well as the St. Lucie West neighborhood. You may want to avoid staying in the Prima Vista Blvd area as well as the Lennard Road area; however, there are very few hotels in those areas, anyway.
Weather -- Here are the most common weather factors to look out for in Port St. Lucie:
Heat -- Most people are already aware that South Florida tends to get extremely hot during the summer months, so it would be best to stay hydrated and not leave anyone in the car. Even with the window cracked open for those in the car, it's not a smart idea; the internal temperature of a car can reach a maximum of over 100°F or 38°C, so make sure everyone is out of the car before locking. If one must be left in the car, leave the air conditioning on as a precautionary measure.
Hurricanes, tropical storms, and tornadoes are another thing to look out for during the summer. They may not be common, but you'll never know when the next will strike; it would be best to prepare for the worst in any part of Port St. Lucie because hurricanes are just as powerful on the land as they are on the water.
Lightning is a very common weather phenomenon in Florida; in fact, South Florida is considered the Lightning Capital of America, especially Tampa. If you're caught outside and hear the crackling, find shelter immediately, be it indoors or under a pavilion; if you're in the water, get out because water conducts electricity extremely well.
Cope
Port St. Lucie has a lot to help you get through your stay, including many grocery stores spread throughout the city, as well as clothing stores, a local paper, many churches, and three libraries in the city limits.
Newspapers
The
St. Lucie News Tribune
is the local paper, giving residents and visitors the news at local, national, and international levels, and it is available by subscription and able to be bought at the local Publix, Winn-Dixie, or many of the local grocery stores. They're even available in newspaper boxes near local businesses. USA Today and other national newspapers are also available in bigger stores.
Radio stations
There are lots of radio stations in the PSL area, playing various genres of music. The radio stations within the area include:
WFLM 104.5 "The Flame", the local rhythm and blues station, playing "the Hottest R&B hits and Oldies; the Heat is On!"; this station gives you the Tom Joyner Morning Show every morning from Monday thru Friday from 6 to 10.
WJKD 99.7 "Jack FM", a national radio chain "playing what they want". They broadcast from Vero Beach playing music from the 1960s to the present, particularly pop and rock. Waves have been caught as far west as eastern Polk County.
WMBX 102.3 "The X", another R&B station, that broadcasts from Jensen Beach. They give the Steve Harvey Morning Show every weekday morning from 6 to 10, playing R&B of today and back in the day. Remember that they "live here, too."
WKGR 98.7 "The Gater", playing classic rock from the 1960s to the 90s (possibly early 2000s), from psychedelic rock to hair metal, from glam rock to grunge.
WHLG 101.3 "The Coast", playing music from the 1990s to the present, across varied genres, mostly consisting of today's pop music.
WQOL 103.7 "Oldies", playing pop, rock, and soul from the 1960s to the early 80s.
WEAT 107.9 "Sunny 107.9", playing adult contemporary; though they broadcast from West Palm Beach, residents and visitors get reception from the station as far north as Vero Beach.
Religious services
There are many churches scattered around the city of Port St. Lucie, as well as one Jewish temple close to the city limits.
Temple Beth El Israel: 551 SW Bethany Drive. (772) 336-2424
Libraries
The St. Lucie County Library System serves the city of Port St. Lucie with 3 branches.
Go next
Port St. Lucie is truly a city for all ages; if you want to travel to another nearby city, here are some cities close by:
Treasure Coast
Central Florida
For cities farther
north
or
south
, I-95 and the Florida Turnpike are the fastest routes and most of these destinations can be reached within a few hours.