Port Wakefield
Port Wakefield
is a town at the top of the
Yorke Peninsula
.
Understand
The town is situated immediately to the east of the Wakefield River, at the head of Gulf St Vincent.
The first European to visit the site of the town was Matthew Flinders. He reached the head of the gulf in 1802, and named the gulf it after Admiral Lord St Vincent.
The town was selected a ideal for a port for the movement of copper, and huge quantities of ore passed through the town in the mid 19th century. However, the railway line reached the area around 10 years after the port was established, and the transport of copper mainly switched to rail. There was some continuing use of the port for agriculture, but Port Wakefield became an agricultural service town during the 20th century, with a small but developing tourism industry.
Many know Port Wakefield today as a road stop on the highway out of Adelaide towards
Port Augusta
,
Yorke Peninsula
,
Eyre Peninsula
,
Flinders Ranges
, the
Outback (South Australia)
,
Northern Territory
and
Western Australia
. However, there is a small town off the highway, with some interesting sights to see.
Speeding past Port Wakefield
Port Wakefield was the site of the 1955 Australian Grand Prix, and was where Sir Jack Brabham won his first title in that race. The Port Wakefield Circuit was the first purpose built motor racing facility built in Australia after World War II, and only the second in Australian history.
Tourist Information
Get in
The A1 road, called National Highway One, from
Adelaide
heads straight for Port Wakefield. It is around 100km by road.
Being a roadhouse stop on the road north from Adelaide, Port Wakefield has more than its fair share of coaches that will take you there. Yorke Peninsula Coaches , Greyhound , and Premier Stateliner together deliver around 10 services to Adelaide daily.
There is no rail or scheduled commercial air services to Port Wakefield.
Adelaide
is the best option.
Get around
Port Wakefield isn't a large enough town for a public transport system, but it is fairly spread out for walking. Expect to spend about 45 minutes to walk around the town by foot.

See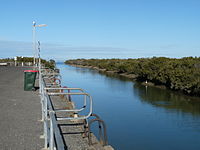 Pick up an historic town walk guide from the caravan park or the motel. Even just driving around the town will give you a feel of how many old sandstone structures there are around town.
Courthouse Museum
War Memorial Arch
Old Train station and railway bridge

Port Wakefield WharfWhoever decided on Port Wakefield as the site for mineral export from South Australia obviously had little vision of the nature of what ships would become. The wharf at Port Wakefield is a parallel wooden wharf, with deep water, about 5m wide to the mangroves on the other side. It is worth a look, and it is also possible to launch your boat here
Do
Samphire CoastThe Samphire Coast stretches from Ardrossan, heading north to Port Wakefield and then south all the way to St Kilda, north of Adelaide. Located just minutes from Highway One, it is a holiday resort of a different kind - a haven for bird life, and one of South Australia's premier bird watching locations.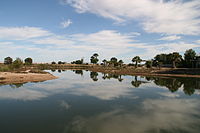 Swimming Pool. There is a sluice gate across the river near the caravan park, which creates a pleasant and safe salt water swimming area. There is a footbridge across the water, and a picnic area, as well as cold water showers and a changing room. You can actually swim a few hundred metres upstream from the dam, and swim under the bridge, making it quite a large swimming area.
Buy

There no shopping strip in town. Even the pubs, museum, foreshore, Post Office, motel and wharf are all separated by a couple of residential streets.
The main street has probably become National Highway One as it passes to the east of the town. There is the full selection of service station brands, each with an attached roadhouse, and some open 24-hours. There is a general store, and a fruit and veg place open normal business hours. There are ATMs in the service stations.

Eat
Kiplings Bakery

address: Highway One, Port Wakefield

A favourite stop as you pass through Port Wakefield.
Port Wakefield Bakery
Drink
Port Wakefield Hotel

Port Wakefield Golf Club
Sleep
Port Wakefield Caravan ParkSituated between the wharf and the foreshore on the Wakefield river

Port Wakefield Hotel

phone: +61 8 8867 1271

address: Main Street (on Highway One, somewhat confusingly known as Main Street as it passes through Port Wakefield)

A basic, but essentially typical Australian motel. Park at the door of your room. Looks a little shabby from the outside, but nice enough in the rooms, which are surprisingly spacious for a motel. Fine to stay the night while on the road
Go next
Clinton Conservation Park is a preserved area of mangrove just north of Port Wakefield. It is an ideal spot for birdwatchers, with over 50 species present in the area.