Portage la Prairie
Portage la Prairie
is a city of over 13,000 people (2016) in the
Central Plains
region of
Manitoba
.
Understand
The name is derived from the French word portage, which means to carry a canoe overland between waterways. In this case the "portage" was between the Assiniboine River and Lake Manitoba, over la prairie.
The city became a major transportation centre due to its proximity to the river, and later, the location of the main lines of the country's national railways passing through the community.
Because the land is very fertile, Portage la Prairie is a major agricultural centre in Manitoba.
Portage la Prairie has the most sunny days during the warm months in Canada. Portage has a humid continental climate with warm summers and cold, dry winters.

Talk
Despite the city's heritage, the vast majority of residents have
English
as their first language, with less than three percent speaking
French
; roughly the same percentage speak
German
.
Get in
Get around

Public transportation in Portage la Prairie is pretty scarce. Many people walk, but it is not a very efficient travel method as the town is very spread out and for a large part of the year it is quite cold.

See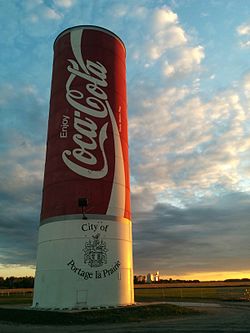 The world's largest Coca-Cola canIt was constructed from an old water tower and is now located between the local Canadian Tire and Canad Inns hotel on Saskatchewan Avenue West.

Heritage SquareAn outdoor community meeting place (particularly in the summer months) downtown. Surrounding Heritage Square are the Cinema Centre, Portage la Prairie Regional Library, and the William Glesby Centre—a performing arts facility which offers a live theatre & community art gallery.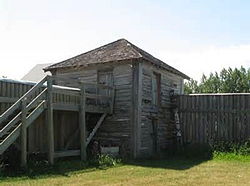 Fort la Reine MuseumA heritage museum at the east end of Portage. The original Fort la Reine was built in 1738 by the French explorer Pierre Gaultier de Varennes, sieur de La Vérendrye and served as his headquarters for 15 years. Today the museum is home to an array of buildings from Portage and the surrounding region, and covers local prairie history from the 18th century (the period of French exploration) to the present day. There are 25 buildings open to the public, each containing hundreds of artifacts, on display. Some of the highlights of the museum are a railway caboose and the 1882 official rail car of Sir William Cornelius Van Horne, builder of the Canadian Pacific Railway; a fully restored Ukrainian Pioneer Church; a number of houses that are more than 100 years old; a replica of Fort la Reine; a firehall with a fully restored 1931 Seagrave Fire Truck; the Old Officers Mess from the now retired Canadian Forces Base in Southport; and a school house and church built in the 1880s from West Prospect (a pioneer farming community that no longer exists).

The Manitoba Softball Hall of Fame/MuseumDedicated to the history of softball in Manitoba, it has memorabilia from the 1930s to the present. It is housed in the Fort la Reine Museum in a former barracks.

Portage la Prairie's City HallA limestone structure that was designed by Thomas Fuller, who also designed the Parliament Buildings in Ottawa. It was opened in 1898 as a Dominion Post Office and became City Hall in 1960. The building was declared a historical site in 1986. On the roof is a bell which tolls for a few seconds daily at 9AM, noon, 3PM, 6PM and 9PM.

Other heritage buildingsSt. Mary's la Prairie Anglican Church, built in 1854, is located near the downtown. Saskatchewan Avenue (the city's main thoroughfare) contains many historical buildings, as do Tupper Street and Royal Road (named after the Royal Visit of Queen Elizabeth The Queen Mother and King George VI in 1939). Crescent Road, which follows Crescent Lake for over 5 km, is lined with many large, grand heritage homes dating back to the late 19th century and early 20th century.

Manitoba Hydro Power Smart Island of Lightsrunning from November through January,
Do
Community WalkwayAlong parallels Crescent Lake is a 5.2-km (3.2-mi), multi-use trail used for walking, bicycling, skateboarding and rollerblading, running past many grand heritage homes and the tranquil, picturesque sites along the lake.

Hot Blizzard Folk Festival in February
Portage Exhibition & Fair ("PortageX") held every July
Portage Potato Festival which takes place in August
Whoop & Hollar Folk Festival in September

Watch the trains go byThe Canadian Pacific and Canadian National Railways intersect in Portage; one of the few places in Canada where the two railways meet. This has made Portage la Prairie one of the most ideal places for railway aficionados to view trains; approximately 72 trains pass through the city each day.

Pick strawberries and Saskatoon berriesThere are many pick-your-own strawberry and Saskatoon berry (service berry or June berry) farms within a 15-minute drive by car. June is the best month to go.
Buy
Farmers' marketIn the Portage Credit Union Centre.
Eat
phone: +1 204-239-7777

address: 232 Saskatchewan Ave E

Mediterranean, Greek, Canadian.

Lita's Station

phone: +1 204-240-1397

address: 904 Saskatchewan Ave E

Family-run railway-themed diner.

phone: +1 204-240-2442

address: 190 River Rd

Indian, vegetarian-friendly.
Sleep
phone: +1 204 857-9745

address: 2401 Saskatchewan Avenue West

This hotel includes the rink of the Portage Curling Club, Aalto's Garden Cafe, a pub known as Tavern United, and many banquet halls.

phone: +1 204 857-8771

address: 2010 Saskatchewan Avenue West

One- and two-bed guest rooms. Some rooms have fireplaces.

Prairie Blessings Bed & Breakfast

phone: +1 204-857-6773

address: 10 Campbell Weir Ave, High Bluff

Only three rooms. Includes a magnificent breakfast. You will have to navigate stairs to/from the basement.
Go next
The community of Southport, about 5 km (3.1 mi) south of Portage la Prairie, is home to a small recreation complex featuring a gymnasium and 5-pin bowling alley, and displays military/air force history throughout the town and airport. It celebrates Canadian Forces Day in early June.