Portland (Maine)
Portland
is located on a peninsula in Casco Bay on the Southern
Maine
coast approximately 100 miles (161 km) north of
Boston
,
Massachusetts
. It has more than 65,000 inhabitants making it the largest city in Maine. Portland is a small seaside city with a high concentration of shops, restaurants, museums, galleries, tours and many things to see and do. Many people commute to Portland to work, and the city's population significantly increases in the summertime.
Understand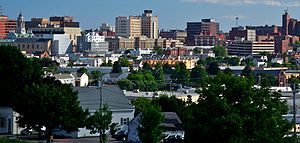 Convention and Visitors Center

phone: +1 207 772-5800

address: 245 Commercial St

+1 207 772-4994. Guided walking tours available July–September at 10:30AM.

phone: +1 207 772-6828

address: 549 Congress St
Get in
By plane
Domestic
Portland International Jetport

phone: +1 207 874-8877

address: 1001 Westbrook Street

Nonstop flights to/from and (Departures per day and airlines): Atlanta (Delta), Baltimore (Southwest), Charlotte (American), Chicago (United, Southwest on Saturdays), Detroit (Delta), JFK (Jetblue), New York-LaGuardia (Delta), Newark (United), Orlando (Jetblue Fri/Sat/Sun), Philadelphia (American), Dulles (United), Washington National (American). Taxis and shuttle bus transfer downtown (5 mi/9 km).

Pease International TradeportLocated in Portsmouth, New Hampshire, 55 miles (89 km) away.

Manchester AirportLocated in Manchester, New Hampshire, 100 miles (161 km) away.
International
Boston Logan International Airport105 miles (169 km) southwest of Portland. The Amtrak Downeaster connects Boston to Portland, from Boston's North Station. Concord Coach Lines also offer direct express buses from all terminals at Logan International Airport to Portland without transfer through Boston South Station. (See below under By bus)
By bus
phone: +1 207 828-1151

address: Portland Transportation Center @ 100 Thompson Point Rd

Goes north to University of Maine in Orono along several coastal cities and on another route to University of Maine along I-95 corridor through Augusta and Bangor. Goes south to Boston Logan Airport on one route and an express route to New York on another.

phone: +1 207 772-6588

address: 950 Congress St (Depot), 389 Congress St (City Hall bus stop)

Greyhound travels primarily on Interstate 95 between Boston South Station and Bangor (via Porstmouth, Wells, Portland, Lewiston, Augusta and Waterville) and a divergence from Portland to Brunswick on I-295 and than over to Lewiston and then northwards towards Bangor on I-95. Passengers can transfer in Boston, Bangor, or Portsmouth to get to other cities & towns.
By train
There are multiple daily
Amtrak
services to Portland. The
Downeaster
has seven daily departures (five on weekends) from
Boston's
North Station
, with some trains continuing to
Brunswick
. The train ride is about 2.5 hours, and a one-way ticket costs only $25. (A same-day round trip ticket is available for only $39.) Kids 15 and under ride for $11. Trains call at
Portland Transportation Center
, located at 100 Thompsons Point about two miles east of downtown.
By car
Interstate 95
. Access from the north and south on the Maine Turnpike (I-95). Many drivers coming from the south take Exit 44 to I-295 into downtown Portland. This exit carries a toll. An alternate route to avoid the toll involves continuing approximately half a mile north on I-95 to Exit 45 (marked for the Maine Mall), exiting, then taking the second exit on the right for I-295. The route is less than a mile out of the way and is toll-free, such that many Portland residents refer to Exit 44 as the "Tourist Exit" because local residents know to avoid the toll.
U.S. Highway 1
is the more scenic route, while
U.S. Highway 302
provides access from West.
By boat
Harbormaster

phone: +1 207 772-8121

VHF channels 9,16. City facilities: Public float at State Pier (30 minute tie-up), Ramp & float at East End beach with showers, water.
The Cat, a high-speed passenger and auto ferry, operated a route between Portland and
Yarmouth, Nova Scotia
from 2006 to 2009, and again from 2016 to 2018. After the 2018 season, Bay Ferries, the operator of The Cat, and the city of Portland mutually agreed to end its agreement to operate the route. US Customs and Border Protection required renovations be made to the ferry terminal, which would cost Bay Ferries approximately USD $10 million to undertake. In June of 2018, Bay Ferries and the town of
Bar Harbor
entered an agreement to return The Cat to the area, ending the Portland-
Yarmouth
link again.
Get around
Portland, and Maine in general, does not have an extensive public transportation system, so renting a car is generally the best option. While 5 o'clock traffic can get a little congested, driving in Portland is not a daunting task.
The Old Port and Downtown Arts District areas are very walkable and pedestrian friendly.
By bus
phone: +1 207 774-0351

address: 114 Valley St

Bus line has a regular schedule, and provides a high level of service for a city of its size. Metro is not the best option for late night socializing; there are numerous taxicab companies. Walking is probably the best option downtown and especially in the Old Port or by the waterfront.
By rental car
Avis

phone: +1 207 874-7500

Enterprise

phone: +1 207 772-0030
By Uber
In October 2014 UberX launched in Portland and should be available 24/7. It's slightly cheaper than a taxi. Surge pricing generally happens only on Friday and Saturday nights after 1AM when the bars close. UberX is also available to pick up and drop off at the Portland International Jetport.
By taxi
Airport Cab

phone: +1 207 899-5335

ABC Taxi

phone: +1 207 772-8685

Old Port Taxi

phone: +1 207 772-8294

Jetport Taxi

phone: +1 207 775-6990

Elite Taxi

phone: +1 207 871-7274

address: 211 Valley St

They also have vans

Family Taxi

phone: +1 207 615-9353

ASAP Taxi

phone: +1 207 791-2727 84

address: Cove St

phone: +1 207-774-2255

address: 135 Walton St

Timely Taxi
By boat
phone: +1 207 774-7871

address: 56 Commercial St

Year-round scheduled ferry service from the Portland waterfront to Peaks, Great Diamond, Little Diamond, Long, Chebeague, and Cliff Islands in Casco Bay, as well as a summer-only daily tourism cruise to Bailey Island. Leashed dogs and bicycles are carried for an additional fee.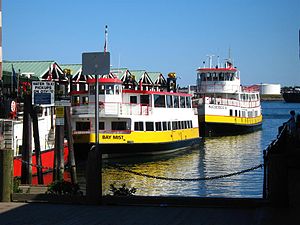 See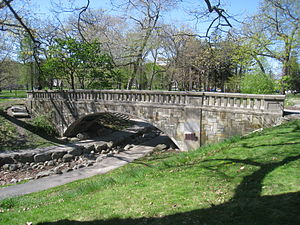 phone: +1 207 774-5561 ext 104

address: 138 Congress St

Built in 1807 by Captain Lemuel Moody, this National Historic Landmark is the only existing historic maritime signal station in the United States. Educational tours are offered at the 65 foot tower and you can climb to the top on your own. Either way, you get great views of the waterfront.

phone: +1 207 775-6148

address: 7 Congress Sq

Consisting of the historic McLellan House, the L.D.M. Sweat Galleries, and the I.M. Pei Designed Payson building, this museum houses a large collection of Winslow Homer works, as well as 17,000 sculptures, paintings, and objects from the 18th-century onwards.

Children's Museum & Theatre of Maine

phone: +1 207 828-1234

address: 142 Free St

Located next to the Museum of Art, this Museum features 3 stories of interactive exhibits, including "Our Town," an area that includes an interactive grocery store, farm, vet and firetruck, and the "Explore Floor," which includes "LL Bear's Discovery Woods" and a mini planetarium. At the top of the building is the Camera Obscura, which offers panoramic views of the city and teaches children about light.

Portland Head Light and Museum

phone: +1 207 799-2661

address: 1000 Shore Rd

One of the most scenic lighthouses in the country. Adjacent to Fort Williams, a WWII artillery emplacement. Parking costs $2/hr with a 2hr minimum.

phone: +1 207 772-4841

address: 109 Danforth St

May-Oct. Victoria Mansion, also known as the Morse-Libby House, is the finest example of residential design from the pre-Civil War era in America. With superb architecture and well-preserved original interiors that were among the most lavish and sophisticated in their day, it is an unparalleled document of America's highest aspirations in architecture, interior design, and the decorative arts. $10/$3.

Bug LightLighthouse across the Fore River in South Portland offers unparalleled views of the Portland skyline and Casco Bay.

Spring PointCoastal area in South Portland which is home to the old Fort Preble, Spring Point Ledge Light, Portland Harbor Museum and Southern Maine Community College. There is a breakwater extending out into the harbor which is great to fish off of.

Stroudwater VillageJust west of the Portland peninsula is one of Maine's oldest.

Old PortNext to the downtown area along Commercial St. next to Casco Bay. The Old Port is filled with neat shops, restaurants, and cafés, and has something of a European feel to it thanks to its many narrow cobbled streets and old brick buildings. Go here to shop and eat at both high-end and casual, local establishments. The Old Port is a great place to take a walk and smell the ocean air.

Eastern PromenadeA neighborhood providing amazing views of the Casco Bay and the islands

Western PromenadeA more residential area where you can see examples of mansions built by wealthy sea captains long ago.

Deering OaksA 51 acre area in Portland with a tennis court, baseball diamond, playground and pond. You can ice skate on the pond in the winter. In the summer, you can enjoy a wading pool and, on Saturday mornings, an extensive farmers' market. Outdoor concerts, Shakespeare in the Park, and the Festival of the Nations take place here as well.

Willard BeachIn South Portland right across the bridge. Portland itself is not known for its beaches, despite plenty of oceanfront.

phone: +1 207 879-9500

Baseball, Hadlock Field. A Boston Red Sox AA affiliate with a Fenway Park replica field. $3-8 (2006).

phone: +1 207 791-2200

address: 1 Civic Center Sq

The main event space in Portland, this 6,733 seat arena host concerts, expositions, and the Portland Pirates, the minor league affiliate of the Phoenix Coyotes (NHL)

phone: +1 207 791-2723

address: 87 Market St

Located in Portland's historic Old Port, Fore River Gallery is owned and operated by four Maine artists, Elizabeth Prior, Mike M. Marks, TJ McDermott and Liz Marks. Displaying the work they create, they offer a wide range of fine art including jewelry, paintings, sculptures and ceramics.

Maine Narrow Gauge Railroad Museum

phone: +1 207 828-0814

address: 58 Fore St

Displays vintage locomotives and offers scenic trips along the waterfront.
Do
Back CoveThis large inlet connected to the sea by a small canal, has a recreation path over 3 mi (5 km) long and was designed by the firm of Frederick Law Olmsted and lined with linden trees to memorialize World War One dead.

phone: +1 207 766-2500

address: 40 Commercial St

During the summer months you can purchase tickets on the Maine State Pier, right next to the ferry. From 2-hour sails to overnight charters.

phone: +1 207 774-7871

address: 56 Commercial St

Taking a tour of Casco Bay on the ferry is a great way to enjoy Portland from a different perspective. In addition to fishing vessels and cargo and tanker ships, during the Spring and Summer months many sailboats, yachts, and cruise ships provide enjoyment.
U.S. Highway 1. Be sure to drive up this scenic coast-hugging road whether on a clear or foggy day.

phone: +1 207-761-0941

address: 170 Commercial St

Go on a lobster boat for a 90 minute cruise. You can help bait the traps, throw the traps overboard and more. Great for kids.

phone: +1 207 838-5275

Private tours of Southern Maine originating in the Portland Region. This is your opportunity to explore and photograph many of Maine's unique views up close and personal. Your personal tour guide is available year round.

East End BeachTake a swim at East End Beach on top of Munjoy Hill

Happy Wheels

address: Warren Ave

A roller-skating rink.
Buy
The Old Port
The Old Port
is nestled against the busy port and home to 19th century streets filled with boutiques, galleries, restaurants, bars and coffee shops. The district sells everything from one-of-a-kind jewelry and designer jeans to best-selling books and surf boards. The Movies is a small independent movie theater on Exchange Street and The Nickelodeon is a larger theater on Temple Street. Fore Street and Wharf Street offer a number of bars and the area fills with partiers on Friday and Saturday nights in the summer. The Casco Bay Ferry to the islands leaves from Commercial Street. The Narrow Gauge Railway and Museum is located off Commercial Street.
The Arts District
The Arts District
centers around Congress Street, which runs through the center of the city. The Portland Museum of Art sits in Congress Square across from the Eastland Park Hotel and next to the Children's Museum of Maine. Galleries abound in the Arts District, as do restaurants and watering holes. The Maine College of Art, which houses the Institute of Contemporary Art, and SPACE Gallery are both located on Congress Street. The music venue One Longfellow is located on Congress where it enters the West End and the Portland Stage Company is housed among a cluster of galleries at the top of Forest Avenue, near Congress. Congress street is home to an L.L. Bean outlet store and in Monument Square you can find a permanent farmers' market called the Public Market House. On Wednesdays between May and November other local farmers sell local produce and flowers and in the square.
The Arts District includes more businesses that cater to local residents, but there are also several great used books and music shops:
The East End
The East End
includes India Street, Middle Street, Washington Avenue and Congress Street as it heads up Munjoy Hill. This neighborhood contains many restaurants, galleries and small shops. At the top of Munjoy Hill is the Portland Observatory and the St. Lawrence Arts & Community Center.
Eat
Portland offers a sophisticated restaurant scene, with chefs focused on locally sourced food. The city offers white tablecloth restaurants serving tasting menus to cheap eats selling burritos. The abundance of lobster, haddock, clams, scallops and other seafood allows restaurants to sell these usually expensive items at reasonable prices. In the Old Port and especially on Commercial Street, there are many seafood restaurants. Portland is the most ethnically and culturally diverse city in Maine. This means the city offers up Vietnamese, Thai, Polish, African, Middle Eastern, Greek, Japanese and Indian restaurants. Most of these places are inexpensive and delicious. Being home to many eco-conscious people, Portland offers a number of dining options for vegetarians and vegans. Portland also has the second highest restaurant per capita in the country, second to
Seattle
.
phone: +1 207 871-9258

address: 2 Portland Sq

Located in the Old Port since the summer of 1989, Walter's has an eclectic selection of international fare that features bright menu ideas and creative dishes that fuse Asian, Caribbean, Mediterranean, and local influences with an emphasis on pasta and fresh fish. Whenever possible, Walter's uses local purveyors for produce, meats and seafood. Walter's has a nice wine list, spanning the world from Napa, South America, France and Italy to the Land Down Under. They also have spectacularly unique martini offerings, including the Pear, made with fresh pear purée."

51 Wharf Restaurant & Ultra Lounge

phone: +1 207 774-1151

address: 51 Wharf St

This restaurant and ultra lounge is the newest high end place in the Old Port. 51 is a modern restaurant with a contemporary, yet uncomplicated approach to food. With a cozy fireplace for the winter and an open air bar and deck in the summer, this place is the new place to be. 51 Wharf describes their bar as "51's sleek and sexy first floor bar is perfect for wine, cocktails, a bite from the Bar Menu and to people watch! The cozy lounge area with leather furniture is inviting to all. 51 is perfect to enjoy dinner, a quick snack at bar, or share a romantic bottle of wine in the lounge."

Becky's Diner

address: 390 Commercial St

A fixture of the working waterfront. Becky's is a well loved greasy spoon that starts serving breakfast a 4AM. Fisherman and other waterfront workers start their early days here. On the weekends you can also find many people ending their nights with pancakes and famous homefries. Bumper stickers can be seen all over town reading, "Becky's Diner Nothing Finah".

phone: +1 207 772-8777

address: 72 Commercial St

Right on the water with one of the best views of Portland Harbor and Casco Bay in town, a fun and funky staff that toss your pie in a wood-fired clay oven. Flatbread is a great place to go for a fun night out in the old port and also family friendly. It offers organic food and many vegetarian and vegan offerings.

phone: +1 207 775-2717

address: 288 Fore St

This place is reserved weeks and sometimes months in advance. But, you can get in just about any night if you arrive at opening about 5PM and get on the list for their open seating. It is worth it. Start looking for it early, some people drive past this place three or four times before finding it and ask where it is when they are right in front of it. Very small sign. It's located on the south side of Fore Street between Franklin and Pearl streets, and is to the right of the Bangor Savings Bank / Baker Newman Noyes building. If you see the private garage on the first floor of the bank building, you'll notice a staircase to the right, and then a one-story building that doesn't remind you of a restaurant.

phone: +1 207 699-4309

address: 434 Fore St

Great authentic gelato, Lavazza espresso and Italian hot chocolate. The owners are a very friendly couple from Milan.

Ribollita

phone: +1 207 774-2972

address: 41 Middle St

Excellent Italian food. Fresh pasta, creative specials and the best mussels in Portland!

phone: +1 207 775-2337

address: 164 Middle St

This brew pub offers 7 unique brews on tap and a wide variety of entrees. There is an upstairs for a more social dining atmosphere and a downstairs for a quieter environment.

Susan's Fish and Chips

phone: +1 207 878-3240

address: 1135 Forest Ave

Known for its large portions, freshness, and those reasonable prices.

Gilbert's Chowder House

phone: +1 207 871-5636

address: 92 Commercial St

Taste great New England Clam Chowder here.

phone: +1 207 773-2900

address: 29 Exchange St

Offering a sushi bar, and Hibachi tables, the Japanese cuisine here is delicious. The hibachi tables are a great dining experience, but only open for dinner hours, and the wait can become long.

The Front Room Restaurant & Bar

phone: +1 207 773-3366

address: 73 Congress St

A neighborhood restaurant started in the first floor of an apartment building on Munjoy Hill near the Eastern Prom, chef Harding Lee Smith's restaurant is getting an excellent reputation off the Hill as well. Excellent food for a good price, with a small bar available. The kitchen is in plain view from the seating area, and that's just the way the owner likes it. Weekend evenings will involve a wait, and the waiting area is rather limited.

Local Sprouts Cooperative Café

phone: +1 207 899-3529

address: 649 Congress St

Offering locally sourced food for meat-eaters, vegans, vegetarians, and those with food allergies, Local Sprouts is cooperatively owned by its workers and is dedicated to creating a just food system with access to healthy, delicious food for all.

Caiola's

address: Pine St

Small rustic restaurant with an ever changing rural European style menu. Fantastic wine and food, a favorite for local foodies.

Arabica

address: Free St

Chess can be played here. Coffee, biscotti.

Bill's PizzaAlso has sandwiches. can be pricey though.

phone: +1 207 773-5555

address: 2 India St

Classic sushi bar on the Waterfront.

address: 685 Congress St

Bohemian elegance with locally produced food and a great wine list.

Oh-No Café

address: 87 Brackett St

Specializing in boutique breakfast sandwiches.

Korea House

phone: +1 207 771-2000

address: 630 Congress St

Authentic Korean cuisine.

Wild Burrito

phone: +1 207 761-1600

address: 574 Congress St

Their food is good, very reasonable prices

1 City Center

address: Downtown

Dunkin' Donuts and other food places are here.

J's Oyster

phone: +1 207 772-4828

address: 5 Portland Pier

Morning in Paris

phone: +1 207 761-5637

address: 13 Exchange St, Old Port

Mr. Bagel

address: Congress St

Stavros

address: Forest Ave

Great pizza for an affordable price.

Little Caesars5 and change gets ya a hot pizza

Old Port Sea Grill and Raw bar

phone: +1 207 879-6100

address: 93 Commercial St

Fresh seafood, simply prepared and one of the largest raw oyster selections in the area

phone: +1 207-833-2818

address: 68 Garrison Cove Rd

Espo's Trattoria
Drink
Portland, and especially the Old Port, has a reputation for many bars and pubs of varying caliber. From bars for longshoremen and lobster men, to pub serving micro-brews brewed on-site, to night clubs, there's something for everyone.
In addition there are numerous bars and clubs along
Wharf Street
a cobblestoned alley in the Old Port.
The Great Lost BearLocated outside of Old Port, this is a must for the discerning beer drinker. With over fifty beers on tap, "The Bear" has gained national renown for the variety, quality, and depth of its local and imported brews. Extensive pub menu with everything from burgers to vegan chili.

The Top of the EastLocated in the Eastland Hotel, it offers impressive views of the city and top-shelf libations.

phone: +1 207 774-5554

address: Custom House Wharf, Portland Old Port

Occasionally Maine Comedian Bob Marley will have a show.

The Big Easy Blues Club

address: Market St

Live music in many styles from local, regional and national acts.

Brian Boru

phone: +1 207 780-1506

address: 57 Center St

Irish Pub.

phone: +1 207 772-2739

address: 386 Fore St

Brew pub and good micro brews.

phone: +1 207 761-4446

address: 72 Commercial S

Irish pub with Irish food and live entertainment.

phone: +1 207 772-3310

address: 241 Commercial St

German beer hall atmosphere in the Old Port

Geno's

phone: +1 207 772-7891

address: 625 Congress St

Rock club featuring original local and regional rock acts in the Punk, Metal, Hardcore, etc, genres.

The Asylum

phone: +1 207 772-8274

address: 121 Center St

Amigo's

address: 9 Dana St

Inexpensive drinks and Mexican food with a nice fenced-in outdoor patio and bands on weekends in the summer.

phone: +1 207 774-4111

address: 650A Congress St

Live music in a casual beer and wine bar setting.

phone: +1 207 761-2437

address: 4 Canal Plaza Ste 1

The place in Portland for Beer. 300+ bottles, 25 Constantly rotating taps with rare beers, single malt scotch, wines, tequila, meats, cheeses, and small plates. Novare Res features a large expansive deck with table service, a large bar area, proper glassware, and a cozy brick building basement feel.

Old Port Sea Grill and Raw bar

phone: +1 207 879-6100

address: 93 Commercial St

Beautiful locally made concrete bar, flat screen tvs, full bar, specialty cocktail list, wine list, and in the old port.
Microbreweries
Wineries
phone: +1 207 773-6323

address: 51 Washington Ave

Small winery making hand-crafted meads(wines made with honey) using 100% Maine wildflower honey and other local ingredients. Complimentary tasting and tour available on site.
Sleep
Hostels
phone: +1 207-712-7062

address: 33 Hampshire St

First hostel in Portland. Will store baggage. A few private rooms available.
Hotels
Bed and breakfast
Stay safe
In keeping with Maine's reputation as a relatively crime-free U.S. State, there is no place in Portland a visitor should feel like they shouldn't visit during the day. As in any city, be alert in areas that are not well lit at night or deserted. Act with common sense and you should have no trouble.
Maine state liquor laws require all bars to close promptly at 1AM. The Old Port's numerous bars empty into the street at this time. Some rowdiness is to be expected, but there is always an increased police presence on busy nights.

Cope
Radio
Radio stations serving the Portland area include:
News/Talk: WMEA 90.1 FM (NPR), WGAN 560 AM/105.5 FM (conservative)
Television
Television stations serving Portland include:
WCSH Channel 6: NBC.
WMTW Channel 8: ABC.
WGME Channel 13: CBS.
WMEA Channel 26: PBS.
Consulates
phone: +1 207 774-7000 ext 656

address: 415 Congress St 5F
Go next