Portland (Oregon)

Few American cities can match the youthful spirit of
Portland
, "The City of Roses". The largest city in the state of
Oregon
, Portland's residents are proud of their city, which draws people for its scenic beauty, great outdoors environment, excellent microbreweries, and eco-friendly urban planning policies, as well as a reputation for colorful characters and a proudly liberal outlook, with an attitude to match.
Lying about 70 mi (124 km) from the Pacific Coast on Oregon's northern border, the city straddles the Willamette River (pronounced
will-LAM-ett
; just remember the rhyme "It's Willamette, dammit.") south of its confluence with the Columbia River. To the east, majestic
Mount Hood
forms an inspiring backdrop for Portland's skyline. The mild, wet climate makes this a very green city, and Portland has taken full advantage of this with a wealth of parks and gardens that make the city one of the most beautiful in the country.
Districts
Understand
Portland is the largest city lying between
San Francisco
and
Seattle
, but when compared to those cities, Portland's environment is not as fast-paced. It hasn't yet developed to the point of being overwhelming. Instead, it has a more laid-back, small-city feel.
Over 600,000 people live in Portland proper; including the suburbs the metro area has 2.4 million people, so Portland has its fair share of amenities, including an impressive music and arts scene, and one of the largest collections of (maga)zine and independent publishers of any city in the nation. Its relatively large population also means it has some of the worst traffic congestion in the U.S., a fairly high cost of living relative to wages, and chronic underemployment.
The city has a lovely blend of historic and modern architecture and many lush parks to poke your toes into. Forest Park and Washington Park in the hills west of Downtown offer a variety of trees, plants, trails, and wildlife near the city. Vistas of Mount Hood and the Willamette River, stately Douglas-fir trees (Oregon's official state tree), and roses and trees at every turn give the city stunning seasonal color.
Environmentally friendly practices, such as recycling and an extensive public transportation system, are part of the culture and fuel many progressive city planning practices. Portland metro, like all Oregon urban centers, is surrounded by an urban growth boundary. This limits sprawl and helps make Portland a relatively compact city. Unlike most similarly sized metropolitan areas in the country, you can drive about 15 mi (24 km) from Downtown in just about any direction and be out in the countryside, where u-pick farms welcome the public.
Portland is a very fun and welcoming city for LGBT travelers. It has one of the largest and most integrated gay and lesbian communities in the United States, supported by two major LGBT publications and other queer-friendly media.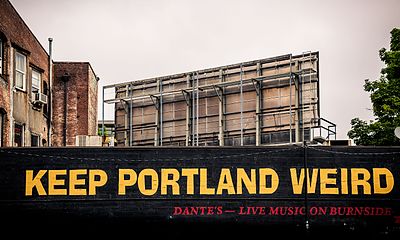 History
The first European contact in the area came from none other than
Lewis and Clark
, who sailed along the Columbia River just north of where Portland lies today in 1805; after a year of exploration they finally reached the Pacific Ocean just to the west. The reports from their expedition fueled interest in the area, and settlers came to stake their claim. Two of those settlers were William Overton and his friend Asa Lovejoy, a lawyer from Boston, who came across the spot where Portland now sits and jointly began to build a settlement. Later, Overton sold his share to F.W. Pettygrove, a man from
Portland, Maine
. As of this point, the area was being transformed from a small stopping point between
Oregon City
and
Vancouver, Washington
to a formal settlement, and the owners now needed to give it a name. Both Lovejoy and Pettygrove wanted to name the new town after their respective hometowns; so in 1845 they decided to leave it up to a coin toss and Pettygrove won two times out of three.
In 1851, Portland was formally incorporated and was growing rapidly; its proximity to the rivers, which funneled a trade with San Francisco to the south, combined by the local fishing, lumber, and agriculture industries fueled Portland's early growth. The railroad arrived in the 1880s, and for a time Portland was the largest city on the west coast north of San Francisco; however the Klondike Gold Rush and the arrival of the railroad to
Washington state
meant Seattle quickly eclipsed Portland's growth.
Portland persisted as a booming railroad, lumber and steel town for several decades. During the 1970s, however, Oregon started to gain a reputation for progressive urban planning practices, adopting policies such as an urban growth boundary and constructing new parks in a push to maintain the central neighborhoods as active places in light of suburban development. Through the 1970s and into the 2000s, Portland became a center for counterculture, growing into a hub for punk and indie rock music, zine publishing, and activist movements. The dot-com boom of the 1990s brought an influx of modern tech companies joining the established electronic and computer industry along with the so-called "creative class", who remained even after the economic bubble burst. By this point, the city's progressive policies and politics had won the city a special status among urban designers, environmentalists, and political activists as a very forward-thinking city, which has only fueled further growth and development of the metropolitan area.
Climate
It's said that there are only two seasons in the Portland area: rain and summer. When the summer comes, the clouds suddenly clear and it's hot and sunny, and often quite pleasant. Any given day in July through mid-October has only a 10% chance of rain, and temperatures uncommonly exceed 85°F (29°C) degrees or so, although it does occasionally exceed 100°F (38°C) in mid-summer.
Despite the nice summers, Portland is really known for its rain, which comes between late September and late June. It is more often a menacing drizzle or mist than a downpour, though. There's a myth that most Portlanders don't use, or even believe in, umbrellas, and instead prefer hoods and raincoats. This has a grain of truth to it, but any stroll through Portland on a rainy day will prove to you that people are not shy about using umbrellas. You shouldn't be shy, either — if it's not summer and you don't want to get wet, pack your umbrella.
Although Portland is roughly at the same latitude as Minneapolis, Minnesota (and is in fact slightly further north), snow is uncommon because of Portland's fairly low elevation and the relative proximity of the Pacific Ocean, but does happen around once or twice a year, but rarely persists more than a few days. As a result, many area drivers do not deal with snow very well, especially when attempting to navigate the hilly terrain along many commuter corridors and neighborhoods. Even a light dusting will increase the risk of accidents, and any substantial snowfall or freezing rain can paralyze the city. The lowest temperature ever recorded was -3 °F (-19 °C), though overnight lows are usually above freezing.
A sunny day in the rainy season is not typical, but the sun does come out occasionally. The moment it does, some Portlanders may wear summer clothing, even if it's still somewhat chilly.
Tourist information
Watch
Portlandia (IFC, 2011-2018). Sketch comedy series set and filmed in Portland, which parodies many Portland stereotypes and trends (such as hipsters, outdoors enthusiasts, bikers, farm-to-table food, tattoos, and many more).
Get in
By plane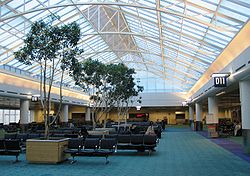 Portland International AirportIt is a dual-use air force base, which may cause confusion on some maps. Most major airlines serve Portland, though Alaska Airlines carries the most traffic through PDX, using Portland as a hub. Non-stop service is available to most major U.S. airport hubs, a lot of smaller cities in the Pacific Northwest (served by Alaska Airlines and United Express), and a limited number of international flights from Canada (Air Canada and Alaska Airlines), Frankfurt am Main (Condor); Keflavik International Airport (Icelandair); Benito Juárez Airport (Alaska and Aeromexico); Guadalajara (Volaris); Tokyo Narita Airport, London Heathrow and Amsterdam Schiphol (Delta). The following airlines serve Portland:
Concourse A: Alaska Airlines
Concourse B: Horizon & Skywest for Alaska Airlines, Pen Air
Concourse C: Alaska Airlines, American Airlines, JetBlue, Spirit, Southwest
Concourse D: Air Canada, Aeromexico, Delta (International & domestic), Frontier, Hawaiian Air, Spirit, Sun Country, Virgin America, Condor, Icelandair, Volaris, Alaska Airlines arrivals from Mexico.
Concourse E: United
have their own separate terminal at 7527 NE Airport Way. They only offer flights to Pendleton.
All international arrivals disembark through Gates D12-D15 where passengers proceed to US Customs & Immigration inspections under Concourse D. After inspection, follow the "Connecting Passengers" signs to the re-check center where you can recheck your luggage. Go up the escalators for security screening and re-enter into concourse D by Gate 9 to access connecting flights. If Portland is the final destination follow signs reading "Portland Passengers Bus to Terminal", passengers will board an airside shuttle bus which takes them around to the international arrivals zone in front of the United Airlines baggage reclaim (at carousel #10), in the main terminal building.
A taxi from the airport to downtown is around $35, but the Portland airport is well connected by public transit, which allows you to save quite a bit of money. The most convenient and least expensive option is the MAX train, TriMet's light-rail system. Just catch the
MAX Red Line
in the south end of the airport terminal, near the baggage claim area, at lower level. The ride downtown takes about 30 minutes and costs $2.50, which includes a transfer good for two and a half hours with unlimited transfers to any TriMet bus or train, or even to a C-TRAN bus (except the express buses at the Parkrose Transit Center Stop), which serves Vancouver, Washington.
To get downtown from the airport by car, follow Airport Way to the junction with
Interstate 205
south, then proceed to exit 21B to take
Interstate 84
west. Follow I-84 until it ends at the junction with
Interstate 5
, then follow the signs to City Center.
Two important notes about returning a
rental car
at the airport:
As you approach the airport terminal on Airport Way, pay careful attention to the overhead signs for Rental Car Return. After the road splits to the right, there are a number of left exits close together, and it is very easy to make the mistake of exiting too soon at the control tower/shuttle bus/parking exits. The exit for rental car return is the fourth left exit, after the one for the short-term parking garage.
There are no gas stations in the commercial area between the airport and I-205 (Cascade Station). If you have to fill up the gas tank before returning the car, and are driving north on I-205, take the Sandy/Killingsworth exit (Exit 23-A) to get to the airport's closest and most accessible gas stations.
By train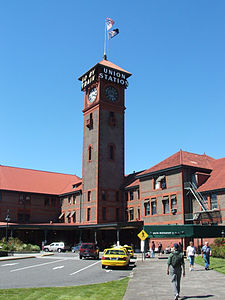 address: 800 NW 6th Ave

Amtrak serves Portland Union Station, which is about a 15-minute walk from most places downtown. Union Station is well connected by public transit. It sits on the northern end of the transit mall, so many Trimet buses as well as the MAX Yellow and Green Lines stop nearby. Union Station is also across the street from the Greyhound depot. There has been some investment in passenger rail in the region, so journey times and reliability have improved and will likely continue to improve incrementally as new construction is completed.
Three Amtrak routes serve Union Station:
The Amtrak Cascades is the most frequent train, coming in from as far south as Eugene and as far north as Vancouver, British Columbia. The Cascades offers certain amenities not available on the other two routes, such as Wi-Fi, more space for bikes, more power outlets, a bistro car serving Pacific Northwest foods and wine, and the occasional movie.
The Coast Starlight runs between Seattle and Los Angeles. Stops include Tacoma, Olympia, Salem, Eugene, Klamath Falls, Redding, Sacramento, the San Francisco Bay Area, San Luis Obispo, and Santa Barbara. Historically the Coast Starlight has been nicknamed "the Coast Starlate" due to its frequent, horrendously long delays, but its reliability drastically improved since about 2008.
The Empire Builder, Amtrak's busiest long-distance route, runs between Chicago and its two western termini, Portland and Seattle. It stops at Milwaukee, Minneapolis–Saint Paul, Glacier National Park, and Spokane along the way. The westbound train splits into two branches (or joins into a single route going eastbound) in Spokane with one branch going to Seattle and the other to Portland.
By car
The easiest road connection to Portland is the Interstate Highway System, especially
Interstate 5
, which runs through Washington, Oregon, and California. Driving from the south, you can take exits to the southern part of downtown before I-5 crosses the Willamette River, or you can take the
Interstate 405
bypass to access the rest of downtown. From the north, you can take I-405 over the Fremont Bridge to cross the Willamette River and reach downtown, or take exits 302A or 300B and follow the City Center signs.
Interstate 205
is a bypass route that splits from I-5 and serves the eastern side of the Portland metro area.
From northeastern Oregon, eastern Washington,
Boise
, and other points east, take
Interstate 84
. It follows the Columbia River on the Oregon side and terminates in the center of Portland, where it meets Interstate 5.
U.S. Route 26
comes to Portland from the Pacific coast (near
Seaside
and
Cannon Beach
) in the west, as well as from central Oregon.
As in the rest of Oregon, there are no self-serve gas stations in Portland. Just stay in your car and wait as an attendant does the pumping for you.
By bus
Long distance buses pick up in front at Union Station (800 NW 6th Ave) and the Greyhound depot next door (550 NW 6th Ave) in addition to other places on the way in or out of Portland. They can only pick up passengers on the outbound trip and drop off on the inbound trip but cannot transport passengers between two points within the Tri-Met Service Area (Portland Metropolitan Area). For example, a CoBreeze bus coming from Bend cannot pick up passengers in Gresham and drop them off at the airport. They can only drop off in both places on the inbound trip within the Portland area. See below:
address: (bus stop) NW Everett Street between Broadway and 8th

Service from Eugene, Albany OR, Seattle, Bellingham WA; and Vancouver BC.

phone: +1 541 389-7469

address: (bus stops) Union Station, Greyhound terminal, Portland International Airport & the Cleveland MAX station in Gresham

Goes down to Bend via Sandy, Welches, Government Camp, Madras, Prineville P&R and Redmond Airport. Buses may not make all the above stops regularly but on request in advance of travel. Check with them.

phone: +1 888 246-6420

Bus connects Gateway Transit Center in NE Portland to Rooster Rock SP, Multnomah Falls, Cascade Locks and Hood River along the Columbia River Gorge. Connections to downtown Portland via all westbound MAX trains and to the airport on the northbound MAX Red Line train from Gateway Transit Center.

phone: +1 503-243-2361

address: (Depot) 550 NW 6th

Greyhound travels primarily on Interstate 5 (Portland-Seattle & Portland-Sacramento on two separate routes. Some buses run contiguously between Seattle and Los Angeles); 84 (Portland-Boise-Salt Lake City); & 84-US395-90 (Portland-Pasco-Spokane). Passengers transfer to other buses in Seattle, Sacramento, Salt Lake City, Spokane, Boise, Medford, and/or Pasco to get to other destinations.

phone: +1 541 903-0724

address: (Bus stops) Union Station, Portland International Airport & JCPenney @ Clackamas Town Center

Goes to Bend through Salem & Sisters via Hwy 22 and I-5

Tillamook Transportation District Rt #5

phone: +1 503-842-0123

address: (stops) Union Station, Greyhound depot, Sunset Transit Center & NW 185th Ave

Twice daily trip to/from Tillamook along US Hwy 26 and OR-Hwy 6

phone: +1 541 484-4100

address: (bus stop) Union Station @ 800 NW 6th Ave

Tickets can also be purchased at the Greyhound or Amtrak ticket counters for two of their routes:
By public transit
TriMetOperates buses, MAX light rail, WES commuter train (between Beaverton and Wilsonville), and the Portland Streetcar across the greater Portland Metropolitan Area. See "By public transit" under Getting Around for more details.
In addition to the above there are other transit providers providing onward transport from Portland to other cities/municipalities surrounding the greater Portland Metropolitan area and outside the Tri-Met service district. They can only make limited local pick-up and drop off stops in the Tri-Met Service Area and some can only drop off in the Portland Metropolitan Area on the inbound trip and pick-up on the outbound trip. Others can pick up and drop off between two points within the Tri-Met Service Area:
By boat
There are no useful boat lines, although you can take cruises up and down the Willamette River and multi-day tourist cruises from Portand to
Clarkston
, Washington.
Get around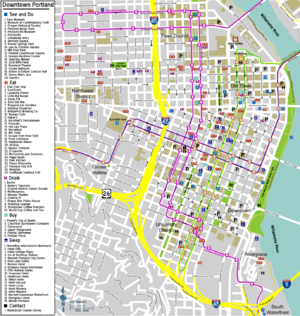 If you are touring the
United States without a car
, rejoice! Portland is an easy city to bicycle, walk or use public transport. However there are topographical features (hills and rivers) that affect how streets and roads flow, so planning and maps are important for any journey of more than a few blocks. The verdant West Hills slope up from downtown and divide it from the suburbs of Beaverton, Hillsboro and others.
Much of Portland is a grid, and fairly easy to navigate. Portland is divided into five sectors, sometimes referred to oxymoronically as the "five quadrants". These quadrants are divided by Burnside Street between north/south and the Willamette River between east/west, with a fifth sector (North) between the Willamette River and Williams Avenue. If you hear Portlanders talking about Southwest or Northeast, they're probably talking about a sector of the town rather than Arizona or Massachusetts.
SW – South of Burnside and west of the Willamette River, this sector includes the downtown core.
SE – South of Burnside and east of the Willamette River.
NE – North of Burnside and east of Williams Avenue.
N – North of Burnside, east of the Willamette River and west of Williams Avenue.
NW – North of Burnside and west of the Willamette River, this sector is immediately north of downtown and includes the Pearl District, Old Town, and the Northwest district.
All Portland addresses contain their designating sector inserted between house number and street name (i.e. 3719 SE Hawthorne Blvd.) The house address numbers increase 100 per block (20 blocks per mile) starting from Burnside Street or the Willamette River. This should make it easier to figure out where things are. In general, East/West streets are named while North/South avenues are numbered. On named streets, the address numbers correspond to the nearest numbered cross-street, so 1501 NE Davis St. is on NE Davis near 15th Avenue. An exception is North Portland where North/South avenues are also named. On the West side, some streets and arterial roads follow a North/South grid, others follow the topography and curve a great deal. There are major arterials that cross town in NE/SW or NW/SE orientation including Sandy Boulevard, and Foster Road on the East side, and Barbur Blvd on the SW. The streets of inner Northwest Portland are arranged alphabetically starting with Ankeny, Burnside, followed by Couch, then Davis, etc. through NW Vaughn Street making directions easy to follow here. One anomaly is in southwest near the Willamette River where some addresses have a leading zero (for example 0505) indicating an arithmetic negative
Most of the city (and everything near downtown) is along the northerly flowing Willamette River, and not the much larger Columbia which flows west. However, the airport and Portland's northern neighbor,
Vancouver, Washington
, are next to the Columbia. If you confuse the two rivers, you can easily mix up your bearings. As the Willamette River can be hard to spot on a map of Oregon, many newcomers mistakenly think Portland is along the nearby Columbia.
By car
Driving around downtown is
not
recommended. Inconvenient, expensive, and hard to find parking, combined with active parking meter enforcement (8AM-7PM) and non-intuitive street closures, transit malls, and restrictions, make it frustrating even for locals. Most people can walk from one end of downtown to the other in 15 minutes—faster than driving at times (or bicycle even faster). In fact, many of the traffic lights, both downtown and in inner Portland, seem to be timed for bike speeds. Uber and Lyft usually provide speedy and inexpensive service, frequently costing for less than a few hours parking.
If you must park downtown, the best parking deal is any of the six
SmartPark
garages maintained by the City of Portland. As of March 2019, rates are $1.80 per hour on weekdays for the first four hours, and $5 flat rate evenings after 5PM and all day on weekends. Also, some businesses can validate ("pay" for some of) your parking. SmartPark locations are:
, 33 NW Davis St.
, 808 SW Stark St.
, 730 SW 10th Ave.
, 620 SW 3rd Ave.
, 818 SW 4th Ave.
, 123 SW Jefferson St.
Car-sharing is available through
Zipcar
,
car2go
, and
ReachNow
on a membership basis.
On foot
Portland is a great city for walking. The 200 foot (60 metre) block size throughout most of Portland were designed in the 1860s for walking convenience and Portland has a lot of street life. Good mass transit also makes walking more feasible in Portland. The City of Portland Office of Transportation offers free, highly detailed
walking maps
that may be ordered online. For a scenic walk, the
Eastside Esplanade
along the Willamette River across from downtown offers lovely views of the skyline. Parts of the esplanade float on the water.
By bike
Portland, the self-proclaimed "Bicycle Capital" of the nation, is an excellent city for bicycle travel. The whole metro area has an extensive network of bike lanes and designated bike-friendly streets. Bike streets are generally signed with green "Bike Route" signs. On the east side, they are usually on quiet residential streets between major thoroughfares. You can obtain bike maps from the
Bike There!
section of Metro's website.
Even public transit is bike-friendly here. TriMet provides plenty of
information for bicyclers
on their website. They offer Bike & Ride facilities and bike lockers at many MAX stations and major transit centers. All buses, MAX trains, and
streetcars
have space for bikes too. If you're taking the bus, just be prepared to sometimes wait until a bus comes with an open bike rack, especially on popular routes. The MAX, on the other hand, virtually always has enough bike hooks available.
In July 2016, the
Biketown
bike share network was launched. The system has 1,000 bikes at 100 hubs around central Portland, and it's well suited for brief, one-way trips. Single rides up to 30 minutes cost $2.50. A day pass is $12 and includes up to 180 minutes of ride time
with the first bike rented only
($0.10/min with the following bikes) within a 24-hour period. In each case, you can ride for longer than the allotted time at a rate of 10 cents per additional minute.
The Portland Bureau of Transportation maintains an online list of
bike rental shops
.
By public transit
TriMet
operates the Portland metro area's extensive public transit system of buses, MAX light rail trains, and streetcars.
Adult fare is $2.50, and 1-day, 7-day, 14-day, and monthly passes are available. TriMet uses the proof-of-payment system—when you pay the fare, you'll receive a validated paper ticket good for two-and-a-half hours of travel on the entire system. Stick to your ticket; you must show it to any transit police officer or fare inspector upon request, or face a $175 fine for fare evasion.
You can pay fare, or buy passes, at any MAX station ticket machine (but expect the occasional out-of-order machine), on-board any streetcar, or on any bus (with exact change). Smartphone users (iPhone or Android) can use the
TriMet Tickets app
to buy digital tickets; show your ticket on the phone screen to the bus driver, transit police officer, or fare inspector, and make sure your phone's battery doesn't die!
TriMet offers trip planning on its
mobile website
, but no official app. Transit Maps and trip planning are available on both Apple and Google Maps.
Hop FastPass
In July 2017, TriMet released the
Hop FastPass
, a contactless (RFID) smart card for electronic fare payment. Hop works on TriMet, the Portland Streetcar, and C-TRAN in Vancouver. Just tap the card on the card reader on board buses and streetcars, or on MAX station platforms.
Cards are sold for $3 at Fred Meyer, Safeway, and other Portland metro area stores. Load fare at these stores, online, by phone, through the Hop app, or at TriMet or C-TRAN customer service centers.
The card readers also accept Android Pay, Apple Pay, Samsung Pay, and NFC-enabled debit/credit cards. Hop users (including those using mobile wallets) travel free for the rest of the day after paying $5 in fare (two one-way trips), as if they had a day pass.
Similarly—though only for Hop card or virtual Hop card users and not mobile wallet debit/credit card users—after paying $100 in a calendar month (20 days of round-trip rides), Hop allows free travel for the rest of the month, without the steep upfront cost of a monthly pass. This is very useful for visitors—you won't have to decide whether you'll ride often enough to justify buying a pass.
Apple Pay and Android Pay users can buy
virtual Hop cards
online and load them into Android Pay or Apple Pay. They combine the benefits of Hop with the convenience of mobile payments.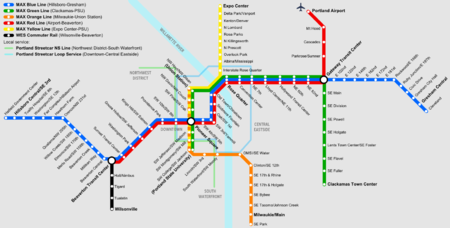 MAX light rail
There are five
MAX Light Rail
lines, which offer speedy and frequent service across much of Portland:
The Blue Line runs between Hillsboro and Gresham via Beaverton, Downtown Portland, and the Gateway Transit Center.
The Red Line runs between the Portland International Airport and Beaverton/Hillsboro via the Gateway Transit Center and Downtown.
The Green Line runs between Clackamas Town Center and Portland State University via the Gateway Transit Center and Downtown.
The Yellow Line runs from the Expo Center south to Downtown and Portland State University.
The Orange Line runs from Milwaukie north to Union Station in Downtown via Portland State University.
All the lines go through the city's downtown (referred to as "City Center" on TriMet), with the Red and Blue lines running east-west and overlapping on Morrison/Yamhill Streets, while the Yellow, Orange and Green lines run north-south and overlap on the Portland Transit Mall along 5th and 6th Avenues, with all lines crossing at Pioneer Square. Each MAX line runs every 15 minutes at most stops for most of the day, with service every 30 minutes in the wee hours of the night.
Portland Streetcar
In addition, TriMet operates the
Portland Streetcar
service, which consists of modern light rail vehicles running along Downtown streets about every 15-20 minutes. Because the streetcars usually share space with car traffic and stop every few blocks, this is a much slower service than the MAX and is intended primarily for getting around the Downtown area. A 2½-hour Streetcar Only ticket can be purchased for $2 at fare machines at Streetcar stops and on the Streetcar vehicles. There are three lines:
The NS (North South) Line, which runs between Northwest Portland and South Waterfront through the Downtown area. The route runs along Lovejoy/Northrup through Northwest Portland and the Pearl District before turning south along 10th and 11th Avenues through Downtown to Portland State University, then winds it way past Riverplace to South Waterfront.
The A Loop and B Loop lines, which run clockwise and counterclockwise respectively, between Downtown and Central Eastside. The route runs from SW Market through Downtown along 10th and 11th to the Pearl District, across the Broadway Bridge and along Broadway/Weidler through the Rose Quarter, then along MLK/Grand south past the Convention Center through the Lloyd District and Central Eastside to OMSI, where it crosses the Tilikum Crossing bridge over to South Waterfront before returning north to Portland State University and SW Market.
Buses
Many of TriMet's
buses
run from Downtown to other parts of the city, though a growing number of crosstown or local routes do not. Nearly all TriMet buses connect with MAX at one or more stations. A number of TriMet buses are designated as providing frequent service, meaning they run at least once every 15 minutes. A full list of bus routes, with the frequent lines clearly marked, can be found
here
.
Aerial Tram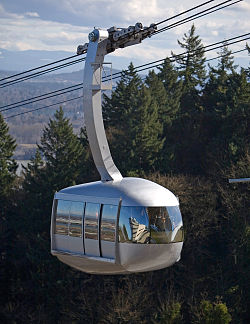 TriMet also runs the
Portland Aerial Tramway
, which connects the South Waterfront to Marquam Hill, where several of Portland's hospitals, including OHSU, are located. A round-trip ticket on the Aerial Tramway costs $5.10. (Fare is checked only westbound, uphill.) TriMet monthly and annual passes are accepted on the Tram, but regular tickets, transfers, and Hop cards are not.
Other public transit systems
Several public transit systems based outside Portland also provide service that partially overlaps with the TriMet service area. See the Get in section of this article (above) for more information.
See
Neighborhoods
Portland has many unique and interesting neighborhoods to explore. One of the most exciting aspects of visiting Portland is constant possibly of discovery. Rather than containing most places of interest to a few busy streets, Portland has food, shopping, parks, and other activities sprinkled all throughout the city. Here are just a few notable neighborhoods:
Downtown Portland is the heart of the city, centered around Pioneer Square and home to modern commercial towers, new condominiums, and converted lofts, along with several museums and urban parks of interest to tourists, including Tom McCall Waterfront Park along the river. To the immediate south of Downtown is the campus of Portland State University and South Waterfront, an urban revitalization area at the southern end of the streetcar line with newly built glass residential towers.
Just to the north of Downtown is Old Town, which is where Portland was first settled and which has some historic buildings and is a nightlife center, but also contains a fair amount of social services for homeless and mentally ill. The neighborhood also holds the remnants of Chinatown which, despite a lovely archway entry at Burnside and 4th Avenue and some Chinese-inspired street decorations, is rather desolate and may prove a disappointment for visitors expecting the bustle of San Francisco's or New York City's Chinatown.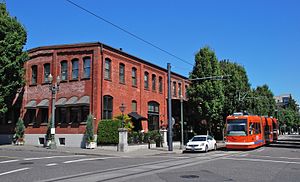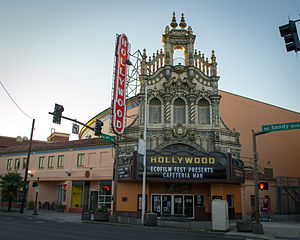 Just to the northwest of Downtown is the Pearl District, a very hip and trendy neighborhood on the streetcar line which was not long ago derelict warehouses and empty industrial space. The economic success of the Pearl has made it a frequently cited urban planning model, and it is an excellent place to hang out and people watch, eat in fine restaurants, and visit the famous Powell's Bookstore. Perhaps the best spot to people watch is Jamison Square, a city park at the heart of the Pearl that includes a popular fountain which fills a pool during the summer months that's popular with little kids. For a slightly more quiet retreat, Tanner Springs Park is just a couple of blocks north and built to resemble a piece of reclaimed wetland, with tall grasses and a nice pond. On the First Thursday of every month, all art galleries in the Pearl district open their doors for casual viewing, and many serve wine and cheese.
To the north of the Pearl, at the northern end of the streetcar line is the Northwest District, also known as Nob Hill and also on the trendy side and with a variety of retail shops, bars, and restaurants along with plenty of lovely Victorians and tree-lined streets. West of this is the West Hills, where the well-to-do of Portland have traditionally lived. Because of the geography, the streets in the West Hills are a bit of a maze, but they still make for an interesting trek; you'll find lavish mansions, ornate public staircases, and good views of Downtown.
Hawthorne Blvd, which runs east-west across the river from Downtown, has a broad selection of shops including a menagerie of vintage goods at the House of Vintage and the ornate Bagdad Theater Pub, and is a center of the counter-culture/bohemian community which is dissipating to make way for a variety of upscale businesses. The nearby Belmont Street is also worth a visit if you are in the neighborhood, with a similar - if smaller - array of shops and attractions.
Located along Broadway and Sandy Blvd northeast of downtown, Hollywood is a commercial district for the nearby neighborhoods and home to the Hollywood Theater, a historic non-profit theater with an ornate facade showing a variety of independent, second run, and classic films as well as original programming and interactive events. There is also a popular Saturday farmers market in the neighborhood during the warm months.
To the north of downtown between MLK Blvd and 30th Avenue, Alberta Street has much the same feel as Hawthorne Blvd; a counter-culture/bohemian community that's becoming popular with yuppies. Alberta is home to Last Thursday, said by many locals to be the alternative to First Thursday in the Pearl District and also featuring wine tasting and gallery openings, along with street vending and performance artists. The Neighborhood between Alberta Street and Broadway is known as Irvington, and contains many historic Craftsman homes.
Other neighborhoods to explore include: St. Johns in North Portland featuring the gorgeous St. Johns Bridge, Mississippi Avenue, quaint Sellwood, Inner Southeast a loosely defined neighborhood where bars and music venues have been cropping up amidst the industrial landscape, Foster-Powell, East Burnside and Stark, Division and Clinton Street, and North Williams.
Do
Portland World Naked Bike RidePortland's annual World Naked Bike Ride, held in early June, has many goals: to increase visibility of cyclists; to promote confidence in the beauty and individuality of the human body; to affirm nudity as a legal form of protest; to emphasize the bicycles's place as a catalyst for change in the future of sustainability, transport, community and recreation; to celebrate the coming summer, bicycles in the urban grid, and the fun of a multi-thousand person bike ride; and to protest the automobile. World Naked Bike Ride is an annual, worldwide bike ride that highlights the vulnerability of cyclists everywhere and decries society's dependence on pollution-based transport.
Music
Portland has a respectable music scene throughout town, with venues holding everything from huge national acts to small underground music groups. Many local pubs and bars offer great local bands on weekends, and the city is developing a national notoriety as the nation's "indie rock capital", with many high (and low) profile independent rock music acts calling the city home. Given its reputation for all that is hip, Portland maintains a fairly diverse range of live music options. Check out one of the two weekly alternative newspapers for comprehensive music listings; the
Portland Mercury
and the
Willamette Week
.
Learn
The
Multnomah County Library
(see "
Connect
" below) hosts language study groups.
Work
Former Oregon Governor Tom McCall (to whom a major riverfront park downtown is dedicated) said in a 1971 speech, somewhat famously, "We want you to visit our State of Excitement often. Come again and again. But for heaven's sake, don't move here to live. Or if you do have to move in to live, don't tell any of your neighbors where you are going."
Since then, the Governor's request has been widely repeated by people who ignore it, then quote it. Around 2009, Portland was one of the hardest cities in which to find work. Underemployment is a rampant problem, and wages tend to be artificially low compared to the cost of living. These forces combine to make Portland a tough job market to navigate. Many Portlanders commute to one of the suburbs such as Hillsboro or Beaverton. You are likely better off moving to one of those cities instead however, unless you like taking overcrowded light-rail trains or sitting in persistent gridlock for 2 hours in the morning. Just ask a local.

Buy
As in the rest of Oregon, there is no general sales tax in Portland; the price you see on the tag is the price you pay. The Portland area in Oregon is, by far, the largest metro area in the U.S. without a sales tax. (Neighboring Vancouver, Washington, has an 8.2% combined state and local sales tax rate.)
Craft and farmers markets
phone: +1 503-241-0032

address: Organization Office at 240 N Broadway

At the markets, farmers, ranchers and nursery growers offer various conventionally and organically grown fruits, vegetables and pre-cut, pre-packaged meats (usually fish, pork or eggs) and live ornamental and food plants for gardening. There are other artisan food producers offering prepared products, ranging from fruit jams to farmstead cheeses, breads and pastries, pickles, pasta, chocolate, and more.
The markets occur once weekly in different neighborhoods from the first week of May or June to the last week of September or November in the following locations:
*Sundays 10AM–2PM at NE 7th & NE Wygant in the King Neighborhood from first weekend in May to the last weekend in November.
*Mondays 10AM–2PM at the downtown Pioneer Courthouse Square on SW 6th & Yamhill from June-Sept.
*Wednesdays 10AM–2PM at Shemanski Park on SW Park & Main in downtown from May to Sept.
*Thursdays 3PM–7PM at SE 20th & Salmon in the Buckman Neighborhood from May to Sept.
*Thursdays 2PM–6PM at NW 19th & Everett in the NW Neighborhood from June to Sept.
*Fridays 3PM–7PM at N McClellan & N Denver from June to Sept.
*Saturdays 9AM–2PM (Nov–Feb) & 8:30AM–2PM (Mar–Oct) at SW Park Ave & Montgomery on the Portland State University (PSU) campus. Only one operating year round.
There are numerous other farmers markets happening during the summer months (some year around), once weekly, in different neighborhoods in the city and in other nearby cities of the greater Portland Metropolitan area. They are sponsored by a different organization from the above. See
this link
for a a list of other Farmers' Markets, not listed above, around the greater Portland Metropolitan area.
Eat
Foodies may find their nirvana in Portland. With its location in one of the most fertile agricultural areas in the nation, an abundance of fresh fruits, vegetables, meat and seafood raised not far from its boundaries, award-winning wines and beers, and a food culture that supports food artisans and emphasizes local, seasonal food served fresh, it's no surprise that the culinary scene in Portland has received national attention. Restaurants and food carts have popped up in large numbers throughout the city, making it quite easy to enjoy a good meal at a reasonable price.
Portland has an amazing selection of
farmers markets
. The PSU Saturday Market offers a wide range of cuisines made from healthy, local ingredients, and is great if you only have time for one. The downtown core has several clusters of
food carts
, with less overhead than the traditional indoor restaurant, you can pick up a delicious meal on the cheap and choose from a variety of foods including Indian, Mexican, Mediterranean, Asian, pastries, and hot dogs. Be sure to see the above "Shopping malls & districts" listings under the "Buy" section as there are many restaurants next to the boutique stores in these shopping districts and malls in a nice urban setting. Many of them are locally owned unique restaurants while others are national or international chain restaurants (Subway, McDonald's/McCafe, Chipotle, Starbucks, KFC, etc.) that may or may not be listed.
Local chains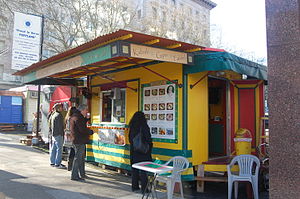 Drink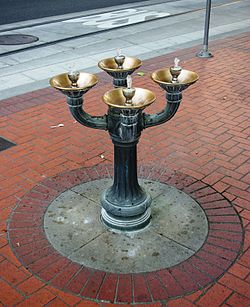 If you're looking for a free drink while walking around downtown, look no further than the iconic
Benson Bubblers
. These are ornate drinking fountains scattered throughout the downtown area, made of copper and in one-bowl and four-bowl variations. Installed by Simon Benson in the 1910s, the fountains continuously run from 6AM to 11PM daily and offer a cool drink perfect for the summer months. Many cities have asked for Benson Bubblers of their own, but the City of Portland has turned them all down, respecting the wishes of Benson and his family. A single exception has been made, however — Portland has gifted one Benson Bubbler to its sister city of
Sapporo
,
Japan
.
Alcohol
Portland is often referred to as "the microbrewery capital of the world", and it's a well-earned title. Take advantage of the Northwest's famous microbrews — small breweries that serve their own (and others') craft beers. They are a world away from the generic beers that are America's mainstay. Portland also has more traditional nightlife drinking establishments, mainly downtown, in Old Town, and in the Pearl. You will find everything from dance clubs, gay bars, and an assortment of karaoke bars. Portland likes its alcohol.
Although a handful of Portland's key gay bars can be found in Downtown and Old Town, they are not restricted to any identifiable gay neighborhood. They are found in diverse locations throughout the city. This reflects the fact that the Portland LGBT community is highly integrated into the city overall, which makes Portland special among cities with a big LGBT community.
Coffee
If your beverage tastes veer more to the caffeinated variety: Like the rest of the Pacific Northwest, Portland also loves coffee. You will, of course, have little trouble finding a Starbucks location in Portland, but the Rose City has also developed its own homegrown coffee culture.
Sleep
There are places to sleep all over the city, though somewhat less of them in the city's northwest. As in much of elsewhere in the world, downtown (here: southwestern Portland) is the place to find upscale accommodation and Eastside you will find many mid-range options. Budget lodging is somewhat scarce, though you might find a couple more places in this price range in neighboring cities in the
Portland Metropolitan Area
.
Stay safe
Portland is one of the safest major cities in the United States by most measure. Most people, including single female travelers, generally will not face problems walking alone at night. However, Portland is still a large metropolitan city — beware of pickpockets in crowded areas and don't forget your common sense entirely.
Due in part to a major shortage of affordable housing throughout the region, the number of people experiencing homelessness in Portland has risen sharply. You may be approached by people asking for food or money while walking in downtown or stopped at a major intersection. Unlike many other major US cities, people panhandling are seldom aggressive, and a simple no will end nearly all encounters.
Whilst jaywalking is illegal, it is still a common thing and occurs quite often around the city. Beware though that if a police officer catches you, you might get a stern warning or even a fine if you persist. Put simply: the roads are for vehicles and the sidewalks are for people.
Portland has recently become the home of violent clashes between antifa/far left extremists and far right extremists. Do stay clear of any political gathering if one happens.

Connect
Two area codes cover the Portland metropolitan area:
503
and
971.
All ten digits must be dialed when dialing local numbers in the Portland area.
phone: +1 503-988-5123

address: 801 SW 10th Ave

Issues one-hour guest passes for Internet terminal use. Numerous branch libraries scattered around Portland. Free wi-fi available to public while the libraries are open. Wi-fi shuts off ten minutes before the libraries close and stays off until the library opens again.

address: (main post office) 715 NW Hoyt

Zip codes for the greater Portland area typically range 97201 through 97266. There are also other zip codes in the surrounding cities making up the greater Portland metropolitan area ranging from 970xx to 971xx as well. There are numerous post office branches in different neighborhoods and at least one (or more) in each adjacent city/municipality serving the other zip codes.
Cope
Newspapers
Portland is the home of two Pulitzer Prize–winning publications and a number of smaller tabloid-format newspapers of note. Due to some heated local politics the town has become a rather thorny place for journalism. Portlanders identify their politics by what paper they read (
The Oregonian
vs.
The Tribune
,
Willamette Week
vs.
The Mercury
).
Most other publications would be of only passing interest to travelers, but to read what locals think and feel, the
Northwest Examiner
,
Portland Observer
,
Skanner
,
St. Johns Sentinel
, and Portland State University's
Vanguard
are some of the better choices.
Consulates
Go next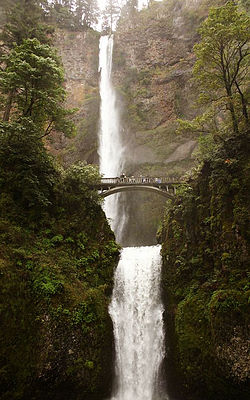 50 mi (80 km) from the Cascade Range and 90 mi (145 km) from the Pacific Ocean, Portland is the perfect home base for day trips to
Mount Hood
,
Mount St. Helens
, the
Columbia River Gorge
, the northern part of the
Oregon Coast
, or the wineries in the
Willamette Valley
. If you intend on staying longer in the
Pacific Northwest
, Portland is fairly centrally located in the region, making it a good home base for nice extended trips to
Seattle
,
Vancouver B.C.
,
Eugene
, and many state and national parks, most of which are within a day's drive.
Multnomah FallsThe waterfall is 620 ft (189 m) high and features a paved trail to the top for those willing to make the trek. The view is worth it. For a scenic drive, travel east 15 miles on Interstate 84 to exit 18, take the Historic Columbia River Highway 9 mi (15 km) to the turnoff for Larch Mountain, go 14 mi (23 km) up East Larch Mountain Road to parking lot, short walk to Sherrard Point for viewpoint, drive back to the highway, then continue about a mile to Crown Point, then 9 miles to Multnomah Falls. There are a number of smaller falls along the way, which freeze in the winter. To get back to Interstate 84 continue east to the next freeway entrance.

Oregon Wine Country25 mi (40 km) or so southwest of Portland lies some of the most scenic vineyards on the west coast. There are over 100 wineries in this area, from small mom and pop operations with tiny one-room tasting areas all the way up to tasting rooms that rival some of Napa's finest. Oregon is particularly famous for its Pinot Noir and Pinot Gris varietals; the climate is considered perfect for these grapes and the area has gained worldwide reknown as one of the premier wine regions on the planet.

Officers Row, Vancouver, WashingtonPearson Field, the oldest continuous operating air field in the U.S., is now a museum with beautifully restored southern houses used by many well known people such as General George Marshall. You can walk for hours from the Officers Row to Pearson Airfield to Fort Vancouver and down to the Columbia River, passing the oldest apple tree in Washington State.