Portobelo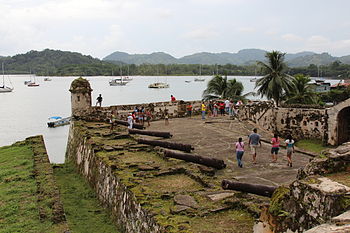 Portobelo
is a port city in
Central Panama
. It is located on the northern part of the Isthmus of Panama.
Understand
Portobelo was founded in 1597 by Spanish explorer Francisco Velarde y Mercado. From the sixteenth to the eighteenth centuries it was an important silver-exporting port in New Granada on the Spanish Main and one of the ports on the route of the Spanish treasure fleets.
The city was also victim of one of Captain Henry Morgan's notorious adventures. In 1668, Morgan led a fleet of privateers and 450 men against Portobelo, which, in spite of its good fortifications, he captured and plundered for 14 days, stripping it of nearly all its wealth. This daring endeavour, although successful, also proved particularly brutal as it involved rape, torture, and murder on a grand scale.
On November 21, 1739, the port was again attacked and captured by a British fleet, commanded this time by Admiral Edward Vernon during the War of Jenkins' Ear. The British victory created an outburst of popular acclaim throughout the British Empire, and many streets and settlements in the British Isles and the Thirteen Colonies were named Portobello such as the Portobello Road in London.
However, the town was quickly recovered by the Spanish and Admiral Vernon suffered a major defeat against the stronghold of Cartagena de Indias in 1741. Vernon was forced to return to England with a decimated fleet and over 18,000 casualties. Despite the Portobelo campaign, British efforts of gaining a foothold in the Spanish Main and disrupting the galleon trade were fruitless. Following the War of Jenkins' Ear, the Spanish switched from large fleets calling at few ports to small fleets trading at a wide variety of ports. They also began to travel around Cape Horn to trade on the West coast.
Today, Portobelo is a sleepy city with a population of fewer than 3,000. It has a deep natural harbor and is home to many cruising yachts. In 1980 the ruins of the fortification, along with nearby Fort San Lorenzo, were declared a
World Heritage Site
.
When Francis Drake died of dysentery in 1596 at sea, he was buried in a lead coffin near Portobelo bay. They're still looking for him. There are two dive centers operating here. It is also a place to book passages on boats to Colombia.
Get in
By car
Visitors could drive from Panama City to Portobelo, taking the Transisthmian highway (Auto Pista) to Sabanitas and then turn right on the road that leads to Portobelo. It takes around one and a half-hour.
By bus
By bus from Panama City Albrooke terminal, take the Colon Express (45 min,
$
3.15) and get off at the Rey supermarket in Sabanitas. There switch to the Portobelo bus (1 hr, $1.30). The Portobelo bus can be caught by the front entrance of the Rey supermarket around the corner.
Buses depart Portobelo every half hour from 4:30AM to 6:00PM making many stops along the way to Sabanitas (Rey Supermarket) (1 hr, $1.30) enroute to Colon (Total 1.5 hr, $1.35). In Sabanitas, cross the highway on the pedestrian bridge and catch the Panama City Express bus (1 hr, $3.15). To guarantee a seat on the Panama bus, continue on to Colon and catch it there (1.5 hr, $3.15).
By boat
There are now over 30 vessels operating the route between Portobelo, San Blas, and Colombia. They vary widely in safety, comfort, and price ($300-550) depending on the boat. A person would be ill advised to book an 180 nm ocean passage on a vessel he hasn't inspected with a captain he hasn't met. The waters between San Blas and Colombia can be challenging at times. Don't depend on second hand information. Vessels depart regularly from Portobelo, Puerto Lindo, and Porvenir. Make an informed decision.
Get around
Portobelo is very small and easy to navigate. There's one road which runs parallel to the water which forks just before the village square. Take the left fork for immigration and Internet cafe, and the right fork for more food places.

See
You can see the sights in Portobelo in an hour. Start at the West end fort ruin. From there head East on the left hand side of the road and you'll see a stair case up to the watch tower with great views of the bay.
On your way to the Eastern side stop off at the Church and Old Customs house.

Do
Tour the forts, Custom House, and museum.
Take a launch to local beaches: Playa Blanca, Playa Frances.
Rent a kayak.
Horseback riding.
Anfibia board: Go anfibia bording and feel what's like to swim free like a dolphin! Check Panamore website to know more about it and contact Francesco to have this awesome experience!
Kayuko: The kayuko is a wooden dugout canoe made by the aborigines. Panamore can organise your kayuko day to either go by the bay, rivers and mangroves or fishing with a local!
Mangroves + Jungle + Beach + Snorkle + Kayak-Kayuko: Contact Francesco for this amazing tour!! +507 6739 1685
Waterfalls
Fishing
Hike the National Park
Black Christ Festival, Oct 19-21.
Congos and Diablos Festival (same time as carnival)

phone: +507 448 2293

Dive company owned and operated by seasoned PADI professionals dedicated to ensuring the safety and enjoyment of every customer and committed to protecting environment.

phone: +507 261 3841

Diving Panama; either snorkeling or with tanks (scuba). Panama offers both, a vivid and colorful submarine world of the Atlantic Ocean, with clear Caribbean waters; also the vast and mysterious Pacific Ocean, with plenty of the great marine species.

phone: +507 6739 1685

You can do lots of different tours with Francesco!! from beaches, mangroves, rivers, kayuko (dugout canoes), waterfalls, jungle, to snorkelling, anfibiaboard, horseback riding, sailboat trips and a mix of all! Give him a call or contact him through whatsapp or email and he'll happily let you know everything there is to do and how to make the best out of Portobelo and surrounding areas!
Eat
Pizza PlaceThis small place does pizza and sandwiches roughly from 1200 until 1930. The food is excellent despite the grumpy staff and slow service. They also do very good real fruit milkshakes (available without milk). Beer is very cheap too.
Drink
There are several bars around Portobelo. Captain Jack's is the most lively and full of backpackers, but also the most expensive at $2 a beer ($1 during Happy Hour, 4-5PM every day and 2-6PM on Sunday), most others have beers from $1.
To make new friends, head to Captain Jack's, if you already have some you'll save some money by starting your own party elsewhere.

Sleep
Hostel Portobelo and Captain Jack's Canopy Bar

phone: +507 448 2009

address: NO 3 Genea

Hostel Portobelo features dormitories, private rooms, bar and restaurant. Located 2 min walk from the center of town. Up the hill with a great view over the bay.

phone: +507-448-2504

Pirates Cove has private rooms. Tiki Bar and restaurant on premises.

phone: +507 2613841

This excellent Resort in Portobelo consists of six cabins and five rooms, all with ocean-view balcony, air condition, hot water, king or queen sized beds. They also have a restaurant with local cuisine prepared with products selected fresh from the sea and farm.
Connect
Jack, in Captain Jacks, is a wealth of local knowledge.
If you're on a boat, or have a VHF radio for some other reason, tune in to The Net on channel 72 at 9AM every morning (Run by Jack) to get in touch with the other boats in the area.

Go next
Buses run from Portobelo to Colon every 20-30 min from 04:30AM until 6PM. They leave from in front of the church, but you can flag them down anywhere along the main road.
A cheap taxi boat service (
langcha
in Spanish) opened in November 2016, running weekly from Portobelo to Capurgana (a village on the Colombian side of the border, where you get a second langcha to the major city named Turbo). The ride is
$160
per person and the langcha is named NATURALSTOUR and is located about 400 meters before the entrance of Porotobelo when arriving from the city of Colon.
Regular boats leave to Cartagenia for around
$300-500
. Captain Jack is selling tours for
$550
. You may all ask your hostel for info.
If you are lucky, you can also find cheapest passage on boats from Portobelo to
Kuna Yala
(around 100 km) for around $70 (specify that you need only the transport, no lunch or other amenities). Ask as always in Captain Jack or in local hostel/tour operator.
Remember that the only other way to reach Kuna Yala is come back to
Panama City
and do another 2,5/3 hr driving on sickness road.