Portsmouth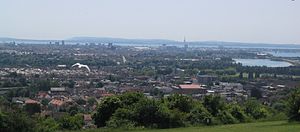 Portsmouth
(pronounced "ports-muth" and nicknamed "Pompey") is a large city in the county of Hampshire, on the
south coast
of
England
. Portsmouth plays a major role in British history, especially naval history. Its rich heritage offers a variety of attractions, including the Historical Dockyard, which houses some of the most historical warships in the world – HMS
Victory
, Lord Nelson's flagship used at the Battle of Trafalgar in 1805, and the
Mary Rose
, a Tudor-era warship. Portsmouth has two cathedrals, including the Romanesque Portsmouth Cathedral, 12 museums, most of which are free, and two theatres. The city offers excellent shopping facilities in the Gunwharf Quays complex, home to a variety of designer stores including Ralph Lauren, Hugo Boss and Barbour, as well as the striking landmark Spinnaker Tower, which offers excellent views of the Solent and City.
Portsmouth is also known for its literary history, as the birthplace of Charles Dickens, the famous Victorian era novelist, and the pioneering engineer Isambard Kingdom Brunel. Other famous figures to have lived here are HG Wells, Arthur Conan Doyle and Rudyard Kipling. The city is well served by three musical venues, The Wedgewood Rooms, Guildhall and Pyramids, which regularly host major musical and comedy acts.
Understand

The majority of the city of Portsmouth lies on Portsea Island, though it is separated from the mainland only by a roughly 30-m wide stretch of sea water, so is perhaps more accurately thought of as a peninsula. Historically, Portsmouth has long been an important naval port and builds on its rich heritage with memorials, museums, trails and the fascinating Historic Dockyard. It has four miles of seafront, including pebbled beaches. It is a university city, home to the University of Portsmouth, and has a large multicultural student population.
Portsmouth has a population of 200,000 people and is the most densely populated city in the UK, outside of certain parts of London. The entire Portsmouth Urban Area is home to more than 442,000 people.

Get in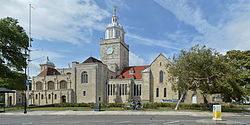 By train
Portsmouth & Southsea station
has
National Rail
trains run frequently from
London Waterloo
and take between 1 hr 30 min and 1 hr 40 min via
Haslemere
. Or about 2 hr 10 min via
Winchester
(you may arrive earlier by taking a later train via Haslemere than going via Winchester). A cheap day single is about £33. Other major services include
Brighton
(1 hr 40 min),
Cardiff
(3 hr 10 min) via
Bath
and
Bristol
; and
Southampton
(1 hour). There are also direct trains from
Gatwick Airport
(1 hr 20 min). Alight at Portsmouth & Southsea station for Portsmouth City Centre shopping, Portsmouth Guildhall and a short walk to the seafront.
Alight at for the Historic Dockyard, Gunwharf Quays, the Spinnaker Tower and ferries to the
Isle of Wight
.
Alight at
Fratton station
for Fratton Park football stadium.
is situated in the north east of the city - it's sited to serve the local industrial estates and most visitors would have no reason to alight here unless they are visiting Portsmouth Rugby Club. Some trains do not stop at this station.
When departing by train those unfamiliar with the stations can easily miss them even when only a few feet away. Portsmouth Harbour is behind the bus station at The Hard. Portsmouth & Southsea is easily found at the bottom of Commercial Road if you look out for the railway bridge just south of the building. Fratton can be found to the east of the road bridge at the bottom of Fratton Road and north of the roundabout between Victoria Road North and Goldsmith Avenue. The less frequented Hilsea Station is underneath the road bridge at Norway Road and Cosham station is on the Cosham High Street.
By car
Portsmouth is easily accessible by car via the M275 via the M27 and A27. From London, take the A3 or M3 south. As Portsmouth is an island city, routes in and out are limited, and so congestion can be a problem, especially during rush hour. The large majority of residential roads have a 20 mph (~32 km/h) speed limit.
Parking is plentiful on street (about £1/hr) and in pay-and-display car parks. The city centre and Gunwharf Quays both have multi-storey car parks, and Southsea has on-street parking. Some roads have a time limit on parking for non-residents and these limits are enforceable 24 hours a day, 7 days a week.
Portsmouth has a Park & Ride scheme allowing parking for a reasonable cost and free bus travel to the city centre and The Hard. The buses run until the early or late evening depending on the day. There is no access for cars from the Park & Ride car parks into the city proper - only buses are permitted to leave the car parks in this direction - this is to avoid residential roads being used as rat runs by cars entering the city.
If you stroll a little away from the city centre and tourist hot spots (sometimes just around the corner in Southsea), parking can be found for free or in time-limited bays.
Motorcycles can park without a residents permit and within the marked bays. Gunwharf Quays also has a dedicated motorcycle bay in the underground car park.
If you're visiting the university, you can obtain day car passes from University House. However, the car parks are very busy during term-time.
By bus
Local bus routes stretch as far afield as Havant and
Southampton
. Day passes can be bought for £3.70 which allow unlimited travel in the Portsmouth City area or £4.80 for the whole of Hampshire.
National Express travels into the Hard (few hundred yards from harbour and historic dockyard) with links to many of the country's major cities.
By boat
Since Portsmouth is the 'Waterfront City', there are numerous options for arriving by boat from near and far.
From France
There are ferry services from four ports in
Normandy
and
Brittany
.
From Spain
There are services from two ports in northern
Spain
(the
Basque Country
and
Cantabria
.
Brittany Ferries, 'cruise style' 2 a week (W: 24 hr, and Su: 32 hr), 'économie' 1 a week (Tu: 28 hr).
From the Channel Islands
There are services from the Channel Islands of Jersey and Guernsey.
Local services
From the Isle of Wight
The
Isle of Wight
is under 60 min by ferry or 10 min by hovercraft.
Wightlink, ever 30 mins, journey time 35 mins
From Gosport
The
Gosport Ferry
runs every 7 min at peak times and every 15 min at other times until midnight for £3.30 return.
From Hayling Island
The
Hayling Ferry
is a foot and cyclist ferry from Ferry Point on
Hayling Island
to Eastney that typically runs hourly for £5.50 return.
By plane
The nearest airport is
Southampton Airport
(
SOU
), around 20 mi (32 km) from Portsmouth in Eastleigh. Over 47 European and domestic destinations are served from here. From the airport it is simple to get to Portsmouth by train, traveling from Southampton Airport Parkway and changing at either Southampton Central or Eastleigh.

Get around
By bus
Several bus companies operate within Portsmouth and the surrounding areas:
Firstgroup
and
Stagecoach
A day travel ticket can be bought for £4.50 for FirstBus only. It is also possible to travel between the harbour and the city centre using the train. It is a compact, flat city however, and nowhere is a very long walk. There are two local minicab companies - City Wide Taxis (90+ vehicles) and Aquacars (700+ vehicles) that can be prebooked and many actual taxis that can be flagged down in the street or found and taxi ranks scattered around the city.
Uber
operates in the city.
At night, if you can find an elevated position you can navigate via the chain of blue lights along the sea-front, to the south.
Here are some of the local names for the areas which may be useful for people visiting
The Hard is the area around Portsmouth Historic Dockyard, Gunwharf Quays and Portsmouth Harbour Train and Bus Stations.
Old Portsmouth/Sallyport/Spice Island, the area around the Anglican Cathedral Square and Round Tower, Camber Dock and along the sea walls.
Southsea, the area next to the sea at the southern end of the island and it stretches further north to include Southsea Town Centre (Palmerston, Elm, Marmion and Albert Roads).
Commercial Road, the city centre, and the main shopping and market street, home of Cascades shopping mall.
Fratton, the area north of Southsea and east of Commercial Road (really useful only if you are attending a football match at Fratton Park or changing trains at Fratton Station)
See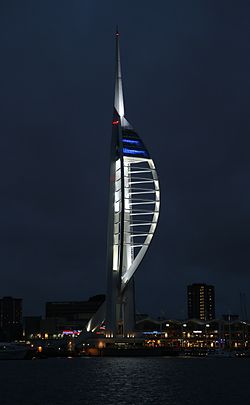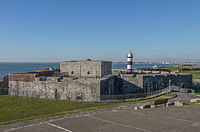 Churches
Museums
Further afield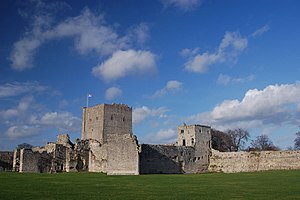 Do
phone: +44 23 9282 8112

address: Southsea, PO5 3AE

Relax on the common with a picnic or barbecue. See this guide for where they are permitted.
Follow the Renaissance Trail around the Millennium Promenade, a self-guided walk with information along the way look for the chain in the pavement.

Clarence PierA small fairground close to the Hoverport with rides and amusement arcades.

address: Southsea, PO5 3NT

Listen to live music here every Sunday in the summer.

address: Fratton Park, Frogmore Rd, PO4 8RA

Portsmouth FC play soccer in League 1, the third tier of English football.

Portsmouth Rugby Football Club

phone: +44 23 9266 0610

address: Norway Road, PO3 5EP

The annual Victorious Music Festival has been running since 2012 with big name acts such as Ray Davies headlining and up to 80,000 people attending.
If you like a bit of
nightlife
, there are four parts of town you should visit;
Gunwharf Quays is a great place to eat and drink (over 20 bars & restaurants, many with waterfront views) but can be a little pricey
Albert Road has a fair few student pubs, wine bars and cafe-bars, not to mention the numerous Indian restaurants.
The lesser-known but nicer area of Southsea is Palmerston Road - some bars and good restaurants.
Guildhall Walk, where you will find bars such as Walkabout, Yates and Wetherspoons, and clubs Route 66 and Babylon. Strictly for 18-30s.
Liquid & Envy is also close to the Guildhall (just across from Portsmouth & Southsea station).
Learn
The University of Portsmouth is a modern university with a population of about 20,000 students. Portsmouth is also home to Highbury College .

Buy
Portsmouth City CentreUsual high street names, but has Miss Selfridge, Topshop, H&M, New Look and Primark next to one another.

Gunwharf QuaysOutlet centre, with shops like M&S, Cadburys, Claire's, GAP. Some of the prices are cheaper than the high streets, but likewise some are similar or more expensive so shopping around is a good idea.

Southsea Town CentreA variety of small specialist shops, boutiques, art shops, delis, home furnishings. Also Debenhams and Knight & Lee.

Albert RoadA good bet for smaller (independent) shops, second-hand goods and antiques.
Eat
Portsmouth has hundreds of restaurants catering to all tastes. Towards Fareham, the
marina Port Solent
offers a variety of restaurants in a pleasant environment with a multiplex movie theatre nearby, and ample (free) onsite parking.
The American Bar

phone: +44 23 9281 1585

address: 58 White Hart Rd

Old Portsmouth. Modern European cuisine. Also great but you can drop a lot of money in this place, which has great service!

Bangkok

phone: +44 23 9242 9922

address: 64 Albert Road

A nice Thai place where you can take your own drink.
Mozzarella Joes, Clarence Esplanade, Southsea, +44 23 9229 5004. A relatively new restaurant right on the pebbles, with the most amazing views of the Solent. Great for a cold glass of wine, stonebaked pizza and pasta.

Regal House

phone: +44 23 9282 8382

address: 88 Albert Road

Chinese takeaway.

phone: +44 23 9275 5944

address: 87 Elm Grove, Southsea

French/modern European. Wonderful wine selection food and atmosphere.

Sur La Mer

phone: +44 23 9287 6678

address: 69 Palmerston Road

French.

phone: +44 23 9281 7278

address: Gunwharf Quays

Italian.
The Tenth Hole Tea Room, (next to mini-golf course), +44 23 9283 0009. Great for light lunch but the highlight is the amazing home-made cakes.
Best places for
curry
:
Portsmouth offers a variety of Indian restaurants thanks to its prominent Asian community. The best places are Albert road where the curries are cheap as there is a restaurant literally every couple of shops, and Palmerston road which is more expensive.
The Bombay Brasserrie

phone: +44 23 9282 1661

address: Albert Road

Very popular curry house that offers very good value for money and that lets you bring your own drinks. Arrive early.
Best Indian takeaway:
The Indian Ocean Takeaway

phone: +44 23 9282 4720

address: 234 Fratton Road

Probably the longest serving curry outlet in Portsmouth, established in the early 1980s by the current owner/chef. The quality of the food is of the highest quality and their curries are also priced very reasonably.
Drink
As to be expected from an historic port town, and a current university city, there is an abundance of drinking establishments in Portsmouth, from traditional pubs to chic and trendy waterfront bars. The bars and clubs along Guildhall Walk are a popular spot but despite heavy police presence, a certain degree of vigilance is advised to ensure you have a fun and safe night out.
Southsea
The Fat Fox, Albert Road. nice relaxed atmosphere, beer garden, traditional English pub menu.
The Wine Vaults, Albert Road. Good cask ales and great atmosphere arrive early if you want a seat.
Hole in the Wall, on or near Castle Road, off Elm Grove. Small pub with a 'traditional' feel, and real ales.
Slug & Lettuce. Friendly and well priced contemporary bar on Palmerston Road.
The Honest Politician, Elm Grove. A pub with pool tables and a relaxed atmosphere, and always a rocking soundtrack.
The White Horse A pub with a relaxed atmosphere along Southsea Terrace.
The Registry. A student pub near the Student Union with fairly cheap beer and food. Not a place for a quiet drink.
The Deco. Friendly rock and alternative, sometimes metal bar.
Gunwharf Quays
phone: +44 23 9283 2333

address: Vernon Buildings, PO1 3TY

A traditional pub in a historic building, within a modern setting. Great ales and food.

phone: +44 23 9288 2244

address: Gunwharf Rd, PO1 3TP

A place for a big night out - with 8 different bars, a club and restaurant in the same building!
Old Portsmouth
phone: +44 23 9282 1567

address: 2 Bath Square, PO1 2JL

A pub with a good view of harbour entrance and restaurant upstairs.

phone: +44 23 9287 0543

address: 1 Bath Square, PO1 2JL

Also has amazing views of the harbour in action and a good restaurant.
Sleep
Accommodation in Portsmouth can be browsed online via the official VisitPortsmouth website and the Visitor Info Centre can make bookings/check availability on your behalf: +44 23 9282 6722.
Bed and Breakfast at No3

phone: +44 23 9234 9929

address: 3 Bellevue Terrace

Within walking distance of local attractions.

Florence House Hotel and Somerset House Hotel

phone: +44 23 9275 1666

address: 2 Malvern Road

The city's only boutique accommodation just back from the seafront, these upmarket hotels are in easy reach of everything.

phone: +44 23 9264 0000

address: Winston Churchill Avenue

Also good, near the Portsmouth & Southsea train station.

Pembroke Park Hotel

phone: +44 23 9229 6817

address: 1 Bellevue Terrace, Southsea

Minutes from the old town and the seafront. Portsmouth and Southsea are within easy walking distance.

phone: +44 23 9282 2466

A must for Mr. Bean fans - this was where the episode "Mr. Bean in Room 426" was set. (Whatever you do, don't eat tainted oysters or lock yourself out of your room!)

phone: +44 23 9287 6156

With views over the seafront common the excellent location offers great views at cheap rates. If you're on a budget and need a clean and comfortable room, look no further.

phone: +44 23 9283 2495

address: 4 Florence Rd

In Southsea. Not easy to get to but is cheap and friendly.

Spitbank FortThe lighthouse has been refurbished and has accommodation.

Holiday Inn Express Portsmouth - Gunwharf Quays

phone: +44 23 9289 4240

address: The Plaza, Gunwharf Quays

phone: +44 23 9282 6971

address: 65 Festing Rd, Southsea

Privately owned, it has been stylishly redesigned to ensure comfort and enjoyment. It aims to be the best 3 star hotel in Portsmouth, offering warm hospitality, fine food and accommodation at prices that represent value for money.

phone: 0871 984 6208 (high cost)

address: Kingston Crescent, North End

The Portsmouth hotel is within easy reach of the Continental ferry port and the Isle of Wight ferry. Conveniently located very close to the centre of this historic naval city, with the thriving shopping and leisure centre and Gunwharf Quays all nearby.

phone: 0871 559 1841 (high cost)

address: Copnor Road, Hilsea

The Portsmouth Hilsea hotel is a great base for fitness fanatics with Hillsea Lido, the rugby club and fitness centres within jogging distance. There's also a great running track along the water.
Stay safe
As with most other large English cities, there can be a problem with violence around the city centre at weekends, around pub and club closing times (around 11PM and 2AM), but with a little common sense, the risk is minor.
The main place to avoid is Somerstown, the highrise council estate near the city centre, especially after dark. Buckland situated to the north of the city centre should also be avoided at night.
Nothing should be left on display in vehicles and it's sensible to park your car in a Park Marque scheme facility (ask at the Visitor Info Centre +44 23 9282 6722).
Due to football rivalry, wearing a Southampton football top may cause some problems in the city. In fact, anything with red and white vertical stripes (Southampton's colours) is probably a bad idea.

Go next