Porvoo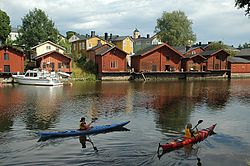 Porvoo
(Swedish:
Borgå
) is a scenic small town 50 kilometers east of
Helsinki
,
Finland
. One of the most popular day trips from Helsinki, its picturesque city center of wooden houses is a proposed
UNESCO World Heritage Site
.
Understand
Finland's second oldest city (after
Turku
), Porvoo has been around since the 13th century, although most of the present buildings date to the 19th century. In 1809, the Finnish members of the Swedish parliament assembled at the Diet of Porvoo to affirm the country's conquest by Russia.
Today, tourists flock to pad about the cobbled narrow lanes of Old Porvoo (
Vanha Porvoo
), which has survived the sprawl of the modern city around it remarkably intact. The place is particularly popular in summer.
Get in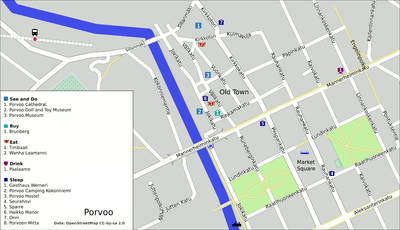 By bus
There are buses from
Helsinki
's Central Bus Station to Porvoo every 15-30 minutes. Standard/express services cost €10.30/13.20 one-way and take 55/65 minutes, so the surcharge is hardly worth it — the expresses just stop in Porvoo on their way to points further east.
By train
There is no regular passenger train service to Porvoo, but the
Porvoo Museum Railways
run a vintage 1955
Lättähattu
("Flat Hat") Dm7 from Kerava to Porvoo and back on Saturdays in July/August only. The trip takes 1.5 hours and costs €15/25 one-way return for adults, half price for children, no reservations, cash only. As of 2009, the train leaves Kerava at 12:10 and sets off back from Porvoo at 4:00 PM. Kerava, in turn, can be reached in 20 min by regular commuter train from Helsinki's Central Railway Station.
By boat
M/S J.L. Runeberg
cruises from Helsinki to Porvoo between May and September three to five times a week, departing at 10 AM and returning at 4 PM. The trip takes 3.5 hours one way and costs €25.00/36.00 one-way/return, half price for children. On Saturdays in the summer, you can also opt to take the boat one way and the train back. The boat leaves from Linnalaituri on Helsinki's Market Square, opposite the President's palace.
By car
Porvoo is easily accessed via the E18 expressway east from Helsinki towards
Kotka
and the Russian border. The other option is the old Porvoo road, Highway 170, but it's considerably slower and not particularly scenic.
By bicycle
Bike fans may want to consider pedalling the 78 km along the scenic
King's Road
from Helsinki to Porvoo, or 50 km along the more direct Highway 170 (part of EuroVelo route 10).
Get around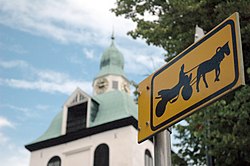 Porvoo is best explored on foot: the pedestrianized Old Town is compact and all main attractions can be easily reached from the bus, ferry or train stations. Parents will, however, probably want to leave the baby carriage at home: the Old Town's streets are cobblestone and often hilly.
Information about local buses can be found
here
. You can use
route planner
to seek local bus routes between given locations and addresses.
There used to be horse and carriage service, but it was shut down in 2010 due to financial problems. The Museum Railways also operate occasional steam train excursions.
Since the summer 2019, there is a
bike sharing system
with 20 stations. Bikes can be rented with the Donkey Republic –app. Fare €1,50/30 min, €5/4 h, €12/one day, €20/2 days. Year round function is being considered.
See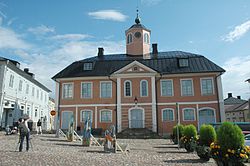 The town is famed for its many wooden buildings, picturesquely perched by the Porvoo River (Finnish
Porvoonjoki
, Swedish
Borgå å
). These are concentrated in the old city (Fin:
Vanha Porvoo
, Swedish
Borgå
), a few hundred meters northwest of the modern city centre, and on a fine summer day a stroll around them is very delightful indeed. For the best view of the iconic red warehouses, cross the river and walk along the park on the other side.
Do
Kayaking and canoeing
on the Porvoo River and in the nearby island is a popular summer pastime. It's even possible to make your way down all the way from
Lahti
, 90 km away. The stream is gentle and it's quite suitable for beginners, but don't venture out into the ocean unless you know what you're doing.
Tove Jansson
had her summer cottage in the Porvoo archipelago, first on Pellinge, later in the outer archipelago:
KlovharunTove Jansson, famous for her Moomin books, lived her summers with Tuulikki Pietilä on this rock in the outer archipelago (with a tiny cottage by famous architects Reima and Raili Pietilä) for 25 years. The island is open for visitors on their own boats and for guided tours one week each summer (landing not possible in rough weather, overnighting not allowed). The guided tours include 2x30m min travel from Pellinge and 45 min on land, and are arranged twice daily for 6–8 persons per tour, with reservations at least 14 days in advance. The rest of the year it is rented for one week at the time, based on applications. The terrain is rough. Pets are not allowed.
Festivals
Buy
In the old part of Porvoo there are lots of lovely little shops where you can buy anything from dollhouses to hand made jewelry. Many are, however, open only in the summer.
Brunberg

phone: +358 19-5484235

address: Välikatu 4

One of Finland's most famous confectioners, this family-run business was founded in 1871 and is best known for their Pusu ("Kisses"), or giant puffs of flavored whipped cream encased in a thin chocolate shell. (Until recently, they were known somewhat politically incorrectly as "Negro Kisses".) Brunberg's liquorice (lakritsi) is another local favorite, and don't miss the chocolate truffles either. Most products are made at a factory on the outskirts of town (Teollisuustie 19 B, Mon-Fri 09:00-17:00, Sat 09:00-15:00), but their always-crowded Old Town shop is considerably more convenient.
Eat
phone: +358 19 523-1020

address: Välikatu 8

Famous restaurant that specializes in a rather un-Finnish delicacy, namely snails. Snails from €10 per half dozen, mains (not all of which involve snails) from €20. Lovely indoor terrace in summer.

phone: +358 20-752-8355

address: Vuorikatu 17

Classy restaurant in a building dating back to 1790, now serving up modern fare with a Finnish twist: try the deer carpaccio or tar-flavored salmon.

phone: +358 19 523-2800

address: Piispankatu 30

A lunch restaurant, cafe and bakery with a good location in the center of Porvoo near both the Porvoo River and the oldtown. Also catering service, many different kind of cakes and different menus to order.
Drink
Cafe Fanny

address: Välikatu 13

Pleasant cafe right on the old market square in the heart of old town, with indoor and outdoor seating. The homemade cakes are excellent.

Porvoo Coffee Roastery

phone: +358 19 617-040

address: Mannerheiminkatu 2, 06100 Porvoo

Licensed bar and café in a converted brick warehouse by the river. Riverside and floating terrace tables available.
Sleep
Budget
phone: +358 400-494-876

address: Adlercreutzinkatu 29

Basic guesthouse, 400m from the bus station. No breakfast, but free use of kitchen facilities.

phone: +358 19 581-967

address: Uddaksentie 17

Camping and caravan ground plus 10 cabins for up to four people. Showers, sauna, kiosk, BBQ shelter, playground. Open June-August only.

phone: +358 19 523-0012

address: Linnankoskenkatu 1

HI-affiliated hostel in a Porvoo-style red wooden building. 33 beds in 10 rooms.
Mid-range
phone: +358 19 547-61

address: Rauhankatu 27

Has a popular restaurant.

phone: +358 19 584-455

address: Piispankatu 34

Pleasant, centrally located business hotel. Breakfast and sauna (weekdays only) included.
Splurge
The measure of Porvoo
According to legend, the bailiff of Porvoo used a standard-sized measure to collect taxes of wheat or vodka from its citizens, but a specially altered box with a false bottom for passing them on to the Crown. He pocketed the difference and lived lavishly, and to this day the expression
Porvoon mitta
(lit. "the measure of Porvoo") lives on in Finnish to describe a generous or plentiful supply.
phone: +358 19 576-01

address: Haikkoontie 114

Old feudal manor turned luxury spa and hotel by the seaside, popular with Finnish honeymooners. Features a Japanese-style Yorokobi bath section.

Onni

address: Kirkkotori 3

The name means "happiness", and this charming small hotel in the heart of old Porvoo (the building was built in 1840) was boutique before they invented the word. Four rooms decorated in various retro styles from Functional (as in the 1920s architectural movement) to Manor. Breakfast included.

phone: +358 19-580131

address: Jokikatu 43

Another quirky small hotel in the heart of Old Porvoo. Ten rooms named and individually decorated after merchants and artisans who once worked in the building, ranging from tar merchants to glass blowers.
Go next