Potomac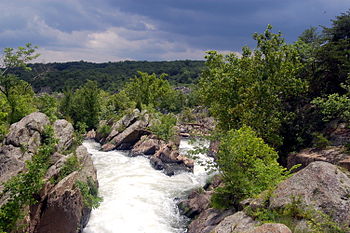 Potomac
is an unincorporated district in
Montgomery County
,
Maryland
and a suburb of
Washington DC
.
Understand
According the U.S. Census Bureau, Potomac has a population of 44,965 and a median household income of $181,385, one of the highest median incomes in the United States.
The area got its name in 1881 and was named after the nearby Potomac River. European settlements date back to 1714, when Lord Baltimore granted to Edward Offutt most of the land comprising Potomac.

Get in
By car
The principal routes leading northwest into Potomac from D.C. are
River Rd
and the
Clara Barton Pkwy
(which runs parallel to the smaller MacArthur Blvd). From
Bethesda
, take either River Rd or
Democracy Blvd
(from Old Georgetown Rd). From
Rockville
, the main route is MD-189
Great Falls Rd
. From Virginia, bridges across the Potomac River are very few—you will almost certainly need to take the
Beltway
to the Clara Barton Pkwy, River Rd, or Democracy Blvd exits (for Democracy Blvd, head towards I-270 instead of continuing on I-495 at the split).
By bus
Potomac is not very public transport-friendly, but there are a couple bus routes worth noting:
Metrobus #T2 runs every half hour throughout the day along River Rd and Falls Rd between the Friendship Heights and Rockville Metro stations.
Ride on Bus #29 goes from the Bethesda and Friendship Heights Metro stations to Glen Echo Park (see below).
Get around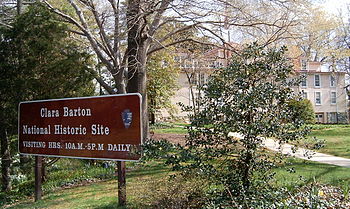 The region, like many American suburbs, is highly dependent on the car, with the infrastructure (and lack of infrastructure) to match.
See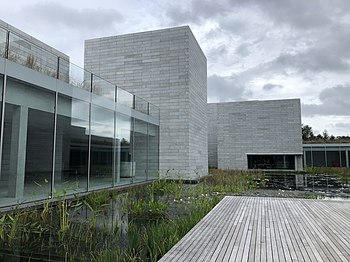 Clara Barton National Historic Site

phone: +1 301 320-1410

address: 5801 Oxford Rd

See where Clara Barton, founder of the American Red Cross, lived the last 15 years of her life.

phone: +1 301 983-5001

address: 12002 Glen Rd

A beautiful contemporary art museum and expansive sculpture garden with many large-scale works, owned by local billionaire Mitchell Rales. Worth going for the architecture and landscaping alone. Ages 12+ only. Reservations are required, although if you just show up, they'll try to let you in if there's room.

phone: +1 301 767-3714

address: 11710 MacArthur Blvd

The most dramatic section of the C&O Canal National Park on the Potomac River is at Great Falls, a series of cascading falls dropping 76 feet over two-thirds of a mile. A footbridge leads out from the canal trail to an island in the middle of the river, where you'll learn to appreciate why it was necessary to build a canal instead of simply navigating the river! This is a fantastic place for a hike or picnic. The visitor center is in a hotel dating from 1831, which served nineteenth century admirers of these same vistas. During the warm months, W-Su, you can take a ride through the locks of the canal from the tavern on a historic mule-pulled boat! The ride costs $5/person, and be sure to call ahead to make sure it is in operation on the day of your visit.
Do
Glen Echo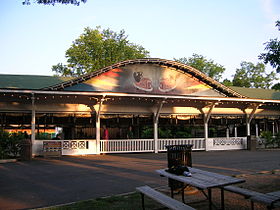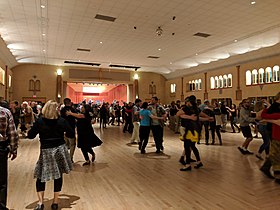 Glen Echo
is a small town founded in 1889 next to Potomac.
Glen Echo Park
was an operating amusement park from 1899 until 1960. In 1971, it was salvaged by the National Park Service and converted into an arts and educational center.
Concerts, art exhibits, dramatic performances, puppet shows, ballroom dancing in the historic
Spanish Ballroom
, and a whole host of educational programs (mostly related to the arts) are in full force throughout the summer, when you can also avail yourself of the still-operating, 1921 antique
dentzel carousel
($1.25 per ride). The contra dances held there on Friday nights are very beginner-friendly, featuring a free lesson at the start of the evening and live music.
The Spanish Ballroom Cafe is open from the beginning of March through the end of October.
Praline
is a bakery on the premises.
To get here
by car
, take the Clara Barton/Cabin John Pkwy exit west from the Beltway. Go 2.5 miles and take the MacArthur Blvd/Glen Echo exit (this is a left exit). Turn left onto MacArthur Blvd. For the park, go two blocks to Oxford Rd (just past the Glen Echo shopping center) and turn left into the parking lot.
Ride On Bus #29
runs a route every half hour between the Bethesda and Friendship Heights metro stations, with a stop in Glen Echo, running roughly every half hour M-Sa. On sundays, the bus runs only between Friendship Heights Metro and Glen Echo, with no stop in Bethesda.
Eat
phone: +1 301 983-8838

address: 10710 Falls Rd

An upscale French restaurant, which, oddly enough, specializes in simple, scrumptious popovers! It is a large restaurant in an odd spot among Potomac's suburban mansions, with a French countryside styled interior. While a fine choice for dinner (especially given the excellent wine selection), the Sunday brunch buffet ($28) and afternoon teas ($20) are extremely popular, and generally require reservations. The restaurant is often booked for banquets and events, so it is good to call in advance anyway. Afternoon tea every first and third Wednesday of the month. Full bar.

Renato Restaurant

phone: +1 301 365-1900

address: 10120 River Rd

Unpretentious strip-mall Italian dining at its best. The prices are deceptively low for the quality of food, with lunch being a real bargain. Specializes in fresh fish, although most all the appetizers as well as the pizza remain local favorites. Patio seating. Make reservations.
Drink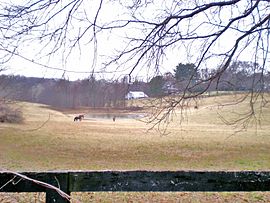 Sleep
phone: +1 301 983-7000

address: 9600 Newbridge Dr

A very large three building hotel and event/conference center on a quiet, park-like 23 acres with walking/running trails. The catered food draws more or less universal rave reviews from visitors, so bring an appetite, and expect to gain weight. Be forewarned that the rooms, while nice, are quite small and that there isn't much of anything nearby—this hotel caters to business conferences, weddings, etc., rather than to casual travelers.