Potosí
Potosí
, at around 4,000 metres, is one of the world's highest large cities. It is located in the
Potosí Department
of
Bolivia
.
Understand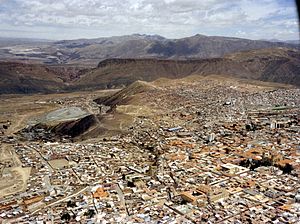 Potosí was founded in 1546 after the discovery of the rich silver deposits in the
Cerro Rico
. It soon became one of the wealthiest and largest cites in the Americas. The mines of the Cerro Rico are the richest mines in all of world history and may have produced 60,000 tons of silver. The name Potosí was adopted by San Luis de Potosí in Mexico to reflect their hopes for equal riches. It is reputed that at one time mules were shoed with silver due to the difficulty of getting supplies of iron to the city. Some of this wealth was used to build magnificent baroque churches (UNESCO listed sites) and monasteries. Hundreds of thousands of indigenous labourers and African slaves perished in mines in the three centuries of colonial rule. The miners were often below ground for weeks at a time. In 1800 the silver mines were depleted and tin became the major ore mined. Recently they are mining rare earths. All of this has led to a slow economic decline.
The wealthy history of Potosí is still reflected in the narrow streets, colonial mansions and the many churches, which make the city a
UNESCO World Heritage site
.
Get in
By bus
There are 2 bus terminals in Potosí:
Old terminal

address: Av. Universitaria

Uyuni bound buses and shared taxi to Sucre leave from here.

New terminalMost long distance buses leave from there, as buses to Sucre.
From specific destinations:
By van/servis
Collective cabs that travel slightly quicker but more expensive than the buses can also be arranged to Sucre (Bs. 35-50, 2½-3 hr) and Oruru (Bs. 120). These leave when full and are a godsend during bus strikes. You may buy additional seats for more comfort or faster departures.
By taxi
From Sucre it is worth hiring a cab for 2 or more people as the trip is faster and more comfortable than one on a collective cab or a bus, and the cab leaves at your schedule.
By plane
If arriving at Sucre airport, there are shared taxis that depart from the airport. Upon exiting the airport, look to your right and there is a taxi rank. The cost is Bs. 50 per person (as of Nov. 2014) or if you wish to hire the entire taxi (expreso) the cost is Bs. 200. The taxi will usually drop you off in Potosí's main plaza.
To return, taxis leave from the "ex-terminal". If you wish to return to the airport, you should negotiate with the driver, it will be between Bs. 40-50 pp.
Get around

Taxis are generally cheap and plentiful around Potosí. However, always check the price with the driver. Some charge per person which could get you into arguments when it comes time to pay.
Bus from Centro area to Main bus Terminal costs 1Bs.
Taxis from main bus terminal between 3-5bs depending on your bargaining skills and the time of day.

See
Casa Nacional de MonedaCl. Ayacocha s/n, is de former royal mint of Spain, which now houses one of the best museums in South America. A visit is by guided tour (English and French if there is enough demand) which takes about 2 hr. The museum has a collection of religious art, contempary art, local minerals, and well-preserved artifacts covering several hundred years of technologies from it's time as the mint.

Convento de Santa Teresa

address: Calle Chichas

Tours (in Spanish only) give a good explanation of the life and work of the Carmelite nuns and their monastery. Very little flagellation (LP).

Torre de la Compañia de Jesus

address: Calle Ayaucho

Nice views of the surroundings from above.

Cathedral Basilica of Our Lady of Peace
Do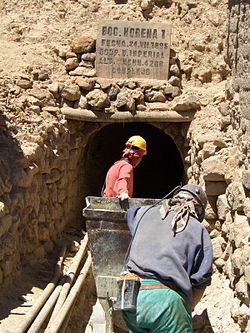 Mining tourA visit to Potosí cannot be mentioned without a visit to one of the cooperative mines. It is a kind of poverty tourism that many tourists are eager to embrace. It's a shocking experience as the methods of working haven't changed much since the colonial times. Working conditions are terrible: most miners die of silicosis in their forties. Still, many people don't have another choice and around 10,000 people work in the mines. A tour starts with a visit to the miners' market to buy gifts for the miners like coca leaves, drinks, cigarettes or dynamite. You will then visit an ore refinery plant where the miners sell whatever deposits they manage to collect. Then you head to the mines, where a typical visit will have you walking and crawling through it for about 2~3 hr. You can talk, take photographs and share your gifts with the miners.
Taking a tour of one of the cooperative mines is still a good way to get a sense of the social price paid for the mineral wealth of the few. The dust is supposed to contain silicon that leads to silicosis (wear a disposable mask!) among the miners. Water dropping from the walls and ceiling is said to contain arsenic and cyanide. You can see asbestos fibers in the rock walls. Many of the mine props are snapped and on my tour in 2003 there was a minor ceiling cave-in that forced us to wait a bit before being able to exit the mine. One very interesting aspect of the mine was the little side chamber near the entrance to the mine that contained a statue of "El Tio," a diabolic figure that the miners make offerings to. They say that God may rule aboveground, but that El Tio is in charge down below.
Btw. they don't do explosions just for tourists, but for the sake of the mine. People with claustrophobic tendencies, be wary, Silver Mine Tours 28/01/10, takes you deep into the guts of this rabbit warren of a mine. It seems the safety aspect is very low, actually totally missing.
Eat
The cheapest meals can be found in the Mercado Central.

Sky Room

phone: +591 622 0138

address: Calle Bolivar 701, 3rd floor

Nice view of Cerro Rico
Doña Eugenia, Corner of Ortega and Santa Cruz (near the cemetery), to try the famous Kalapurka soup (spicy soup served hot with a volcanic rock). It is a Potosí institution. Take a cab.
Sumaj Orcko, Cl. Cobija 34, serves big plates (Bs. 30-35), also a good place for lunch (Bs. 15).
Chifa Rosa, Cl. Cobija 38, cheap but not special chinese food.
Pasteleria Cherrys, Padillo 8, for pastels and breakfast.

Tenedor de Plata

address: Cnr Tarija & Linares

Upmarket restaurant with great food at reasonable prices, start with the great house salad for 12B
Drink
Cine de Universidad, Bolivar 893, for Hollywood movies. Spanish only.
Sleep
Hostal MoreClean with shared bathroom and great views. Has rooms for up to 4 people.

Koala Den

phone: +591 2 6226467

address: Junín 56

Has heating in the rooms! Book exchange, fast Internet with Wi-Fi. Dorm bed with excellent breakfast including eggs and fruit! Bs. 60-70 (dorm with 6-8 beds). Also doubles and triples. Has highly recommended tours of the silver mines even though they are a bit more expensive than other tour companies. Has a great view of the mountain from the rooftop, be careful when climbing the water tank though.
Residencial Felcar, Av Serrudo esq. Bustillos 345, (02)6224966. Another favorite spot by travellers. It has a nice, sunny patio and hot showers 08:00-22:00. Some of the singles are tiny. Single ... Bs. 25.
Hotel Jerusalem with beautiful views over Potosí from breakfast room and from roof top.

Carlos Hostal V

phone: +591 2 6231010

address: Calle Linares No 42

Here is a great new hostel in the heart of Centro Potosí. Great beds, fast wifi, warm showers, and a great lounging area.

phone: +591 72888044

address: Mosoj Llajta

An architecturally unique hotel situated above the Yotala valley, surrounded by 360 degree panoramic views of the mountains.
Stay safe
Potosí is relatively safe. But, like most other places in Bolivia it is advised not to walk alone at night outside the main Plaza.

Go next