Potsdam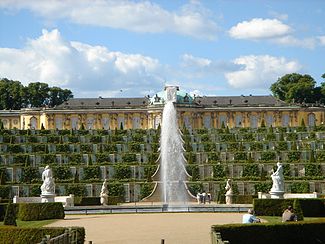 Potsdam
is the capital of
Brandenburg
and borders
Berlin
. The town has a population of approx. 175,000. It is widely known for its castles and landscape as a
World Heritage Site
. Potsdam is more than 1000 years old. Many historic buildings are under re-construction after World War II and the period of the GDR.
Understand
Located about 30 km southwest of the capital, Potsdam was used as a residence for the kings of
Prussia
when they wanted to get away from the big-city trouble (and potential rabble-rousers) in Berlin, and in a way it still has a similar function, as many well-to-do people from Berlin have either moved here or have bought a second residence here since reunification in 1990. Potsdam also serves as the capital of the
Bundesland
of Brandenburg, after an attempt to reunite Berlin and Brandenburg in a single Bundesland failed in the early 1990s.
During last days of World War II, following the surrender of the Nazis, the Potsdam Conference was held here from 17 July to 2 August 1945, where
British
prime minister Clement Attlee,
American
president Harry Truman and
Soviet
leader Joseph Stalin met to discuss the administration of occupied Germany. Potsdam was chosen due to being close to Berlin, but still offering a relatively undestroyed representative building that could host major world leaders for a conference.
For most of its recent history Potsdam has not been accessible from the former West Berlin. The last station before the former GDR was Wannsee. Many of the buildings that are visible today have been reconstructed after the bombings of the Second World War and after the lax care of the East German Government. The city as we see it today is the work of five architects (After the Great Elector said:
"Das ganze Eyland muß ein Paradies werden"
): Peter Joseph Lenné, Georg Wenzeslaus von Knobelsdorff, Carl Phillipp Christian von Gontard, Karl Friedrich Schinkel and Friedrich Ludwig Persius, and of course King Frederick the Great and Emperor Wilhelm II.
Most attractions in the city are
UNESCO World Heritage
sites: Sanssouci Park and the Crown estate of Bornstedt, The New Garden (including the Pfingstberg and the Russian colony of Alxandrowka), Babelsberg Park and Sacrow Park.
The suburb Babelsberg is home to the
Media City Babelsberg
(
Medienstadt Babelsberg
), an area joining movie and media people together. The film studio Babelsberg, the Konrad Wolf Film University of Babelsberg and other schools, radio and TV stations, a museum and an archive, an amusement park and much more is located there. Babelsberg was one of the first large scale studio complexes in the world and movies produced here enjoyed an excellent reputation until the Nazi era and World War II destroyed much of Germany's cultural output and potential. Today the Berlin area is competing with the Cologne region for the top spot in the German media landscape.
Get in
By suburban rail
Potsdam is in the Berlin metropolitan area and served by both inner and outer suburban trains, called S-Bahn and RegionalExpress (RE) trains respectively. Several lines serve Potsdam,
but not the same parts
. Almost all trains that go from Berlin to Potsdam can be used with an ABC or BC zone ticket for Berlin.
For central Potsdam, you should travel to
Potsdam Hauptbahnhof
, which is the terminus for S-Bahn S7 and also served by Regionalexpress RE1 towards Brandenburg or Magdeburg. From the most centrally located station, Berlin Friedrichstraße, it takes 47 min to Potsdam Hbf by S1 (40 min: S7+S1) and 28 min by RE1, the latter making limited stops in inner areas.
For the Schloss Sanssouci, Park Sanssouci and Krongut Bornstedt, you should take an RE1 train direction Brandenburg (
not
Magdeburg) and get off at Charlottenhof, the station following Potsdam Hbf. From there the mentioned attractions are 10 minutes away on foot.
For Babelsberg, you should take the S-Bahn S7 to Babelsberg, the station preceding Potsdam Hbf.
For the Medienstadt (film studios), you should take an RE7 train direction Bad Belzig or Dessau and get off at Medienstadt Babelsberg.
Your ticket must be valid for at least Berlin zones BC in order to travel to Potsdam; however, tickets and travelcards valid for the entire metropolitan area are of course also valid. For more information on this, visit the
local transport website of the Berlin metropolitan area
.
By bus
While Berlin has had intercity bus service even before the deregulation of
the market
the fact that buses can't sell tickets for trips shorter than 50 km makes Potsdam somewhat underserved. There are several stops in Berlin however and ZOB (the central bus station) is served by the S-Bahn
By car
By plane
Berlin
has two airports which are not far away from Potsdam. From Tegel (
TXL
) bus X9 connects to Jungfernheide S-Bahn station, from where you can take S42 to Westkreuz and then S7 and S1 to Potsdam (for passengers to Charlottendorf or Medienstadt RE trains connect to the S7 at Wannsee).
From Schönefeld (SXF), suburban train line RB22 connects to Potsdam Hbf (and also stops at Potsdam Charlottenhof). For going to Babelsberg you should change to S-Bahn S7 at Potsdam Hbf.

Get around
By tram and bus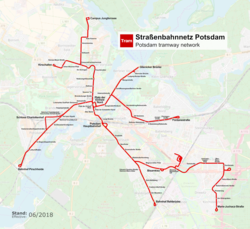 The tram and bus system in Potsdam is very modern and overall excellent though confusing. Potsdam is (together with Berlin and the rest of Brandenburg) part of the
VBB transportation network
. That enables you to change trams and buses pretty much at will, as long as your ticket is valid for the zone you're in. The inner city of Potsdam is in Zone A, the outer parts are in Zone B, and the hinterland is Zone C.
Potsdam itself lies in Berlin's Zone C, so if you have a ticket for Berlin ABC or Berlin BC, you can use public transport in Potsdam with it as well. Don't confuse Potsdam's zones with Berlin's zones.
Tickets can be bought at ticket machines in every tram and bus. Unfortunately they're of no big help when it comes to choosing the right ticket, and furthermore they only accept coins and rechargeable "Geldkarten", but no bills. It's best to get detailed information about prices and zones at Potsdam's central station or on the
VBB website
.
The transport, although confusing at first, is pretty logically laid out - each tourist attraction has its own bus / tram stop (with the appropriate name) and the staff of the VBB are extremely helpful, although language barriers can exist.
For tourists there are five main lines in and around Potsdam:
Schlösser-Linie (Palaces Line): Bus No 695 from Potsdam Hauptbahnhof - Bahnhof Pirschheide. With stops for: The Historic Steam Engine House, Sanssouci Palace and Park, The Orangery, the Dragon House, the Belvedere, The New Palace and a path to the Charlottenhof Park.
Krongut-Linie (Crown Estate Line): Tram No 92 from Potsdam Hauptbahnhof - Bornstedt Kirschallee. With stops for: The Dutch Quarter, The Russian Colony (Alexandrowka), the Pfingstberg, the Potsdam Biosphere and the Volkspark.
Tropen-Linie (Tropics Line): From Potsdam Hauptbahnhof - Viereckremise. With stops for: The Historic City Centre, the Russian Colony (Alexandrowka),the Pfingstberg, the Potsdam Biosphere and the Volkspark.
Cecilienhof-Linie (Cecilienhof Line): From Potsdam Hauptbahnhof take Tram Nos 90/92 to Reiterweg / Alleestraße, then Bus No 692 - Höhenstraße. With stops for: The Russian colony (Alexandrowka), the New Garden, the Marble Palace, Celcilienhof Palace and the Pfingstberg.
Filmstadt-Linie (Film City Line): From Potsdam Hauptbahnhof - Stern-Center / Gerlachstraße. With stops for: Babelsberg palace and park, Flatow Tower, the Arcaded Court House, the Neubabelsberg Villa Colony, Babelsberg Media City and the Film Park.
See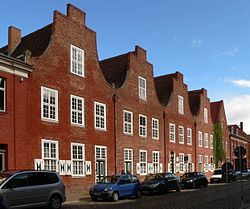 Most palaces are managed by the Prussian Palaces and Gardens Foundation Berlin-Brandenburg,
SPSG
. They offer a combined ticket (
sanssouci+ Ticket
) giving you access to most of their palaces in Potsdam on one day. The price for adults is €19 and for concessions €14.
Holländisches ViertelRight in the middle of Potsdam are the "Dutch Quarters", built in the 18th century by Dutch master builder Johann Boumann to attract other Dutch artisans. The quarters consist of 134 red brick houses, divided into four blocks. The history of the Dutch Quarters can be seen in the Jan Bouman house in Mittelstraße 8.

Alter MarktThe old market is the historic city center, the Stadtschloss (city castle) is under re-construction. You can visit the Nikolaikirche there.

New MarketThe new market is an original preserved market square from the 18th century.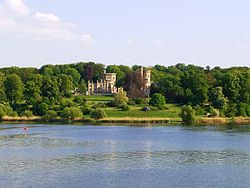 Park BabelsbergA beautiful park with a gothic-style castle. It is also part of the World Heritage site. One part of the university is placed here, so expect some students.

address: Ribbeckstraße 6/7

An architectural complex in Italian style with a palace and a garden.
Sanssouci
Nauener Vorstadt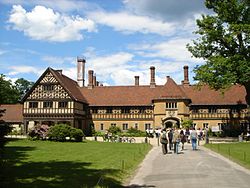 Museums

Potsdam has several interesting museums to offer.
Haus der Brandenburgisch-Preußischen Geschichte

phone: +49 331 6208550

address: Am Neuen Markt 9

A museum about Prussia's history.

phone: +49 331 2896707

address: Breite Straße 13

phone: +49 331 2718112

address: Breite Straße 1A

Exhibitions about cinema history in Potsdam and movie theatre.

phone: +49 331 2896808

address: Am Alten Markt 9

Altes RathausChanging exhibitions at the old town hall.

Glienicke BridgeIt is a bridge between Berlin and Potsdam which spans the Havel River to connect the cities of Potsdam and Berlin near Klein Glienicke. It was completed in 1907. The bridge was used to exchange spies.
Nearby
Do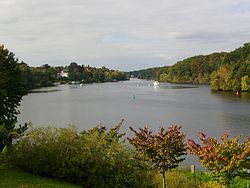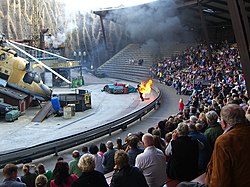 CyclingTake a cycling tour of the city.

Climb the Babelsberg
Visit the Dutch quarter, the Russian Colony, and the Weberviertel in Babelsberg (the 'weaver's quarter', built to accommodate artisans from Bohemia) - three architectural oddities commissioned by the Prussian kings to attract foreign craftsmen to Potsdam.

NikolskoeJust north of the city, in the woods overlooking the river, is a historic Russian church and lodge by the name of Nikolskoe. Now a popular cafe, it makes for a good pit stop on the way to nearby Peacock Island.

Lake Griebnitz and NeubabelsbergWalk around the picturesque south bank of lake Griebnitz, and into the streets of Neubabelsberg - a typical German 'Villenkolonie' of the Belle Epoque. Many of the grand homes' Jewish occupants were evicted by the Nazis, who then moved in themselves.

phone: +49 331 7212750

address: Großbeerenstraße 200

Movie theme park. Well worth a visit, the first German expressionist film in the world was made at these studios. The next-door studios are home to Gute Zeiten, Schlechte Zeiten, a famous German soap opera.

address: August-Bebel-Straße 26-53

The Babelsberg film studios - Germany's Cinecitta. The centre of German celluloid expressionism, Marlene Dietrich, Fritz Lang and so many others worked here in the 1920s; more recently, Quentin Tarantino shot Inglourious Basterds on the premises. Studio tours are offered (in German only) on request at least 10 days in advance (phone: +49 331 7212132) and cost €25 per person (minimum 2 people).

Deutsches Filmorchester BabelsbergBased in the Studio Babelsberg, this orchestra gives public concerts (not only in Potsdam).

address: Am Luftschiffhafen 2

The Potsdam Royals play their first ever German Football League season in 2018, ironically having beaten the Berlin Adler in the promotion/relegation round.

Potsdam Palace NightA two-day event with concerts, dances, theatre, lectures on literature and fireworks. See details in English for the 2018 event.
Buy
The Dutch Quarter (Holländisches Viertel) has over 70 antique shops.
Fruit Wines are made in the Potsdam-Werder area with flavours such as sour cherry, strawberry, blackberry. There is a store at the central station (opposite of the S-Bahn information center) where you can buy them, although if you have time, the nearby Kaufland (where the Sanssouci buses leave, also in the train station) has the same wines at far cheaper rates.
Eat
phone: +49 331 73042562

address: Jägerstraße 16

The Potsdam branch of the bakery and delicatessen chain.
Drink
Potsdam's nightlife is a bit dominated by the near Berlin. But there are some good clubs and pubs worth visiting. Interesting pubs you find in the Holländer Viertel around Mittelstraße or in the city.
Budget
Pubs
phone: +49 331 240726

address: Breite Straße 1

Student pub.

phone: +49 331 6471026

address: Hermann-Elflein-Straße 10

Cultural Centre and pub.

address: Charlottenstraße 28

Alternative pub. Very basic furniture. The pub is operated by basic democratic club.
Clubs
address: Leipziger Straße 60

Alternative youth centre. Here you regularly find parties and concerts.

address: Friedrich-Engels-Straße 22

It is a big area near the Hauptbahnhof where you find a lot of different activities: concerts, parties, youth clubs, art clubs and a lot of social organisations.
Mid-range
Pubs/Cafes
phone: +49 331 2800820

address: Friedrich-Ebert-Straße 90

Famous pub with a really nice Biergarten in summer and it is famous for it's handmade burger.

phone: +49 331 5838408

address: Benkertstraße 1

Coffee/bar for the gay-lesbian-scene, but also hetero guest are very welcome.

phone: +49 331 2705596

address: Friedrich-Ebert-Straße 29

address: Geschwister-Scholl-Straße 82

Szenekneipe. Here you have a lot of different beers, menus and you can wash your clothes.

On the RocksRockbar in the Lindenstraße.

Rückholz

address: Sellostraße

Gemütliche Kneipe in the Sellostraße. You can sit on sofa or easy chairs while you have a talk or watch the art that you find on the walls. Eating is recommended because the hosts have a lot of good ideas and all the dishes are handmade and with good ingredients.
Clubs
address: Charlottenstraße

Here you find nice concerts and parties.

phone: +49 331 271560

address: Schiffbauergasse 6

Here you find parties, concerts, cinema, art exhibitions etc.

LindenparkThe traditional address in Babelsberg - concerts, parties, skater park and more.

PalmenzeltThis club is only open in autumn, winter and early spring. The parties take place between a lot of palmes in summer the club organises regularly parties on a ship. Located at the harbour (near main station

Speicher

Stilbruch - Lounge
Sleep
Many visitors come to Potsdam on a day trip from
Berlin
, where the extensive accommodation base caters to every taste and budget, and staying there is a commendable option. That said, there are ample choices for travellers in Potsdam itself as well.
Budget
phone: +49 331 2739939

address: Ribbeckstraße 41

Directly on the border of the park. For breakfast, the Potsdam Hostel offers a wide range of option everyday from 7:00. Gender exclusive shared rooms come with 4 beds and include access to bathrooms and showers. Community room offers complete kitchen facilities, TV, free wireless access, as well as a PC.

dedicated to workers: Monteurzimmer / Wohnen auf Zeit

address: Heidereiterweg 59

address: Karl-Liebknecht-Straße 92, 14482 Potsdam (use the postcode, because the street exists twice in Potsdam)

address: Grenzstr. 11, 14482 Potsdam

Gästehaus UrbanWebsite in German.

Pension Stropp

Youth Hostel: Jugendgästehaus "Siebenschläfer" Potsdam

address: Lotte-Pulewka-Straße 43, 14473 Potsdam

address: Katharinastr. 23, 14480 Potsdam
Mid-range
Splurge
Steigenberger Hotel Sanssouci

NH Potsdam

address: Lange Brücke

The socialist-era concrete tower has grown to be a notorious eyesore, with ongoing public discussions whether to have it removed for spoiling the view and harmony of the gradually-rebuilt historic city centre. That said, to a traveller it provides both central location and unparalleled views, also given the Maupassantesque patency that it is the only place from where you cannot see it. Inside, it has been refurbished to a modern standards, even if lacking a bit on the service front.

Dorint Sanssouci Berlin/Potsdam

phone: +49 331 2740

address: Jägerallee 20, 14469 Potsdam

The multi-award-winning congress hotel offers 292 rooms and suites as well as a large pool area.
Stay safe

Potsdam is a safe city for tourists. During daylight the city is full of tourists that visit the amazing castles and gardens.

Go next