Poughkeepsie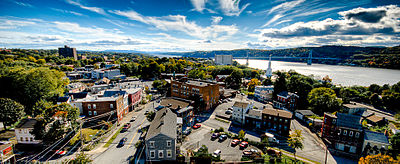 Poughkeepsie
is the name of both a town and a city in
Dutchess County
in New York's
Hudson Valley
. The City of Poughkeepsie is along the Hudson River on its eastern shore, where the river marks the boundary of both the city and the county (
Ulster County
is on the other side). The Town of Poughkeepsie encompasses surrounding areas of Dutchess County bordering on the city, and is more suburban in character.
Get in
By plane
Stewart International Airport, 1180 First St, New Windsor, +1 845 564-2100. The closest major airport, but at present offers few direct flights to major destinations.
Westchester County Airport, 240 Airport Road, White Plains, +1 914 995-4860 (airlines). Two counties away, but an alternative to the congestion of the 3 major international airports around New York City. Rental cars available.
Newark Liberty International Airport, Newark, New Jersey, John F. Kennedy International Airport, and LaGuardia Airport: Livery cars offer service to and from 3 major international airports. It is possible in a convoluted sort of way to get to and from JFK via Metro-North Railroad and New York City Transit.
By car
US Route 9 passes through Poughkeepsie in the north-south direction, so you can get there on it by heading north from New York City or south from Albany (or beyond in the Adirondacks), though people usually use expressways for at least part of those trips rather than taking Route 9 all the way.
US Route 44 and New York State Route 55 pass concurrently through the city of Poughkeepsie in an east-west direction (forming the East-West Arterial, with the westbound and eastbound lanes on separate streets several blocks apart). East of the city, the two routes split, with US-44 heading northeast and NY-55 southeast, both in the direction of Connecticut. To the west, they cross the Hudson River (on the Mid-Hudson Bridge, a toll bridge) and head towards the Catskills.
Interstate 84 goes through Fishkill, south of Poughkeepsie, where you can take it west from Connecticut or east from Pennsylvania, then get off at exit 13 and take Route 9 north to Poughkeepsie.
The New York Thruway (Interstate 87) is west of the Hudson River, where you can get from it to Poughkeepsie by getting off at New Paltz (exit 18) or Newburgh (exit 17) and crossing the river to the east. It runs between New York City and Buffalo by way of Albany.
By train
The city is well served by both commuter and long-distance rail. Poughkeepsie is the last stop on the
Metro-North
Hudson Line commuter train out of New York City. Express service between Poughkeepsie and Grand Central Terminal is about 1 hour and 40 minutes; late-night local service (after about 10 pm) takes considerably longer. A one-way ticket to or from Grand Central costs $19.25 off-peak and $25.75 peak. Local service is also available to other Metro-North commuter stations. Full
weekday
and
weekend
schedules are available online. On-board train fares are subject to a stiff surcharge, so buy your tickets at the vending machines located on the platform or from a ticket agent. On trains departing from Grand Central Terminal in Manhattan, get a seat on the left side of the train, while on trains departing from Poughkeepsie, sit on the right side. Opposite
Yonkers
and
Hastings-on-Hudson
, you will be treated to great views of the sheer cliffs of the Palisades, and between
Cold Spring
and
Beacon
, you will get a glimpse of Bannerman Castle on an island offshore, in addition to the beautiful Hudson River Valley.
Additionally, almost all
Amtrak
services between New York City and destinations north call here, including the once-daily
Adirondack
to
Montreal
,
Ethan Allen Express
to
Rutland
, the overnight
Lake Shore Limited
to
Chicago
, and
Maple Leaf
to
Toronto
. Most
Empire Service
trains to
Buffalo
and
Niagara Falls
stop here too.
is located at 41 Main St, near the Hudson shore. There are ample parking spaces, as well as connecting local buses.
Get around
Within the City of Poughkeepsie, streets with a "North" or "South" prefix are usually north or south of Main Street, which runs east-west from the riverfront to the outskirts of town. Formerly part of Main Street was closed to traffic as the pedestrian Main Mall, but this has been converted back to a driveable street.
Within the City of Poughkeepsie, Route 9 is an expressway, but outside the city it becomes South Road and North Road, commercial thoroughfares lined with strip malls and the like.
There were formerly separate bus systems serving the City of Poughkeepsie and the rest of Dutchess County, but they have been combined into one county-wide Dutchess County Public Transit bus system centering on Main and Market Streets in the City of Poughkeepsie.
See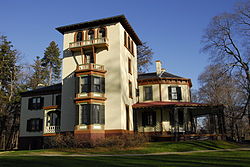 phone: +1 845 454-4500

address: 2683 South Rd

The former estate of Samuel F. B. Morse, whose patent of the electromagnetic telegraph revolutionized human communication. Set on 150 acres, the Italianate villa was designed by architect Alexander Jackson Davis.

phone: +1 845 437-7000

address: 124 Raymond Ave

Founded in 1861, Vassar College is a highly selective, residential, coeducational liberal arts college. Consistently ranked among the top liberal arts colleges in the country, Vassar is renowned for pioneering achievements in education, for its long history of curricular innovation, and for the beauty of its campus. Especially noteworthy is the Frances Lehman Loeb Art Center, which has ancient, medieval, Asian, European and American art and objects, well worth a visit. The Center is free to visit; open Tuesday through Saturday, 10 AM-5 PM, Thursdays open until 9 PM; Sundays, 1 PM to 5 PM. Closed Mondays. The grounds of the college are quite lovely (in good weather); the campus is maintained as an arboretum, with more than 200 varieties of trees on 1,000 acres.

Marist CollegePrivate liberal arts college founded in 1905, with a 180-acre main campus overlooking the Hudson River.
Do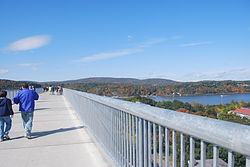 Buy
phone: +1 845 297-7600

address: 2001 South Rd

A large shopping mall in the Town of Poughkeepsie.
Eat
River Station Restaurant & Catering

phone: +1 845 452-9207

address: 1 North Water Street

Seafood and American cuisine with a full service bar and outdoor dining on the waterfront of the Hudson River with some outstanding views. River Station offers full service catering.

phone: +1 845 486-9500

address: 176 Rinaldi Blvd

Located on the riverfront, this modern restaurant is also a bar, outside seating, great views, great food, a little fancier than casual dress.

phone: +1 845 485-7172

address: 120 Delafield St

Brick Oven Pizza, reservations for over seven, outdoor seating available, near the riverfront,underneath the Walkway on the Hudson. Easy access from Route 9.
Drink
Mahoney's Irish Pub & Restaurant

phone: +1 845-471-7026

address: 35 Main St

Noah's Ark

phone: +1 845 486-9295

address: 135 Mill St

Popular with upperclass students and 20-something locals for its happy hour, half price drinks on Thursdays 6PM-7:30PM, half price drinks and buffet on Fridays 6PM-7:30PM. The buffet normally consists of buffalo chicken wings and pasta.
Sleep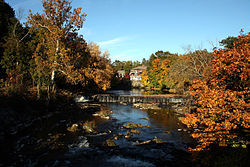 Go next