Poulsbo
Poulsbo
is located on the
Kitsap Peninsula
in the
Puget Sound
region of
Washington
state.
Known as "Little Norway," Poulsbo was settled in 1892 by Norwegian loggers, farmers and fishermen who likened the fjord-cut landscape to their homeland.
Stroll down Front Street with its dozens of quaint and colorful shops offering Scandinavian gifts, fine art, fashions, antiques, etc.
If shopping makes you a bit hungry, feast on handmade European chocolates, baked goods, fresh waffle cones, delicious smoked salmon or gourmet coffee in one of Poulsbo's fine restaurants and cafes.
If the great outdoors is your passion, rent a kayak and paddle scenic Liberty Bay, take a walking tour of the town, or simply relax along the boardwalk and look for seals, herons and eagles.
Get in
By car
Main highways to Poulsbo are WA Highway 3 from
Shelton
, north through the county to the Hood Canal Bridge near the northern tip of the
Kitsap Peninsula
. From
Tacoma
and
Interstate 5
, take WA Highway 16 north from Tacoma across the Tacoma Narrows Bridge until it combines with WA Highway 3 near
Gorst
.
By boat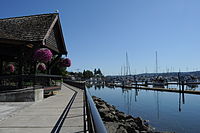 Like most towns on the Kitsap Peninsula, Poulsbo was built around the harbor and had no roads so the town center is geared towards the piers.
phone: +1 360 779-3505

address: 18809 Front St

has 130 visitor slips 60 are may be reserved (for groups of 15 boats or more). Easy access to shops and restaurants from the marina. Electrical, pump outs and wifi available.

phone: +1 360 779-3116

reciprocal yacht clubs only, water and power. Telephone and cable TV hookups are available. Two fixed and one portable waste water stations make pump-outs
By bus
The major bus stations in Poulsbo for Kitsap Transit are at the and the , north of town at Viking Way NW & Vetter. The Clallam Transit Rt #123 and Jefferson Transit Rt #7 stop at the Poulsbo Transit Center while the Olympic Bus Lines pick up and drop off at the Kingston Ferry Terminal:
phone: +1 360 876-1737

address: (bus stop) AM/PM Mini-Market at 15244 Silverdale Way NW

provides scheduled ground transportation to and from Seattle-Tacoma International Airport to various locations on the Kitsap Peninsula.

phone: +1 360 417-0700

address: (Scheduled stop) Corner at Henery Hardware @ 10978 NE State Highway 104 in Kingston

Twice daily connections to/from Discovery Bay, Port Townsend and Port Angeles in one direction and over to Edmonds, downtown Seattle and Sea-Tac in the other. Reservations required.
Clallam Transit Rt #123 The Clallam "Strait Shot" (#123) runs twice daily (M-Sa) and once on Sundays to Port Angeles from the Bainbridge Island Ferry Terminal via Suquamish Way and North Viking Transit Center/P&R in Poulsbo with limited stops in Sequim, Jamestown and Discovery Bay.
Jefferson Transit Rt #7 Connects Poulsbo to Port Townsend via Disovery Bay. Passengers can transfer to Rt #8 in Port Townsend to continue towards Sequim and transfer again to Clallam Transit Rt #30 to Port Angeles. This takes longer but also the cheapest and more frequent option for travel between Port Angeles and Seattle without a car.
From the North Viking Transit Center transfer to the #333 or #344 bus to go into town (downtown Poulsbo).
Passengers continuing towards Seattle would catch Kitsap Transit Rt #390 to the Bainbridge Island Ferry Terminal (in Winslow) and continue into downtown Seattle by ferry. If traveling on Clallam Transit's
Strait Shot
bus stay on the bus as it continues to the ferry terminal. For going to Bremerton take the #32 bus to Silverdale, transfer to #12 to the West Bremerton Transit Center, and transfer again on either #11, 20, 24 or 26 bus into downtown Bremerton. During weekday rush hours there's a direct bus on Rt #1 from North Viking Transit Center to the other ferry terminal in downtown Bremerton where one can also catch the ferry into downtown Seattle.
Get around
The charming core of Poulsbo is walkable on foot and is geared towards the harbor with easy access from the water.
By bus
phone: +1 360 479-6962

Kitsap Transit offers transit services throughout the area including pickup from all ferry terminals and connects with Mason Transit (Mason County), Pierce Transit (Pierce County), and Jefferson Transit (Jefferson County) offering connections outside of the area.
See
Stroll down Front Street - all the shops and restaurants in Scandinavian decor and architecture

phone: +1 360 598-4460

address: 18743 Front St NE

Promote lifelong learning and appreciation for the marine environment and underwater technology by enhancing science education with hands on learning and conservation.

Kitsap Regional Library Poulsbo

phone: +1 360 779-2915

address: 700 NE Lincoln Rd

northwesterners are very proud of their libraries and Poulsbo is no exception, this branch offers many events for children and adults alike including story time, writers club, kids movies etc. See website for current events. .

phone: +1 360 779-9898

address: 18349 Caldart Ave NE

21 acres, Sand volleyball, playground, picnic areas/shelter available for private rentals, barbeques, restrooms, nature hiking trail (.2 mile), winding paths, exercise path (.33 mile), some exercise stations, lawn/sitting areas, arboretum, multi-purpose playfield, wildlife/bird viewing, skate park, dance stage, community gardens, fenced dog run

phone: +1 360 779-3205

address: 202 NE Park St

Kitsap Memorial State Park is a 58-acre camping park with 1,797 feet of saltwater shoreline and facilities for group and individual recreation near Poulsbo, weddings and overnight stays. The park offers beautiful natural surroundings and sweeping views of Hood Canal. Also available to rent is an old-fashioned log hall that sits atop a wooded bluff, with panoramic view of Hood Canal and the Olympic Mountains. Built in 1936 by the Works Progress Administration, the hall has an expansive, cozy wood interior with an open log cathedral ceiling. Ideal for weddings, receptions, family reunions and company picnics. Rental cabins are also available.

phone: +1 360 337-5350

address: 3160 NW Wheeler St

6.5 Acres - Saltwater beach access, boat launch, fishing pier, restrooms, picnic shelter, and picnic area. Camping limited to Cascadia Marine Trail
Do
Annual events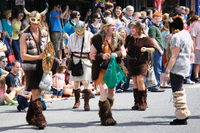 Viking FestCelebrates Poulsbo's Norweigian heritage in mid-May

Scandia MidsommarfestMore of that Norweigian heritage celebrations

Thomas Kemper OktoberfestLast two weekends of September, think beer and sausage and you've got the idea

Traditional Lutefisk DinnerThird Saturday in October and in January

Yule Log CeremonySanta, folk dancers, and lighting of the Yule Log

Lighted Boat ParadeSanta visits via boat, kind of cool!
Beach combing
What Puget Sound beaches lack in white sand and warm water is more than made up for in the amazing scenery as the clear waters play against wild coastlines and snow peaked mountains scatter on the horizons. Nearby Kitsap Memorial State Park and Salsbury Point County Park are good places to start a beach combing adventure offering a mixture of beaches from the rugged to the sandy smooth. Small crabs, moon snails, sea stars and sand dollars are common sites and tide pools can offer hours of exploration.
Be warned that sea shells and driftwood are considered part of the natural environment and should not be removed, however the often rocky and wild shores are havens for creating and revealing beach glass and anything artificial found is fair game for removal. Be respectful of private property and gentle with sea creatures. Keep a wide distance away from nesting birds, seals and other shore animals and always put back anything removed from the shoreline.
Birdwatching
The Kitsap Audubon Society has been actively meeting since 1972 and has a broad coalition of birders actively tracking and sharing sightings since then. They also maintain an active
website
with updates of the latest sightings, suggestions on areas for birders and even a regular newsletter. They also developed a
checklist
of birds likely to be seen birds in the area.
The state Audubon society developed 'The Great Audubon Birding Trail' which includes key migration flyways. Flyways are major north-south routes of travel for migratory birds and likely areas to see birds along the route extending from Alaska to Patagonia. Liberty Bay near Poulsbo is one of only a handful of areas named to the list.
Sea kayaking
Sea kayaking can be a rewarding way to explore the Liberty Bay near Poulsbo and helps to make Kitsap one of the most popular areas to kayak in Puget Sound. Poulsbo is one of the many harbor towns that cater to kayakers with shops and restaurants accessible from the water. Harbor Seals, Otters, Sea Lions, Bald Eagles and Blue Herons are common sites and Liberty Bay offers views of nearby beach homes and other boaters.
Kayak trails
Organized trails offer overnight camping options and maps of appropriate travel lengths and scenic travel destinations.
Kitsap Peninsula Water TrailsThe National Parks Service Named the this 'Trail of the Month' in the entire USA for the month of December 2012, PDF copies of the water trails map are available and Poulsbo is on the trail.
Kayak rentals
Olympic Outdoor Centeroffers kayak rentals, classes and basic information for paddling the area for just a few hours or week long adventures.
Buy
address: Poulsbo Village Medical/Dental Center

This seasonal market pulls in farmers, bakers, chefs, and artisans from across the region. Their mission is to provide the best food, hand-crafted products, and sense of community that Kitsap has to offer.
Eat
Sluys Poulsbo Bakery, 18924 Front St NE, +1 360 779–2798. Summer: 4:30am – 7:30pm Daily, closes an hour earlier Sun-Thursday during the Winter. Handmade pastries and breads. Famous for the Viking Cup and Poulsbo Bread.
Brass Kraken Pub. 18779 Front St NE, (360) 626-1042.

Casa Luna

phone: +1 360 779-7676

address: 18830 Front St NE

popular Mexican restaurant located close to the marina.
Green Light Dinner. 18820 Front St NE, (360) 697-3449. 50s diner styled. Good breakfast food, does have okay lunch food. Milkshakes with or without booze.
JJs Fish house

Los Cabos Grill

phone: +1 360 779-1445

address: 18751 State Hwy 305

Sogno Di Vino. 18830 Front Street NE, . Italian food, wood fired pizzas.

phone: +1 360 779-5209

address: 18891 Front Street State

Scandinavian smorgasboard with exquisite view of Liberty Bay

phone: +1 360 394-0080

address: 18928 Front St NE

Poulsbo loves anything Scandinavian and centrally located Tizley's is no exception. Good food, great beer selection and a deck that offers warm weather visitors a refreshing view of the Liberty Bay.
That's-a-some Italian Restaurante. 18881 Front St NE
The Loft. 18779 Front St NE, 360-626-0224. American food. Best views in town, very crowded in the summer. Extensive outdoor seating.
Drink
ENVY Bar and Grill

phone: +1 360 779-2202

address: 19559 Viking Ave NW

known for their giant burgers and great selection of local beers.

phone: +1 360 930-0134

address: 18881 Front St

known for their martinis and appetizers.

phone: +1 360 930-8446

address: 19006 Front St

Spanish tapas bar known for their small plates and extensive wine menu.
Rainy Daze Brewery. 650 NW Bovela Ln #3, (360) 692-1858. Specializing in IPAs
Slippery Pig Brewery. 18801 Front Street NE, (360) 394-1686. Kid friendly until 11 except on Fridays, 9:30pm.
Sound Brewery. 19815 Viking Ave NW, (360) 930-8696.
Valholl Brewery. 18970 3rd Ave NE, 360-930-0172. Dog friendly
Western Red Brewery. 19168 Jensen Way NE
Sleep
Go next
By car
Poulsbo is centrally located on Kitsap Peninsula and offers nearby access to several other towns.
Port Gamble
and the
Olympic Peninsula
are to the north via highway 3 and the Hood Canal Bridge.
Keyport
is slightly to the south while
Suquamish
is to the west and offers further access to
Bainbridge Island
via the Agate Pass Bridge.
By boat
Poulsbo is located on the protected waters of Liberty Bay and is a fun area to explore by boat or sea kayak.
Keyport
is also located on Liberty Bay and has a newer marina which has nearby access to the Undersea Museum.