Poznań
Poznań
(German:
Posen
) is the largest city in
Greater Poland
, in the west of
Poland
, and one of the largest metropoles in the whole country. Situated roughly equidistantly between
Warsaw
and
Berlin
, it serves as a major economic hub, and a centre for industry and commerce. The Poznań International Trade Fair grounds host the most important trade fairs and exhibitions in Poland, making Poznań an important business destination, but the city has plenty of history and attractions to share besides that. Its relative compactness and easy access by road, rail and air make it a convenient tourist destination for visitors to
Central Europe
.
Understand
Poznań is a town steeped in history, as it was the first capital (with
Gniezno
) of Poland and seen by many as the birthplace of the Polish nation. Today it is a diverse and vibrant town, with many university students living here and much to divert the traveler. It has a stunningly rejuvenated central square, thriving night-life, fascinating museums and many attractions in the surrounding area. For train buffs, Poznań is the home of
Europe
's last surviving steam-hauled passenger service. With a strategic position on the
Berlin
–
Moscow
train line, Poznań will be for many their first experience of Poland.
Climate
Snow is common in winter, when night-time temperatures are typically below zero. In summer, temperatures may often reach 30°C (86°F), but averagely stay around 22°C (72°F). Annual rainfall is more than 500 mm (20 in), among the lowest in Poland. The rainiest month is July, mainly due to short but intense cloudbursts and thunderstorms.
Tourist information
phone: +48 61 852 61 56

The main tourist information center. Many free maps, leaflets about city and surroundings, souvenirs, books, albums, city-guide hire. You can contact them in English, German, French, Italian, Spanish, Portuguese, Russian.
More information (English, German, Polish) about the city, practical info (get in, get around, entrance fees) proposed tours, city-guide service : , mailto:poznan@visitpoznan.info
City-guide service, free help in preparing your stay in Poznań – in the Guides' Club, mailto:poznan.guides@onet.eu
Get in
By plane
Poznań - Ławica Henryk Wieniawski Airport
Domestic flights to
Warsaw
are offered by Polish Airlines LOT and Eurolot. International flights are offered by LOT (
Frankfurt
,
Munich
), Lufthansa Regional (
Frankfurt
,
Munich
,
Düsseldorf
), Norwegian Air Shuttle (
Oslo
-Gardermoen), Ryanair (
Barcelona
,
Bologna
,
Bristol
,
Dublin
,
Edinburgh
,
Liverpool
,
London
-Stansted,
Madrid
,
Milan
-Orio al Serio,
Rome
-Ciampino,
Palma de Mallorca
), Scandinavian Airlines (
Copenhagen
), and Wizz Air (
Barcelona
,
Paris
-Beauvais,
Cork
,
Doncaster
/Sheffield,
Dortmund
, Eindhoven,
London
-Luton,
Rome
-Fiumicino,
Stockholm
-Skavsta,
Oslo
-Torp).
The airport is easily accessible by public bus 59, 4.60 zł (outside the airport terminal to the main train station - every 25–30 minutes - travel time 22-24 min.) and fast line #L (from the Main Railway Station and from Sheraton - every 45 minutes - travel time 18-20 min).
Another option are the airports of Berlin (
TXL
and SXF).

By train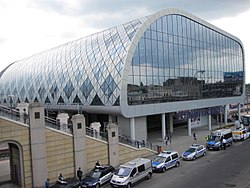 Poznań GłównyPoznań Main Station.

Poznań is a crucial railway junction and all trains going between Moscow and Western Europe stop here. Trains to Berlin or Warsaw take approximately 3 hours in either direction and cost around €20 one-way. Trains to Kraków (approx. 8 daily) take around 6 hours and cost €15 one-way, Wrocław (more than 15 daily) will take around 2 hours and cost around €8. The journey to Gdańsk (6 trains daily) will take 5½ hours and cost €12 and to Toruń (6 trains per day): 2½ hours and €7.
Frequent and convenient train connection from Warsaw. Journey time about 3 hours. Cost from €10 (Inter Regio trains) through €14 (fast trains) to as much as €30 (Inter City Plus).
Poznań is also served by long-distance trains leading to popular beach- and mountain resorts: Zakopane (2 night trains in winter and summer season), Szklarska Poręba/Kudowa-Zdrój (2 daily + 1 in season), Kołobrzeg (Kolberg), Hel and Świnoujście.
Besides, Poznań and Wielkopolska region has a vast network of local connections. For tourist the most important can be trains going to:
In some cases (going from or to Cathedral Island - Ostrów Tumski, the Old Town) local train stop "Poznań-Garbary" may be closer than the main station.

By bus
The Poznań coach station (Poznan PKS) is situated under the train station. Galeria Poznan is has integrated the train and bus stations with a modern shopping mall. Near the coach station there are several city tram and bus lines:
trams 6, 10, 11 and 12 - just 1 stop (left, when you leave the coach station) to the train station or as well 1 stop (to the right) to the Shopping Mall Stary Browar (the Old Brewery) or to shopping area nearby ul. Półwiejska.
bus 71 (heading toward "Os. Wichrowe Wzgórze") giving access to the Province Office, the main building of the Poznań University, to the Opera House or to Mickiewicz Sq. with the Monument of Poznań Crosses (Uprising 1956).

Poznań is served by the Eurolines coach network. Count on fares of around €90 one-way to London or Amsterdam. Every day more than 200 local buses leave for town and even small villages everywhere in Wielkopolska region.
Polskibus, the biggest Polish coach company, connects Poznan with Berlin, Prague, Łódź, Warsaw, Bydgoszcz, Wroclaw, Gdansk and Torun. Tickets are available from 20 zł. for a ride. Sometimes are available promotion tickets for only 1 zł.
Poznan has many bus connections with cities and towns in West Poland (Gorzów Wielkopolski, Zielona Góra, sea resorts, mountain resorts in Sudety Mountains), and there are coaches heading to: Lublin, Łódź, and Warsaw. There is a vast network of local and regional buses, especially to towns with poor (or no) train connection.

Get around
By public transport
Poznań is a compact city, but has a decent (no longer cheap) public transport system, consisting of trams, fast trams (similar to metro), and buses operated by the city's transportation authority (MPK).
The center is navigable on foot, but if you decide to use trams (buses don't usually run in the center), here are the prices of tickets (Apr 2018):
10-minute which costs 3 zł
40-minute which costs 4.6 zł
There are also daily tickets and multi-day tickets available:
24-hour ticket which costs 13.6 zł,
48-hour ticket which costs 21 zł,
72-hour ticket which costs 27 zł
One-day, two-days and three-days tickets are valid for any public transport line (including the express ones) without additional fare. Besides that a 24-hr ticket validated between 20:00 on Friday and 24:00 on Saturday is valid till 24:00 on Sunday, becoming a weekend-long ticket.
The
Poznań Card
is a combination of ticket and discount card. Prices: 30 zł one-day, 40 zł two-day and 45 zł three-day.
Ten minutes on a tram is usually enough to ride a few stops in the city out of the peak hours. For more than 5-6 stops, use a 40-minute ticket.
You may transfer as many times as you wish, but ride as long as the ticket is valid. Night buses have the same tickets and fares. Express buses cost twice as much, but are far from being twice faster, so the advice is to avoid them (besides fast line "L" joining the airport with the main railway station).
The
PEKA card
is the electronic fare card for the city, with much lower fares than paper tickets based on the number of stops taken (1 stop 0.6 zł, 2 stops 1.1 zł, etc.) You must tap the card on entry
and
exit for buses and trams, after selecting the number of normal/reduced fares you need. Bearer PEKA cards can be purchased from City Information Centres (CIM) (see the webpage for other locations) for 27 zł, of which 12 zł is a deposit. You may have to ask about buying a
bearer
card.
Nobody checks the tickets as you enter, so remember to "click" (validate) your ticket as soon as the vehicle starts, or you might be fined 100-200 zł if controlled. The fine might not seem large, but will cause you trouble. Remember, the ticket is
not
checked upon entering the bus. In Europe, if your ticket expires, you have to use another one or leave.
If you study in Poland and are under 26, or you bear an ISIC, you are eligible for a 50% discount on every public transport ticket. Public transport is free for people from the age of 70.
Luggage smaller than "65 x 45 x 25 cm" can be carried without a fee, so click (validate) another ticket for your backpack. Smaller luggage, small dogs, wheelchairs and prams can be taken for free. Bicycles can be refused during peak hours and can be carried only in vehicles bearing a pictogram of a bike by the entrance. One piece of luggage (bigger than 65x45x25) is free of charge in "L" airport-fast line.
An internet service
Jak dojadę
(Polish for: How will I get to...) helps you to find a connection and the proper timetable even without a good knowledge about the topography of the city. It's enough to write the place (street, famous building) where you plan to start and finish your trip and the system will find you the quickest way.
Full price list is available
here
.
By bicycle
Poznański Rower Miejski
, operated by Nextbike, provides public bikes for rent throughout the city. You first need to register and pay an initial fee of 20 zł. Bikes are free for the first 20 min, cost 2 zł in the first hour, and 4 zł every hour after that. Bikes can be rented at any time from stations between April to end of November. You have to return a bike to a station, or you'll have to pay an additional fee. Nextbike can be contacted +48 61 6668080 or +48 61 6740390.
Talk
In the city center, you will have no problem getting by with English, but outside of it English is quite limited. Even at the train station, you might find that you need to communicate with store vendors using body language (the international train office employees do all speak fluent English). If you need directions, try to ask young people who look like they might attend university. If you speak Russian, try talking to older people many of who still speak it at least basically. Despite Poznan's proximity to Germany, very few people speak any German, and if they do, it is often nothing more than a few words.

See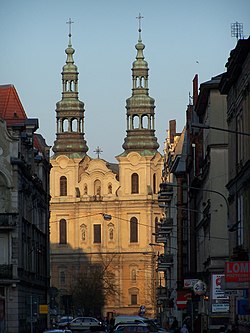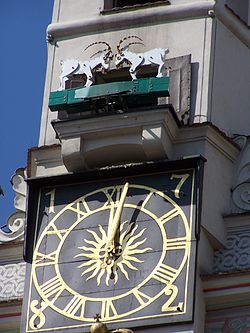 Stary RynekThe old town square, one of the finest in Europe. This is the centre of old, medieval Poznań, and has been superbly rebuilt after severe destruction in World War II. Cafés and bars line the square and it is a superb spot for ordering a drink and watching the world go by.

address: Stary Rynek 1

The Town Hall is the centerpiece of the Rynek. It was built in the a Gothic style in the first years of the 14th century. It was later rebuilt in Renaissance style by Giovanni Battista di Quadro from Lugano. It is said to be the most beautiful non-church renaissance building north of the Alps. The building houses the Historical Museum of Poznań (built as the headquarters of municipal powers and the city court), displaying exhibitions about the history of the city since the 10th century. Two things to watch out for here are the ornately decorated Great Entrance Hall and the mechanical goats which appear from the roof of the building each day at noon to butt their heads together a dozen times.

The City Church of St. Stanislaus and Our LadyThis church was reopened in 2007 after total refurbishment, one of the most beautiful baroque churches in Poland. It was built as a Jesuits' church; it is now the parish church for the Old Town. Many tourist come here for the sounds of its organs, built here in the 1870s by one of the most famous organ masters of that time: Friedrich Ladegast from Wesenfels (Germany). The organs can be heard during services (regular on Sundays and on weekdays: 03:00 or 04:00 and 13:00) and during organ concerts (each Saturday, 12:15, entrance free). Entrance €1.10 (2009).

The former Jesuits' CollegeIt was an old Jesuits' school build by the monk in the same period, as the neighboring church, now houses the City Office - so it's possible to get in to see the interiors, but only halls and corridors. In the early 19th century it was the quarters for emperor Napoleon I during his march toward Moscow. Few years later - the concert place for Frédéric Chopin (his original instrument is still exhibited in Poznań in the Museum of Musical Instruments - see below). In front of the City Office is the monument of two goats - the symbol of the city.

King's CastleThe King's Castle (Zamek Królewski) - rebuilt by King Przemysł II in 1290s, but erected by his father, Duke Przemysł I as a duke's residence for Poznań county. The only remnants of the original building are the foundations, and - what tourists mostly look is the newer part of the building dated from the second half of 18th century. Now it houses the Museum of Applied Art and from the walls you can watch the panorama of the Old Town. Poznań King's Castle was the place of the Fist Prussian Homage in 1492 (however more famous is the second one presented on famous picture painted by Jan Matejko). The hill was also the place, where the arms of Polish first dynasty (Piasts) - the White Eagle - became the official national symbol.

The Franciscan ChurchIt is a rather typical church from the turn of 17th and 18th centuries​, but is really worth coming here at least for a few minutes for its beautiful paintings on the vaulting and wood carvings created by two ingenious monk - brothers Adam and Antony Swach from the Czech territories. More religious visitors come here for the Sanctuary of Our Lady of Incessant Help - the Lady of Poznań (the picture in left side-aisle). The undergrounds of the church house two Models of Old Poznan.

The Gorka PalaceThe Gorkas were a famous late-medieval noble family in Poznań and erected their palace in mid 15th century, later rebuilt in 16th century in Renaissance style (a marvelous portal from the eastern side). The palace houses the Archeological Museum (see below).

The Holy Blood of Lord Jesus ChurchThe church's erection is connected with a legend about desecration of the host done by a group of Jews. During services the priest stands backward to the people, and the church is used both by Roman Catholics and Greek Catholics (service each Sunday at noon in Ukrainian).

Środka districtLocated a few minutes from the Cathedral Island, it was a merchants' and craftmen's district working for the duke or king court in first half of 13th century, as the Cathedral Island had become overpopulated. The name come from the Polish name "Środa" (Wednesday), as weekly markets took place on Wednesdays. You can get from the Cathedral Island to Środka district using a pedestrians and cyclists' bridge, bearing the name of bishop Jordan (968-982), who was the first bishop of Poznań and Poland.

Just behind Środka a recreational area at the banks of Malta Lake start. They are 3 km away from the centre and include: an artificial skiing slope, an all-year-round tobogan slide, bike rental, zoo (the biggest one in Poland), walking and jogging areas, a rollerskating track (5½ km). The zoo is linked with the Środka district by narrow-gauge line, working from spring till autumn on workdays every hour, on weekends - every 30 minutes. Details: (Polish only). Tickets ~€1.5, for kids €1, family tickets €4.

St. Margaret Church

address: ul. Filipińska

A late-Romanesque church (with some Gothic features) in the middle of Środka Market Square, nowadays a side-church for the cathedral parish. It is hard to get inside, unless you come approx. a quarter before or after services.

Church of St. John of Jerusalem

address: Świętojańska 1

The first building on Polish territories built with bricks (before only wooden or stone building were erected) around the year 1188. The church was erected for the Johnnites order, who were running a hospital for the poor people nearby. The entrance is free, but as well limited to moments before or after services. This is also the only place in the city, where holy masses for dead people take place.

phone: +48 61 6465272

address: Św. Marcin 80/82

Erected 1905-1910 by Franz Schwechten, the Berlin court architect of German emperor Wilhelm II. The huge neo-Romanesque building, which alludes to medieval constructions, was officially opened by the Emperor. It was the seat of Polish President in the inter-war period and Hitler's residence during World War II, when it was remodeled under the Albrecht Speer. The dominating element of the building is the Tower, originally 74-m high, after World War II was lowered (due to the damage in the lat period of the war) by about 20 m. In the Rose Courtyard (opposite site to the main entrance) one can find a fountain modeled on the 13th century lions fountain in Allhambra (Spain). The castle houses the Castle Culture Centre, the Animation Theatre and many other institutions. It's also a place of many exhibitions, meetings, concerts and festivals.

Citadel Park

address: Wzgórze Cytadela

A fortress was built here by the Prussians in 1828; it was destroyed during fighting in 1945. It contains a cemetery for the Russian, Polish and British soldiers who lost their lives here.
The system of forts surrounding Poznań in 19th century, all located nearby former round-road, just few km from the nowadays centre. Most of them are in poor technical state and are used for many (not really historical) purposes. Anyway it is worth going to Fort VII (Polska str., accessible from the centre by trams #2, #17 and #18 to the final Ogrody stop, from the a short walk), where the Museum of Martyrology is located. The sightseeing of some forts on your own can be simply dangerous!

Stary Marych

address: ul. Półwiejska

A very unusual monument os. Stary Marych, at the very beginning of Półwiejska Str. (a shopping pedestrian zone), which is probably the only monument in the world of a man walking with a bike (all other cyclers ride). The Monumemo is dedicated to Stary Marych (Old Marych), a fictitious person, who features in local newspapers or in local radio stations (from 1983), and all his speeches about the actual problems are written (and read) in local Poznań dialect. It's also the only monument of local dialect in Poland.

Morasko Meteorite Nature ReserveThe nature reservation "The Morasko Meteorite" – one of only two places like that in Europe (the second one is in Estonia) – a system of 7 craters left after a meteorite fall several thousands years ago. The name 'Morasko' comes from the suburban district placed approx. 1 km away.
Ostrów Tumski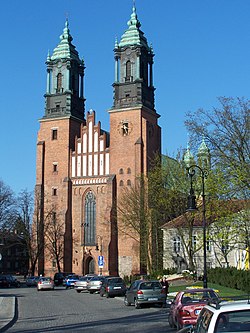 Ostrów TumskiOstrów Tumski; famous as the spot on which Poznań was founded, is a quiet island, with a permanent population consisting mostly of bishops, priests and monks. It was supposedly here that the town was founded, after three brothers Rus, Lech and Czech met here after not seeing each other for years (poznać being Polish for 'to meet'). It is also the spot where Poland adopted Christian baptism in 966 and where the first church (still existing Poznań Cathedral) of polish territories was built (968). The island is accessible from the centre or Old Town by trams 4, 8 and 17 and bus 63 (other lines, not really useful for tourist are 67 and 83). The cathedral is open for visitors every day from 08:00 to 16:00-19:00 (depending on the day), but is closed for sightseeing during services (esp. Sundays). Admission €0.70.

St. Peter's and Paul's Cathedral

address: Ostrów Tumski 17, Poznań

St. Peter's and Paul's Cathedral - the first Polish cathedral and the only one between years 968 and 1000. Burial place of 8 Polish dukes and kings from the Piast dynasty - original graves from 10th and 11th centuries of Mesko I and his son Boleslaus the Brave preserced in the cellar; as well as the baptism bowl - a probable baptism place of Duke Mesko I. In the cathedral pay attention to the chain of chapels around the main aisle, not touched by bombings in 1945 - the most precious ones are: the Golden Chapel (which a present memorial place of Mesko I and Boleslaus the Brave - in the sarcophagus on the right-hand side) and the Holy Cross Chapel.

The Our Lady ChurchOur Lady Church was built in late Gothic style (approx. 1430), not very significant for its present shape and values, but important for its role in the 10th century, when in the place the duke's palace and a small chapel were built. The chapel was probably erected one year before the official baptism of Poland. The interior (due to archaeological excavations) is closed for visitors.

The Archbishop's PalaceThe palace was built at the same time as the cathedral, but its present shape comes from the 2nd half of 18th cent. It is closed to visitors.

The Bishop Lubrański UniversityThis is the second oldest high school in Poland, founded by bishop John Lubrański in 1518. At the present - the Archdiocesan Museum.

Psalter HouseIt was erected in the beginnings of 16th century​ (by Bishop Lubrański) as a rehearsal-place for psalter singers. They were due to sing the David's Psalms in the Cathedral the whole day round. It is now used by Christian associations.

CanonriesThese are mostly from 18th and 19th centuries​, built for noble priest working for the Poznań Cathedral and Archbishop.
Museums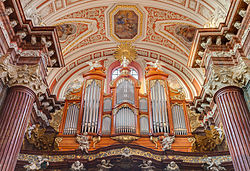 phone: +48 61 852 61 95

address: Ul. Lubrańskiego 1

Placed in the former Lubrański Academy - the second oldest (after Kraków) higher school in Poland. The exhibition shows church art, mostly from the Greater-Poland region, from early Middle Ages to present times, coffin portraits and a Treasury. Some interesting exhibits: baptism clothes of the Polish King Jan III Sobieski and a sword (given to the first Poznań bishop Jordan by the Pope Urban IX), used - according to the tradition - by St. Peter to cut off the ear of a Roman soldier shortly after Christ's death.

phone: +48 61 852 8251

address: Ul. Wodna 27

With 42,432 artifacts, this is a large and fascinating museum. It specializes in the archeology of Wielkopolska and Egypt.

address: ul. Gdańska 2

History of Cathedral Island, and the establishment of Poznań. Audioguide and interactive exhibits throughout the tour, and a nice rooftop view.

Literary Museum of Henryk Sienkiewicz

phone: +48 61 852 2496

address: Stary Rynek 84

phone: +48 61 847 6359

address: Rondo Kaponiera

Run by the Wielkopolska Motoring Club, features a range of vintage and notable vehicles.

The Museum of Poznań Uprising 1956

address: Ul. Św. Marcin 80/82

Placed in the interiors of Emperor's Castle shows exhibits connected with the Poznań workers' protest against the communist system in June 1956. On the exhibition there are photos of attendants and their personal belongings, and historical sources about the anticommunist opposition between 1945-1989. An interesting thing is a reconstructed tram, used by Protestants as a barricade. admission 4 zł, reduced 2 zł (free Saturdays).

National Museum in PoznańHas several branches throughout in the city:

Itineraries
Most of these attractions can be found on The Royal-Imperial Route in Poznań. This is a tour for tourist who would like to get to know better the history and culture of Poznań.
Do
Theatres
Annual festivals and events
The Anniversary of Poznań Uprising on 28 June 1956 – every year on the Mickiewicz Square (nearby the Castle and railway station) on 28 June.
The Bible Marathon – always in February in many churches (including monumental ones in the centre). Have a look how hundreds of people (mostly young ones) read whole Bible during few days.
The Contemporary Music Festival - "The Poznań Music Spring" – in the first half of April.
The Days of French Culture – March/April (depending on the Easter time) in "Dom Bretanii" (The House of Bretagne) on the Old Market Square.
The Fair of St. John – takes place always on the Main Square and surrounding streets in the second half of June.
The Feast of St. Peter and St. Paul – the patrons of the city, on 29 June.
The Horse Cavalry Day – usually the third weekend of April – events in the horse centre 'Wola' in the suburbs and in the Old Town, especially on the Old Market Square and nearby the 15th Poznań Cavalry Unit Memorial in Ludgardy street.
The International Theatre Festival "Malta" – dozens of plays (both street ones and in theatres, museum, other closed space), on the turn of June and July
Judaic Days – events (exhibitions, Torah reading, etc.) about Jewish culture, every year in mid-January.
Kaziuki – an event celebrating St. Casimir, the patron of Lithuania – a good moment to buy a Vilnius palm or to eat a cepelin – yearly in the first weekend of March.
The Passion of Christ – the biggest show in Poland presenting events from 2000 years ago, gathering every year in the Citadel Park about 120,000 people. Always 8 days before Easter, on Saturday on the meadow next the Bell of Peace, around 19:00.
During summer holidays
:
The Bread Festival – organized by bakers from Poznań and Greater Poland, associated by bakery-goods tasting – second weekend of September, the Old Market Square.
The Christmas Market "The Poznań Bethleyem" – stalls with souvenirs, with Christmas decorations, hot wine, on the Old Market Square and nearby the west entrance to the Stary Browar Mall. Always three weeks before Christmas.
The commemorations of the Greater Poland Uprising (from 1918-1919) – always on 27 Dec.
The Contemporary Dance Workshops – workshops of more than 50 dance techniques, inspired by the famous Poznań Dance Theatre and its conductor Ewa Wycichowska, yearly in the second half of August.
The Feast of Poznań Bambers – always on 2 August, in the anniversary day of the arrival of the first settlers' group from Bamberg (Germany) to Poznań in 18th century.
The Festival of Good Taste – the feast of Greater-Poland cooking traditions, in mid-August on the Old market Square.
The Gypsies' Culture Meetings – last two weekends of August, on the Plac Wolności Square, Old Market Square and on the courtyards of the Emperor's Castle.
The International Animated Films Festival – in mid-July.
The Kid Films Festival 'Ale Kino' ('What a Cinema') – a festival of films produced for young watchers, yearly from 1983 in December.
The Lviv Days in Poznań (Lviv – a city in western Ukraine, which used to belong to Poland, deeply rooted in Polish culture) – a series of meetings, lectures and workshops – mid-September.
The National Feast of France in Poznań – always on 14 July.
The Old-Town Jazz Concerts (Saturdays) and Cameral Concerts (Sundays) on the Town Hall stairs.
The Old-Town Organ Concerts – Thursday evenings in the Parish Church.
The Parish Church Festival "Madlaine's Tress" - in most cases the only opportunity to visit (usually closed) parts of the post-Jesuits' complex : the Chapter Chamber, organs, the garret. Always during the weekend about July 22.
The Promenade Concerts – every summer Sunday in Wilson's Park (from the centre trams: #5, #8 i #14 to the stop Park Wilsona).
The days of Pyra-Land(pyra in local Poznań dialect means potato – the feast of potato cooking – try it made in more than 100 ways! – the first weekend of September in Łęgi Dębińskie Park (accessible from the centre by trams #2, #9, #10 and bus #76)
The Solacz District Concerts – every Sunday in Solacz Park (accessible from the centre by trams #9 and #11 and buses #60 and #78).
Summer Cinema on the Malta Lake shore – from Wednesday to Saturday just next to the Malta skiing slope.
Summer Town-Hall Concerts – every Wednesday evening in the Renaissance Hall inside the Town Hall (2nd floor).
The Tzadik Poznań Festival – the feast of Jewish culture in the former synagogue, turned during World War II into a swimming pool – mid-August
Other
phone: +48 61 87 87 460

It's possible to arrange a tour in brewery (ul. Szwajcarska 11), where guest accompanied by a local guide can watch all the production processes; finally the tour is ended with a short competition about beer and - of course - with tasting of some golden drink from Poznan. You must be 18 or older.

phone: +48 61 855 14 35

It's not a typical model, where you simply watch small plastic houses. It is an interactive 30-minutes show presenting the history of the city from its founding at the turn of 9th and 10th century till 18th century. The new model presents the beginnings of the city and its capital role played by Poznań during the reign of two first Polish rulers. Both models can be found in Ludgardy street in the cellars of Franciscan Monastery. Shows are organized daily from 9:30 every 45 minutes, additional shows in summer evenings. The choice of several languages: Polish, English, Spanish, German, Russian and Italian.
Watch football ie soccer at Lech Poznań, who play in Ekstraklasa, the top tier of Polish football. Their home ground is Stadion Miejski (INEA Stadium), capacity 43,000, 3 km west of city centre.
Fans of steam trains will be in their element in Poznań. A fun day trip is to take a steam train to the Wielkopolska National Park. Take the 08:15 train from Poznań Główny station to Stęszew, a 35-minute journey. Walk to the road crossing, turn left and continue until you enter the park near Lake Witobelskie. Follow the blue path to Mosina where you can catch the train back to Poznań. You can book a seat next to the driver for €4.50 by calling 068 348 2008, ext. 368.
Buy
The Stary Rynek is full of stalls where you can buy handicrafts and toys. Good souvenir shops selling folk handicraft are situated in Woźna street (one of the streets from the Square eastwards).
Comic books
Św. Marcin street 29, in an inside square, there is a little nice manga shop. You can easily find it as there is a big poster about it on the wall in near the street.
Open-air markets
There are many in Poznań, most are open all year round – maybe during the most severe frosts some stalls are closed and vendors are at home.
Bernardyński Square

address: Plac Bernardyński

A good choice of flowers, a lot of vegetables and fruit.

Jezycki MarketMostly for the locals living in Jezyce district, a huge choice of meat, some flowers, vegetables, some clothes and shoes. Much better prices than in shops in the centre, but don't expect much English (or any other language). If you are a meat lover, just next to Jezycki, you will find Wilczura (Zdrowe Mięsa) (Poznańska 1/3), a specialized butcher offering wide range of less common meats and meat products, from horsemeat to coypu sausages. The prices are quite competitive and not much higher than more casual kinds of meat.

Łazarski MarketAlso assigned mostly for locals, apart from food, flowers and clothes – some toys and electronic equipment.

Wielkopolski Square Market

address: Plac Wielkopolski

Mostly flowers, vegetables-fruit and sweets, some meat.

Wildecki MarketA market similar to Jezycki Market
Shopping malls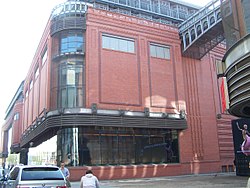 Auchan shopping mall

address: ul. Głogowska 432

A typical suburban shopping centre. Accessible by trams #5, #8 and #14 from the centre to the final stop Górczyn, from there bus #80. Another Auchan shopping mall is in Swadzim, approx. 14 km from the centre using road number 92.

phone: +48 61 87 99 913

address: ul. Szwedzka 6 and Szwajcarska 14

A huge complex (Ikea, M1 with another Auchan and approx. 60 other shops & restaurants), a vegetable market (for retailers only) and some other shops in Franowo district. Far from the centre, but connected with a tram route and a visit here can be combined with a visit in Poznań Brewery (see above).

Galeria Malta

address: ul. Baraniaka 8

The latest mall in Poznan, and the biggest one in West Poland, on the shores of Lake Malta in one of the most picturesque parts of Poznań. The centre's commercial space covers an area equal to 20 soccer fields and accommodates more than 170 establishments, including shops and boutiques bearing the most popular Polish and international brand names, service shops, restaurants, cafes, a multi-screen cinema complex and a fitness club.

phone: +48 61 886 04 02

address: ul. Bukowska 156

A shopping centre in the western parts of the city, next to the street leading to Ławica airport.

phone: +48 61 850 88 00

address: pl. Wiosny Ludów 2

just few minutes from the Old Market Square, recommended for those who (being in the Old Town) have no time to walk anywhere further. You can find here a Biedronka supermarket, more than 50 other shops and an exchange office.

Panorama

phone: +48 61 650 00 65

address: ul. Górecka 30

A small centre in the south of Poznan, there's no big choice of shops, but it's a very good place to buy shoes and clothes.

Pestka Gallery

address: 47, Solidarności Av.

This is in Winogrady district, next to Poznań Fast Tram line (trams #12, #14, #15, #16 and #26)

phone: +48 61 664 59 00

address: Kaspra Drużbickiego 1

A small-sized, double-floored centre located in the north of the city, among the blocks of flats of Winogrady and Piatkowo districts.

Stary BrowarIn the reconstructed buildings of the brewery built by Otto Hugger in 1870s in the city centre. In 2006 and 2007 it won a prestigious award for the best shopping mall of the world in the middle-size category. Many entrances: from Półwiejska street (which itself is a very popular shopping area), from Kościuszki or from the park between the Mall and Ogrodowa.
Eat
Budget
The cheapest places are so-called milk bars – established in the communist era, but still very popular, especially among younger people, for whom they're the cheapest (~€3 for a full dinner) option to have a normal meal (not fast-food).
Other cheap options :
Mid-range
Splurge
Drink
phone: +48 608 044 201

address: ul. Nowowiejskiego 13/15

address: św. Marcin 30

Cafe and bookshop.

address: ul. Półwiejska 42
Most night clubs in Poznań are to be found on and around the Stary Rynek.
address: ul. Garbary 62, entrance from ul. Mostowa

phone: +48 61 855 23 44

address: Wrocławska 21

Latin music, most nights the owner gives a basic salsa-lesson early at night, before that Latin Parties with different DJs and music.

Dervish Café

address: Nowowiejskiego 8, pl. Wolności

Arabic, Balkan, Indian, Oldies, Reggae, Rnb Music. Bollywood and Bellydance shows.

phone: +48 61 8524858

address: Wrocławska 9

Pruderia Exclusive Striptease Club

phone: +48 505298762

address: Półwiejska 24

A striptease club with two locations, in Poznań and Wroclaw. This is a location for your stag event, but it is also a hit with local businessmen looking to relax and enjoy themselves at the end of a hard day's work.
Sleep
Poznań is well known for its trade fairs, when thousands of business types descend
en masse
to the city. Accommodation can be quite difficult to find in this period, and prices tend to go up. If you are stuck, the Glob-Tour office in the main train station hall (Tel: +48 61 866 0667) will generally find a private room for you for around €8 per person.
Budget
APG Guest Rooms - Pensjon Polska

phone: +48 61 843 00 03,+48 502 25 29 39 (mobile)

address: 56/58 Polska str.

Blooms Boutique Hostel and Apartments

phone: +48 61 221 44 48

address: Kwiatowa str. 2.

Wi-Fi, linen and a full breakfast included. 56 beds. From 50 zł.

phone: +48 698 380 473

address: Półwiejska str. 19/10

phone: +48 61 851 57 57

address: Gwarna str. 10/2

phone: +48 61 829 3902

address: Al. Niepodległości 26

Open July – mid September. Triples €8 per person, doubles €10 per person.

phone: +48 61 868 55 52

address: Wołowska str. 64

Far southwest from the centre, by trams 5, 8, 14 do final stop "Górczyn", and from there by bus #80.

Dom Asystenta

phone: +48 61 866 20 21

address: 18, Palacza str.

Run by the Poznań University of Technology.

phone: +48 61 8524411

address: Wrocławska 16/6 street

Open 365 days a year. Great prices for solo travelers, or for packs of people. English speaking staff, very clean accommodation. Includes breakfast. The first real hostel in Poznań open all year round to all types of travelers, not just students.

phone: +48 61 852 12 30

85 beds in the city centre, in one of the office-skyscrapers, which means, that you'll have magnificent views from your room!

phone: +48 601304921

address: Dluga str. 8/5

address: Biskupińska 27

Hill Hostel

phone: +48 618530910, +48 531536601 (mob), +48 531536602 (mob)

address: Zamkowa str. 1/2

49 beds in 15 rooms, Wi-Fi internet for free, breakfast and linen included.

phone: +48 535552660

address: Kraszewskiego 9, Poznań

phone: +48 61 833 42 55

Two hostels. The former: in Jeżyce district (10 min westwards of the very centre): 40, Słowackiego str, phone : +48 61 843 31 02; the latter in Wilda district, 81, Gorna Wilda str.

The Hotel of Transport Works Company

phone: +48 61 651 74 57

address: 24 Wołczyńska str.

phone: +48 507 07 01 07

address: 6a, Rybaki str

phone: +48 61 851 60 60

address: Stary Rynek 67

The place inspired with music and close to the Old Market Square in Poznan.

Neighbors on Matches 2012Residents renting out their apartments or spare bedrooms.

P.E. Strzelecki youth hostel

phone: +48 61 878 89 07

address: Ul. Głuszyna 127

Far from the centre, accessible by trams 4, 12, 13, 17, 18 to the final stop and then by bus 58 (~15 minutes).

phone: +48 61 832 18 61

address: 78 Łozowa str.

phone: +48 61 830 30 33

address: 8-10 Konarowa str.

phone: +48 61 866 40 40

address: Berwińskiego str. 2/3

Youth hostel of 'Kids' Friends Society'

phone: +48 61 848 58 36

address: Drzymały str. 3

Good for organized school groups, meals-ordering possible.

phone: +48 61 8551763

address: Al. Marcinkowskiego 11/17

24/7 reception desk, multilingual stuff. Free WiFi and linen included. Tel: +48 61 8551763.




Mid-range

Blues Hotel

phone: +48 61 849 86 00

address: 7 Prusimska str.

phone: +48 61 8 590 590

address: 2 St. Martin Str., between the Old Town and the main pedestrian shopping area and only few minutes on foot to the main tourist attractions.

Guest-room of the Institut of Bioorganic Chemistry

phone: +48 61 851 68 41

address: 17/19 Wieniawskiego str.

The rooms are located in the very centre, in walking distance from both stations and from the Fairs, maybe only the Cathedral Island and Malta Lake requires some kind of transport. Conference halls are accessible, too.

Hotel 222

phone: +48 61 869 9140

address: Ul. Grunwaldzka 222

A clean, centrally-located modern hotel on top of a shopping mall in the commercial district. Singles €32 per person, doubles €18 per person.

phone: +48 61 848 94 72

address: 31 Lutycka str.

phone: +48 61 832 44 81

address: 7 Leszczyńska Str

Far from the centre, but has a very good standard, cooking and service.

phone: +48 61 858 68 68

address: 73/74 Stary Rynek Sq.

Located in the heart of Poznań - on one side, all sights are accessible on foot, on the other - life in that part of city finishes late ot night.

phone: +48 61 845 66 00

address: 96, St.Wawrzyńca Str.

A modern hotel, but located close to a city-motorway, mostly for people with an own car.

phone: +48 61 876 62 03

address: 98 Krańcowa Str.

phone: +48 61 842 07 74

address: 127a Bukowska str.

phone: +48 61 866 92 07

address: 7 Babimojska str.

Situated exactly on the opposite side of the street with IOP Hotel, known for its room quality.

phone: +48 61 879 87 71

address: 43 Spławie

This hotel is very inexpensive (cost around £160 including evening meals on 2 nights). The staff are friendly and helpful, reception, restaurant and corridors have been redecorated and quite modern. The area is very quiet and residential. The food is quite nice.

phone: +48 61 858 44 00

address: 23 Kazimierza Wielkiego str.

Very good place, close to the Old Town, close to the Cathedral Island and to Malta Lake area. Just next to the hotel is a nice Warta-river boulevard.

address: 118 Kościuszki Str.

A little bit besides the main roads, but still almost in the centre. Phone : +48 61 658 71 05

phone: +48 61 864 92 00

address: 20a Miczurina str.

Espectively far (but with very good transport), close to the airport and to the stadium.

phone: +48 61 899 10 20

address: 62, Kotowo Str.

Far away from the city centre in south-west suburbs, rather for guest with their own car.

phone: +48 61 853 01 51

address: 74 St. Marcin Str.

Located in a pretty busy place, but all city attractions and shopping areas accessible on foot, as well the Old Town is not far.

phone: +48 61 868 78 31

address: 115 Bułgarska Str

Hotel Meridiam

phone: +48 61 656 53 53

address: 22 Litewska Str. A small (20 beds) hotel in one of the parks: the Solacz Park. A place good for resting, ponds, walking areas.

phone: +48 61 822 75 43

address: 150 Naramowicka str.

Situated pretty far from the centre, a quite old building, but refurbished.

phone: +48 61 874 11 00

address: 77 Baraniaka Str. Next to the Malta Lake with all its sport and outdoor attractions (year-round ski slope, tobbogan run, ski and bike rental etc.).

phone: +48 61 867 28 31

address: 36 Sierakowska str

phone: +48 61 858 23 00

address: 69 St. Marcin Str

Located in a busy place, but in a beautiful tenement-house. The very city centre, a short walk to the Old Town, Emepror's District and train and coach stations.

phone: +48 61 852 81 21

address: 22 Marcinkowskiego Av

A very good location, on the border of the Old Town and the city centre, many good restaurants, shops, service points just next to the hotel.

phone: +48 61 833 05 91

address: 34 Chwiałkowskiego str.

A hotel situated next to Poznań sport and swimming centre, as well tennis courts and football ground nearby, 10-minutes walk from the centre.

phone: +48 61 663 62 42

address: 36, Rybaki Str.

Perfectly located in the centre, few-minutes-walk from the Old Town, in renewed old tenement house, but unfortunately the surrounding still requires refurbishment.

phone: +48 61 821 07 00

address: 101 Lechicka Str.

phone: +48 61 864 12 81

address: 4 Metalowa str.

Situated far from the centre, fair ground, stations etc., rather for those, who expect less.

phone: +48 61 868 44 33

address: 82-84 Złotowska str.

Very convenient for those landing in Poznań in late evening or taking off early in the morning - the distance to the city-centre is much longer than to the airport check-in.

phone: +48 61 833 76 00

address: 34a Przemysłowa str.

A modest hotel in not very pleasant surrounding, but cheap and close to the centre.

phone: +48 61 868 24 00

address: 350 Bukowska str.

One is not able to sleep closer to the airport - exactly opposite to the terminal.

phone: +48 61 833 52 62

address: 8, Dolna Wilda str.

A new hotel, located just out of the city centre, most tourist attractions are accessible on foot. In the vicinity : swimming pools and tennis courts in Chwiałkowskiego str. And walking green areas at the Warta river side.

phone: +48 61 870 91 66

address: 15 Sarnia str.

Hotel-Restaurant Bamberg-Inn

phone: +48 61 848 43 16

address: 43 Koscielna Str.

Close to the centre, in original Bamberg house from 18th century. A small (20 beds) hotel.

phone: +48 61 858 68 68

address: 73/74 Old Market Square.

A cameral hotel on the main square, joined with a restaurant offering locally-brewed beer the Poznań version of 'U Fleku').

phone: +48 61 668 75 75

address: 16 Szarych Szeregów Str., 60-462 Poznań

Renovated hotel located within walking distance to Strzeszyn Lake (one of a few natural lakes in the city). High standard and top customer care makes this location worth considering when going to Poznan. It has a directly connected with the Rail Station via 68 bus line as well as with the city centre. The hotel complex includes parking, restaurant and (soon) separate conference rooms building.

phone: +48 61 858 70 00

address: 1 Andersa Sq.

The biggest hotel in west Poland (over 800 beds), nest to the Old Brewery Shopping Centre, not far the central train and bus station and to the fair grounds. However the building is over 35 years old, all rooms and hall have been totally refurbished.

Novotel Poznań Malta

phone: +48 61 654 31 00

address: 64/66 Warszawska Str.

The hotel is located to the north from the Malta Lake, is a very quiet place, but quite far from the centre.

phone: +48 61 821 07 00

address: 101 Lechicka str

Modern, air-conditioned hotel and conference complex situated in the vicinity of the strict city centre.

phone: +48 61 867 56 66

address: 471, Grunwaldzka str.

Far away from the centre, with a dozen simple rooms.




Splurge

phone: +48 61 667 80 00

address: 3 Andersa Sq.

just next to the Old Brewery, 10-minutes walk from the fair areas, the central station and the Old Town.

phone: +48 500 161 671

address: 42, Kościuszki Str

Located in the Old Brewery Blow Up Hall 50 50 is an interactive work of art with 22 luxurious rooms, a bar and a restaurant, all offering a combination of luxury, high tech, the finest design and personal artistic experimentation

phone: +48 61 855 80 00

address: 20, Roosevelta Str.

A few minutes walk to the central station, fair grounds and to the centre. The airport is easily accessible, too.

phone: +48 61 655 20 00

address: 3/9, Bukowska Str.

One of the newest hotels in the city. Perfectly located opposite to the Fair Grounds, few minutes walk from the central station and just next to the bus stop to/from the airport.

phone: +48 61 858 81 00

address: Winogrady 9

A modern (90 beds) hotel, situated 3 km from the centre, just opposite to the biggest park in Poznań – the Citadel.

NH Hotel

phone: +48 61 624 88 00

address: ul. św. Marcina 67

One of the latest hotels, situated in the very centre, not far from the central station ad fair grounds.

phone: +48 61 827 5800

address: Ul. Żniwna 2

A luxury complex near Citadel Park.



Cope
Consulates
The Honorary Consulate of Albania

phone: +48 61 86 84 713

address: Billewiczówny 21

The Honorary Consulate of the Kingdom of Belgium

phone: +48 61 436 79 69

address: Obłaczkowo 11A, 62-300 Września

The Honorary Consulate of Brazil

phone: +48 61 824 46 80

address: Błażeja 86a

The Honorary Consulate of the Czech Republic

phone: +48 61 849 22 92

address: Bukowska 285, (airport)

The Honorary Consulate of Estonia

phone: +48 61 886 28 39, +48 61 886 28 40

address: Głogowska 26

The Honorary Consulate of Federal Republic of Germany

phone: +48 61 851 60 97

address: Ratajczaka 44

The Honorary Consulate of France

phone: +48 61 851 94 90

address: Św. Marcin 80/82, (The Emperor's Castle)

The Honorary Consulate of Hungary

phone: +48 61 841 01 40

address: Gniewska 87

The Honorary Consulate of Ireland

phone: +48 61 853 18 94

address: Kramarska 1

The Honorary Consulate of the Kingdom of Denmark

phone: +48 61 866 26 28

address: Strusia 10

The Honorary Consulate of Kingdom of the Netherlands

phone: +48 61 852 78 84

address: Nowowiejskiego 8/8

The Honorary Consulate of the Lithuanian Republic

phone: +48 61 856 38 96

address: Bukowska 12

The Honorary Consulate of Mexico

phone: +48 61 822 76 61

address: Naramowicka 150

The Honorary Consulate of Romania

phone: +48 61 825 78 66

address: Maciejewskiego 20/1

The General Consulate of Russia

phone: +48 61 847 62 16 or +48 61 841 77 40

address: Bukowska 53a

The Honorary Consulate of Slovakia

phone: +48 61 853 70 85

address: Św. Marcin 80/82 (The Emperor's Castle)

The General Consulate of Turkey

phone: +48 61 852 48 44

address: Stary Rynek 78/79

The Consular Agency of the USA

phone: +48 61 851 85 16

address: Paderewskiego 8

The Honorary Consulate of the United Kingdom

phone: +48 61 665 88 50

address: Kochanowskiego 4/2

The Honorary Consulate of Ukraine

phone: +48 61 850 19 97

address: Grobla 27
Connect
Dialing a number from mobile
Depending on your phone operator and the network you roam into, you may want to try one of these:
dial the number as seen, e.g. 061 888 0000
if unsuccessful, omit the initial zero, e.g. 61 888 0000
if still unsuccessful, omit the leading zero, dial +48 before the number, e.g. +48 61 888 0000
Internet
There are Internet cafés around the Stary Rynek and Stary Browar shopping center offers free Wireless connection. There is also a 24 hour Internet cafe at the main train station which is perfect for when you have hours to wait overnight for the next train. There is also public wi-fi internet access in the surroundings of the Stary Rynek and plac Wolności.
Telephones
The phone numbers shown on this page are presented in the national format. All local numbers must be dialed with area codes, if you encounter a seven digit number, add '61' before the number.
Stay safe

Poznań is generally a safe city, with levels of crime comparable to elsewhere in central Europe. However, by comparison with major cities in western Europe there is less tolerance of diversity in racial or sexual orienation and care should be exercised outside of the city centre.

Go next
For those arriving by train from Berlin, it would make sense to travel south to the cities of
Wrocław
and
Kraków
, or on to
Warsaw
. Another opportunity is to travel to the north -
Gdańsk
.
Worth a visit:
Chludowo — an ethnographic-missionary museum of the Werbists Order, with their wooden church (20 km north of the city)
Gniezno — the other co-capital of Poland in the tenth century. The city has a beautiful cathedral and old town and a very interesting Museum of the Beginnings of the Polish State.
Greater-Poland National Park — with several post-glacier lakes and moraines (located only 15 km south of city and easily accessible by trains)
Kórnik — with a neogothic castle with wonderful interiors and furniture and a dendrological park (18 km south-east from the city)
Licheń — the largest basilica in Poland. Worth a visit if you are a devout catholic, or if one enjoys grotesque architecture.
Murowana Goślina — 22000 people live this small and cozy town. Good place to walk and cycle in the forest(There is lake also). You can meet friendly local Polish people here; (19 km from northern part of Poznań)
Owińska — with a precious church and the convent of Cistercian Nuns (17 km to the north)
The Puszcza Zielonka Forest — the biggest forest complex in the vicinity of the city, many walking and cycling trails, lakes with fishing areas. On the forest boundaries there are numerous wooden churches and some palaces; (10–15 km north east of the city centre)
Puszczykowo — a very interesting travel museum of a polish traveler Arkady Fedler, the seat of the management of Greater-Poland National Park with a nature museum; (15 km to the south, very easily accessible by train)
Rogalin — with a baroque-klasicistic palace and its famous painting collection of the Raczyński family, horse cabs and very famous oak-treess (in total : more than 500), including three well-known trees : Lech, Czech i Rus; (16 km to the south)
Swarzędz — a small city famous for the unique in Poland (and one of few in Europe) bee-keeping open-air museums (just out of the city limits to the east, toward Warsaw)
Szamotuły — interesting old town, with an interesting castle, icon collection and an unusual timber church nearby (35 km to the north-west)
Szreniawa — famous for the Agriculture Museum and the Bierbaums viewing tower (15 km to the south-west)
Uzarzewo — with a Hunting Museum and a timber church (15 km north east of the city)
Wolsztyn — a nice town with the operating steam-locos depot, which is the only one in Europe (80 km to the south-east)