Prague/New Town and Vysehrad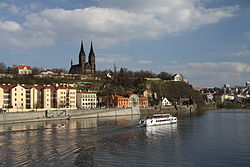 The
New Town
of
Prague
(Czech:
Nové Město
) is in the east bank area to the east and south of the
Old Town
. A large part of New Town that borders Old Town from east (Republic Square lies on the border) and south belongs to Praha 1 district. This area contains Wenceslas Square, the main boulevard in Prague, and the National Theatre.
Vysehrad
is a district of Prague where there is a historical fort. It was probably built in the 10th century, on a hill over the Vltava River.
Understand
When the Přemyslid dynasty settled on the current site of Prague Castle, the two castles maintained opposing spheres of influence for approximately two centuries. Like this the second seat of the Czech sovereigns was established on a steep rock directly above the right bank of the Vltava river, in the 10th century. The zenith of Vyšehrad was during the second half of the 11th century, when Vratislav transferred his seat from Prague Castle, and the original fort was remodelled as a complex comprising a sovereign's palatial residence, church and seat of the chapter. The period of growth ended around 1140 when Prince Soběslav moved his seat back to Prague Castle.
Under the hill, there are several stunning looking cubist buildings, constructed by architect Josef Chochol in the 1910s.

Get in
The New Town is well served by all three Metro lines. The following stations are in New Town or on its border:
Interchange stations (upper Wenceslas Square), , (lower and middle Wenceslas Square)
Line B: (Republic Square), (close to National Avenue, National Theater), and (Charles Square, Palackého Square, close to the Dancing House and the university area).
Line C: (Main railway station, on border with Vinohrady), and (on border with Vinohrady).
The New Town is also accessible by
many tram lines
. The tram network is much denser than the metro network and can be useful to get around within New Town if you do not want to go on foot.
Line 17
, goes along the river and connects New Town (Palackého nám. near Charles Sq., National Theatre) with Old Town (Staroměstská, Právnická fakulta).
Line 22
connects the New Town with Prague Castle, Charles Bridge and other tourist hotspots.
After midnight
, when the metro is not operating, use night trams to get in or out of New Town.
Lazarská
street, just north of Charles Sq., functions as the central hub for all night trams in Prague. Many night tram lines cross Wenceslas Square in the middle (Vodičkova). There are also several night bus lines connecting
I. P. Pavlova Sq.
with other parts of the city. Another important station of night buses is
Náměstí republiky
(
Republic Square
).
Vysehrad is not located in the center of the city but it is well connected by metro line C (Vysehrad stop) and tram lines 6, 18 and 24 to Albertov stop.
See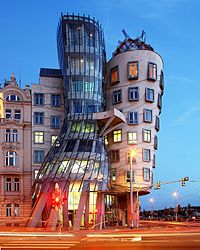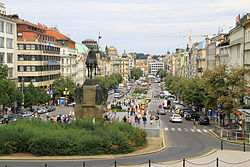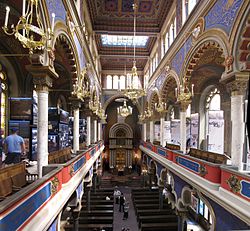 Wenceslas SquareVáclavské náměstí is a wide boulevard running down from the National Museum and it's crammed with bars, restaurants and casinos. It is the heart of central Prague. All three metro lines cross there: line A and C cross at "Muzeum" station (upper part of boulevard next to National Museum), while lines A and B cross at "Můstek" station (middle to lower part of boulevard). Wenceslas Square and the surrounding area was an important place of demonstrations during the Velvet Revolution in 1989. There is a big statue of St. Wenceslas riding his horse in the upper part of the boulevard. St. Wenceslas is the patron of Czech lands, so this monument was the focal point of the anticommunist demonstrations. Just few dozen meters down from the monument, at the place where Jan Palach burned himself in 1969 in protest against Soviet occupation of Czechoslovakia, there is a marble plate in memory of the victims of communism. The St. Wenceslas statue is also a popular meeting point; if somebody in Prague wants to meet u koně (near the horse) or pod ocasem (under the horse tail), this place is meant. A notable building is the beautiful Hotel Evropa in Art Nouveau style (1906) in the middle of the boulevard.

National Museumis a huge nature and history museum in the upper part of Wenceslas Square. The building was designed by prominent Czech neo-renaissance architect Josef Schulz in the years 1885 - 1891. In the older museum, there is an excellent permanent exhibition of various minerals including gems, as well as other interesting exhibitions including insects, fossils, animal skeletons, and stuffed animals from around the world. However, some of the information may be outdated, and the diagrams are not well done. One of the best known pieces is a large whale skeleton hanging from the ceiling, quite unusual in a landlocked country. The building is enormous and the architecture very grand, but the exhibitions in themselves need to be fixed up. New museum has exhibitions on communism. Old museum has been closed since 2011 for renovations.

Dancing House

address: Rasínovo nábr 80, Praha 1

Officially named the Rasin Building. It is the work of the twentieth century American architect Frank Gehry, and is said to be shaped like a man and a woman dancing; hence its former name "Fred and Ginger".

Botanical Garden of the Charles University

phone: +420 22491 8970

address: Na Slupi 16, 128 00 Praha 2

Botanical garden of the Charles University with valuable outdoor exhibition and a collection of tropical plants in greenhouses.

VyšehradSeat of Czech princes for centuries before Prague Castle was built. Site of St. Paul and Peter's Cathedral, and of the famous Vyšehrad cemetery known as 'Slavín', burial grounds of extraordinary Czechs. Don't forget to visit the casemate of Vyšehrad; they are picturesque, and you can see originals of some statues from Charles Bridge. From the ramparts of Vyšehrad, you'll have an excellent view of Prague castle, Vltava, Smíchov (former workers' slum and industrial quarter of town) and Podskalí (area under Vyšehrad, once inhabited almost entirely by raftsmen). If you take a look from southern rampart, you'll see Kavčí hory, headquarters of Czech Television - rather futuristic building from the 1960s. For closer look to Kavčí hory, take metro line C, station "Pražského povstání".
Vyšehrad cemetery

address: Stulcova

Established in 1869 on the grounds of Vyšehrad Castle, it is the final resting place of many famous Czechs like artist Alphonse Mucha and writers Jan Neruda and Karel Čapek.

Basilica of St Peter and St PaulA neo-Gothic church in Vyšehrad fortress.
Velvet Revolution Memorial

address: Narodni 20

A simple brass plaque.
Jubilee Synagogue

address: Jeruzalémská 1310/7

Built in 1906, designed in Moorish Revival form with Art Nouveau decoration.
phone: +420 224 212 966

address: V Celnici 1031/4

An interesting museum that follows the history of communism in Czech Republic until its fall with the Velvet Revolution. The museum has several interesting communist propaganda artifacts, which are worth a look. Interesting exhibits on how communism changed Czechoslovakia, but skewed toward a particular view of history.
phone: +420 224 216 415

address: Kaunický palác, Panská 7

This museum is dedicated to the life and works of Alphonse Mucha, a leading artist in the Art Nouveau movement.
phone: +420 222 312 006
address: Nové mlýny 1239/2
Do
Walk around the Wenceslas Square in the evening.
Sit and relax amongst the greenery in the Botanical garden of the Charles University.
Small walk in the calm of the morning to observe the city waking up from the castle.
Buy

Wenceslas Square is one of the best places in Prague to buy books. There are two big multilevel bookstores. One is Palác Luxor, Václavské náměstí 41, it has great selection of foreign language books, including English, on the first underground floor.

Eat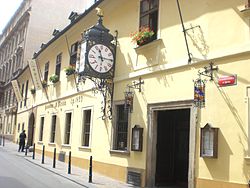 Drink
phone: +420 736 630 868

address: Václavské námesti 58, Praha 1

Novelty pub where you can pour your own beer from the centre of the table. As well as live sport, the giant tv screens show graphics ranking the 15 tables by beer poured. When all of the tables are occupied, the barstaff can get you beers or cocktails from the bar. Food is also available.

phone: +420 224 232 319

address: Vaclavske Nam 21, Praha 1

Situated in Wenceslas Square, this club pays US$5000 rent per day, and consequently charges an outrageous cover fee to teenage tourists who still think that Prague is the "wild" place it was in the early 1990s. This club does a good job of keeping the more pleasant clubs in Prague free from tourists who come for Prague's more disreputable aspects.

address: Vodičkova 36, Praha 1

Nice, but a little touristy; they play mostly 1980s music (with the accompanying music video on the big screen).

phone: +420 222 075 705

address: Národní 11, Praha 1

This club is named after the infamous "Nine Eleven". Run by natives of the USA, it is a well-run club whose rules are very strict.

phone: +420 222 520 084

address: Myslíkova 28, Praha 2

Small bar close to Lazarska, in which you can always find a mix of expats & locals. Live music venue for acoustic acts. Open late.

phone: +420 774 982 445

address: Spálená 47, Praha 1

Loud bar pumping dance music onto the street. Not much room for dancing. Popular with tourists.

phone: +420 605 000 500

address: Pštrossova 21, Praha 1

Frequented by the Czech yuppie set.

phone: +420 296 222 292

address: Ve Smečkách 12, Praha 1

Watch a big variety of sports on big screens, very close to Wenceslas Square.

phone: +420 602 660 290

address: Křemencova 11, Praha 1

A restaurant that brews it's own fantastic dark, sweet beer. It is the color of Coca-Cola with an alcohol content of 5.5% ABV, but its flavor is not overly strong. The servers will suggest a shot of local herb liqueur, Becherovka, but it won't be free. The atmosphere of this pub gets very rowdy as it is loaded with tourists from all over and bands play regularly. It's a lot of fun with a group.

address: Vodičkova 677/10

An incredible wine bar that doesn't look like much from the front, but if you look inside and go in the way back you'll find a huge underground maze of different areas each with their own unique music and vibe. Also nearby is the crossing point for all night trams.

Atlas Cabaret, Darling Cabaret, Hot Peppers, Club Empire, etc., around Wenceslas SquareThe area around Wenceslas Square is popular with British stag groups, and there are numerous strip clubs on offer. Groups of young foreign men will be approached in the street by touts offering cheap drinks and women, and they will even trail you from pub to pub if it's a slow night and you haven't take them up on their offers. The strippers are full contact with touching allowed, while the girls in Atlas, Darlings and Empire offer full sex.
Sleep