Praia do Forte
Praia do Forte
is a beach and a coastal village in the
Brazilian
state of Bahia
, 82 km north of
Salvador
. Despite being overpriced and tourist-oriented without any disguise, it is probably one of the most beautiful and pleasant spots of the
Northeast
of the country, and a good way to relax from the noise and crowds of
Salvador
.
Get in
Praia do Forte is 1.5 - 2 hrs on a bus from
Salvador
.
You can get the bus from Calçada (near the bottom of the Lacerda lift) or from the rodoviária bus station). The bus costs 6.5 reais (May 2006).
Salvador's airport is to the northeast of the town, giving easy access to Praia do Forte if you want to by-pass Salvador itself. Car rental is available from several companies. Buses leave from the airport at 10.30 and 14.30 for Praia do Forte.
Get around
From where the bus drops you off, you can walk anywhere in town. The path to the beach and to Projeto Tamar is lined with shops and restaurants.
See
Projeto TamarA successful environmental project in Praia do Forte. TAMAR stands for Tartarugas Marinhas (Sea Turtles). The Project is a non-profit organization with its main objective being to protect sea turtles from extinction on the Brazilian coastline. Praia do Forte is one of 22 bases of the project along the Brazilian coast, which have now released close to 10mn turtles into the Atlantic. In the visitors area, you will find pools with turtles and different types of sea animals, and can even touch them. At certain times of the day, you can also watch the young turtles being released to the sea.
Do
Shopping - There are many nice boutiques and they don't just sell bikinis, t-shirts and other turtle-themed souvenirs.
The Beach - The beach is very nice. When the tide is out there are tide pools that are full of sea life. Farther down on the beach, past Projeto Tamar there is a great place for swimming. There are a lot of fish and you don't even need a snorkel and mask to see them. After seeing Projeto Tamar, spend the rest of the day relaxing on the beach, swimming in the ocean or exploring the tide pools. It's not uncommon to see a whale surface past the breaking waves.
Sapiranga Ecological Reserve. Atlantic rainforest area just a couple of km from Praia do Forte. Lots of interesting plants and birds, but rather spoilt by the 4-wheeled motorbikes that are the latest invasive species.
Horse riding. Available on the beach and for trips to Sapiranga reserve.
Bicycle hire. Several good trails are available.
Surfing and paragliding.
Capoeira You can train for example with Grupo Esporão with some great teachers as Contra-Mestre Fuampa or Professor Macaco.
Buy
Loja Brasil Açu

address: Avenida ACM

Carvings, sculptures, and other works of art from Bahia.

Loja Mulher Rendeira

address: Avenida ACM

Local handicrafts and women's clothes

address: Avedida ACM, Praça da Música

Precious stones and jewelry.

address: Praia do Forte

A wonderful 500 year old ruined castle, one of the first Portuguese colonial settlements in Brazil. It has been very well excavated and has a little museum. For some reason, it is not well publicized and many people never go there, so you will pretty much have the place to yourselves. If you are going to Praia Do Forte, you should not miss this, as it is so close, about a 10 minute taxi ride.
It also has fantastic views of the coast and offers great photographic opportunities.
Eat
Boutique do Sorvete

address: Alameda do Sol

Great ice cream shop, where you can buy by weight. All sorts of toppings.

address: Alameda do Linguado

phone: +55 71 3676-1754

address: Alameda do Linguado

Recipes from around Brazil with an emphasis on those from Bahia.
Drink
address: Alameda do Sol 180

A selection of 50 wines; some nice sandwiches and snacks to go with them, and some good coffee to finish.

phone: +55 71 3676-1637

address: Alameda do Sol

Cakes, ice creams, snacks, sandwiches, and good music.

Bar do Souza

phone: +55 71 3676-1129

address: beginning of Alameda do Sol

Bar famous for its fried fish balls.
Sleep
Many of the hotels and pousadas in this area seem reluctant to quote their rates on their web sites. Use the booking service on the web site to get a quote.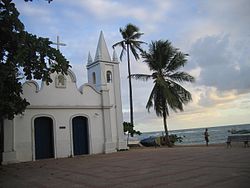 Budget
Mid-range
Splurge
Praia do Forte Eco ResortExpensive resort but one of the nicest in Brazil. Lots of things to do, many with an ecological orientation. On the beach, lots of space and many nearby walks. Popular with birdwatchers. Excellent club for children up to 11. Vast quantities of food at breakfast and dinner buffets.

Iberostar BahiaMassive, new hotel on the beach with 632 rooms. Already receiving good reviews. All-inclusive rates, including the entitlement to raid the mini bar.
Go next
Salvador. Some people fly in, stay in Praia do Forte for a week, fly out again and never see Salvador. It is only an hour and a half to downtown and to miss Salvador would be a big mistake.