Prestwick
Prestwick
is a small town in
Ayrshire
on the Clyde coast of South West Scotland, sandwiched between Ayr to the south and Troon to the north. It grew up as a golf resort in Victorian times, hosting the earliest Open Championship golf tournaments from 1860. In 1930 the airport was built, and for the next 50 years this was a major gateway for military and commercial flights across the Atlantic, and base for related industries. It acted as a rest and re-fueling point on the "Great Circle", the shortest route between Europe and North America via Greenland, and it was seldom foggy. When the rest of Britain and Ireland were socked in by bad weather, Prestwick's big runway was the last hope for transatlantic aircraft. One that didn't make it was a USAAF flight in 1944 that crashed into the town, killing all 20 on board and five on the ground.
The airport lost much of its commercial passenger role from the 1980s when the next generation of aircraft had greater range, so Europe even to Los Angeles non-stop became routine. Those aircraft also had better instrumentation and bad-weather capability. However Prestwick continues to be a major base for aviation services, Atlantic air traffic control, sea-rescue helicopters, air cargo and military flights. That was how it came to be the only place in Britain where
Elvis Presley
ever set foot (at least in his earthly form), as he returned home in 1960 from US Air Force service in Germany. Foreign VIPs sometimes land here for the same reason (plus it's handy for Donald Trump's golf resort at Turnberry), and that big runway means there are proposals for Prestwick to become Europe's "space port". This is expected to come into operation about the same time that Elvis next turns up for open-mike night in an Ayrshire pub.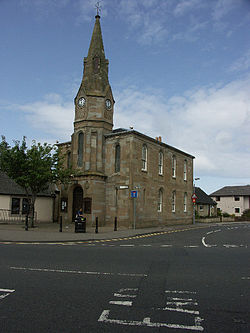 Get in
By plane
Glasgow Airport (GLA

)

is some 30 miles north but is almost always the best airport for reaching Prestwick and the county of Ayrshire, because of its range of UK, European and long-haul destinations. Take the airport bus to Glasgow Buchanan bus station, then bus or train south towards Ayr as described below.
Ground transport from PIK: Prestwick town is close enough to walk. Buses and trains between Glasgow and Ayr call at the airport, see below. By train, you get half-price on the standard fare (for Glasgow about £9 single, £10 return, so you save £5) by showing your flight confirmation. You can't do this online or at a ticket machine, so buy from a ticket office (eg at Glasgow Central), or from the train conductor if there isn't an ticket office (which includes PIK itself).




By train


Four trains an hour M-Sat and two an hour Sun run from Glasgow Central to Prestwick and Ayr, taking 45-60 mins, via Paisley, Irvine, Troon, PIK airport, , Newton-on-Ayr, and Ayr; every couple of hours this is a through-train from Edinburgh via Motherwell. They run between 06:30 and midnight, at other times take the X99 bus or a taxi. The half-price deal for tickets to & from the airport isn't available for Prestwick Town. Ayr has onward trains to Kilmarnock, Girvan and Stranraer.


By bus

Stagecoach West Bus X77 runs from Glasgow Buchanan to PIK airport (45 min), Prestwick town and Ayr. It runs every 30 min M-Sat, hourly Sun, from 07:00 to 23:00.
April-Oct, Bus X99 leaves PIK at 00:30 (and will wait 45 min for booked passengers) to reach Buchanan station at 01:15, then heads back south at 03:00 to reach PIK at 03:45. It doesn't serve Prestwick town.


By car


Prestwick is just off the M77/A77 Glasgow to Stranraer road and the A78 Ayrshire coastal road.

Get around
Stagecoach Bus 14 runs every 30 min between Irvine, Troon, PIK airport, Prestwick town and Ayr.
See
is a 50-foot tower built some time before 1775, probably so the laird could watch falconry over the nearby wetlands, now drained. It's described as a "folly" but overlooks the airport so inevitably the story goes that it was an early ATC control tower - maybe for the 1691 Flight of the Wild Geese? It's unsafe to enter so it's fenced off and the doorway is bricked up.
Old St Nicholas Church is a 12th C ruin near the town railway station, with an ancient graveyard. The modern St Nicholas church is a quarter mile south.
The Polish war memorial on Ardayre Rd (in RAFA Club opposite Parkstone Hotel) commemorates that nation's servicemen lost in World War II, with a memorial service held annually on 10 Feb.
Do
address: Links Rd KA9 1QG

The Links Old Course was host to the first 12 Open Championships 1860 to 1872. The course is 6908 yards, par 71. Combi-package with Turnberry & Royal Troon available.
Open Links of Ayrshire is a combi-package with Prestwick Old Course, Trump Turnberry north of Girvan and Royal Troon. Reckon £2000 for a couple playing all three, plus accommodation and meals at Turnberry. You can't book this online, call +44 1655 333 991 or email reservations@trumpturnberry.com.
Prestwick has two other courses suited to the budgets of mere mortals, and there are several more in nearby Troon and Ayr.
address: 31 Grangemuir Road KA9 1SN

Course is 5415 yards, par 72, and hazards include the old salt-pan buildings and flooded quarry.
address: East Road, Prestwick KA9 2SX

This is inland, so it's not machair, but sloping greens to gently roll your ball into trouble. 5993 yards, par 70.
The Scottish International Airshow is held alternate years at Prestwick Airport on the first weekend in September. The next is from 18:00 Fri 4 to 17:00 Sun 6 Sept 2020. Entry is free, but for about £10 per day you get better parking and seats.
Buy
Heathfield retail park at the south edge of town has ASDA and other major stores.
Eat
A strip of cheap eats along Monkton Rd / Main Street includes Mamma Mia, Spice Cube, Lido, Scruffy Duffy's, and Vito's.

phone: +44 1292 677675

address: 132 Main Street KA9 1PB

Good for light bites, but gets great reviews for its full meals.

phone: +44 1292 477318

address: 141 Main Street KA9 1LA

Family-run Indian restaurant, interior closed for refurbishment until Dec 2019, remains open for takeaway.
Drink
address: 87 Main Street

JD Wetherspoon pub with meals.
Other Main Street pubs are Smugglers, Red Lion, Caprice and the Golf Inn.
Sleep
phone: +44 1292 476811

address: 187 Ayr Road KA9 1TP

Clean efficient modern hotel, with Logan Restaurant.

phone: +44 1292 477 286

address: Ardayre Rd KA9 1QN

30 room hotel with "Restaurant 33". Rooms a bit poky but good sea views.
Go next
Head to Ayr for the Robert Burns Heritage Park at Alloway, 3 miles south of town.
Ardrossan has ferries to the charming island of Arran.
Ferries to Cumbrae sail from Largs, and to Bute from Wemyss Bay.