Pretoria
Pretoria
, the administrative capital of
South Africa
and part of
City of Tshwane Metropolitan Municipality
, is in
Gauteng
.
Understand
History
The area known today as Tshwane Metropolitan Municipality, with Pretoria (City) at its centre, was allegedly occupied by the Sotho people for many centuries. During the 15th century the Ndebele people also migrated into the area and settled along the banks of the Apies River. Tshwane is the Setswana name of the Apies River. Around 1820 the Matabele under the leadership of Mzilikaza also entered the region, leading to local conflicts between the Matabele newcomers and the already established Sotho and Ndebele tribes as well as the European "Voortrekkers" who were steadily moving northward through the country. These conflicts came to an end when the Matabele were defeated by the "Voortrekkers" in 1837 at Mosega.
By 1855 there was no known tribe in what is known as the Pretoria area today. Only nomadic groups passed through this area, with one of the Setswana people (so it is alleged) led them. Pretoria was founded in 1855. The first capital of the Zuid-Afrikaansche Republiek (South African Republic) was Ohrigstad, but the capital was moved to Pretoria. After the Second Boer War, the ZAR become Transvaal province, and Pretoria its capital. The city was named after Andries Pretorius, the Boer leader at the Battle of Blood River where the Voortrekkers defeated the Zulus under King Dingaan. In 1856 the area today known as Arcadia was acquired in exchange for a pony and added to the town.
In 1899, during the Second Boer War, Winston Churchill was captured and held as a POW in Pretoria until his eventual escape to
Mozambique
. British forces captured Pretoria in 1900 and held control over the city until the signing of the Treaty of
Vereeniging
in 1902.
When the Union of South Africa was established in 1910, Pretoria was elected the capital and is still the administrative capital of the Republic of South Africa today.
Climate
Pretoria is located in a summer rainfall area with hot days regularly followed by short and intense afternoon thunderstorms. The thunderstorms are often accompanied by lightning and occasionally result in hail. Summer temperatures range between 16°C at night to 30°C during the day, with occasionally higher temperatures (up to about 36°C). Winters are mild and dry with temperatures averaging between a minimum of 5°C and a maximum of 20°C. Winter nights and (occasionally winter days) can be surprisingly cold and buildings are generally not well insulated. Bring warm clothes if you're visiting during the winter months.
Get in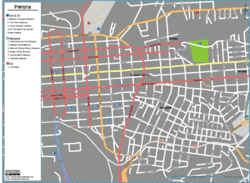 By car
Five highways join in the
Gauteng
region, making it accessible from all cities in the country. This would include the N1, N3, N4, N12 and N14 national highways.
Most National Routes (N) are now toll roads. Open road tolling (e-toll) has been introduced on the freeways around Johannesburg and Pretoria.
By plane
The closest international airport is
O.R. Tambo International Airport
(
JNB
) in Johannesburg. The Albertina Sisulu Highway or R21 leads from there to Pretoria. Airport shuttles are available on the airport or can be booked:

phone: +27 11 390-1857

address: P O box 1899 Kempton Park South Africa 1620

Johannesburg-based company.

phone: +27 84 580-4802

Reliable shuttle service, tours and transport.

phone: +27 82 557-9604, +27 12 346-2400

Very reliable and friendly.
By bus
By train
A convenient high-speed rail link is available between OR Tambo International Airport and Pretoria. Travellers can access this direct link from the arrivals hall in the airport building. Safe, comfortable Gautrain busses serve local routes from the different stops in Pretoria. the fare from International airport to pretoria is R164. There are frequent commuter trains from Johannesburg which cost R16.50 one way. Metrorail also services other outlying towns and many suburbs of Pretoria.
Long-distance trains from other parts of South Africa generally arrive in Johannesburg.


Get around
Although crime in South Africa is higher than in many other parts of the world, common sense precautions should prevent incidents. Be especially aware of your surroundings after dark and don't travel alone. Main shopping centers are reasonably safe.
Either use a metered taxi, rent a car or use the municipal bus service. There is also a very extensive network of informal, cheap minibus taxis, mostly used by local commuters. These taxis have a reputation for being unsafe, but this has greatly improved in recent years and most taxis are now relatively luxurious and not overcrowded, except during peak times. Accidents are rare. Ask locals waiting at taxi stops about routes and rates.
Walking is a good option during the day, but may be unsafe after dusk in certain areas, such as central Pretoria.
Train servicePretoria Main railway station.

phone: +27 12 663-1368

Affordable car rental service available at all major locations in South Africa.

HeinRich's TaxisSafe and professional taxi service.
Hendrick Metered taxi and Shuttles
0826742075
www.hendrickcabs.co.za
Rixi Taxi

phone: +27 12 362-6272

Safe and professional taxi service. Not the cheapest means of getting around.

Tshwane Bus RoutesGraphical map of bus routes and timetables and some information on using Minibus Taxis. R8 within the central business district, and R16 for long-distance journeys. Not extensive coverage or very regular, but is fairly reliable. Main office at church square. Timetable available there. Bus stops have poor indication of bus direction. So ask or wait. Bus frequency is best during rush hours. Very old fashioned but good for nostalgists.
See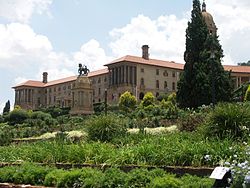 phone: +27 12 843-5071

address: 2 Cussonia Ave, Brummeria, Pretoria

An urban oasis to explore. This 76-ha urban oasis is a pristine getaway situated in the eastern suburbs of South Africa's administrative capital, Pretoria.

National Zoological Gardens (The Zoo)

phone: +27 12 339 2700

address: 232 Boom St, Pretoria

Aquarium, reptile park and all the larger mammals including koalas. One can also camp within the zoo on Friday and Saturday nights. Golf carts are available for rental at R80/hour. Children's pushcarts at R60/day. A cableway operates from 10:00 - 16:15 daily between the top and bottom of the zoo, price R20 one way, R30 return.

phone: +27 12 300 5200

address: 2 Church St

The location of the South African presidency. The building was designed by Sir Herbert Baker in 1908. Entrance to the building itself is prohibited for security reasons, since it is the site of the Presidential Offices. However, the beautiful terraced gardens, which boast a wide variety of indigenous plants, are open to the public and provide a truly amazing view over the city.

phone: +27 12 440 8316, +27 12 341 5204

address: Wonderboom Nature Reserve

A fig tree over 1000 years old. The tree, now a national monument, is unusually large, standing some 25 metres high and having a 5.5-metre diameter main trunk. It's growth pattern is also unusual: as its branches grew longer, they drooped towards the ground and eventually took root and formed a circle of new trunks or daughter trees around the original tree. There are now a total of 13 trunks and the colossal tree covers an area with a diameter of 55 metres. Wonderboom Nature Reserve has a large number of dassies (rock hyrax) living in caves overlooking the Apies River. They provide a food source for a breeding pair of black eagles that nest on a rocky ledge nearby and that can often be seen circling above the reserve. At the top of the Wonderboom Hill are the ruins of the Wonderboom Fort, one of four forts built by the former South African Republic at the end of the 19th century to defend Pretoria against the British forces. It was never used. It was blown up, probably on the instruction of Prime Minister Jan Smuts, in the early days of the Second World War, lest it be used by anti-government dissidents as a springboard for an attack on the state. At the foot of the hill near the Wonderboom is an important Iron Age site and nearby is one of the best Stone Age sites in the area. The reserve has picnic facilities.

Streets with jacaranda trees

address: South of Union Buildings

In September, the jacarandas have purple flowers. Many streets are lined with these trees. A good place to view lines of them is the Union Buildings.

phone: +27 11 085 2500

address: Church Square, Pretoria

Church Square is one of the few places in the Pretoria CBD where you can get a sense of how Pretoria must have looked a century ago, and, as a result, is often used as a set for local period movies and TV series. The square is surrounded by important civic buildings, including the Palace of Justice, the General Post Office, the Old Council Chamber and the Old Capitol Theatre and its importance was underlined by the erection of a statue commemorating President Paul Kruger.
Museums and galleries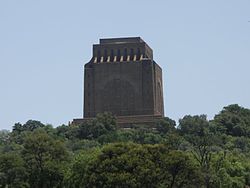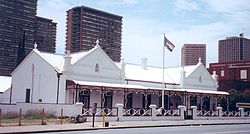 phone: +27 12 314-1766

Historical articles show the development of the penal system in South Africa from the most barbaric methods to the modern penological system of today. The pursuit of hobbies by prisoners is portrayed by matchstick work, art objects, wood and stone carvings. Objects illegally made by prisoners and which are confiscated, are displayed, such as dagga pipes, forged keys and money, tattooing machines, and stabbing and cutting weapons.

Melrose House Museum

phone: +27 12 322-2805

address: 275 Jacob Maré St

Where the peace treaty that ended the Anglo-Boer War as signed in 1902.

National Cultural History Museum

phone: +27 11 324-6082

address: 149 Visagie St

Learn about the people and the cultures of South Africa, from the Iron Age till today. (Wheelchair accessible). Exhibitions include rock paintings and engravings of the San people; 1000-year-old Iron Age figurines from Schroda in the Limpopo Province (described as "the best known artifacts indicating ritual behaviour in the Early Iron Age"); the Art Gallery presents an overview of South African culture through time, using cultural objects, crafts, sculpture and paintings and an exhibition on Marabastad is a true example of a cosmopolitan and fully integrated rainbow nation before apartheid.

phone: +27 12 803-6086

A pioneer house. The house was built of clay and local materials, with a thatched roof and earthen floors, and is furnished in the traditional 19th century rural style. It is surrounded by a traditional herb and vegetable garden, orchard, furnished wagon house and vineyard. Guides in period clothing.

phone: +27 12 802-1150

address: Zwartkoppies

Ditsong National Museum of Natural History

phone: +27 12 000-0010

address: GaMohle Building, 70 WF Nkomo (Church) Street

Where you can meet Mrs. Pless when she is not on tour somewhere.

Voortrekker Monument and Fort Scanskop

phone: +27 12 326-6770

address: Eeufees Road, Groenkloof

phone: +27 12 470-7400

address: Salvokop of Potgieter St

Willem Prinsloo Agricultural Museum

phone: +27 12 736-2035

address: R104 Old Bronkhorstspruit Road, Rayton

The history of the development of agriculture in South Africa and a collection of old vehicles (donkey and horse carts, ox-wagons, coaches, carriages and spiders) are displayed in the main building. Visitors can explore the 1880 and 1913 house museums and outbuildings, and two Ndebele homesteads from different eras. Indigenous farm animals include the Nguni and Afrikaner cattle, Kolbroek pigs, Speckled Persian sheep and indigenous chickens like the Ovambo, Koekoek, Venda and Naked Necks.

phone: +27 12 326-9172

address: 60 Church Str

Visit the home of Boer leader and president of the ZAR. Very well-kept and interesting, well worth an hour.
Do
Experiences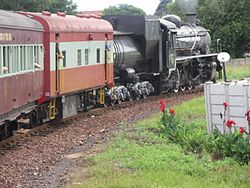 phone: +27 12 767 7913

address: Alongside Miechaelson Street, Hermanstad,

Take a step back in time and circle Pretoria on a steam train or visit Cullinan, birth place of the world's largest diamond. The train runs two or three times per month, check timetable on website for exact dates.

phone: +27 83 311 0025

address: Tierpoort, Garsfontein Rd

Drumming circle out in the bush. Once you have a drum, food and drink you can sit down in the amphitheater around a cozy fire where the professionals and novices are drumming together and everyone joins in. Everyone takes lead from these people even if you do not know what you are doing, you just follow their drumming. So you are not only here to watch, but to be part of the entertainment! And then as a visual bonus the fire dancers move to the groves of the drumming. Didgeridoo players and percussionist frequent the venue. Held every second Friday night.
Performing arts
phone: +27 12 392 4000

address: corner Pretorius and Prinsloo Streets

The State Theatre in Pretoria, South Africa is the largest theatre complex in Africa. Tickets for performances can be booked via Computicket
Outdoors
phone: +27 12 440-8316

address: Fountains Valley Resort

Walk, mountainbike, go on a 4x4 drive or stay over in the second oldest nature reserve in the world. See giraffe, antelope and many other animals. 3½-, 4½- and 10½-km hiking trails.

phone: +27 12 440-8316

address: cnr Boshoff and Roper

The sanctuary is located in the Walkerspruit Open Space System. Two streams, the Walker and the Argo, feed water into wetland basins of which nine are small perennial dams that attract a multitude of water birds. The sanctuary was fenced in June 1970. Species include unique birds such as the crowned crane and the blue crane. The veld type of the sanctuary is mixed bushveld. Nice and expansive restaurant. Guided walks: R55 per person up to 12 people per group.

FountainsBarbque resort
Learn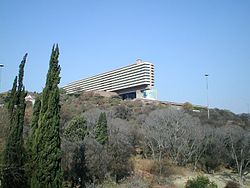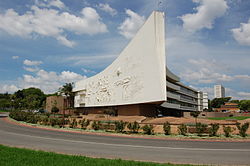 Buy
Shopping malls
Menlyn ParkLocated in the East. A very large mall, it includes a roof top drive-in theater.

Brooklyn MallJust east of the city centre with art galleries and movie theaters for mainstream and independent films.

KolonnadeIn the north with an ice rink and other entertainment.

Centurion MallSouth of Pretoria, in Centurion.

WonderparkIn the north just as you get onto Brits road off the Mabopani highway. Skatepark and hundreds of stores.

The grove

address: Lynwood Cnr Simon Vermooten

Larger new mall. No free parking. Also good for middle budget eating out.

address: Burnett Steet

Has a Pick N Pay supermaket and many places to eat
Other shopping
German bakery and Alma German butcheryEast of Pretoria, Offramp Rossouw, then turn north, after 200 m. Serves coffee. You can also buy some imported products.
Supermarkets
Banks & ATMs
First National Bank

address: Hatfield Plaza

Has a Mastercard/Visa card ATM.
Eat
The renowned restaurants include Cynthia's, the Hillside Tavern and Pachas. There are also many franchised diners throughout the city.
Budget
Centurion Mall Express Sandwich Baron

phone: +27 12 643-1144

address: Shop 30A, Cnr Hendrik Verwoerd and Embankment, Centurion Mall, Centurion

Sandwich Baron produces freshly made platters and sandwiches and holds no ready-made products in stock. Also has a catering service.

MimmosItalian restaurant chain, incl. SA-Food. Good prices, take aways, wifi.
Mid-range
Toni's Pizza Toni's is a great place to get the best pizza in town.
Panarotti's Panarotti's is a national chain with several Pretoria branches.

SpurA national chain of Native American-themed steak-houses. Several branches in Pretoria.
Splurge
phone: +27 12 346-4642

address: 283 Dey Street, Nieuw Muckleneuk

This new restaurant has a fresh upmarket urban feel and offers splendid food at very reasonable prices.

phone: +27 12 329-4028

address: 5 Riviera Galleries, Well Street, Riviera

Award-winning restaurant with excellent food.
Drink
Pretoria's nightlife is concentrated in Hatfield (near the university), which boasts a number of bars and night clubs. Menlyn Square (just off the Menlyn shopping centre) is also a popular location which contains several venues but caters for the more upmarket crowd.

Exclusive BooksEB is in many shopping centres and offers coffee while reading their books.
Sleep
Being the capital, there are many posh hotels (including the Sheraton) and guest houses and all the usual hotel chains have one or more hotels. With so many hotels owned by the same chains, in particularly Tsogo Sun. Make sure you note the address when booking so you go to the right hotel. When Parliament is in session and when there are other state events it can be almost impossible to find a mid-range or splurge room. Consider nearby
Centurion
as an alternative if you have to be in Pretoria at those times.
Budget
Mid-range
Splurge
Connect
Complete GSM coverage with GPRS, 3G, 4G, HSDPA and LTE is available almost everywhere.
Buy a local simcard (at airport, railway station, most major chain stores or mobile phone stores) for your overseas mobile phone. You will need your foreign ID or passport for registering your new sim card at the shop. Airtime and data bundles can be bought at most shops and fuel stations.
WiFi
Always-On
,
+27
(0)11 575-2505, provides prepaid WiFi access in a number of locations in and around
Johannesburg
. Simply connect to the access point and you will be given the opportunity to pay for access by credit card. Pricing starts at around R15 for 10 minutes or R60 for 100 MB.
Coverage areas include:
Cafe DulceCenturion Mall.

City LodgeCourtyard in Arcadia.

Holiday InnArcadia

Mugg&BeanJust about all of them.

Villa Sterne Boutique Hotel and Health SpaWaterkloof Ridge

Wimpymany wimpy branches now offer wi-fi

MimmosItalian low-middle-budget restaurant with Wifi.
Stay healthy
Hospitals
Unitas Hospital

phone: +27 12 421-6700

address: Clifton Avenue, Lyttelton, Centurion

Caters for 24-hour accident and emergency treatment.
Stay safe
Pretoria is considered to be a relatively safe city by South African standards and violent crime against tourists is somewhat rare. That said, basic common sense should still be used. Ask locals before you do things. Life after sunset stops a bit and moves to the big shopping centers outside the city. Avoid walking around after dark, even in a group or at Union Buildings. The city centre becomes deserted after nightfall, so it would not be wise to hang around at these times. The shop owners will close their security blinds to protect their property so there is little to see. Hatfield Plaza and all other major shopping centers are busy with shoppers, students, tourists, police and car minders until approximately 22:00 there is very little chance of any real trouble happening, but it can be annoying and daunting for tourists as the beggars are quite insistent but occurs less in guarded shopping centers. That said, the Hatfield area is usually perfectly safe. Consider that you still have to move from the safe area to your hotel through an unsafe area. In case of trouble, here are important telephone numbers. Be especially vigilant at night by traffic lights and stop signs. Car-jacking and smash and grab thefts do occur.
From a fixed line
From a mobile phone
Cope
Embassies and High Commissions
Go next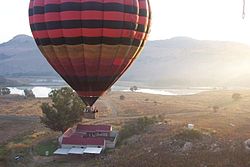 Irene is a small town to the south of Pretoria with a day spa and a dairy farm.
Mpumalanga Escarpment in a weekend
Kruger National Park in a (very long!) weekend
Soutpansberg, north, for lonely weekends in nature
Cradle of Humankind, with caves to view ancient caves, digging sites and skulls
Magaliesberg, a very old mountain range.
Rietvlei Nature Reserve, a small and quiet nature reserve with a number of wildlife species and lots of bird watching opportunities.
Visit Hartebeespoort Dam. There are hot air balloon rides over the savanna, a cable car, a golf course and watersport. Souvenir shops, shopping, and a snake farm are nearby.